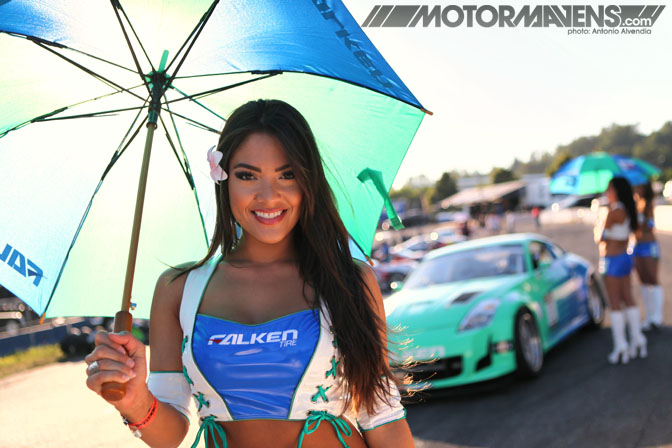 Formula Drift in Seattle is definitely one of my favorite stops on the Formula D tour. It always happens in the middle of the summer, and summertime is the best time to visit Seattle anyway! The event planners at Formula Drift always seem to pick the FD Seattle weekend perfectly, when the rainy state of Washington is blessed with a little break from the gloomy rain, and the sun comes out to put everybody in a good mood!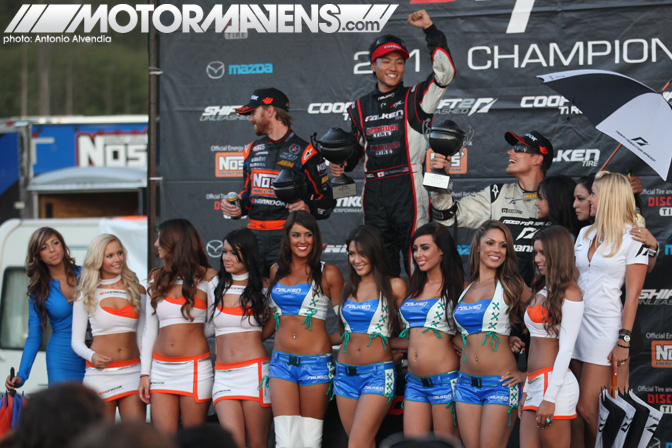 Since most drift fans outside of Seattle were able to watch the event play-by-play on Justin.TV's Formula D Driftstream, Seattle-based MotorMavens sharpshooter Yoshi Shindo and I decided we'd post up photographic highlights from the event, based on our own experiences there!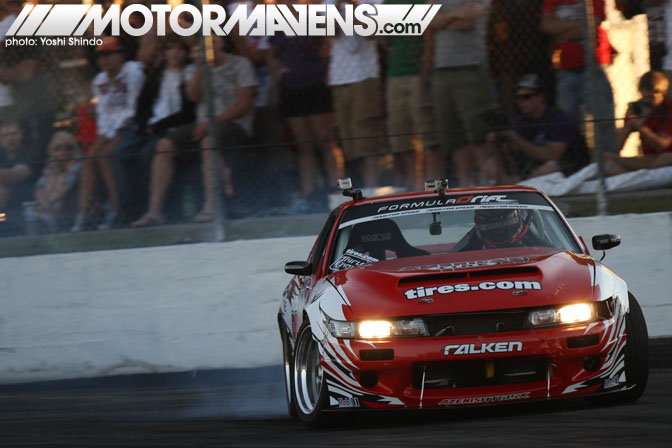 We're very proud of our good friend Daijiro Yoshihara, who found his way to the top of the Formula D podium once again! Dai is having an absolutely amazing year of success, and it was great that he was able to WIN top honors at Evergreen Speedway, because if you recall, just a couple years back, Dai had a major crash at this exact same racetrack!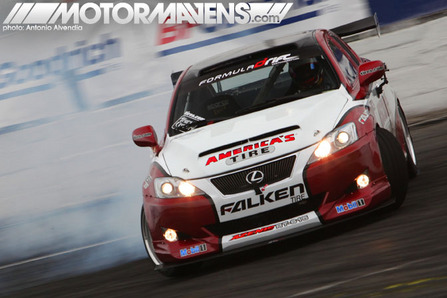 Just two years ago, Dai was driving this Discount Tire/Falken Lexus IS350 at Formula D events, powered by a V8 engine. I definitely loved seeing a newer body style Lexus tearing up the track, but unfortunately not all good things last…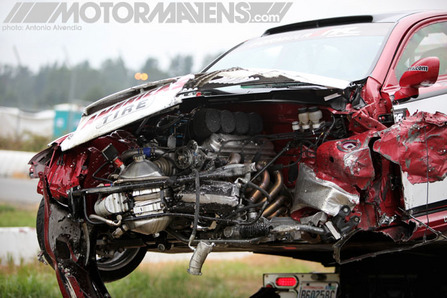 At the start of one of his runs, Dai had a high speed crash at Evergreen Speedway. It put the front end of his V8 Lexus IS350 right into the CORNER of one of the outer walls on the banking, tearing up the entire front end of the car. Thank God he wasn't hurt in this extremely serious high speed accident! Some drivers complain about Formula D's strict tech inspection rules, but honestly… if it weren't for the enforcement of certain safety requirements, drivers could get seriously hurt.
Let's not forget that drifting (and all forms of racing) is dangerous, and certain precautions must be made to make sure that the drivers are safe in the event of a crash like this.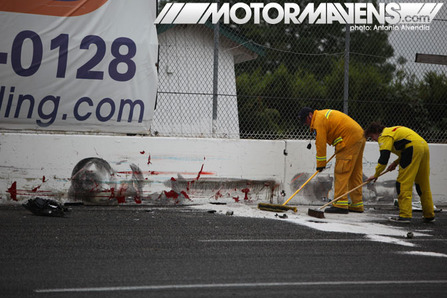 Thankfully, the safety crews at Evergreen Speedway are fast and diligent! They soaked up any fluids spilled on the track, and swept up the debris quickly so that the track would be prepared for the next group of cars, while the paramedics rushed out to inspect Dai to make sure he was okay.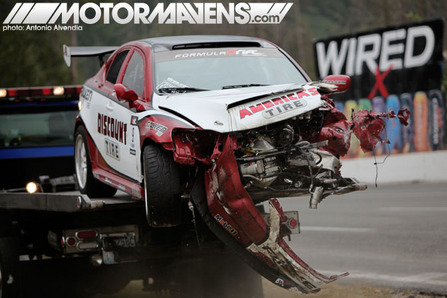 It really bothers me that I didn't have a CPL filter on my lens when I shot this photo, because I can't stand the glare on the windshield, dammit! Here's Dai's Lexus on the flatbed, teetering off the edge of the truck. Good thing the tow truck has an extremely strong metal cable and winch, because otherwise, I'd be pretty concerned that the car could just fall right off the back of the truck!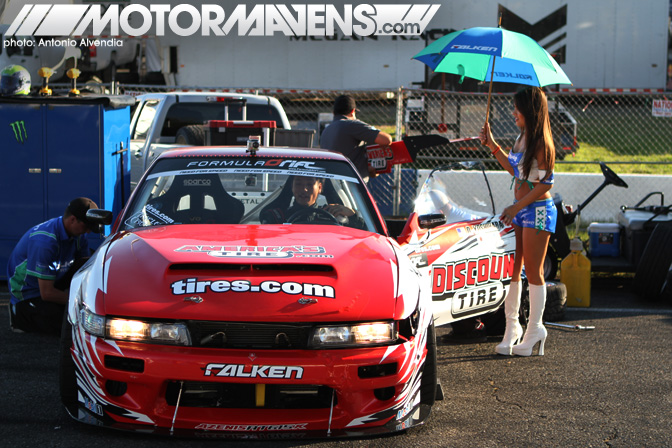 Dai has previously admitted that his big crash in the Lexus shook his confidence as a driver. Any big collision like that can make a driver second-guess their natural reflexes when driving, but with the help of his sponsors and his team, Dai was able to get his mojo back and get back to winning!
Here's a photo from his pit area on the Evergreen Speedway pre-grid area. Since the pre-grid is on a banking, all the cars have to back up into position, at a 90 degree angle from the outer wall. This type of pit-parking position would make a lot of sense at other tracks with banked pre-grid areas also, like Irwindale Speedway.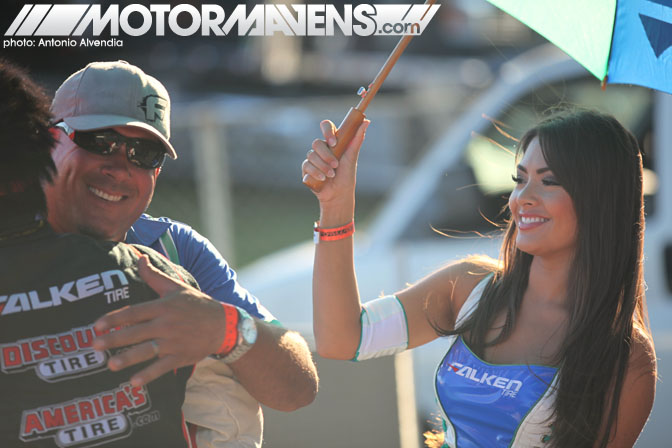 Some drivers take ALL the credit for their wins, and put photos of themselves all over their promotional materials and support vehicles, but Dai isn't like that. When Dai returned to the pits, he immediately jumped out of his car and hugged his crew chief, Scott Dodgion from SPD Metalworks, but to be honest, I just couldn't take my eyes off the gorgeous Falken umbrella girl, Randyl Dawn… so part of Dai's hug fell out of the frame of this photo. My bad.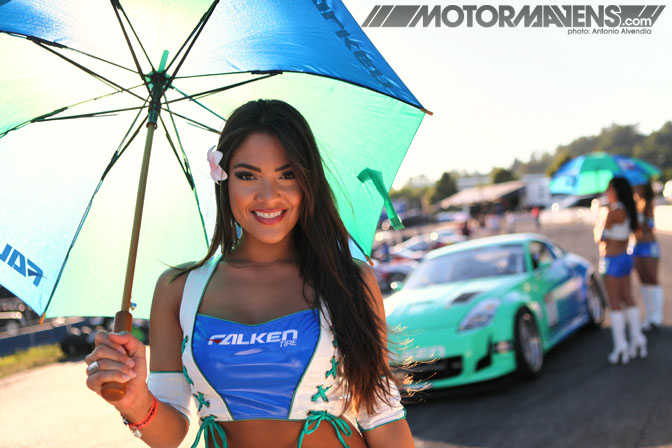 Here's a better photo of Randyl, from the pre-grid area. Randyl actually got her start into modeling several years back when she was approached by former Falken model MJ Castillo at a Hollister store! It just warms my heart when hot chicks holler at other hot chicks and ask for their phone numbers.
I think it's even better when the hot chicks who get approached can turn a single opportunity into a modeling career – but modeling careers only happen when models are reliable, have good attitudes, and don't let the attention get to their heads. I've known Randyl for years, and she remains more sincere and down to earth than some of the no-name models that are just beginning to get their shine on now. We'll see how long those other girls last… or maybe we won't.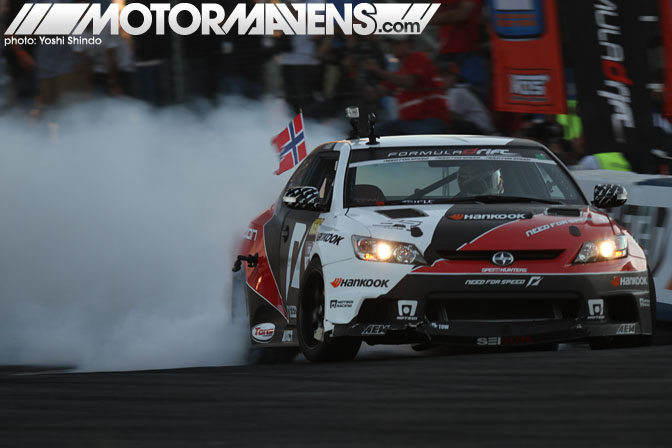 Although I can honestly say I really, really miss seeing Fredric Aasbo rocking the hell out of his red JZA80 Supra turbo, the Norwegian drift star is making things happen in his Hankook-sponsored Scion tC. This guy is just super competitive when he drives!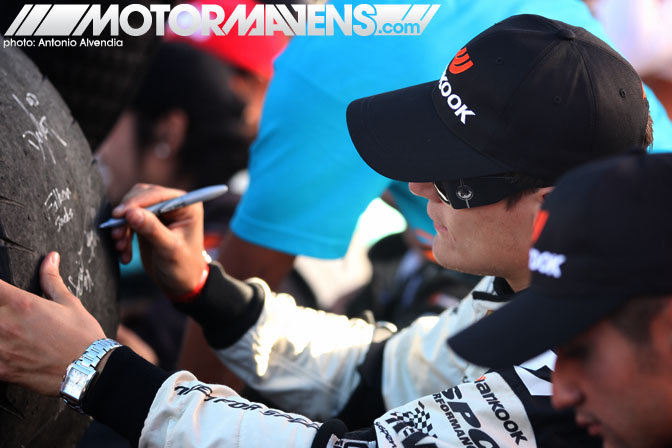 Apparently, Aasbo is pretty competitive even when he's at driver autograph signings! I'm not sure if HE wrote that comment about Falken on the tire he was signing, but it IS pretty close to his signature! Hahaha uh oh!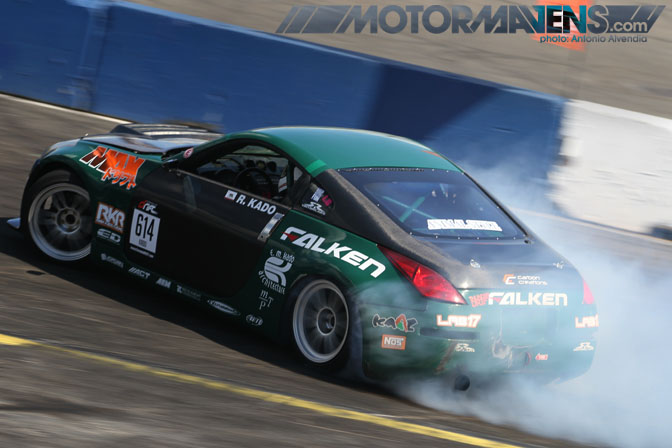 One thing is for sure about MotorMavens – we always love seeing grassroots drivers come up and become successful! Northern Cali-based rookie driver Ryan Kado has certainly been making some waves with his dark green Z33 350Z!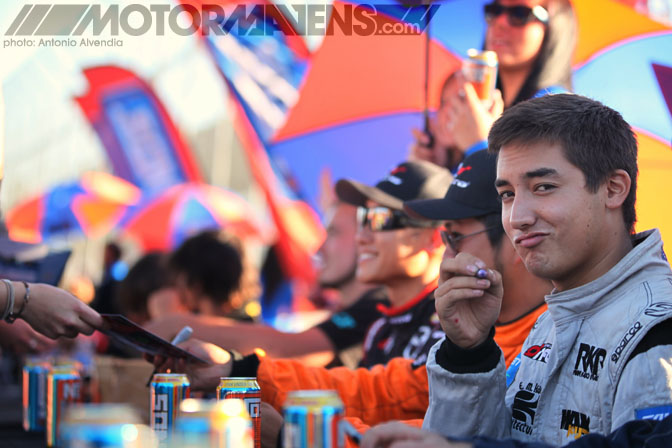 Ryan Kado always seems to be having fun, and that certainly didn't stop when he was at the Formula D autograph signing, or when he was eating dinner at Red Robin in Monroe WA after the event. Kado, with assistance from homies Geoff Pitts from ThunderDrift, Justin Shreeve and Joe Ayala definitely knows how to stir up some attention in a public place!
These guys actually stood in a circle in the middle of the restaurant, unzipped their pants, and started… nevermind. HAHAHA! Then someone yelled out, "Uh oh! There's a tornado warning!" and all the guys started spinning in circles… all the way through the entire restaurant, and out the front door!!! LOL. The normal people eating at the restaurant definitely had puzzled WTF looks on their faces!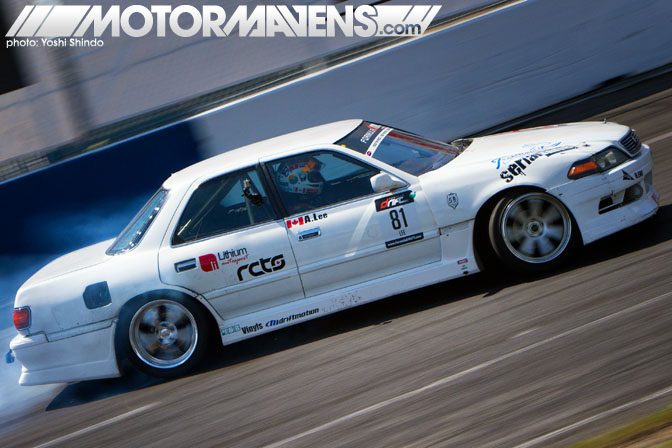 One Formula D rookie that's been generating a lot of attention from the land of maple syrup is Alex Lee! Hailing from Calgary, Alberta, Alex made his Formula D debut at Long Beach with his JZX81 Toyota Cresta, which has a JZX100 front end. If you haven't seen the car's details yet, get a closer look by checking out MotorMavens shooter Oliver Petalver's story on the car!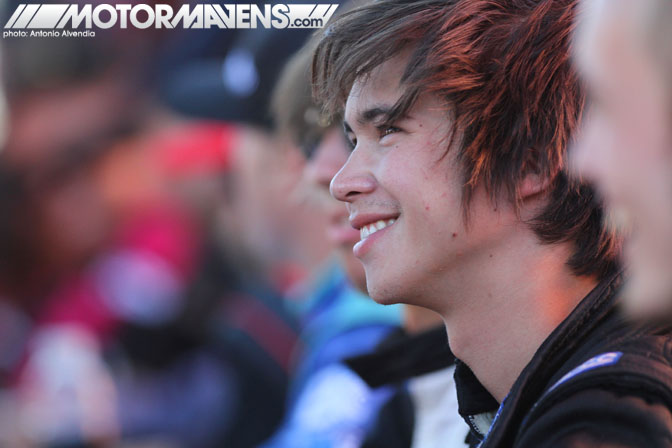 For those of you who don't know what he looks like, this is Alex Lee. He is an AE86 guy at heart, just like pretty much everyone else in his crew! No wonder we all get along so well! Hachiroku heads stick together! Everyone was proud of Alex for making it into the Top 16! I was walking towards his car at the starting grid to see if he wanted one of the MotorMavenettes to sit shotgun with him in the car, but he already had a media GUY sitting in there! Hey it's cool, man… I'm not one to judge! HAHAHAHAHA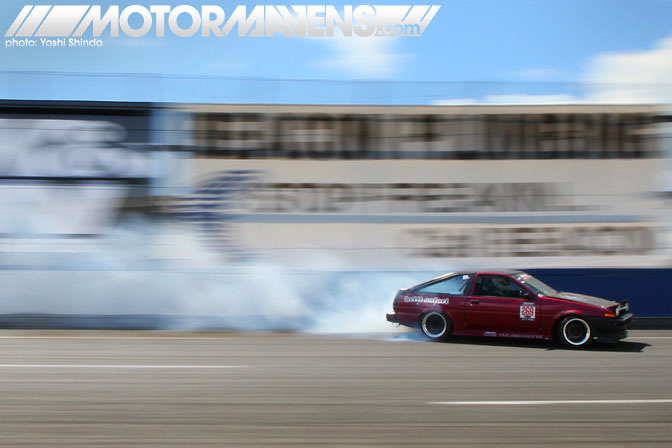 Speaking of AE86ers from Canada, it was great to see Trent Stromkins from British Columbia-based team Drift Safari running the track! Trent organizes local drifting events in his area, called Cellblock D. Unfortunately, Trent blew the SR20DET engine in his car, but I see it as just another opportunity to put a Toyota engine back in his hachiroku. 😉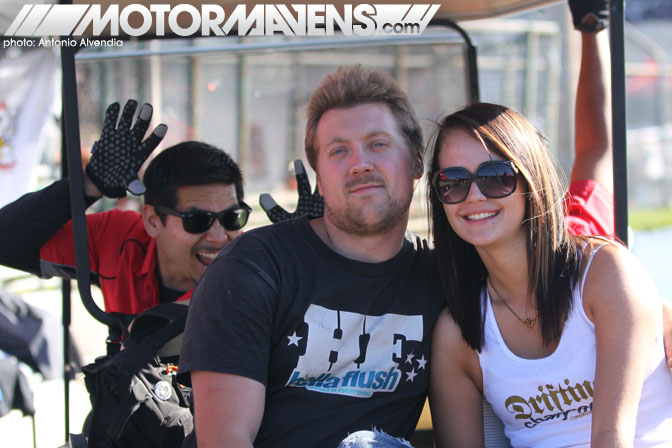 Probably, the most well known driver from Drift Safari, newly married R32 Skyline driver Ian Fournier was at the event with his wife Felicia, who was looking stylish as hell in a classic Drifting Changed My Life tanktop from Cipher Garage! Congratulations to these newlyweds! Unfortunately, I didn't get a chance to shoot a photo of Ian's car when he was driving (sorry Ian), but Yoshi posted up a pic in our previous story from the event!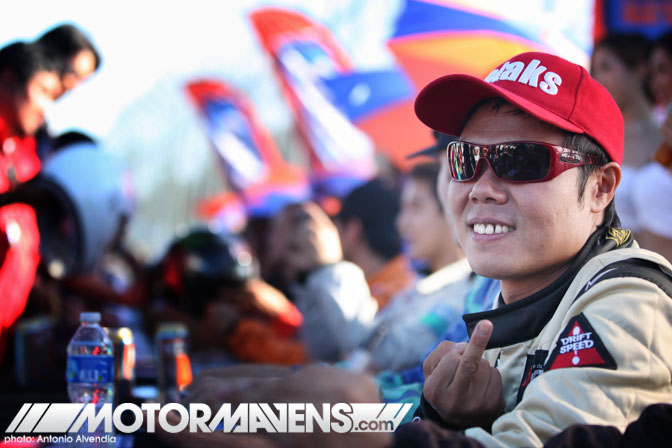 I often say that Toshiki Yoshioka is the top AE86 driver in the world. Yoshioka is the only driver who has won First Place at both Formula D and D1 Grand Prix driving an AE86! On top of that, I think it's awesome to see Yoshioka out at Formula D because he is an actual Top 16 driver from Japan's D1 Grand Prix series. You can't get much more legit than that!
Yoshioka just fulfilled a lifelong dream of competing in the Pike's Peak Hillclimb in Colorado this year. He somehow won Third Place, even though he had only previously driven the course in video games… and his pit crew consisted of a bunch of volunteer homies from LA who aren't even in the car industry! It's funny… the guys pitting for him weren't mechanics at all. Instead, there was one professional animator, one movie poster designer, and one electrician/clothing designer. These guys are all our personal friends from LA, but I find it so hilarious that everyone in his pit crew had ZERO professional automotive experience! In fact, the one bond that ties all these guys together is the fact that we all have mutual friends, and they love to drink together in Little Tokyo. LOL!
Good thing Yoshioka's car didn't break down, or he would have been screwed! I can imagine the conversation on the 2-way radio going something like this…
Yoshioka: "Oh no! Hey Jansen, Matt and Jay, I'm coming back to the pits…my engine is blown!"
Jay: "Damn, it's aight though, Yosh… I got a AAA card. Want me to call them or what?"
Matt: "Well the bad news is… I took the torque wrench and some of those other tools out of the big drawer on the bottom of your Snap-on toolbox. The good news is… I filled it with ice and beer, so you can have a drink when you get the car back to the pits."
Jansen: "Hey yo actually, those Snap-on drawers slide pretty good, even though they're full of beer and ice! Must be those ball bearings…"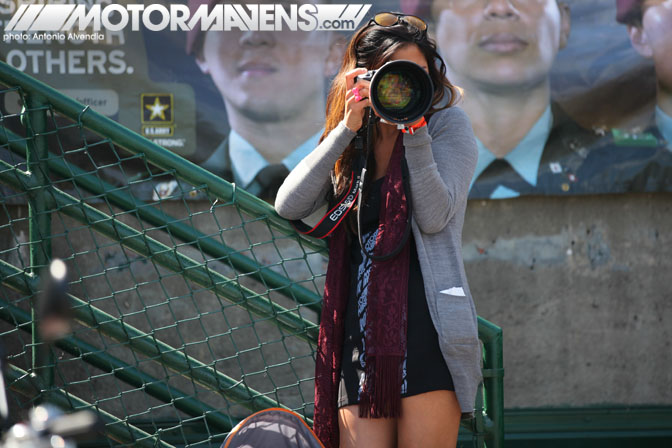 This event was also the first time MotorMavenette Samantha Totem ever visited Evergreen Speedway. Rather than just passing out flyers and posing for pictures, I asked her to do something useful, so she picked up one of my Canon DSLRs and my 300mm f/2.8 IS lens and started taking photos! There seem to be more and more females interested in photography nowadays… maybe I should train Samantha to be a bad ass photographer? Hmm…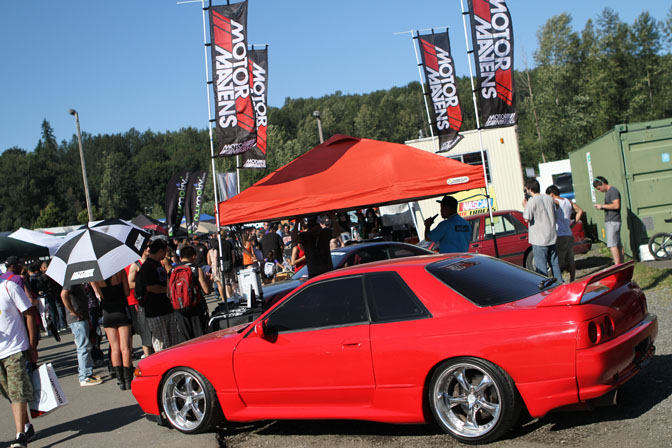 Speaking of bad ass, Seattle-based Maven Lucas Perez had his newly painted R32 Skyline parked next to the MotorMavens booth, rocking the hell out of those Work VS-KF wheels! He actually repainted the car with an OEM Toyota color… 3E5 red, to match the paint on his red 1985 AE86! Hell yeah.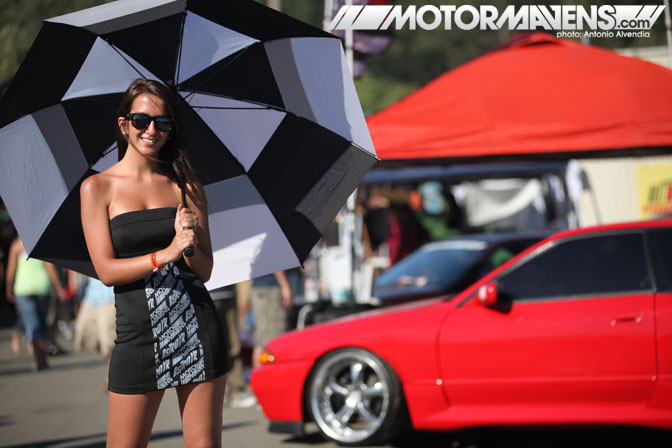 Just about everyone was stopping by the booth to check out the @LPerezidente Skyline and say hello to Lucas. He even used his charm to talk his friend Annie Anaya into helping us pass out flyers by his R32. Annie is super cool, and apparently she's friends with a lot of people in the Washington car scene. Lots of people were coming by just to say whatup to her!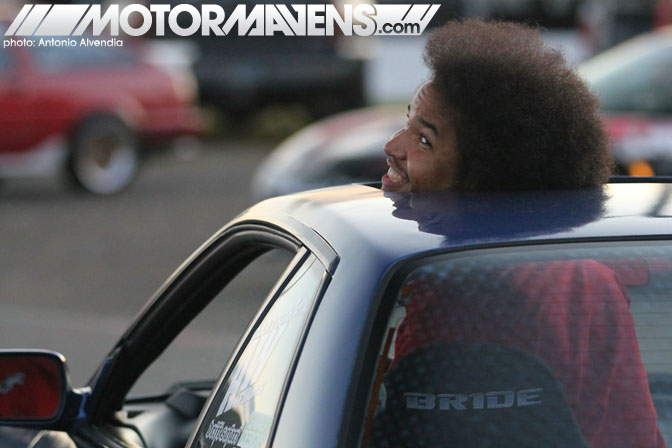 LPerezidente's R32 is so fresh, it had all sorts of folks craning their necks to check it out as they walked (or drove) past it. This is AfroMat Risher. As he drove by, I yelled out, "Damn, AfroMat! I can't believe your feet can reach all the way to the gas pedal!" He said, "They can't. I'm not using my foot to reach the pedal." LOL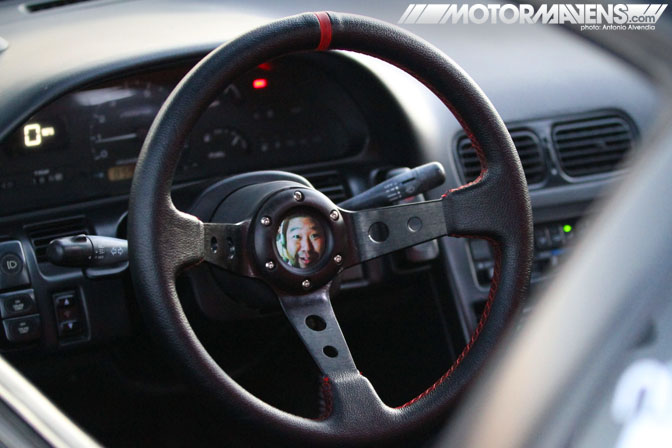 I asked Mat to move out of the way real quick, so I could check out the inside of his car. I was pretty startled to see a photo of our own sharpshooter Yoshi Shindo on Mat's horn button. Hahaha! Dude. That's pretty scary. Not too attractive!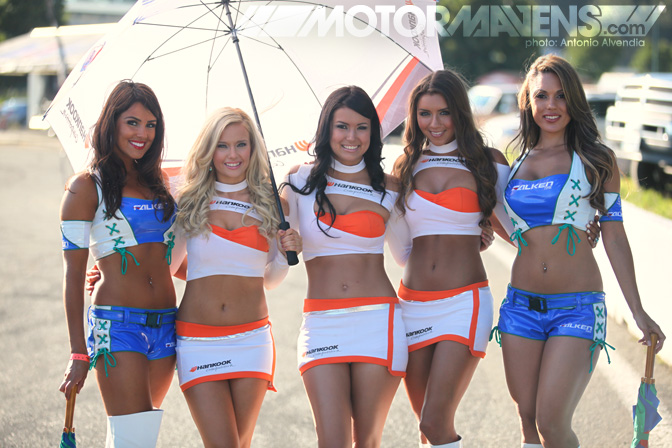 You know what I find attractive? The Falken and Hankook girls. See? Girls from rival tire companies can be friendly and nice to each other at the track! This is Olivia Korte, Lisa Lee, Nicole Reckers, Ashley Valenzuela, and Carrissa Rosario. I went ahead and included first and last names for your convenience, so you can stalk them on Twitter and Facebook. You're welcome!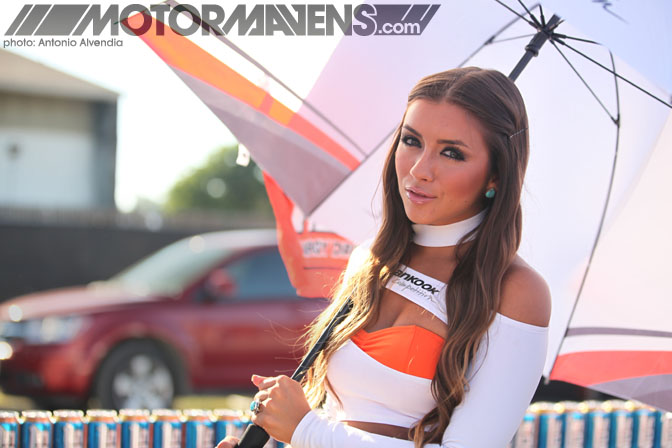 Here's a close up of Ashley, aka @MisssValenzuela.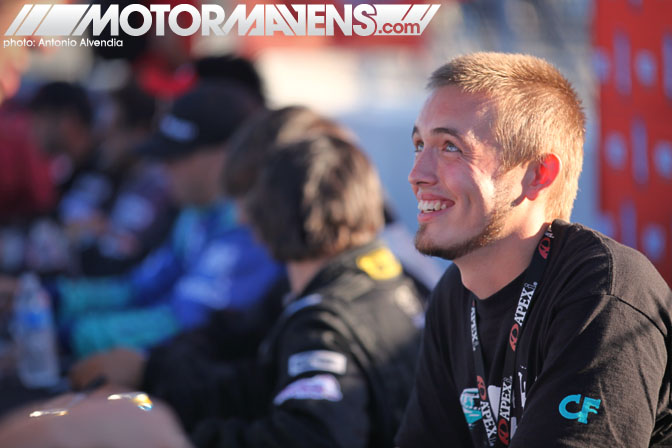 It's always good to see Bothell, Washington-based hometown hero Roland Gallagher from Team Instant Party at events. Roland is super cool, and a hell of a driver. He was the first driver from TIP that started blowing up on the Formula D circuit, and now his teammate Walker Wilkerson is creating some big waves as well! If you're not familiar with Roland's car, you NEED to click this link to check out more photos of Roland's S13 on @MOTORMAVENS!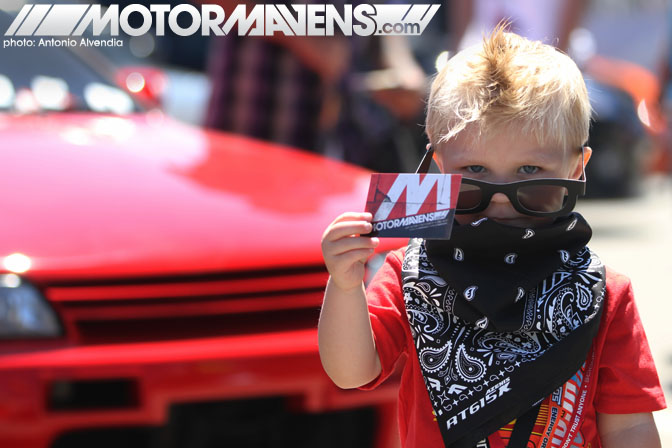 I'll close this installment of our photographic coverage with this photo of our newest event promoter! See! It just goes to show, even moms and young kids love the MotorMavens Movement. Follow our MotorMavens Tumblr Blog, our Twitter updates, and our random photo posts on our MotorMavens Facebook page!
More photos coming soon!
:: Antonio Alvendia
Photos by Antonio Alvendia and Yoshi Shindo
350Z
,
Alex Lee
,
Antonio Alvendia
,
Ashley Valenzuela
,
Carrissa Rosario
,
Cellblock D
,
Cipher Garage
,
Cresta
,
d1 grand prix
,
Dai Yoshihara
,
Daijiro Yoshihara
,
Discount Tire
,
Drift Safari
,
Evergreen Speedway
,
Falken
,
Formula D Seattle
,
Formula D Seattle 2011
,
Fredric Aasbo
,
Hankook
,
homepage
,
Ian Fournier
,
Irwindale Speedway
,
IS350
,
JZA80
,
JZX81
,
Lexus
,
Lisa Lee
,
Lucas Perez
,
MJ Castillo
,
MotorMavenettes
,
Nicole Reckers
,
Olivia Korte
,
R32
,
R32 Skyline
,
Randyl Dawn
,
Roland Gallagher
,
Ryan Kado
,
S13
,
Samantha Totem
,
Scion
,
Scott Dodgion
,
Skyline
,
SPD Metalworks
,
TC
,
TOYOTA CRESTA
,
Trent Stromkins
,
VS-KF
,
work wheels
,
Yoshi Shindo
,
Z33
---