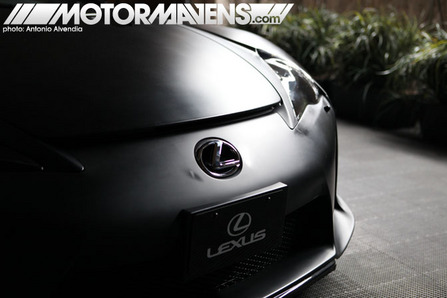 As you might imagine, everyone who's anyone in the automotive industry was at the annual SEMA Show in Las Vegas last week. While many pessimists have complained that this year's show was smaller than any other SEMA in recent years, there were quite a few notable announcements, releases and debuts this year. (And those who
did
show up to the show were serious about doing business, not just a bunch of useless tire kickers.)
While there was much on the news front in terms of debuts, to be honest, there was nothing that excited me personally more than the new Lexus LF-A. I might be a bit jaded, as I am a Toyota man. My first car was a Toyota, and I've owned many many different types of Toyota and Lexus vehicles in my life; I've lost count of the actual number, but if you figure that I currently own 6 Toyota/Lexus vehicles, then I'm pretty sure the total number is somewhere around twenty. Yup, TWENTY! So maybe I do have a slight personal slant towards the Lexus brand, but regardless, I think the new LF-A that Lexus debuted at SEMA is nothing short of amazing.
Sure, there are skeptics out there who complain that the LF-A hasn't yet beat an R35 Nissan GT-R's record at the Nurburgring. There are also people out there who also say there are a lot of other cars they would rather buy for the LF-A's hefty $375K price tag. Sure it's pricy. And yes, maybe the R35 GTR can currently beat it around Nordschleife. However, in my mind, there's just no denying how outstandingly bad ass the LF-A is.
Read more...
---
Every year there are a few SEMA builds that stand out. This Five Axis-built Scion xB is certainly worthy of falling into that category. The super-wide flares and 5 spoke Impul Hoshino-esque wheels seem altogether remnant of the N2-flared AE86 racers we all know and love. The fender mirrors are another subtle touch that only adds to the feel of that very nostalgic throwback. The rear doors/windows have been sealed up and shaved smooth to give this otherwise 5-door compact a much meaner coupe-like attitude.
For more pictures of this car, check out Garage Life over at Fatlace.
:: Andy Sapp
---