As you might imagine, everyone who's anyone in the automotive industry was at the annual SEMA Show in Las Vegas last week. While many pessimists have complained that this year's show was smaller than any other SEMA in recent years, there were quite a few notable announcements, releases and debuts this year. (And those who did show up to the show were serious about doing business, not just a bunch of useless tire kickers.)
While there was much on the news front in terms of debuts, to be honest, there was nothing that excited me personally more than the new Lexus LF-A. I might be a bit jaded, as I am a Toyota man. My first car was a Toyota, and I've owned many many different types of Toyota and Lexus vehicles in my life; I've lost count of the actual number, but if you figure that my current collection of cars includes 6 Toyota/Lexus vehicles, then I'm pretty sure the total number is somewhere around twenty. Yup, TWENTY! So maybe I do have a slight personal slant towards the Lexus brand, but regardless, I think the new LF-A that Lexus debuted at SEMA is nothing short of amazing.
Sure, there are skeptics out there who complain that the LF-A hasn't yet beat an R35 Nissan GT-R's record at the Nurburgring. There are also people out there who also say there are a lot of other cars they would rather buy for the LF-A's hefty $375K price tag. Sure it's pricy. And yes, maybe the R35 GTR can currently beat it around Nordschleife. However, in my mind, there's just no denying how outstandingly bad ass the LF-A is.
Just take a look at the interior for starters! Disregard the usage of carbon fiber on the steering wheel and dashboard. Carbon fiber is played out, so I certainly don't care about that. However, when you find yourself face to face with this car, take a moment to stare at the elegantly designed interior. It is elegant and sophisticated – after all, it's a Lexus.
Take a second to run your fingertips over the soft leather enveloping the dashboard and center console, and appreciate the beauty and craftsmanship of the white contrast stitching in the leather. The soft, black butter leather and white stitching reminds me of how my Nardi Classic 360 steering wheel felt when I purchased it brand new in Tokyo in 1999.
Don't forget though… it is a Lexus after all, so the LF-A comes packed to the hilt with all the current technological amenities available in a car – like the mouse-like controller (with feedback!), which allows you to control the stereo, navigation, Bluetooth, and other options directly from the center console.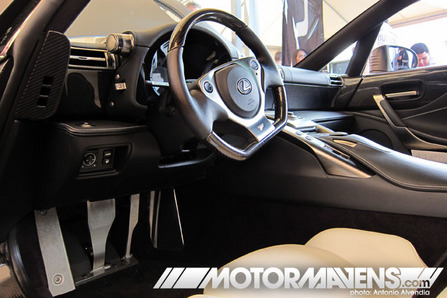 Oh wait… let's not forget the floor-mounted aluminum pedals, which remind me of a Tilton race pedal set. This Lexus isn't for old people. Well, unless they're very wealthy, cool old people. This is the type of Lexus that Hugh Hefner or Sean Connery should drive. Actually, I don't know about Hugh Hefner, because the tall center console would make it extremely difficult to… *ahem* nevermind. Sean Connery then. 007 it is.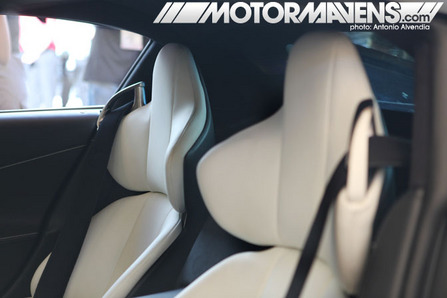 Oh Lord, those seats. I absolutely adore these futuristic, modern white leather seats. Wrapped in soft leather, these seats are perfect for hugging you as you tear through your favorite high speed windy road.
The soft white leather makes them perfect for a night on the town with your special someone too.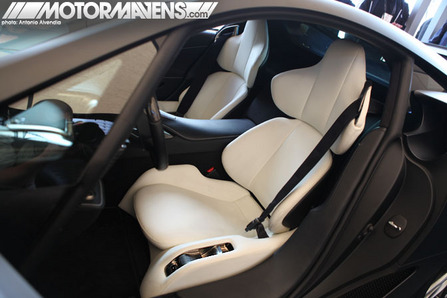 Honestly, the seats remind me of something that should be inside a spaceship. It looks like the Lexus engineers wanted the outside of this particular LF-A to be dark and menacing like Darth Vader; and for the interior treatment, the colorways on the seats look like melted stormtroopers in reclinable format, with power everything of course.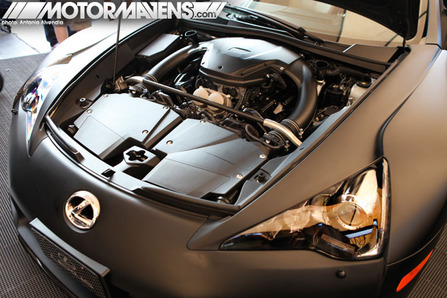 Here's a quick peek at the LF-A's engine bay. More on this later.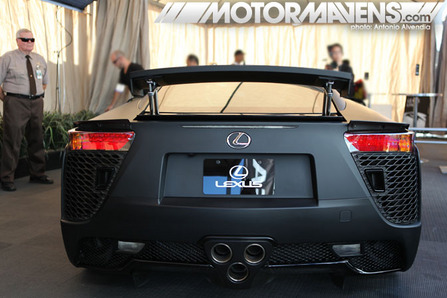 The back of the LF-A looks technical and Millenium Falcon-fast. Definitely looks like something that should be flying out of the Death Star.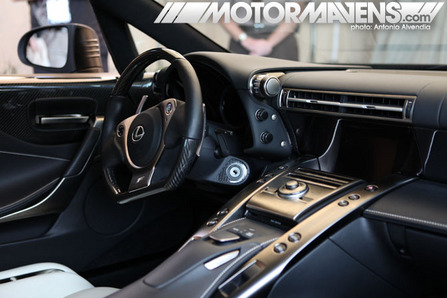 Oh wait, let's take one more look… DAMN that is one gorgeous looking interior. I can't wait to drive one of these!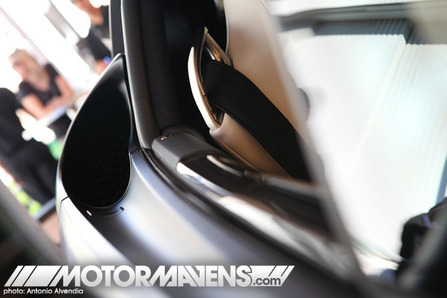 Even the simplest things, like the seatbelt guides, look so stylish, sophisticated and well thought out. Outstanding.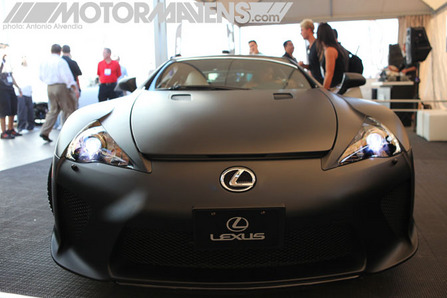 And the front. You'd better move the hell out of the way if you see this rapidly approaching in your rear view mirror.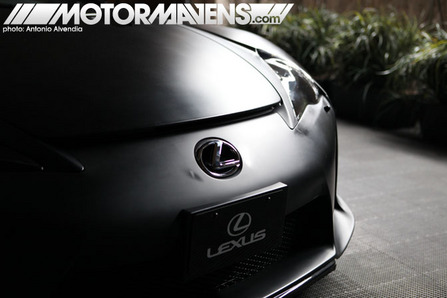 Stealth fighter. Nuff said.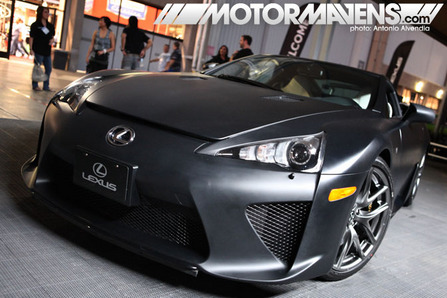 I need one of these in my life. I really, really do.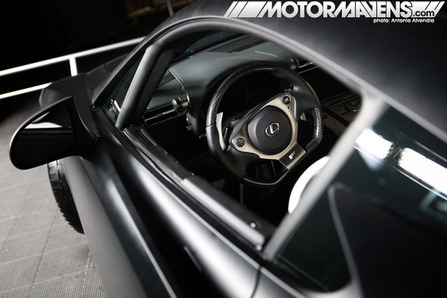 Glancing down at the cockpit when the door is closed, the car looks so elegant, like an Italian supercar… except for the fact that the LF-A is Japanese.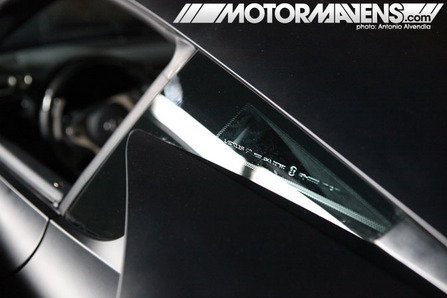 Check out the quarter window lines. I'm sure the small windows present the driver with a bit of a blind spot, but if you were behind the wheel of this LF-A, I'm sure you'd get over that small detail rather quickly.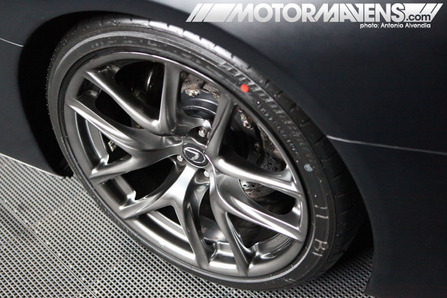 Here's some big OEM Lexus wheels wrapped in Bridgestone tires, with huge brakes behind them. I know I'm hopeless because I was wondering if these concave wheels would look good with stretched tires on an IS350 F-Sport. Don't mind me. Really. I can't help it.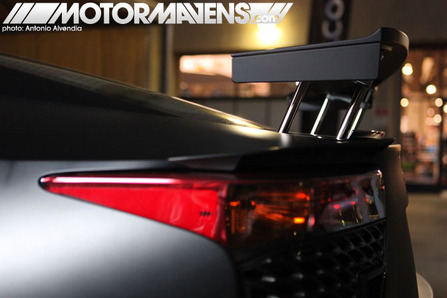 The rear wing on the LF-A reminds me a bit of the motorized rear wing on a Bugatti Veyron, but with some futuristic starfighter style taillights. In the 1980s, kids hung posters of the Lamborghini Countach on their walls as their dream car of choice… I suppose nowadays those Lambo posters might be replaced with something more akin to this marvel of Lexus engineering.
Again, the skeptics can doubt it all they want, because I don't give a damn if the lower priced R35 can beat it around the 'Ring. I just can't wait to drive an LF-A. It seems like a perfect vehicle to use for a cross country drive through Europe.
What an absolutely gorgeous car. I'm smitten. And thanks to Lexus, I actually do have a silkscreened poster of the LF-A on my wall now. (It hangs above my desk, reminding me to work harder!) More on the Lexus LF-A soon!
:Antonio Alvendia
---