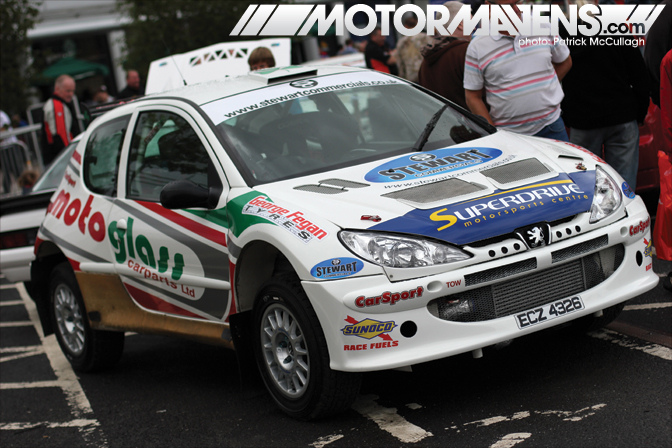 ReallyMeanSounds.com
(or
RMS
) is a local motoring forum here in
Northern Ireland
. The site was set up by
Andy Cooper
many moons ago to showcase ICE installations but, as the popularity of the forum grew, it became one of most popular motoring forums in Ireland. I have been a member since late
2006
when I was losing heart with my rallying exploits and RMS was just the fix I needed.
The site and its members have been very good to me in the last few years. I have made many great friends and have had very special times going to car shows and meet-ups. Now, in its tenth year,
Graham Curry
, who is the RMS resident photographer and a good friend of mine, decided that the milestone should be marked with a Birthday show. So, after months of planning, we found ourselves at
Junction 1
in
Antrim
- where all sorts of fun ensued!
Read more...
---
The term
retrofit
is defined as the replacing of existing parts, equipment, or systems with updated parts or systems. This 1974
Mazda RX4
is a perfect example of the concept.
My first glimpse of this ride didn't come at a car show, as is usually the case. No, I actually saw a picture of this car on Facebook - a picture that my friend,
June Masermsin
, took at
Wekfest
in Long Beach. So, I guess a case could be made that a car show
was
technically where I saw the car - in a third party, social media-inspired and facilitated manner.
Technicalities aside, I immediately expressed an interest in shooting the ride and, the following week, I received a random text from a buddy of mine (who happens to be a childhood friend of the owner) informing me that the car was available for shooting the same day! How's that for serendipity? And, since I started by defining retrofit, wouldn't it be nice if I kept the trend going by linking you to a definition of serendipity? However, there was one caveat—I had exactly
one hour
to shoot the car. So, what was an enterprising photographer to do? Take a look!
Read more...
---