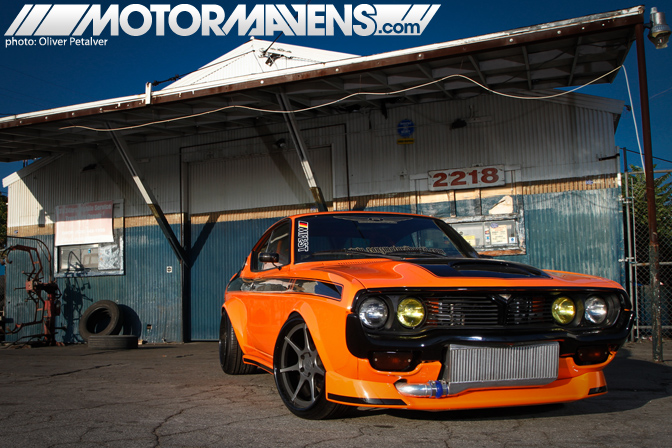 The term retrofit is defined as the replacing of existing parts, equipment, or systems with updated parts or systems. This 1974 Mazda RX4 is a perfect example of the concept.
My first glimpse of this ride didn't come at a car show, as is usually the case. No, I actually saw a picture of this car on Facebook – a picture that my friend, June Masermsin, took at Wekfest in Long Beach where it won "Best of Show Overall" and "1st Place" in the Old School class. So, I guess a case could be made that a car show was technically where I saw the car – in a third party, social media-inspired and facilitated manner.
Technicalities aside, I immediately expressed an interest in shooting the ride and, the following week, I received a random text from a buddy of mine (who happens to be a childhood friend of the owner) informing me that the car was available for shooting the same day! How's that for serendipity? (And, since I started by defining retrofit, wouldn't it be nice if I kept the trend going by linking you to a definition of serendipity)? However, there was one caveat—I had exactly one hour to shoot the car.  So, what was an enterprising photographer to do? Take a look!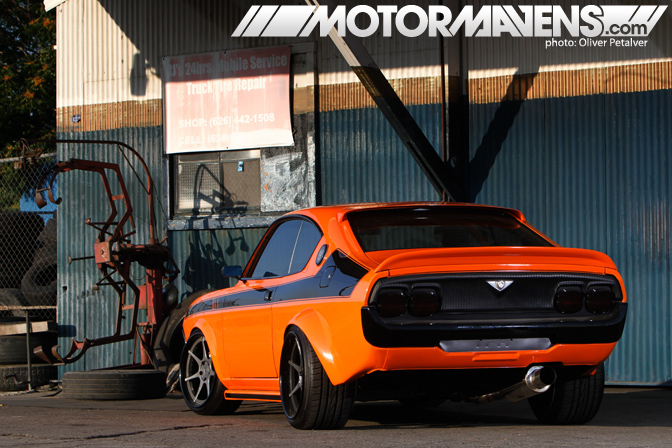 Half an hour later, I arrived at Ranz Motorsports in South El Monte, CA and met co-owner Jay Cabral. When Jay explained a brief history of the car, I felt he and his counterpart, Randy Hor, were akin to mad scientists splicing various genes together from seemingly unrelated organisms to create…a radically new organism. However, unlike Dr. Frankenstein, they refused to just slap parts together and call it a day – Ranz Motorsports did it very tastefully and seamlessly.
The car's profile reminds me of nostalgic hot rods – it's just not as large and heavy. The RX4 is usually not the first choice in building an early model Mazda. In comparison to the more popular RX3s and R100s, the RX4 is the heaviest.
To find an RX4 this clean, you'd either have to build a time machine or put in a lot of hard work. It's pretty obvious, since I couldn't find a Flux Capacitor or an old Delorean anywhere, that the guys at Ranz Motorsports must have put in the hard work. And, believe it or not, they did it in just SIX months!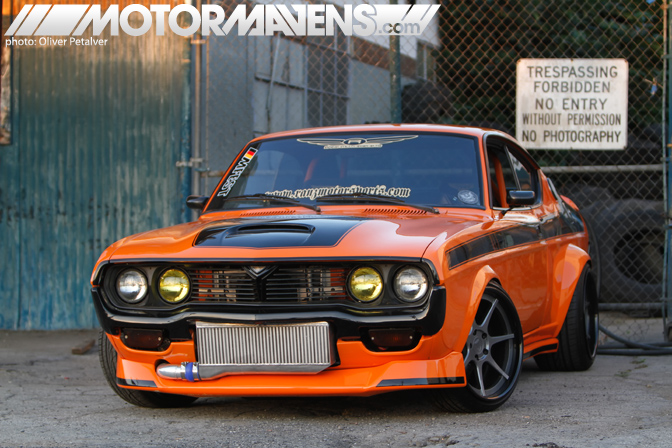 Where shall I start? Originally fitted for a Toyota MR2, the front lip, from Shine, was molded to fit the front bumper. The hood has been customized by Ranz Motorsports with a scoop found on the Dodge Neon SRT4. The side skirt is from a stock 1997 Honda Accord but it was flipped, then installed. In addition, the rear wing is from a stock 1992 Civic Hatch EG. It was cut, extended, and inverted. Furthermore, the mid-wing was fabricated in-house from metal. To top it all off, the car was sprayed with PPG Lamborghini Arancio Orange.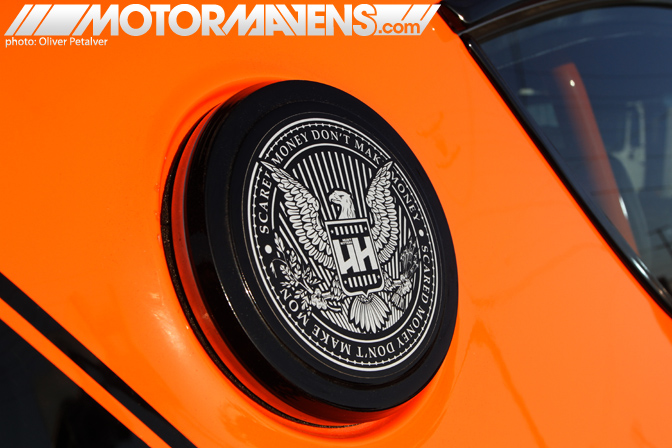 The circle-actuated doors were installed by Pro-Linear Doors in San Gabriel, CA. Lasers are located inside these "doors" which pop out after pushing a button.
The lasers would, theoretically, "blind" any person bold enough to tailgate this RX4. By the way, if the theoretical tailgater in question were to look down, he or she would notice that the tail lights were adapted from a Chevrolet Corvette ZR1 (see picture 2 above). Of course, said theoretical tailgater would be uncommonly knowledgeable to notice such an uncommon detail.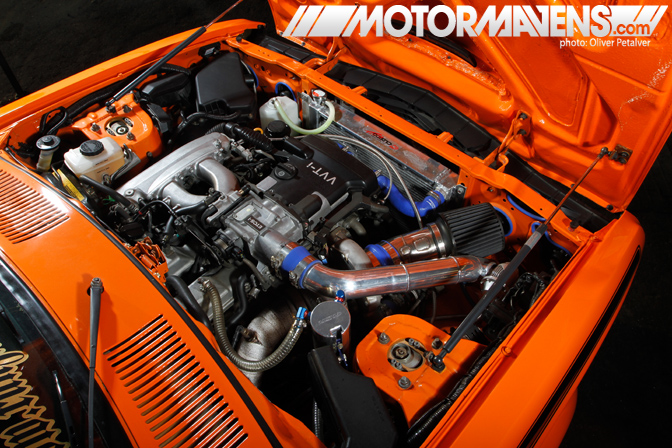 The RX4 received a transplant with a Toyota 2JZ-GE engine as the new heart of the beast. The crew at Ranz Motosports opted for this iconic straight-six rather than the expected rotary for the sake of dependability. They had dismal experiences with rotaries in the past. RotorMavens will want to direct all hate mail to Ranz Motorsports.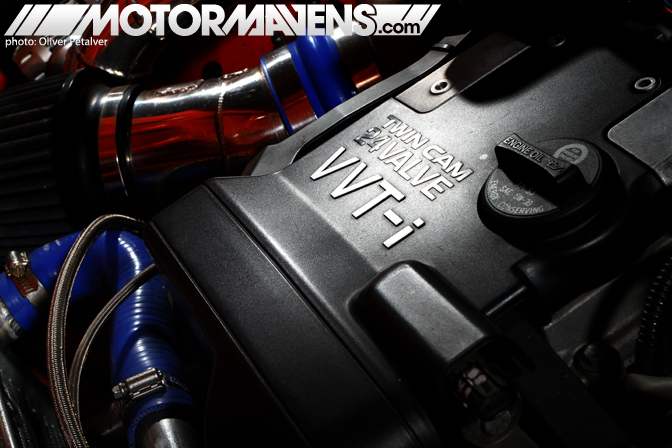 The 2JZ-GE was enhanced with Variable Valve Timing with Intelligence (VVT-i) in the Toyota Supra MK IV models after 1997. This engine can most famously be found in the Toyota Supra (as mentioned), the Toyota Soarer/Lexus SC 300, and Toyota Chaser but it also resides within the Toyota Altezza/Lexus IS 300, the Toyota Aristo/Lexus GS 300, and the Toyota Cresta – as well as a few others.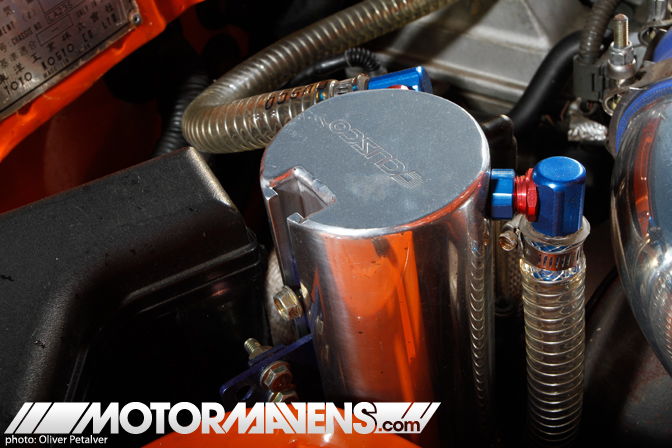 A Cusco oil catch can is one of the items that adorn this engine bay.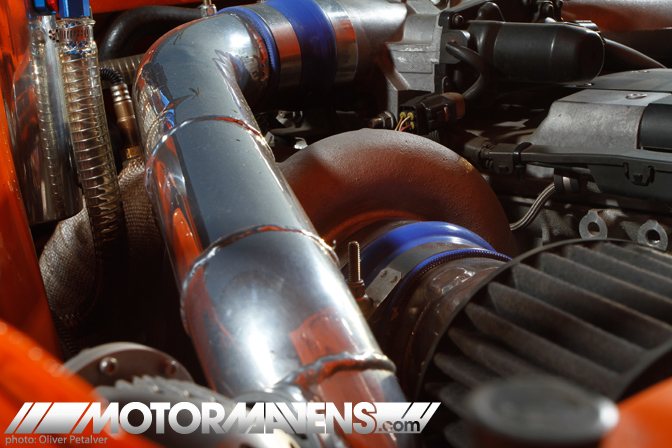 At the heart of the forced induction system is a Precision GT35 ball-bearing turbo. This is mated to a Peakboost downpipe. An HKS blow-off valve tops the list of turbo paraphernalia.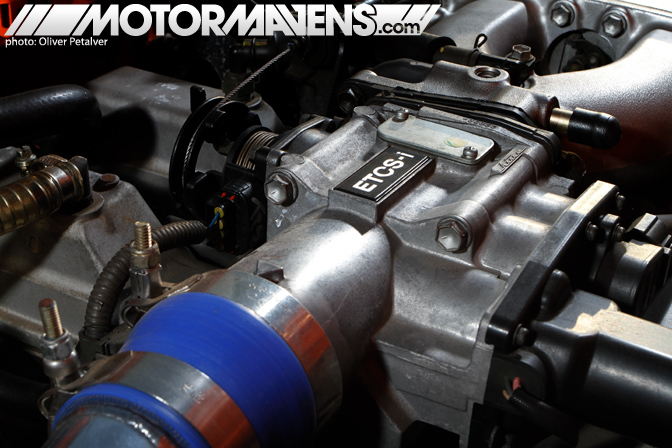 Toyota's Electronic Throttle Control System-intelligent (ETCS-i) optimally controls the throttle valve opening in accordance with the condition of the engine, vehicle, and amount of accelerator pedal effort. It also controls the idle speed control, TRC systems, and cruise control. It was also the center of the controversial "sudden unintentional acceleration" issues.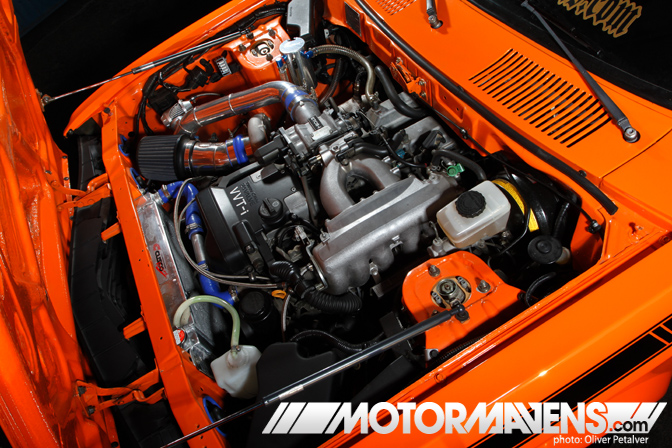 So, what's the sum of the automotive arithmetic discussed thus far? Simple – it adds up to approximately 476 WHP when boosting at 16 psi and filling the fuel cell with plain-Jane 91 octane. That's my kind of calculus – and plenty of power to dig its wheels into the asphalt!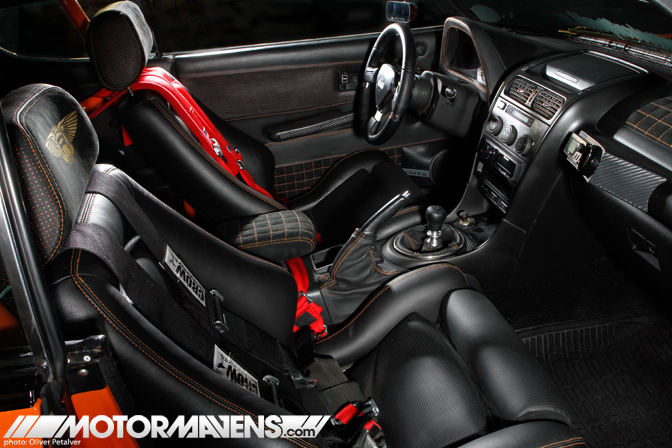 The old adage, which applies equally well to books and people, also seems to apply here; it's what's inside that counts. Is this true in the case of this RX4? I'd like to think so. A quick glance at the interior and you easily forget this car is Old School. The interior has been gutted and traded out in exchange for the one found in the IS 300. The whole dashboard, center console, and wiring were transplanted into this beast.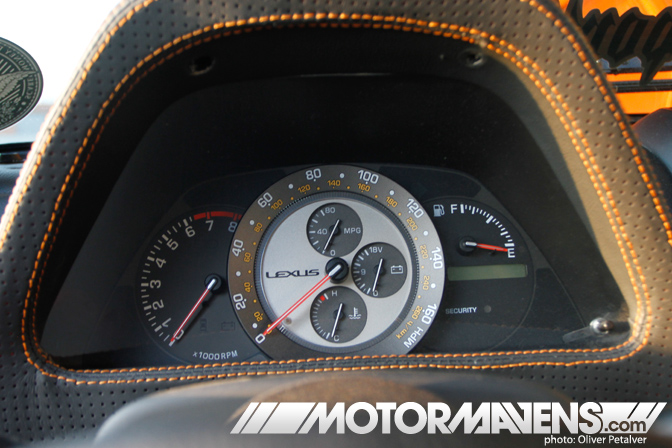 According to Jay, cutting the dash and retrofitting it was one of the toughest challenges in building this car. Timeless classic meets new technology.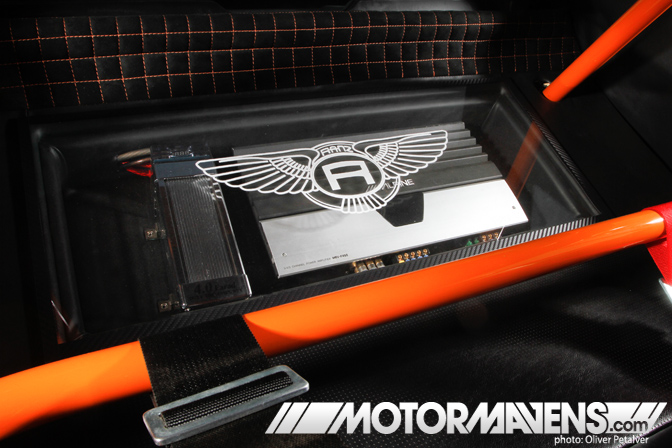 The custom enclosure that houses the Alpine amp was fabricated in-house at Ranz. Their logo was laser-etched by Laser Werks in Whittier, CA.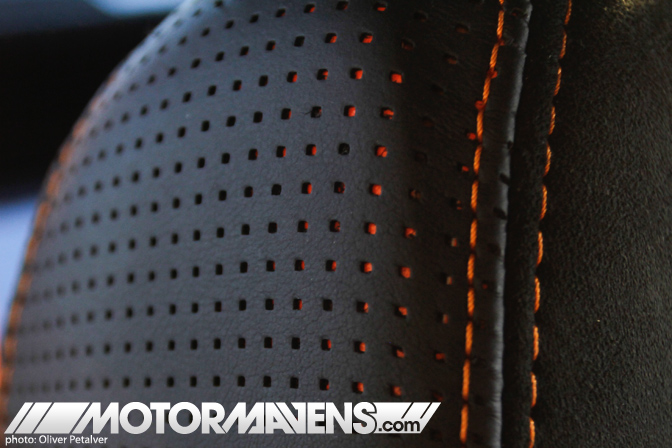 Top Stitch Upholstery, in El Monte, CA, reworked the classic Recaro LS seats, and the rest of the interior, in leather and suede. Well done!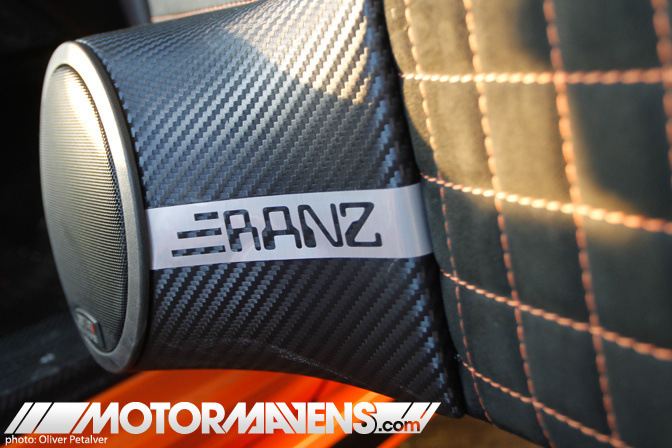 MB Quart speakers are enclosed in a carbon fiber housing made in-house. Three 10-inch JL subwoofers are also found in the car.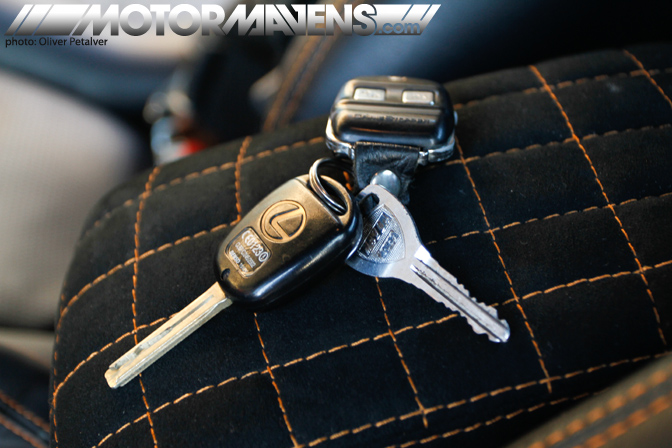 A Lexus key for the ignition and a Rotary key for the trunk. Separated by more than three decades and radically different DNA along with disparate approaches to automotive problem-solving, it's amazing to know that one car can bring them together so seamlessly.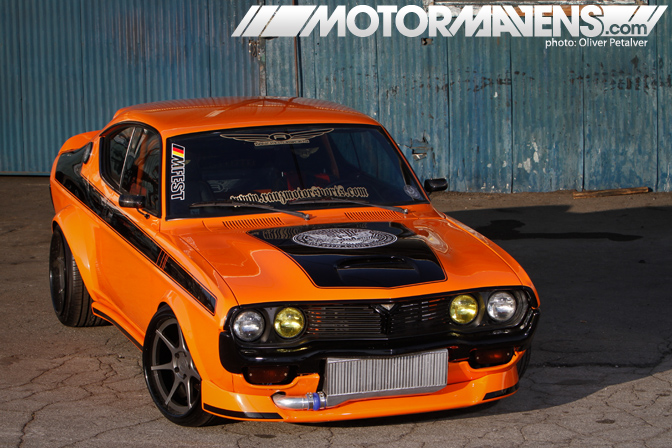 Hüper Optik provided the ceramic tint while STM Solutions, based in Los Angeles, CA, installed the film. Nano-ceramic window film is used for solar control that keeps approximately 60% of the sun's rays from entering the vehicle; making for a cooler environment in an already "cool" car. This isn't your typical $100 tint. More like $1000 tint. And, chances are, you just had the same initial reaction I did.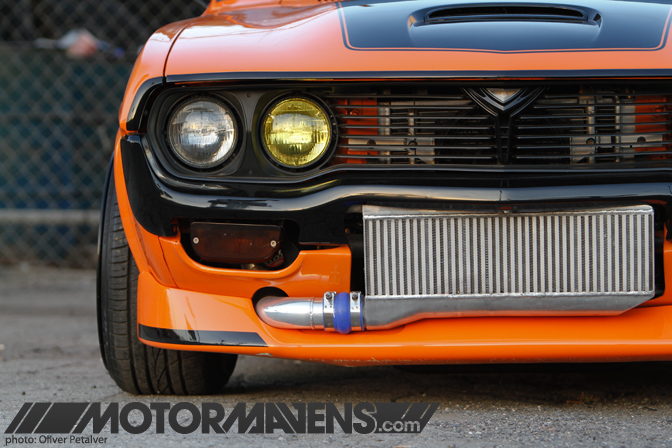 The boost is regulated by a BLITZ SBC boost controller and guided through a custom front-mount intercooler before reaching the throttle body and intake manifold. The cross member and intercooler were fabricated in-house.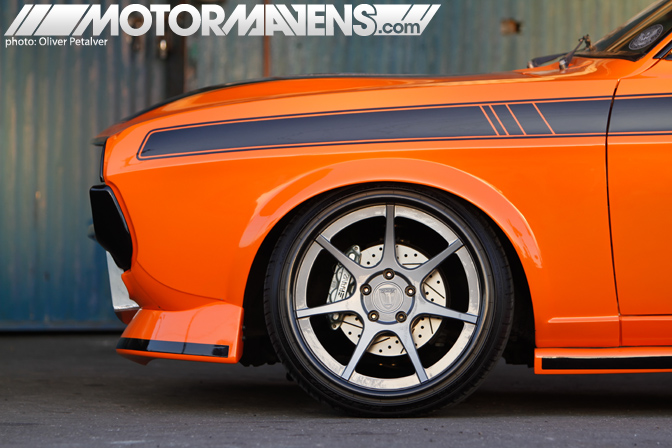 The rims are customized by Interad Wheels in Whittier, CA. Essentially, Interad Wheels makes their rims in sizes 19 and 20. Jay and the crew requested a set of 18s to be fabricated. The fronts measure 18×9.5 and the rears measure a whopping 18×11.5! Essentially, the 18s you see on this RX4 are the only ones in existence. How rad is that?! Having one-of-a-kind wheels that no other car on the planet has! These bad boys are wrapped in Falken FK 452s – 215/35R18 in the front and 265/35R18 in the rear.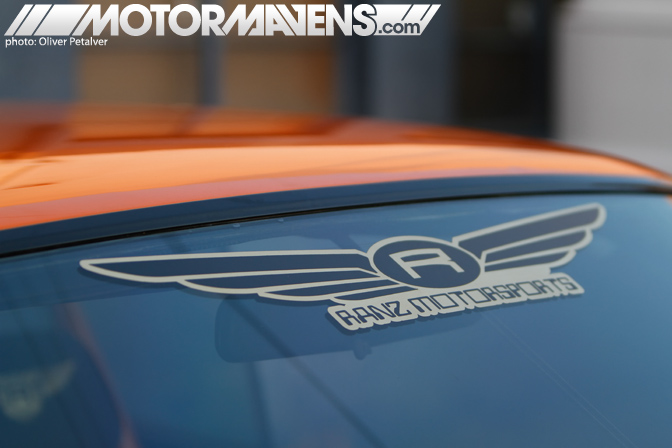 Sometimes, the only thing that let's an outsider know that something is far different than its exterior suggests is a small mark or feature of some sort. The Ranz Motorsports logo serves in that capacity for this car.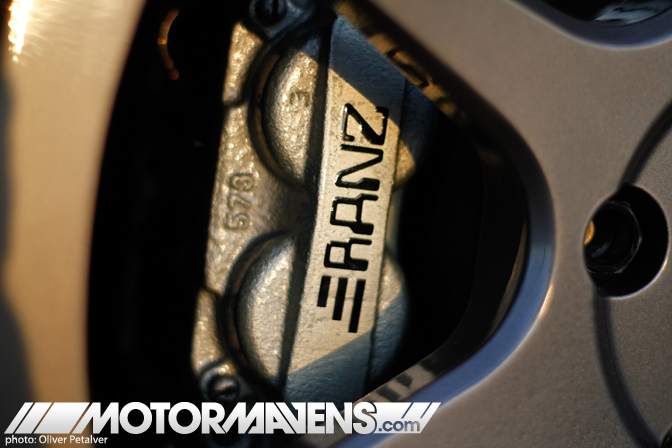 The front brakes were sourced from a Nissan S14 and the rear from a Lexus IS300. The same goes for the front and rear independent suspension.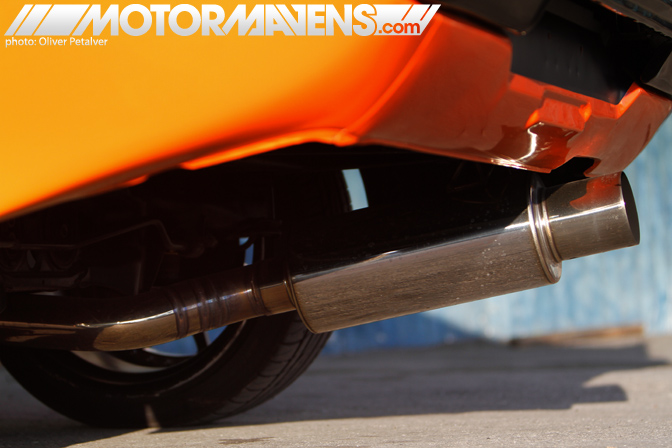 A Vibrant exhaust with V-Band clamps and custom piping by Ranz Motorsports was installed for a more aggressive tone and more power.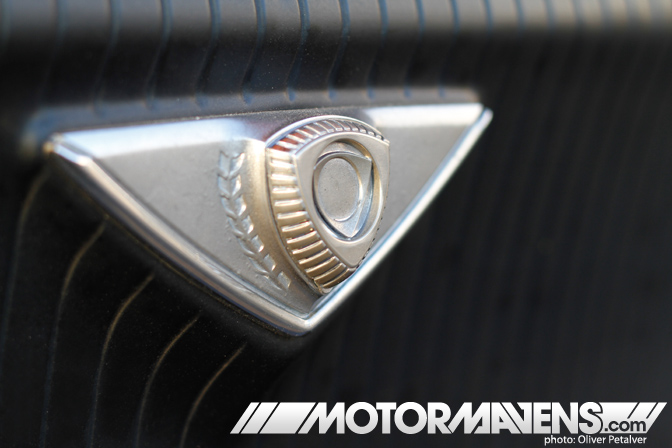 This emblem is one of the few things remaining that hearken back to the original car.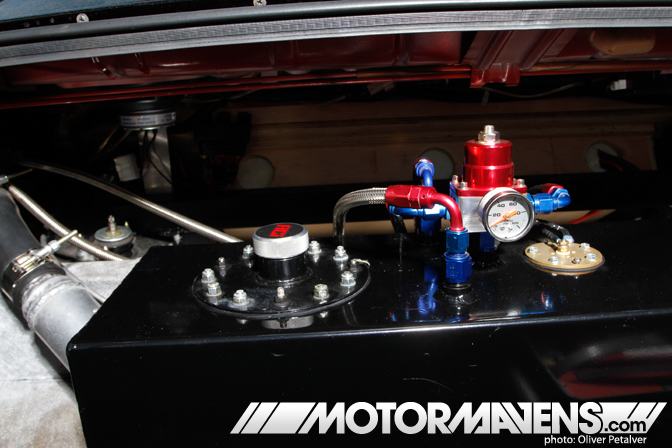 The old fuel tank was removed in order to accommodate the independent suspension. What took its place was a 5-gallon fuel cell by JAZ. The fuel cell was modified to utilize the factory gas door. In addition, the fuel regulator was customized on the fuel cell.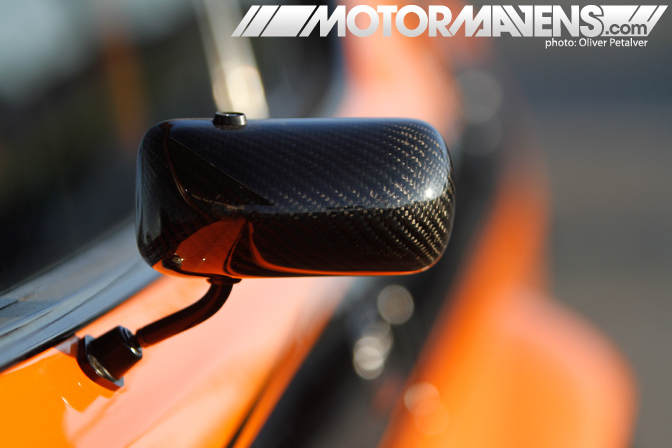 APR Carbon Fiber mirrors adorn the sides. Interestingly, though the mirrors are made of an ultra-modern material, the shape is very reminiscent of the period correct mirrors of the 70s.
The end product is a result of Ranz Motorsports' vision and creativity – a hybrid blend of technologies and tastes. Even more than a retrofitted car, what I beheld that day, for one hour, was a chimera. To return to my earlier nod to standardized definitions, a chimera is defined in biology as an organism consisting of at least two genetically different kinds of tissue as a result of mutation, grafting, etc. This surely captures some of the grandeur of what was accomplished by Ranz but, if I were really trying to go for what this car made me feel, I would have to use a more mythological definition: a fabulous beast made up of parts taken from various animals. And a "fabulous beast" she was.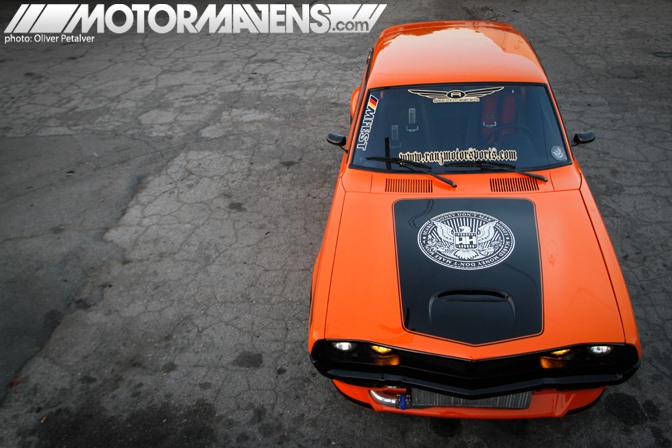 Ranz Motorsports would like to thank: Heavy Hitters Magazine, MFest, STM Solutions (www.stmsolutionsinc.com), Top Stitch Upholstery (www.topstitchupholstery.net), Interad Wheels (www.interadwheels.com), Pro-Linear Doors, Laser Werks, Wekfest (www.wekfest.com) and the family and friends of Ranz Motorsports.
For more information, contact Ranz Motorsports at 626-448-8693.
::Oliver Petalver
2JZ-GE
,
Alpine
,
Altezza
,
APR
,
Arancio Orange
,
Aristo
,
BLITZ SBC
,
Chaser
,
Chevrolet Corvette ZR1
,
Civic Hatch EG
,
Cresta
,
Cusco
,
Dodge Neon SRT4
,
Electronic Throttle Control System-intelligent
,
ETCS-i
,
Falken FK 452
,
GS 300
,
GT35
,
HKS
,
Honda Accord
,
Hüper Optik
,
Interad Wheels
,
IS 300
,
Jay Cabral
,
JAZ
,
JL
,
June Masermsin
,
lamborghini
,
Laser Werks
,
Lexus
,
Mazda
,
MB Quart
,
Nissan
,
Oliver Petalver
,
Peakboost
,
PPG
,
Precision
,
Pro-Linear Doors
,
Randy Hor
,
Ranz Motorsports
,
Recaro LS
,
RX4
,
S14
,
SC 300
,
Shine
,
Soarer
,
STM Solutions
,
Top Stitch Upholstery
,
Toyota
,
Toyota MR2
,
V-Band
,
Vibrant
,
wekfest
---