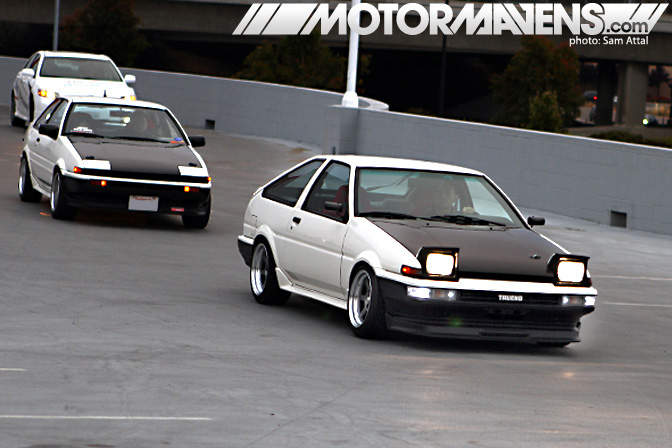 As you witnessed in the
first part
of coverage from the
Bay Area AE86
meet at
One Toyota of Oakland
, the gathering was a great mix of both
hachi roku
s and other machines. While more and more cars rolled in, it became harder to pay attention to each car individually. And, although it seemed as if there was almost an equal ratio of AE86s to dope non-AE86s, everyone remembered what car the day was commemorating.
Read more...
---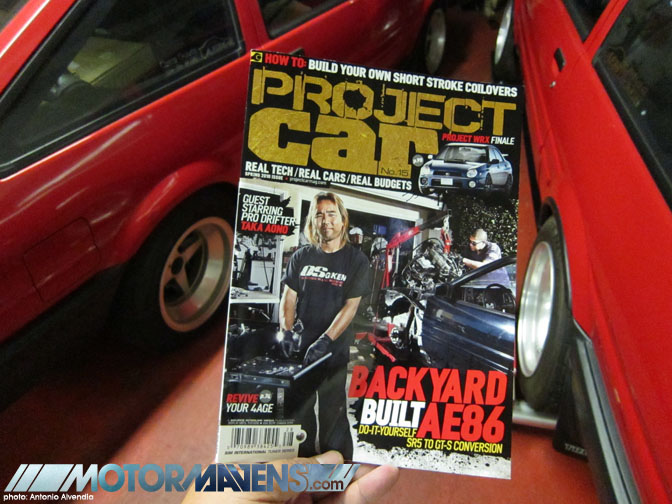 I just realized that I haven't posted up a "Papercuts" story in quite some time. To tell you the truth, it's because I haven't even bought any car magazines in quite some time. There was a time in my life when I would go to bookstores and hang out, just to check out all the car magazines that were out. My friend Kenta and I would meet up at Barnes & Noble or Borders (or better yet, the Kinokuniya Bookstore in Little Tokyo or Torrance) to check out the latest car magazines every single month. I miss going to bookstores just to chill and check out magazines… I'm not sure if I haven't been going because I've just been busy, or if the magazines these days don't intrigue me…
Whatever the case may be, I stumbled upon this copy of Project Car Magazine at the CVS Drugstore in Studio City. This issue caught my eye because I saw my friend Taka Aono on the cover; after all, he is the USA's undisputed top AE86 driver. I thumbed through it really quickly, and decided within 20 seconds, "that's it. I'm actually gonna buy this issue." While my 10+ years of Living the 86 Life have led me to own just about every AE86 book or manual that has ever been produced in Japan, it's honestly pretty rare to see magazines that actually produce good stories about AE86s stateside. I definitely think this magazine was worth the $6 or 7 (ouch!) that I paid at the cash register.
Even though he's probably the one Source Interlink magazine editor I don't really know, I really gotta give props to Project Car editor Gary Narusawa and his crew over there. (more…)
---
Things have been extremely busy for the Motor Mavens Crew over the past two weeks. We've been turning our attention to some general "housecleaning" operations and important meetings to plan for future expansion of the site. Unfortunately, these things were extremely time sensitive and had to take priority over website updates for the past week. Pretty wack, I know. We should be back to our usual schedule after this; thanks for being patient and for your continual support!
We have some cool features to post this month, but before we get into all that, I wanted to turn your attention to the 808 state for a bit. This past weekend, many of my friends from Hawaii's island of Oahu got together for an Old School Toyota meet. People might not realize it, but there are lots and lots of really amazing cars in Hawaii. All the local braddahs over there have much love for vintage Japanese cars.
Just look at how many clean TE27s came out to the meet! I'm drooling over two especially… a particular blue 1973 1600SR and a clean orange 1973 1600SR. More on these cars in the near future!
Props to Justindabull for his video work. Justin is really, really young (still in high school?), but he's been hanging out with all the old school Toyota guys in Hawaii for years, because his dad, Mike, has owned some pretty awesome vintage Toyotas. Good job Justin! And congrats on getting your video featured on MotorMavens! Can't wait to see you all again!
Shoots!
:: Antonio Alvendia
---