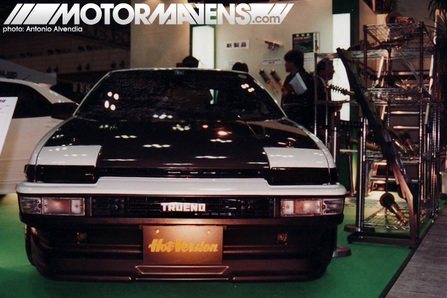 I was talking to a new AE86 friend earlier on Facebook, and he told me that today was
Keiichi Tsuchiya
's birthday. Those that follow the drifting scene in Japan obviously know that Keiichi is highly revered in Japan's automotive media industry; nicknamed
Dorikin
, or "Drift King," Keiichi basically became the media darling of
Sanei Shobo
Publishing, which is the media powerhouse that owns and produces
Option Magazine
(and all its variants),
Drift Tengoku Magazine
, and
Video Option
.
Video Option may well be the most powerful media outlet in the group; after all, most of my friends might agree with me when I say that the first time I (we) ever watched an Option Video tape, we were dumbfounded and immediately hooked on drifting and Japanese car culture. (Yes, that's right... I did say
video TAPE
... I'm showing my age here. I know that many of our readers have never used video tapes, only DVDs.) However, this isn't a story about Video Option... after all, it's Keiichi's birthday, so I thought it might be fitting to share some old school photos of my first (only) encounter with Keiichi's famous white TRD AE86, which inspired the hell out of us at an early age.
I realize that most people might think, "What the hell? A post about Keiichi on his birthday? You JDM fanboy!" Haha, it's okay, I'll admit it. When I first learned about
drifting
and
Video Option
and
Best Motoring
and
AE86s
and
Keiichi Tsuchiya
and
Initial D
in the mid 1990s, I
was
a fanboy. I don't care if you think that's lame, either... because at some point in our lives, we
all
idolized
someone
... whether it be a sports figure or famous celebrity or whatever. The only difference is, I have enough confidence to admit it. As I was growing up, I definitely looked up to guys like Keiichi Tsuchiya (and Nas and Blackthought and Q-Tip and De La, but that's another story...).
Read more...
---