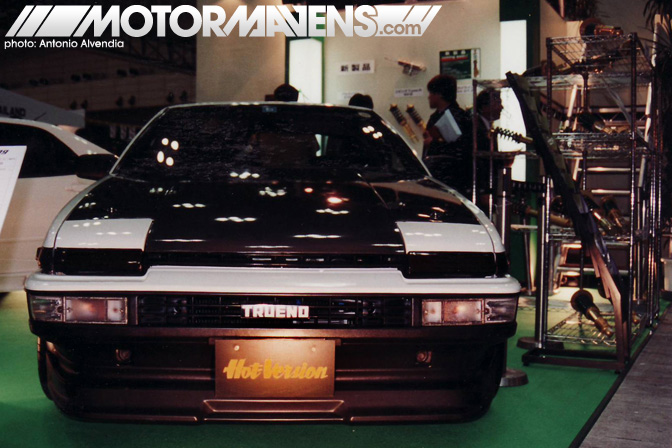 I was talking to a new AE86 friend earlier on Facebook, and he told me that today was Keiichi Tsuchiya's birthday. Tanjoubi omedetou, Dorikin! Those that follow the drifting scene in Japan obviously know that Keiichi is highly revered in Japan's automotive media industry; nicknamed Dorikin, or "Drift King," Keiichi basically became the media darling of Sanei Shobo Publishing, which is the media powerhouse that owns and produces Option Magazine (and all its variants), Drift Tengoku Magazine, and Video Option.
Video Option may well be the most powerful media outlet in the group; after all, most of my friends might agree with me when I say that the first time I (we) ever watched an Option Video tape, we were dumbfounded and immediately hooked on drifting and Japanese car culture. (Yes, that's right… I did say video TAPE… I'm showing my age here. I know that many of our readers have never used video tapes, only DVDs.) However, this isn't a story about Video Option… after all, it's Keiichi's birthday, so I thought it might be fitting to share some old school photos of my first (only) encounter with Keiichi's famous white TRD AE86, which inspired the hell out of us at an early age.
I realize that most people might think, "What the hell? A post about Keiichi on his birthday? You JDM fanboy!" Haha, it's okay, I'll admit it. When I first learned about drifting and Video Option and Best Motoring and AE86s and Keiichi Tsuchiya and Initial D in the mid 1990s, I was a fanboy. I don't care if you think that's lame, either… because at some point in our lives, we all idolized someone… whether it be a sports figure or famous celebrity or whatever. The only difference is, I have enough confidence to admit it. As I was growing up, I definitely looked up to guys like Keiichi Tsuchiya (and Nas and Blackthought and Q-Tip and De La, but that's another story).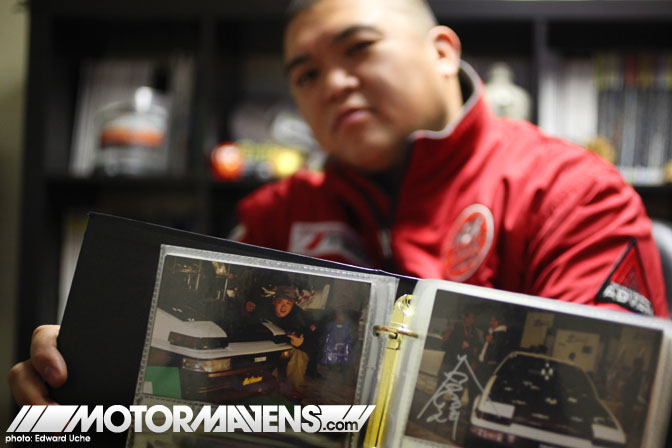 Let me explain. When I was getting into cars in the mid-1990s, I lived in the San Francisco Bay Area. In that area, at that time, fixed up Hondas and turbo Eclipses ruled the streets. Oh geez… I know…. but at the time, Import Showoff was the shit, Hot Import Nights had just started, SEMA was still a tradeshow for  domestic car guys (for the most part), Biggie Smalls just dropped Hypnotize (and everyone was jocking the Remix Twins in his video), and Hondas had just broken into the 10-second barrier at import drag events. The scene for Japanese cars in the United States was still very, very young…
Most of the Bay Area car guys would bring their FWD street drag cars at In N Out Burger in Milpitas, wearing bright Tommy Hilfiger and Nautica jackets in an attempt to attract the "hot azian chicks" that they were chatting with online. (Yes, I'm serious!) Integras and Civics were the cool cars to have at the time; I didn't own a Honda though, so most people in that scene never thought my cars were cool. (I hated those guys anyway.) To them, I owned a shit brown Celica and a shitty old Corolla. So when I first saw Keiichi the Drift King in the videos, and he was driving the same kind of Corolla I had, I totally thought he was the shit! Especially back in 1998, when I bought my VHS copy of Best Motoring Video Vol. 41 at the Kinokuniya Bookstore in San Francisco!
In the legendary Best Motoring Volume 41, Keiichi races an EK9 Civic R and beats it with his AE86 Trueno! I would always chill in San Francisco with my hachiroku friends like Calvin (C.Wan), John and Yves, and we used to sit there and watch AE86 videos all night long, and then go drive Highway 1 from Pacifica to Half Moon Bay. After watching Keiichi's AE86 beat the EK Civic in those videos, Keiichi became our hero because we despised all those Honda drag guys who used to talk shit about the GT-S Corollas that we loved so much. (We're friends with the Honda guys now, though… haha)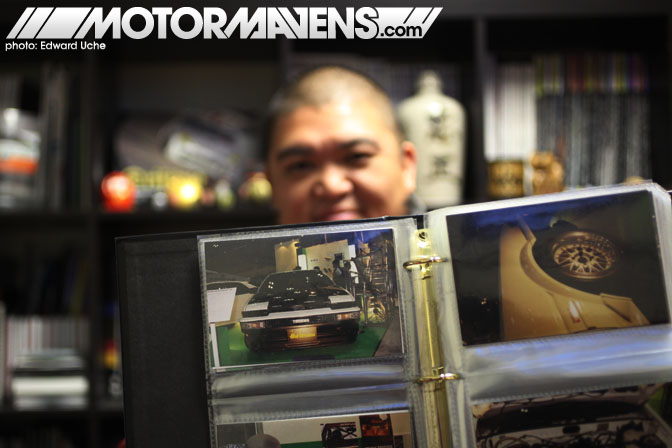 In honor of Keiichi's birthday, I thought I should head to the Cipher Garage and dig up my old photo albums from my first Japan trip in January 1999 and share the pics with our readers. I'll be honest… I used to be a HUGE fan of Keiichi back in the day… until I saw firsthand the way he speaks to and treats D1 drivers. (I was crushed when I experienced those things.)
However, I figured our readers might like to see this blast from the past anyway. Before car forums and blogging were big on the internet, I used to go to car events and take photos using film that I bought cheap from the photo lab I worked at in high school. Back then, I made the Team Cipher website, which had photos of our friends, early import events, and my early experiences with Japanese car culture. I used to spend all my money on film and developing, and sneak away from my desk at work to scan the photos onto 3.5″ floppy disks when nobody was looking! LOL old school!!!
Here are some of my scanned photos from Tokyo Auto Salon 1999, where I came face to face with Keiichi Tsuchiya's famous TRD AE86 at the K/T Design booth…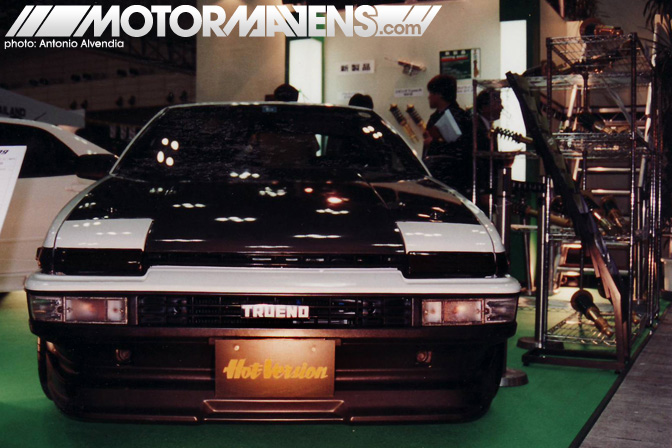 I don't think I've ever jocked a car as hard as I did when I first saw Keiichi Tsuchiya's TRD AE86 in person.I was trippin the hell out on his kouki bumpers, the TRD carbon fiber hood (at the time, 86 guys in the USA didn't have carbon hoods), and of course, his SSR/Modex Dori Dori wheels.
Keep in mind, I had just bought the Vol.41 video a couple months earlier, and watched it about 300 times. I didn't even know it was going to be at the Tokyo Auto Salon!!! I was going f*cking bananas! I was definitely a young, stupid fanboy at the time. I just wouldn't shut up about AE86s and old Toyotas… it was like I thought they were the shit, and all other cars were wack. Man, I must have acted like such a dummy… hahahahaha
On the flight to Japan, I met another Toyota guy, who was sitting next to me on the plane. He was super cool to me, and told me some crazy ass stories about how the local Pennsylvania cops would try to chase his JZA80 Supra, but they could never catch it. His name was Christian Rado, and he was telling that he just learned how to weld, and he was planning to make a rollcage in his drag Integra, and he was also planning to make his JZA80 Supra streetcar crazy fast…
Also on the flight were guys that I saw in Super Street Magazine like RJ DeVera and Stephan Papadakis, although they didn't know me at the time, cause I wasn't a known photographer or anything. I was just a fat filipino dude with a POS faded paint Corolla GT-S with an LSD and Panasport wheels. (They were 13s, but they were clean tho!)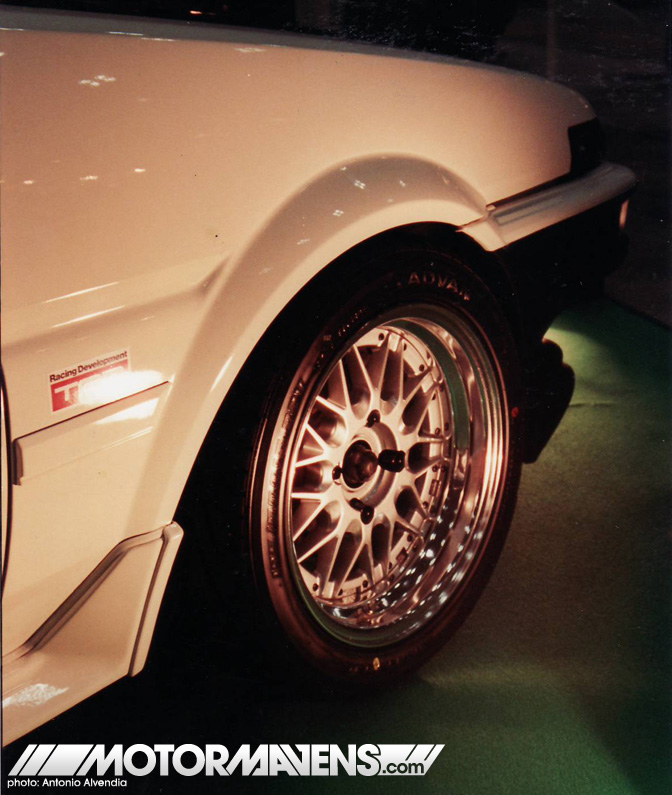 Dayummmmmmmmm. My friends and I have ALL been jocking these wheels for a long, long time. The SSR/Modex Dori Dori wheel, which were made famous by Keiichi Tsuchiya in his Best Motoring videos. Can any hachiroku heads guess the size and offset of this particular set?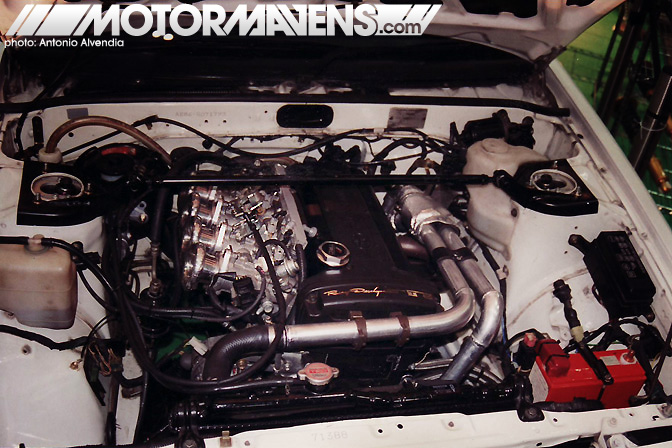 I think I stood in front of the car for like an hour, just dumbfounded and genuinely enthralled to be in front of the very car I idolized from the videos. After a while, a very nice English-speaking Japanese guy from Hot Version Video came up to me and asked me if I wanted to see under the hood!
I don't remember his name, as he didn't give me a business card… but I will always remember that experience. I just couldn't believe that someone would go out of their way to talk to me and be sooo nice to me! It was the very first time I had seen a Blacktop 20 valve 4AG engine transplanted into an AE86… I had never seen anything like it before! Just look at the way Sakurai san from Toyota Technocraft (TRD Japan) routed the water lines in the car to the front. There are water line kits available now, but Sakurai's fab work was the first I had ever seen. The development of this car was MAJOR to the AE86 community. I was trippin the hell out on the individual throttle bodies, and the sound they made when Keiichi drove over the hill at Ebisu East course in the Vol. 41 video at full throttle…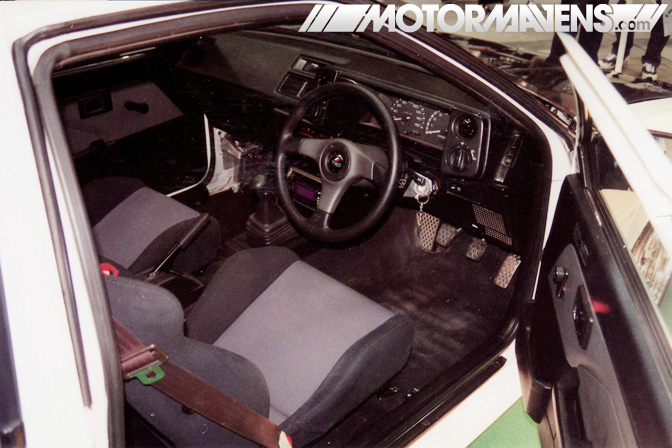 I even asked if I could open the door to shoot a photo inside… the car isn't super, super clean inside, as this photo shows… but I suppose it's clean enough. I was going crazy when I saw the TRD Nardi steering wheel on the car, and the TRD reclineable Recaro seats. The guy from Hot Version was just laughing at me…. he said, "Oh! Do you want to meet Keiichi?"
WTFFFFFFFF. My response was obviously YES!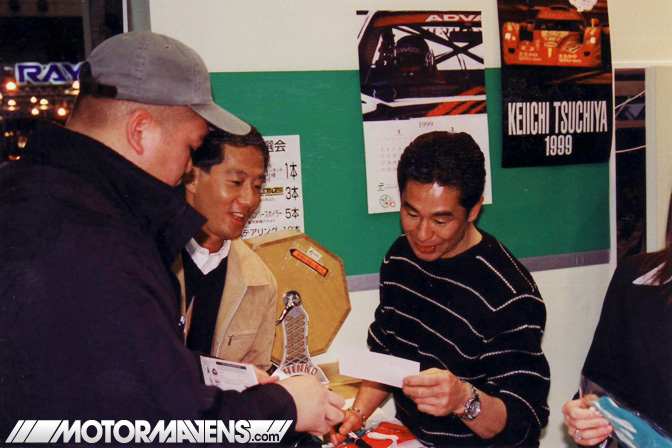 Here's a photo that my friend Phil took of me showing Keiichi some photos from our late night AE86 meets in the Bay Area. That's the nice guy from Hot Version standing right next to me. Man… can you believe… this all happened ELEVEN years ago?! How quickly time flies. It's just crazy. I can't believe I've been taking pictures at car events for that long. And I don't see myself stopping anytime soon.
I think the text of this story might be a bit longer than most people expected… I'm not sure if Motor Mavens readers like these types of "personal account" stories or not, but I just figured I'd take this time to tell you about the first time I met the Drift King, since it is his birthday today.
Tanjoubi omedetou, Dori Dori. Hope you have a happy birthday. Sell me your AE86!
:: Antonio Alvendia
PS: I wonder if anyone wants to see some of my fanboy collection of Dorikin related stuff I have in my collection… if so, LMK.
Karl Alexander's post about Keiichi Tsuchiya's Birthday on Hachiroku.Com.Au
---