---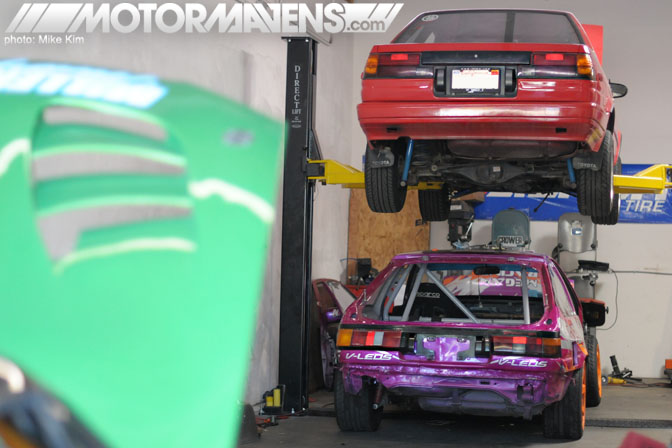 When it comes to drifting, whether it's professional, grassroots, or even street, the
AE86 Toyota Corolla GT-S
is one of the most iconic cars around. The AE86 '
hachi roku
' and its
4AGE engine
are a staple when it comes to drifting. However some more adventurous and fabrication savvy people have opted to swap in different engines. Not everyone is a fan of cross platform engine swaps, but I think pulling off a swap from a pure engineering standpoint is a feat of its own. One of the most desired AE86 cross platform swaps is the
F20C/F22C
engine from the Honda S2000 as it is one of the most powerful 4 cylinder N/A (normally aspirated) engines available.
About a week ago,
JSP Fab
's
John Russakoff
contacted me about an exclusive update to his
Megan Racing/Nexen Tire
Formula Drift competition car. For those of you who don't know John, he is one of the first in the AE86 community to perform a F20C engine swap into the AE86 Toyota Corolla Chassis -
stateside
at least. He has once again broken the
cross platform swap barrier
by putting a
Honda K-Series
front wheel drive
engine into the AE86 while retaining the RWD platform. Going to be the very first fully completed and
running
K-Series AE86 in the US (and maybe even the world), he definitely had some hurdles to jump over when it came to engineering and fabrication.
Read more...
---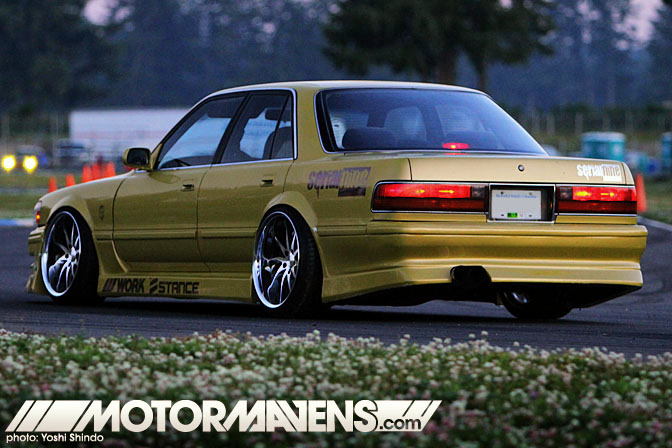 I can't imagine that, back in the mid 80s to early 90s, anyone thought of
Toyota Cressidas
as performance cars - after all, they were stuffed to the gills with power options and a plush interior. They were pseudo luxury cars that were made for taking trips to the grocery store and picking up the kids from school.
That perception of these four-door beauties changed when engines like the
1JZGTE
and
2JZGTE
started to become more accessible with the spike in JDM import parts coming into the US within the last decade. With minimal work, and a good knowledge of cars, one could have a powerful car with less investment than, say... a
240SX
or
AE86
. Opting for the straight six turbo 1/2JZ engines was a no-brainer if you had a Cressida.
Read more...
---