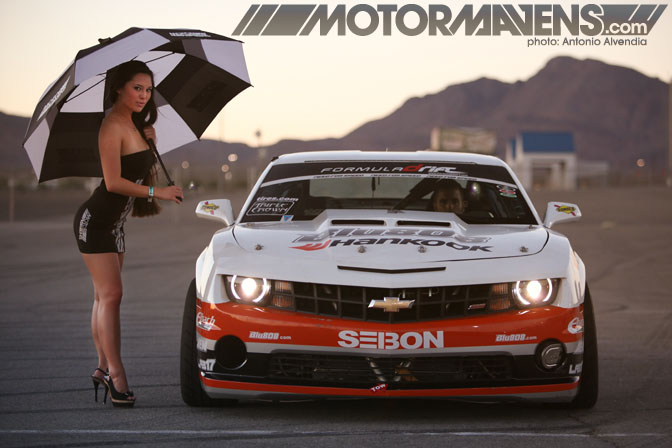 When it comes to Formula D Las Vegas, what can I say that hasn't been already mentioned? It was hot. Damn hot. Too hot to be outside without air conditioning. I don't understand how Las Vegas locals can handle the incredible heat over there, but they say they're just used to it now. Getting used to it is one thing... but I wonder if they
like it
though?
Just like the gypsy camps in the days of old, this year's Las Vegas round of Formula Drift brought thieves out of the woodwork. I was really surprised to find out that former Formula D judge (and current Tanaka Racing Corvette driver)
Alex Pfeiffer
's helmet was stolen. I suppose someone was a fan of Alex's Hawaiian print helmet, which had the traditional Hawaiian plumeria flowers painted on one side. The only question I have about that is...
Okay, thieves. Now that you have Alex's helmet, what the hell are you going to do with it?
Read more...
---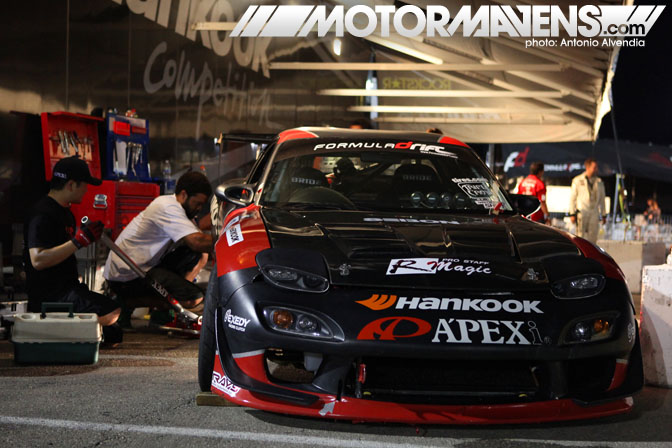 It has been ten days since the Formula D tour rolled the dice through Sin City, and what an event it was. We've already shown you numerous photos and videos from the Vegas event, so we thought we'd wrap up our photographic coverage of the event today.
In the pit area right before qualifying, the Apex'i crew was busy at work - either their differential or ring and pinion seized up, because the rear wheels on Ryuji Miki's FD3s wouldn't spin at all - they were completely locked up! The Apex'i crew always seems to be working tirelessly, as we always see them working on their cars on the side of the track.
In this photo, we see Jeren Walker from DSPORT Magazine offering to lend a helping hand, so that the Apex'i crew could get the car back on track and Miki could qualify. Jeren works for a magazine - he wasn't hired to help Apex'i; he had nothing to gain from getting down and dirty, helping to get Miki's car back on track. Yet he willingly volunteered to help, because that's what people do from the grassroots drifting scene. Wait... Apex'i..? Grassroots?
Read more...
---