---
---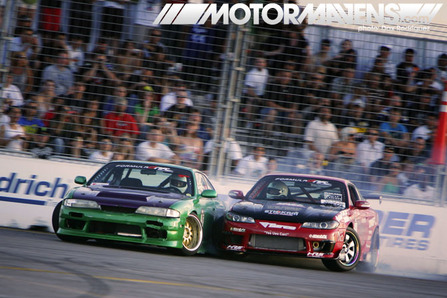 The latest round of the
Formula Drift Championship
took place this past weekend in Las Vegas, Nevada. It was sooooo incredibly hot in Las Vegas this past weekend; the Formula D teams had to work hard to make sure the drivers remained hydrated enough to perform at peak levels (last year, I remember seeing one of the drivers pass out because of the intense heat inside the car).
As a member of the media with a trackside photo pass, I remember being extremely uncomfortable because of Formula D safety rules requiring us to wear long pants instead of shorts at the track. However, just think about what the drivers must be feeling like - wearing full fire suits and Nomex underwear and HELMETS, sitting inside hot cars without air conditioning; with hot metal roofs working like a broiler due to the lack of headliners and insulation in a professional drift car.
Nevertheless, the crowd at Formula D remained upbeat and excited, due to the level of driving prowess they were treated to. Vegas drift fans are hardcore! Regardless of the heat, these fans were down to sit outside in the stands, sweating and cheering as their favorite professional drifters slid past them, dousing the grandstands in a bath of tire dust.
Read more...
---