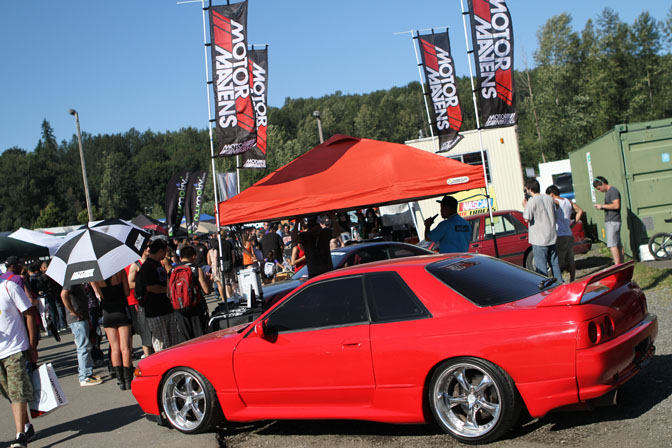 Formula Drift
in Seattle is definitely one of my favorite stops on the Formula D tour. It always happens in the middle of the summer, and summertime is the best time to visit Seattle anyway! The event planners at Formula Drift always seem to pick the FD Seattle weekend perfectly, when the rainy state of Washington is blessed with a little break from the gloomy rain, and the sun comes out to put everybody in a good mood!
Since most drift fans outside of Seattle were able to watch the event play-by-play on Justin.TV's Formula D Driftstream, Seattle-based MotorMavens sharpshooter
Yoshi Shindo
and I decided we'd post up photographic highlights from the event, based on our own experiences there!
Read more...
Posted by: Antonio Alvendia | Jul 27, 2011 | Categories: Coverage | Tags: 350Z, Alex Lee, Antonio Alvendia, Ashley Valenzuela, Carrissa Rosario, Cellblock D, Cipher Garage, Cresta, d1 grand prix, Dai Yoshihara, Daijiro Yoshihara, Discount Tire, Drift Safari, Evergreen Speedway, Falken, Formula D Seattle, Formula D Seattle 2011, Fredric Aasbo, Hankook, Ian Fournier, Irwindale Speedway, IS350, JZA80, JZX81, Lexus, Lisa Lee, Lucas Perez, MJ Castillo, MotorMavenettes, Nicole Reckers, Olivia Korte, R32, R32 Skyline, Randyl Dawn, Roland Gallagher, Ryan Kado, S13, Samantha Totem, Scion, Scott Dodgion, Skyline, SPD Metalworks, TC, TOYOTA CRESTA, Trent Stromkins, VS-KF, work wheels, Yoshi Shindo, Z33 | 15 Comments »
---