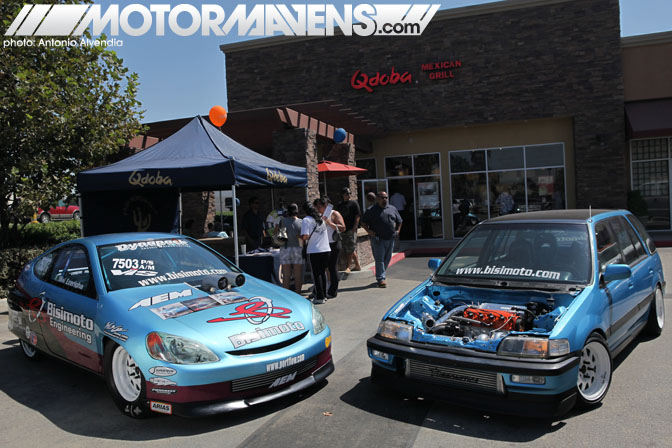 Those that are
following MotorMavens on Facebook,
Twitter
and
Tumblr
probably already know that our friends from
Bisimoto Engineering
invited us out to the grand opening of the new
Qdoba Restaurant
in Ontario yesterday. When we arrived out at the restaurant, the parking lot was packed, and there were no spots to park anywhere nearby. We just double parked the E39T alongside the trailer, and were immediately greeted by the always smiling
Bisi Ezerioha
, the charismatic
drag racer and engine tuner
that you might have seen in
our off-the-cuff Norm Reeves Honda Meet video feature
.
A lot of people were crowded around the
Bisimoto Honda Insight
drag car and the hoodless 700hp
D16Z
powered
Civic wagovan
that Bisi drives on the street (Sshhhhh! We hope that we don't have any cops reading this!). Luckily, we were able to use our MotorMavenly powers of persuasion (or coercion) to ask people to move out of the way for just a little bit so we could reposition the cars and snap these photos!
Read more...
---

Bisimoto+700whp+D16Z+1990+Honda+Civic+Turbo+Wagova
It seems a LOT of people were pretty hyped after seeing Bisi Ezerioha's turbocharged Honda Civic EF Wagovan in our previous post about the Norm Reeves Honda Meet. I was hyped when I first saw it too! It's pretty crazy to have a front wheel drive car with that much horsepower… especially a car that gets driven on the street! And it has aggressive wheel fitment. =)
Here's a pretty simple and straightforward video that was shot off the cuff and unrehearsed. It's not really the type of video that shows off the MotorMavens ability behind a lens, but I think it still works because it's simple and we get to see all the details of the car. I think these simple hand held/unedited video features are going to become more and more popular… it's kind of like videoblogging vs. preplanned, high production/edited videos. The funny thing is, I first started shooting this video just so I could remember the details of the car without having to actually write down notes. However, when I got home and watched it again, I thought Bisi did such a great job explaining everything on the car (and pointing out parts from his sponsors, haha)… I just decided to post it up anyway.
Hehe, since I wasn't originally planning to post this, I was saying a lot of ridiculous non-related things in the video! LOL don't mind me. I didn't have an external microphone or anything with me to amplify Bisi's sound levels. Oh well, whatever… the only good thing about it is you can see the details of Bisi's car! If you want to see professional photos of this Bisimoto EF Wagovan, go to the bookstore and buy an issue of Super Street Magazine.
:: Antonio Alvendia
---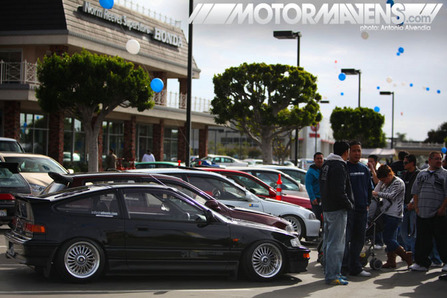 Two weekends ago, my friend
Scott Toshima
invited me to come out to a meet he was hosting at
Norm Reeves Honda
,
off the 605 freeway
in Cerritos CA. I've never owned a Honda in my life, so I never had a reason to go there previously, but I was definitely down to support whatever function Scott was throwing... plus, he said that several of the best offset Hondas in Southern Cali would be attending.
Well, Scott wasn't lying. I was honestly quite impressed with the level of the cars that came out to this gathering, which wasn't even a major carshow or anything; it was just a simple Honda meet in the parking lot of a local dealer! Even though it wasn't some sort of big event like Import Showoff or something like that, the H crowd showed up strong to show off their new wheels!
That's right,
I said wheels
! It seems that
there are more and more Honda owners catching on and joining the low offset/stretched tire movement
, and I think that's a good thing. Sure, there are a lot of people who hate on this new trend in the Honda scene, saying that it makes no sense to stretch the tires and camber the rear wheels on a Front Engine, Front Wheel Drive car... but hey, Volkswagen guys have been doing it for years, and their cars are FF too!
Read more...
---