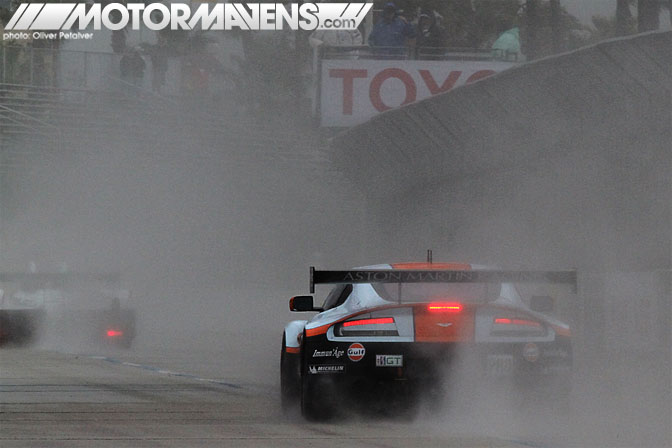 The Toyota Grand Prix of Long Beach opened today with a practice session of the American Le Mans Series (ALMS). Even though the practice session opened with a heavy downpour, we were super excited to shoot the amazing looking cars as rain soaked our cameras and permeated through our clothing, down to our socks. Even though racing on a rainy day through a street course with big concrete barriers may be a grueling nightmare for many drivers, these conditions are perfect for some spectacular photos. The weather may not have been as nice as the Formula Drift event last weekend, but its a nice change to what seems like an eternally sunny Southern California.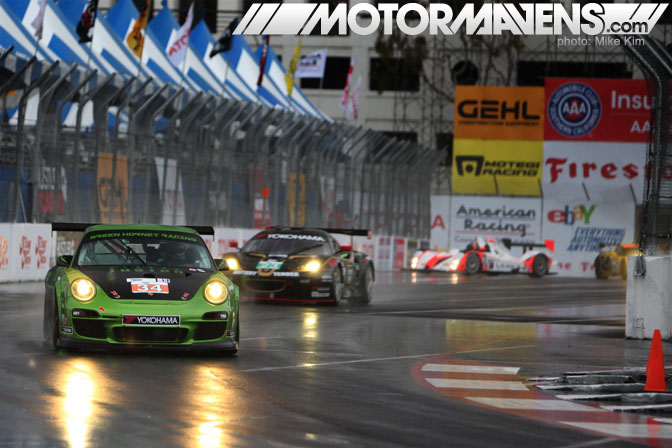 The long straight-away down Seaside Way to Turn 9 is a very high speed corner which is an almost 90 degree turn, heading to Turn 10. The Green Hornet Racing Porsche GT3 and the Alex Job Racing Lotus Evora GTE had to drive around a prototype class car which had spun out earlier. If you follow Formula Drift, you may recognize this corner as the FD Long Beach course.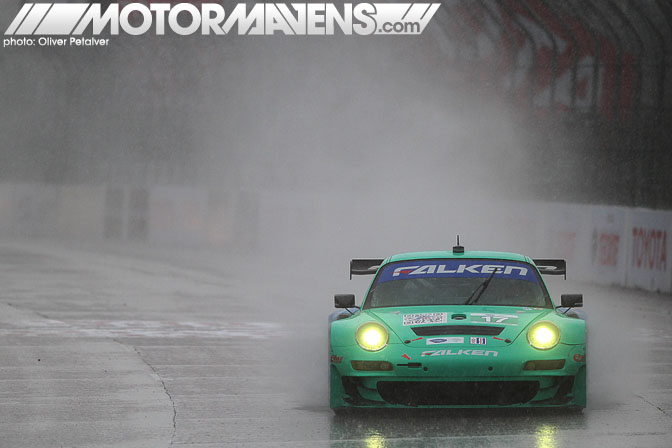 One of the more publicized cars in the American Le Mans Series is the Falken Tire Porsche 911 GT3 RSR. With the large cloud of mist the car leaves behind as it drives through the rain, the car looks menacing as it thunders down the track. This GT3 RSR also has a nice, wide stance to it – who said race cars couldn't have good looks while being functional?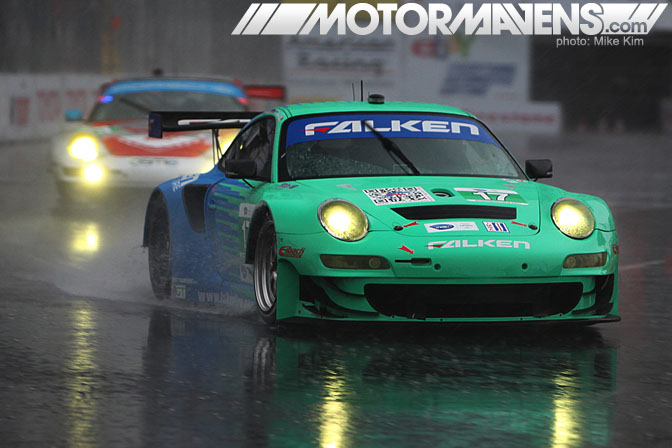 With the rain picking up, the cars had to slow down a bit to get through the huge puddles which were forming on the track. Seeing and hearing widebody Porsches chasing each other through a racetrack always makes me happy!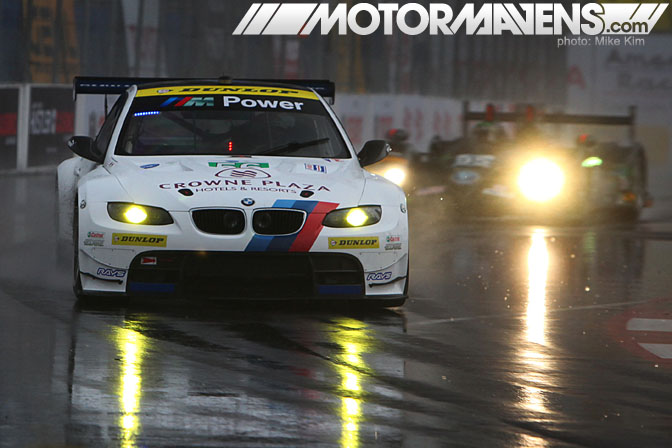 Team RLL's amazing looking widebody BMW M3 GT was being chased down by a prototype class car through the corner. It gets exciting watching two different classes of car competing with each other at the same time!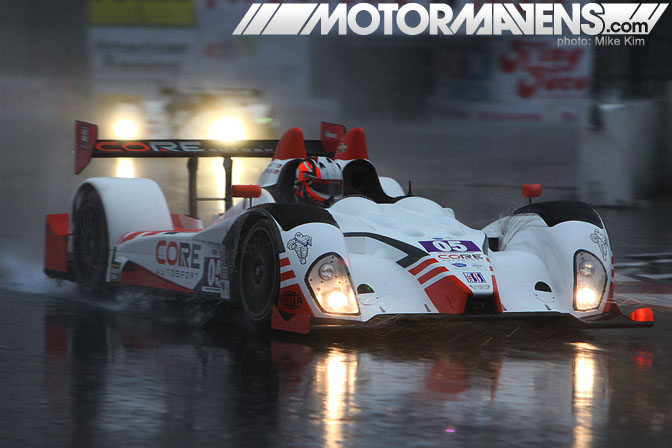 The drivers of the prototype class cars had another handicap when it came to racing in the rain – namely, the lack of a windshield. The driver of the Core Autosport No. 5 ORECA FLM09 car didn't seem like he had a problem though. Can you imagine just how rainsoaked this driver's suit must be getting as he laps the Streets of Long Beach?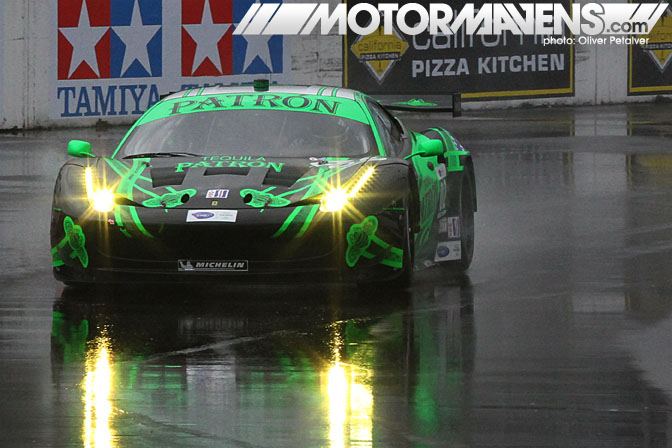 The only Ferrari we spotted today was the Patron Tequila Ferrari 458 Italia. Patron is not just a race team, but is one of the main sponsors of the American Le Mans Series. I wonder if the team finds is difficult not to drink and drive when their main sponsor is a tequila company LOL.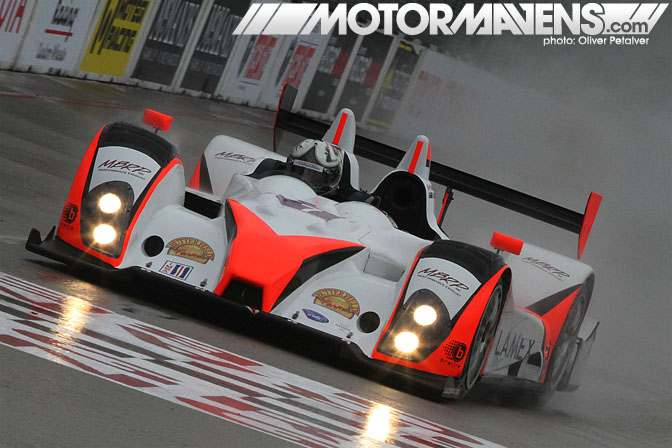 The Autocon Motorsports Oreca FLM09 was the prototype car that spun out earlier at Turn 9, but luckily it did not crash into the wall, and escaped unscathed.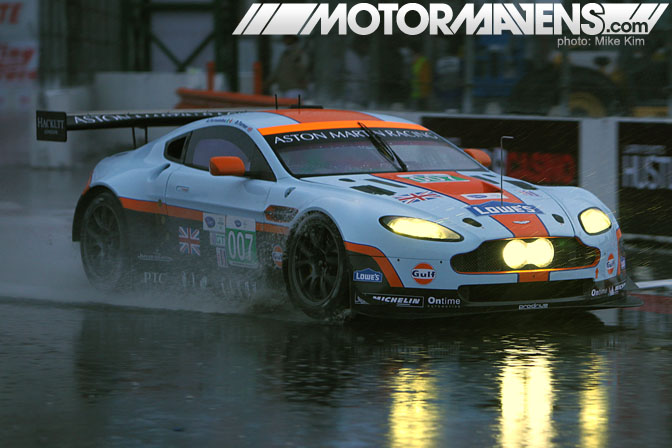 When it comes to having classy looking liveries, Gulf Oil is a company that never seems to disappoint. The Gulf Aston Martin GT car can be seen here driving through a lake at Turn 10. Those Michelin tires must have really excellent wet weather performance!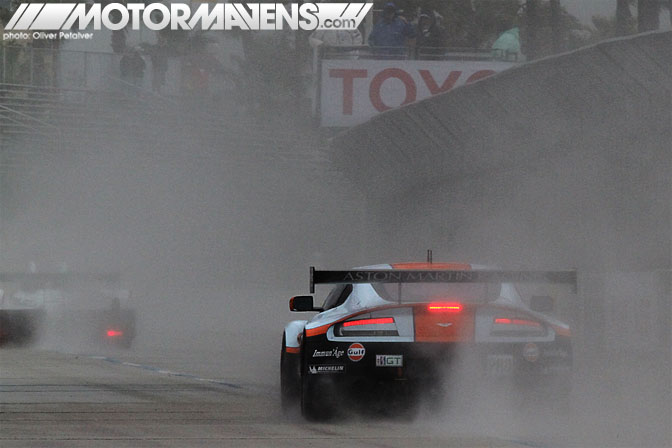 Gulf liveries have been around for decades, made famous by the Ford GT40, and this Aston Martin does the name justice when it comes to looks and performance. This car is soooo gorgeous!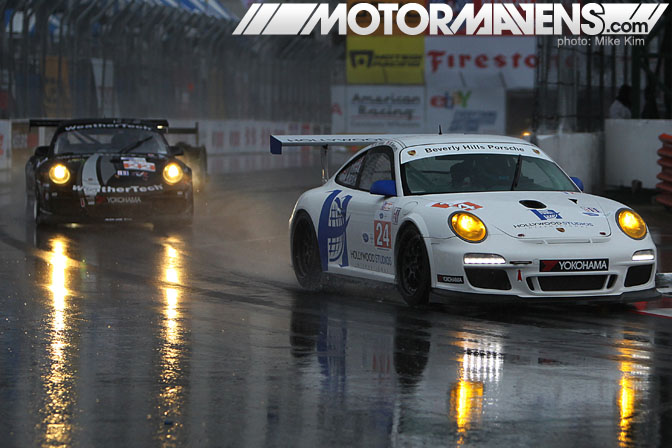 The LED driving lights on the Hollywood Studios Beverly Hills Porsche GT3RS was extremely eye catching when it was reflecting off of the wet tarmac. It certainly stood out from the other Porsches in the race, like the Weathertech car in the background.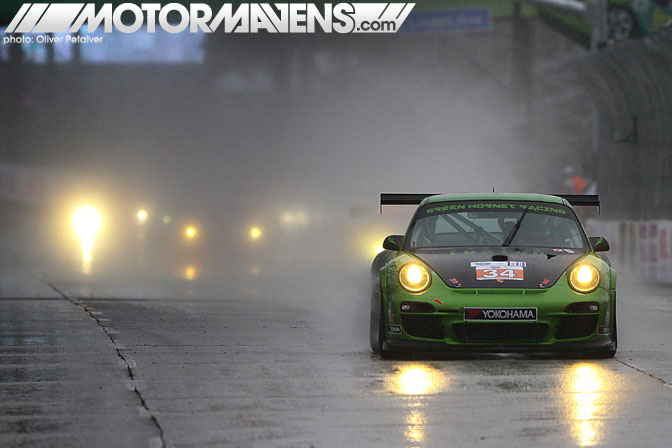 Since this race is held on the streets of Long Beach City, the street signs are clearly visible above the track. Race tracks setup in city streets have a unique feel to them compared to a bespoke track off in the middle of nowhere… races on street courses are super cool to watch!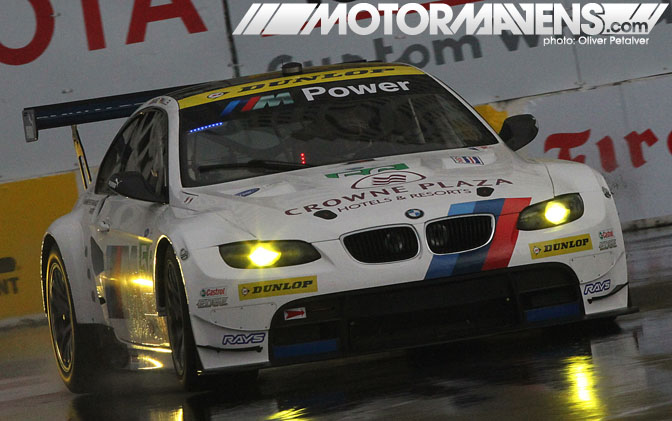 BMW has always had a large presence in motorsports, from FIA GT racing to DTM, and even drifting. One thing that most Bimmers have on the track is a noticeable presence; especially this widebody M3 GT from BMW Motorsport, which runs on lightweight Rays Racing wheels from Japan, wrapped in Dunlop race tires.
Some of you may have heard of WeatherTech from their floor mats and window visors in many magazine ads, but they also have a Porsche GT3 RS race car racing in ALMS. I find it kind of ironic that it just happened to start raining as soon as this car came on track! At least the WeatherTech team doesn't need to worry about wet floors in their GT3RS.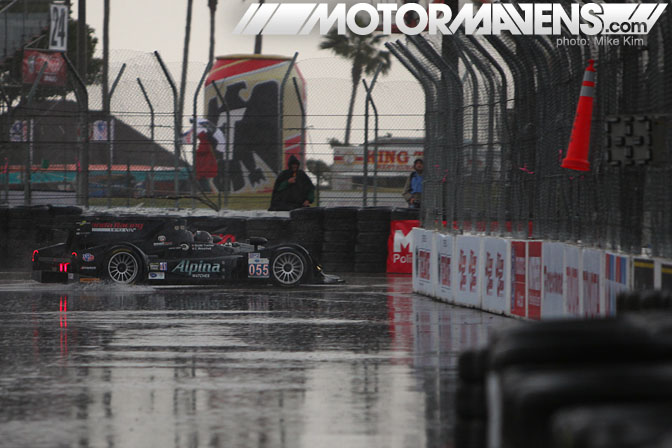 The practice session was eventually red flagged due to the heavy downpour, so the cars were called back into the pits until the rain lets up.
With this being my first time trackside at an American Le Mans Series race, this is going to be an experience to remember for a long, long time. Even though the weather isn't nice and sunny as I usually like it, I'm really glad to be out here getting soaked, so I can capture photos like these!
Stay tuned to MotorMavens for more photos from LBGP real soon… and make sure to follow @MOTORMAVENS on Instagram and Twitter for live updates over the entire weekend!
:: Mike Kim
Photos By Oliver Petalver and Mike Kim
911
,
ALMS
,
American Le Mans
,
Evora
,
Falken
,
FalkenALMS
,
Ferrari
,
Green Hornet
,
GT3
,
GT3 RSR
,
GT3RS
,
homepage
,
Lotus
,
M3 GT
,
Mike Kim
,
Oliver Petalver
,
Patron
,
Porsche
---