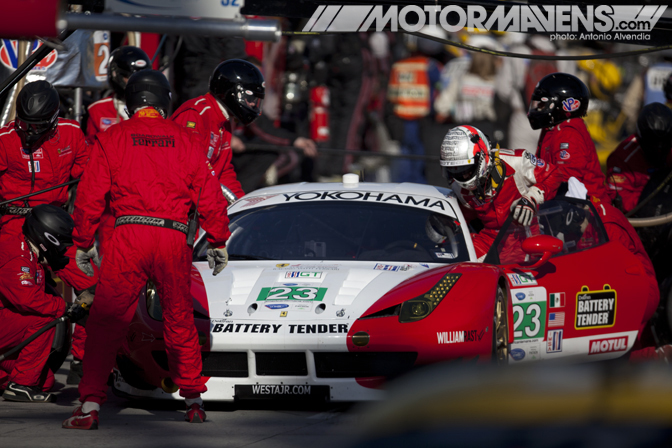 Endurance Racing has always been about how hard and how long you can go. For almost a century, legendary races like Le Mans, Sebring, and Daytona have made history as a proving ground for men and their machines. The Streets of Long Beach circuit brought a similar challenge to the cars and stars of the American LeMans Series (ALMS) on Saturday Afternoon.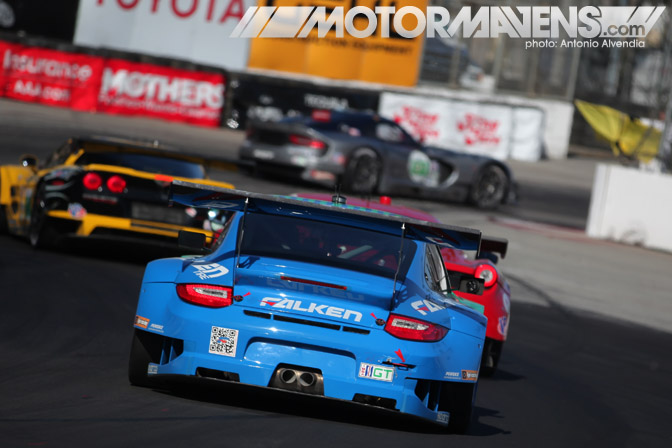 In just two hours, 157 miles would be traveled and 36.329 seconds would separate an endurance racing champion from a former Formula One star – and with the win, produce the winning-est driver in American LeMans series history – a man who only turned a wheel for 25 minutes.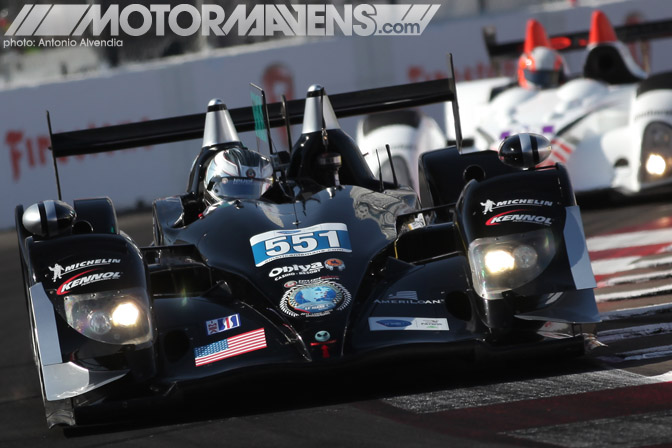 Along with the Prototype 1 class, similar to the monsters that run in Europe, are Prototype 2 (P2), GT, Prototype Challenge (PC) and GT Challenge (GTC), which makes up varied performance–mixing it up to create extremely challenging driving on the tight, bumpy 1.9 mile street course.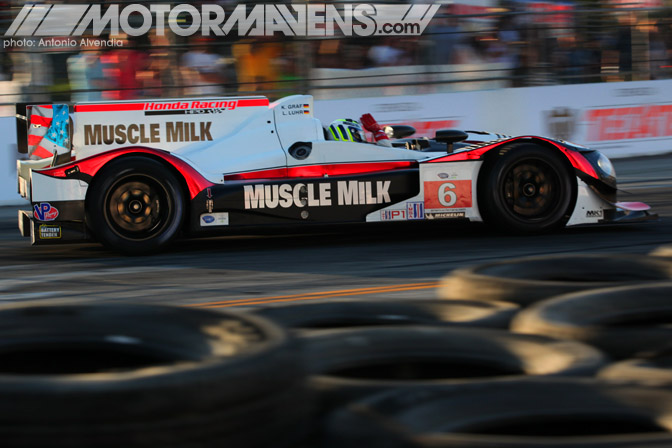 A sizable crowd saw Lucas Luhr and Klaus Graf in the Muscle Milk Pickett Racing Honda-Powered HPD ARX-03C prototype take the overall win from ex-Formula One star Nick Heidfeld and teammate, Swiss, Neel Jani.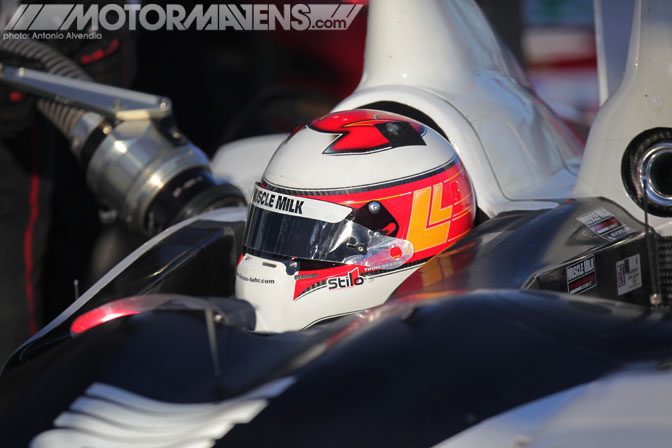 "I would have liked to have driven longer, but this is a team sport and we achieved the desired result today," remarked Luhr, who is now tied for most ALMS wins with F1 and endurance veteran, Olivier Beretta.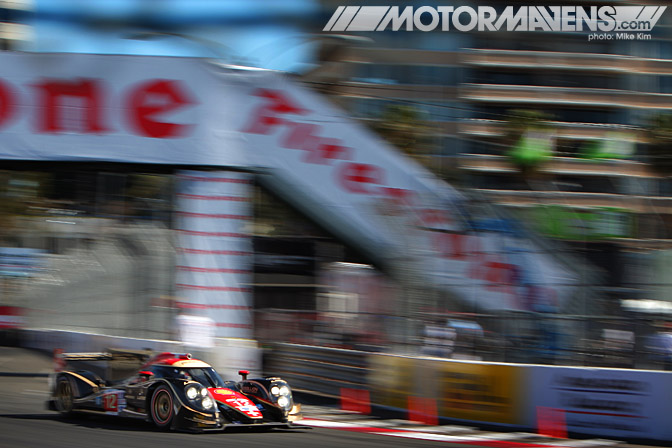 The key to the win, according to Graf, was the early driver change – after only 25 minutes – that left just a fuel stop for the Pickett Team, while the Rebellion Lola B12/60 of Heidfeld and Jani got caught in slower traffic after a late driver change/fuel stop in the two hour timed contest.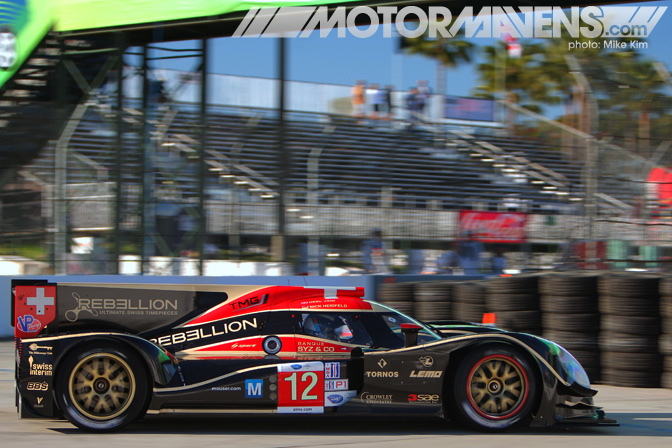 Aside from reaching the podium with a best time of 1:14:061, the Rebellion Lola of Heidfeld and Jani actually won the Michelin GREEN Challenge, which is an award honoring the P1 and GT teams that are the cleanest, fastest and most efficient on the track.
Michelin recognizes the winning teams at the end of each ALMS race and also presents championship trophies to the class leaders with the best cumulative score at the end of the season.
Taking the checker third overall and first in the PC class was Colin Braun in the CORE Autosport ORECA FLM09, who led the race at the midpoint as he took driving duties from co-driver/team owner Jon Bennett.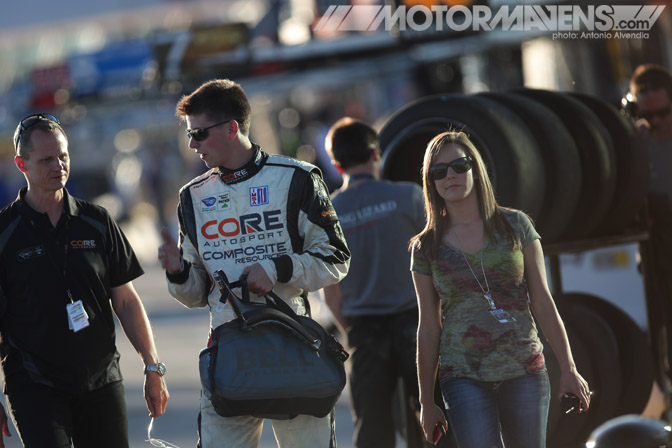 Bennett attributed the amazing win and overall performance to help from above, speaking of business partner and friend Ralph Brown, who died three weeks ago from complications of a brain aneurism suffered last September. The younger Braun was elated with the drive: "This was my first time leading an ALMS race overall. I thought maybe we could have won it!"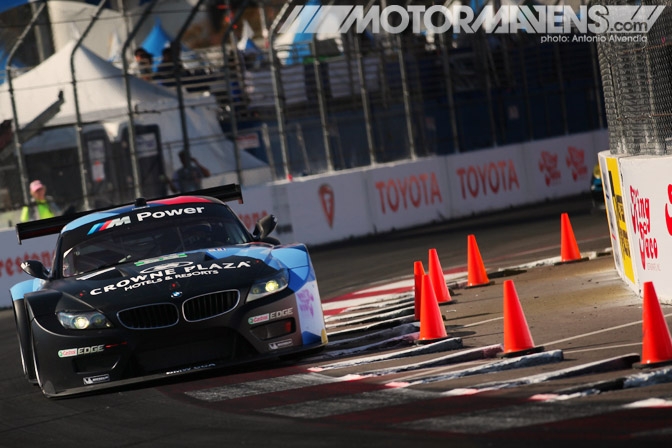 The GT Classes provided insane wheel to wheel racing with Bill Auberlen of Redondo Beach – the next town over from the circuit – in the BMW Z4 GTE making a heroic late race move on the SRT Viper GTS-R of Dominik Farnbacher in turn 1.
Auberlen didn't look back and said "I'm from Redondo Beach.  I have wanted to win this thing forever and never have….  What a great day for BMW!"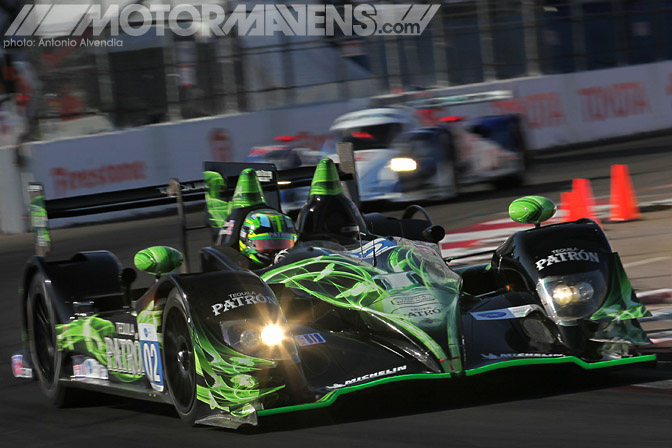 The Tequila Patron liveried Extreme Speed Motorsports HPD ARX-03b of Indy legend Scott Sharp and endurance star Guy Cosmo took the P2 Honors and gave Sharp his first Prototype win since 2008 when he won here at Long Beach.
In GTC it was the NGT Motorsports Porsche GT3 Cup in the hands of Sean Edwards and Henrique Cisneros over Spencer Pumpelly and Nelson Canache Jr. in the Flying Lizard Racing Porsche.
Edwards and Cisneros could be credited with beginner's luck as they had never driven the Long Beach Circuit before this weekend. Henrique commented: "Right out the box we were fast – but had some close calls early. Sean did a great job keeping it together to the end."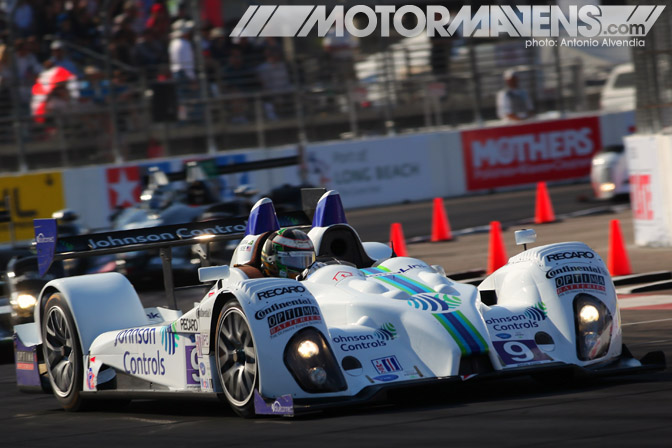 ALMS attracts many of racing's greatest stars – largely because of the competitiveness and international intrigue of the series. Brazilian phenom Bruno Junquiera piloted the the Johnson Controls/Recaro ORECA FLM09  for RSR Racing in the PC class with co-driver Duncan Ende – a local, who grew up a short distance from Long Beach.
Junquiera was a 3 time runner up in the ChampCar World Series and an F3000 Champion in Europe and finished the day in a podium spot in the busy PC class.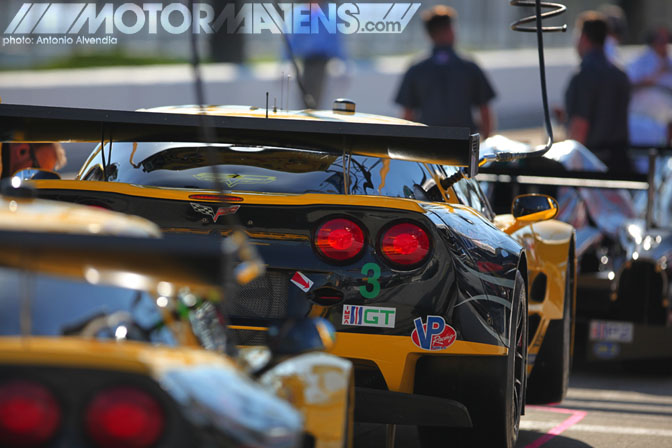 Another big-time veteran is Jan Magnussen of Corvette Racing. His sports car career has been quite successful. In his early career, the Dutch was teamed with Rubens Barrichello at Jackie Stewart/Ford Racing in Formula One.
Magnussen's ride has been a bit bumpy – as he was more-or-less a "bad boy" who didn't mesh well with the stiff collared pinnacle of motorsport. However, he has found a very cozy place with the Chevrolet factory team and has scored many wins and podiums in the GT class in ALMS.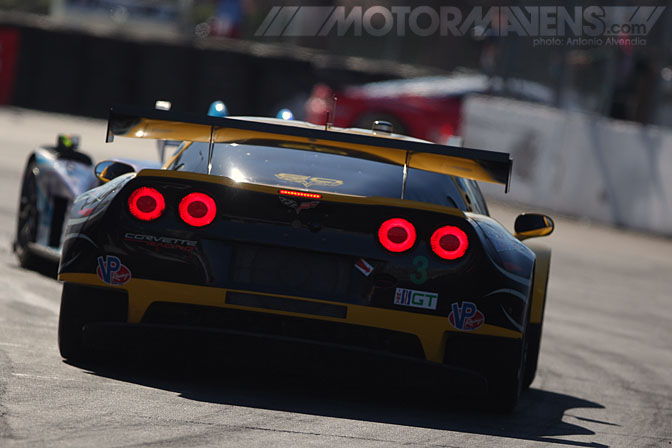 Magnussen's son Kevin is a current F1 hopeful, contracted to top-flight team McLaren while he competes in the Formula Renault 3.5 series in Europe. Second-generation drivers are relatively common in the the higher forms of the sport as names sell – and sponsors love a winner.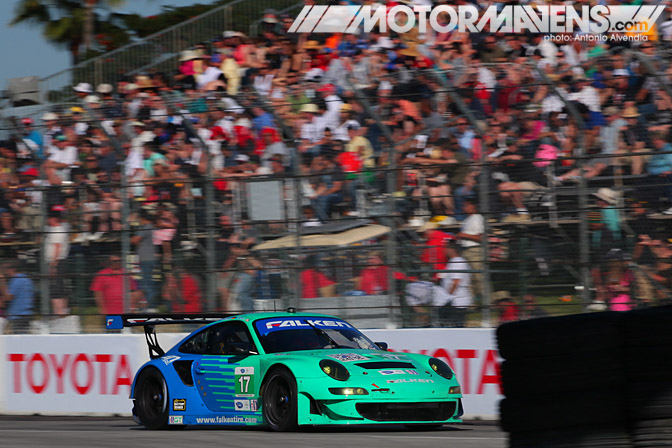 Legendary team manager Derrick Walker – a veteran of Formula One, Indianapolis, ChampCar and Le Mans holds the helm of  Team Falken Tire from Fontana, CA. Falken's Porsche GT3 RSR was in the capable hands of Porsche factory driver Wolf Henzler and co-driver Bryan Sellers.
Walker began his career as chief mechanic for Formula One star Graham Hill in 1970, then moved to Brabham when it was owned by current F1 Supremo Bernie Ecclestone. His track record of success include wins with Penske and entering the first African American IndyCar driver, Willie T. Ribbs.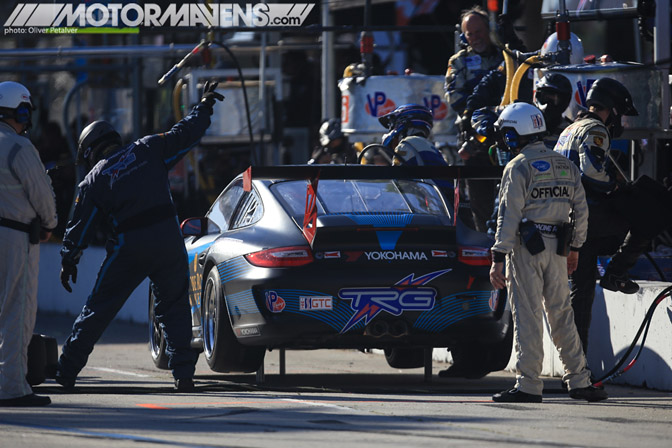 Throughout the race, the pit stops were key. A minimum driver time of 25 minutes and a mandatory driver change, along with fuel and tire replenishment made sure the overall team aspect to this sport was a key factor in the success or failure of any entrant.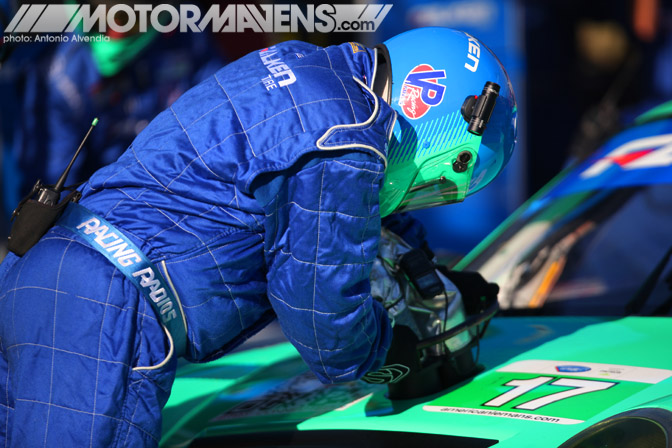 ALMS pit crews, like their NASCAR, IndyCar and F1 counterparts, train and repeat a regimen that assures the fastest service to a car once it comes to a stop in the pit lane.
The faster you get in and get out, the larger the advantage you have over your competition. Mistakes are costly as one second in racing is like an hour in normal life.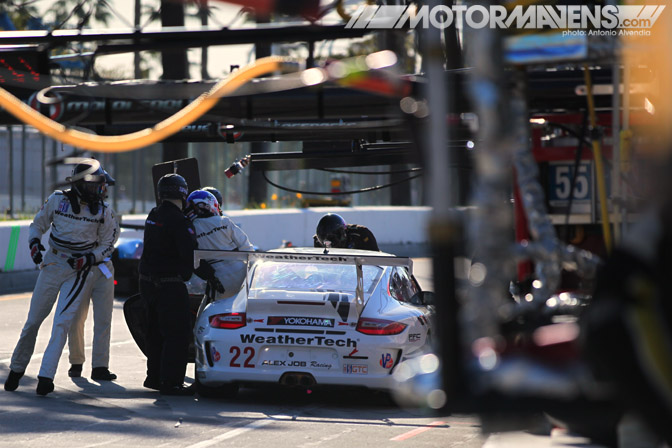 The American LeMans Series is in its final season, as it is scheduled to unify with Grand Am in beginning at the 52nd running of the 24 Hours of Daytona in 2014 in a new series for sports cars called United SportsCar Racing.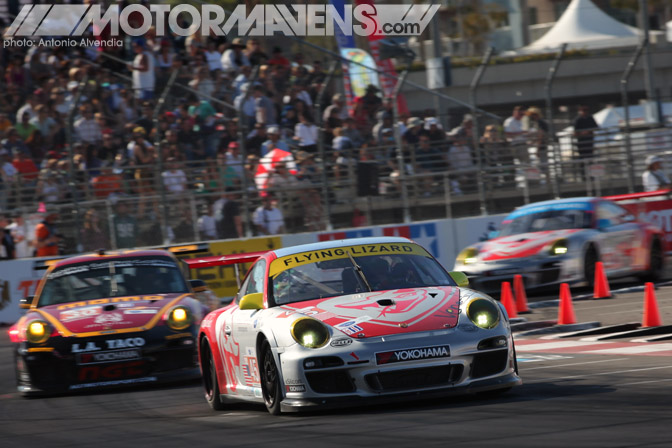 This has caused much controversy with teams, fans and sponsors. There are many who see the unified series as becoming just another NASCAR business – as the stock car series owns Grand Am and runs the series as a support race when the big show goes to the road courses whereas ALMS has its bloodlines from IMSA, one of the most historically competitive sports car series on the planet.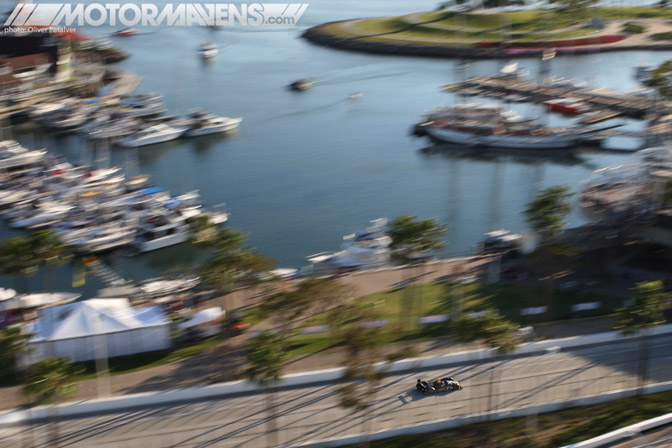 The jury is out, and one can only HOPE that the Toyota Grand Prix of Long Beach might find it's way to the USCR schedule for 2014.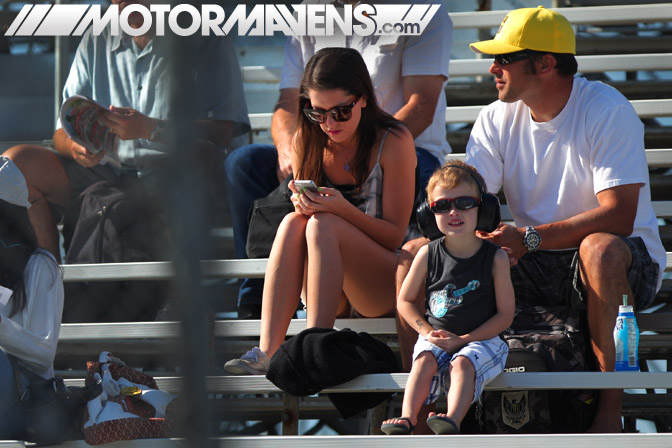 Grand Am and ALMS as one unified group is a worrisome proposition for sports car racing fan of all ages.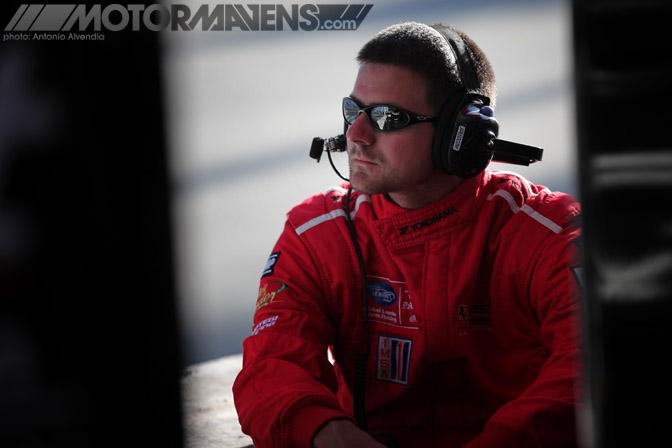 What will the future hold? Who will control the bulk of the rules and sanctioning? If you are a NASCAR and/or Grand-Am fan, perhaps this doesn't bother you.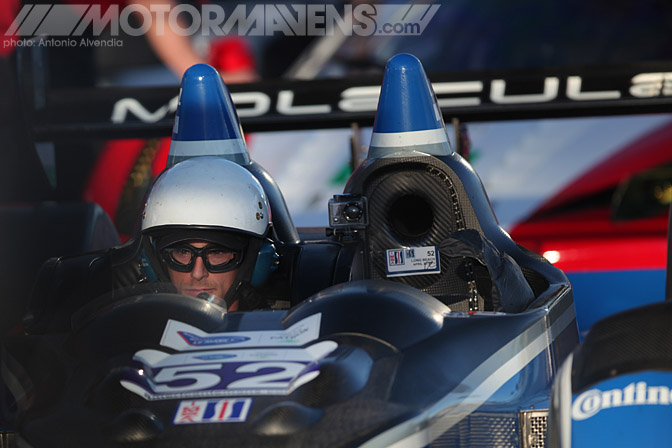 However, if you love the very un-spec prototypes that have differentiated the ALMS series from others, one can only wonder if Sports Car racing in America could go the way of so many other great series, including NASCAR, that have evolved more and more toward spec.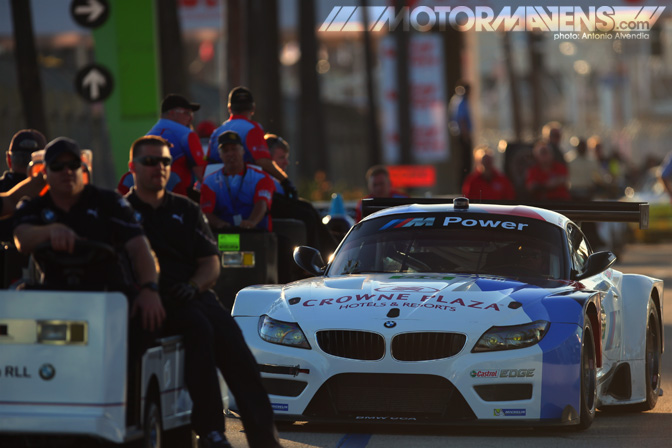 In just over two weeks, the ALMS will visit Mazda Raceway, Laguna Seca for the final time. With one of the two most famous corners in racing, the fabled corkscrew, and the supreme elevation changes, the racing should be legendary.
:: Tom Stahler
Photos by Antonio Alvendia, Mike Kim, and Oliver Petalver
Special Thanks to Sparco USA for providing fire suits for us to shoot pit lane!
ALMS
,
American Le Mans
,
American LeMans Series
,
Antonio Alvendia
,
ARX-03b
,
ARX-03c
,
Bill Auberlen
,
BMW
,
Bruno Junquiera
,
Bryan Sellers
,
Colin Braun
,
CORE Autosport
,
corvette
,
Corvette Racing
,
Derrick Walker
,
Duncan Ende
,
endurance racing
,
Extreme Speed Motorsports
,
FLM09
,
Flying Lizard
,
Grand Prix of Long Beach
,
GT3
,
GT3 Cup series
,
GTE
,
Guy Cosmo
,
Henrique Cisneros
,
homepage
,
Honda
,
HPD
,
Jan Magnussen
,
Johnson Controls
,
Klaus Graf
,
LBGP
,
LMP
,
LMP1
,
LMP2
,
Lola B12/60
,
Long Beach Grand Prix
,
Lucas Luhr
,
Michelin GREEN Challenge
,
Mike Kim
,
Muscle Milk
,
Neel Jani
,
NGT Motorsports
,
Nick Heidfeld
,
Oliver Petalver
,
ORECA
,
Pickett Racing
,
Porsche
,
Porsche GT3 RSR
,
prototype
,
Rebellion
,
Recaro
,
Scott Sharp
,
Sean Edwards
,
Streets of Long Beach
,
Tequila Patron
,
Tom Stahler
,
ToyotaGPLB
,
United SportsCar Racing
,
Willie T. Ribbs
,
Wolf Henzler
,
Z4
,
Z4 GTE
---