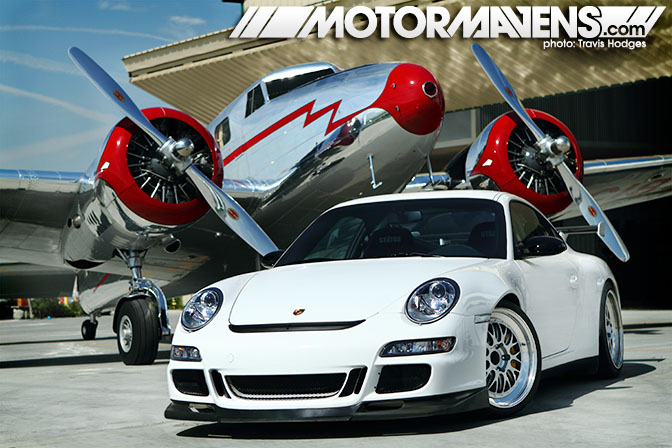 Hello MotorMavens readers! My name is Tamer Omran, and I'm a new writer on the MotorMavens website. Just to put it out there – I am somewhat of a euro-car nut (I used to be an intern at European Car Magazine) and I pretty much spend most of my extra time going to Euro-related events. I'm hooked – I love this stuff and I hope you can see the love in my future posts.
By now you're probably thinking, "Enough already, dude, what's up with the sexy car?" You may even be asking where I got the plane for this shot. Well, this picture was totally a fluke. While wandering aimlessly around AE Performance's shop, which is located at the Chino private air field, we happened to stumble upon this nice gentleman's immaculate 1939 Lockheed executive twin prop plane. In the early 1940s, this was the plane of choice for shuttling around the ultra wealthy. Over 70 years later, it makes for an amazing shot, doesn't it?
The Porsche GT3 is no slouch. It's the embodiment of the whole "rear-engined sports car" vibe. Just climbing into one evokes a Zen-like feeling of oneness with the road. For me, what makes a Porsche so great (I mean, besides those sexy hips it calls fenders) is the tone the engine produces at idle or wide open throttle – siiiick. It's everything from the undeniable racing pedigree to the fact that Porsche actually took out a patent on the 911 body style. Need I say more?
Straight out of the box, the GT3 is ready to conquer any track you throw at it. But for some people, that's just not enough. This particular Porsche is for those people. For them, Porsche decided to put the GT3 on a strict diet regimen to shed some unnecessary weight – a mere 44lbs. "What good is that," you say? Let me tell you – it makes a huge difference. So when I heard that the guys at AE Performance had a rare white Euro-spec 2007 Porsche GT3 RS sitting at their shop, I just had to check it out!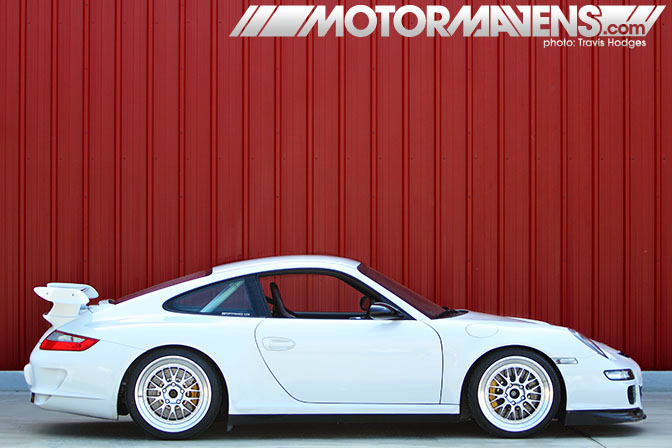 MotorMavens video shooter Travis Hodges and I made the trek out to AE Performance's shop in Chino, CA to check out this immaculate track-driven Porsche GT3 RS. Beyond what you would expect from a GT3 RS, this one had a little something extra – it was converted to a European-spec RS. When it came time to set up the car and source the hard to find parts that separate this GT3 RS from the run-of-the-mill, the guys at AE Performance paid scrupulous attention to detail.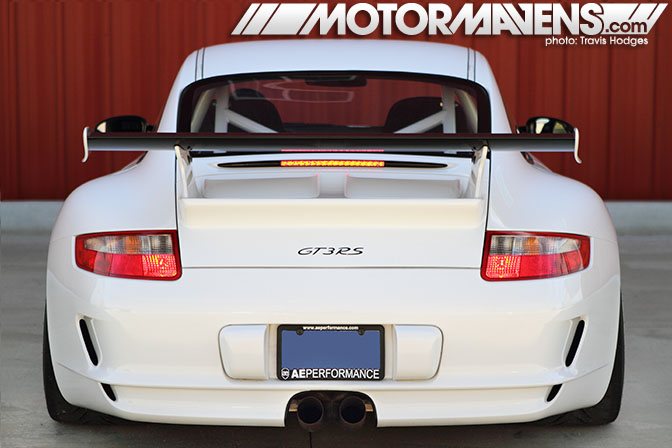 In my opinion, the wide track and low stance make this car so menacingly sexy. Now I know that many MotorMavens readers are used to modified Japanese imports with extreme negative camber and intense wheel offset. This particular GT3 RS doesn't necessarily have that particular style, but maybe I can stimulate you with some history that you can use to impress the folks at your next wine tasting event.
The "RS" in GT3 RS stands for rennsport, which is German for "racing sport." It's a direct reference to Porsche's racing heritage and a distillation of all the things that have made the 911 such a sought-after sports car for such a long time. It's also named for the FIA (Fédération Internationale de l'Automobile) "GT" class in which it was designed to compete. So the next time you see the badge, consider the long racing heritage of the old school Porsche 911. A moment of silence, please…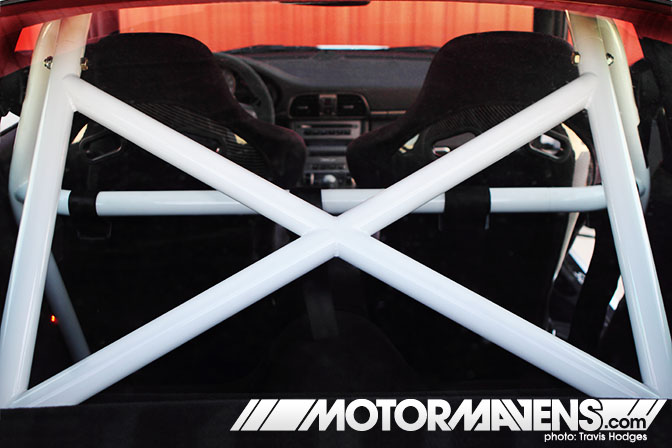 Okay, back to business – and this interior is all business with the added rigidity of the roll cage and the race harnesses to keep its occupants safe. The carefully chosen parts make the AE Performance RS a clean, purposeful, great handling street-driven/track car contender. It almost has a Dr. Jekyll/Mr. Hyde persona – fully capable of just dawdling along within the city speed limits or (with a swift gear change and an aggressive thrust of the gas pedal) releasing its snarling inner beast.
The Porsche purists may have noticed that this is a white GT3 RS without decals, but that will have little effect on its value because it's only one of the 55 that made it stateside. According to the Porsche GT3 Registry, there were a total of only 268 GT3RS models sold throughout the world in 2007. Most of the RS models to make it out of the Stuttgart factory in Germany were not US spec and were only available with the roll cage and Plexiglas rear window, which were deemed unsafe due to strict US crash regulations.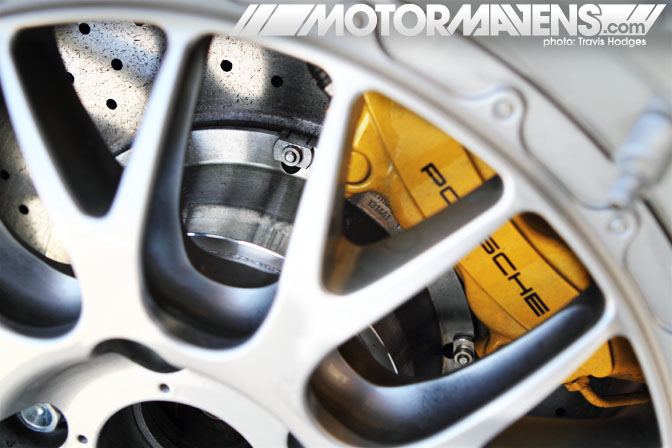 The RS is rolling on BBS Motorsports E88 19 x 12s in the rear and 19 x 9.5s up front, coupled with 15mm spacers to fill out those shapely rear fenders. Since this RS sees lots of track time, having ample stopping power is a major priority. To help with that, the Porsche carbon ceramic rotors and pads take care of business for hitting those corners just right. As far as suspension goes, the RS retains the stock Porsche GT3 cup coilovers, which are fully adjustable in height and dampening. GIAC (the European ECU performance tuning brainiacs) hooked up the ride with engine management software and a reflash to free up some extra horses from the 3.6 liter, horizontally-opposed flat 6. To help achieve that sweet exhaust tone that all car-nuts seek to perfect, AE Performance installed their own "race version", 2.75 full stainless steel exhaust. Take it from me, the sound that this car makes is to die for! It has just the right pitch and throatiness to make any Porsche enthusiast quiver.
According to AE Performance's Paul Dentice, when adding those wider BBS wheels "we ran into some clearance issues, so we opted for the front carbon over-fenders for a wider track and for added room for an aggressive tire combination." To keep the occupants nice and sturdy in the corners, the stock GT3 RS seats were thrown out for some Status full carbon-fiber buckets.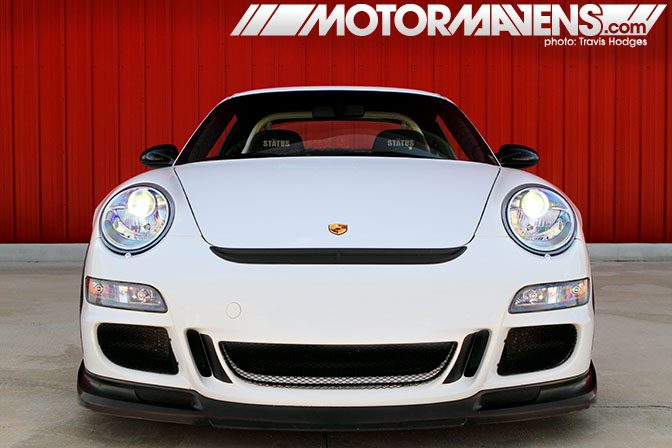 I actually met the guys at AE Performance through their marketing director, Ryne O'Donnell at an event I attended three or four years back called the Targa Trophy. I ran into him again at last year's Dubfest in San Diego. I like to believe that it was fate that conspired to have us shoot this beautiful car.
Now the guys at AE Performance don't just specialize in Porsches, they also work their magic on Volkswagens, Audis, BMWs and they've currently opened their doors to the Nissan 370z and GT-R guys. What I also think is cool about AE Performance is that they hold track days for customers who really haven't gotten the chance to go all out and test the full performance of their cars. As I soon found out after a little while just chatting with Paul, Casey, and Dustin, their knowledge of cars is top-notch and these guys are truly genuine car lovers. My conversations with these guys could go on forever and, believe you me, they're well-equipped to answer any car questions or just give good advice.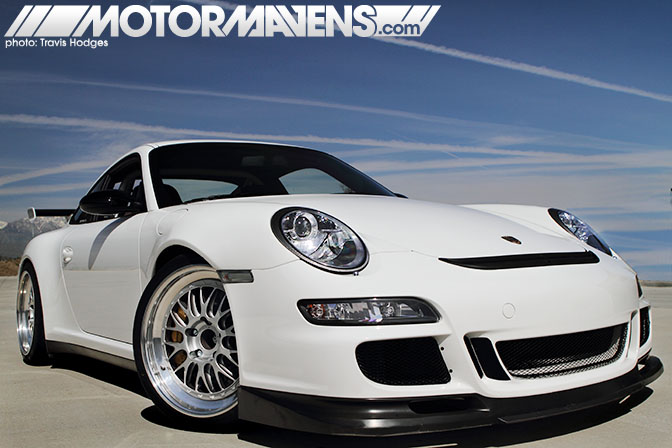 I'd like to give a big shout out (and thank you) to the guys at AE Performance (especially Paul, Casey, and Ryne) for spending time with us while we were shooting the car and for being such gracious hosts, and also to Travis Hodges for shooting the photos for my story. I mean, check out that glamour shot (above)! Pure S-E-X! Haha!
::Tamer Omran
---