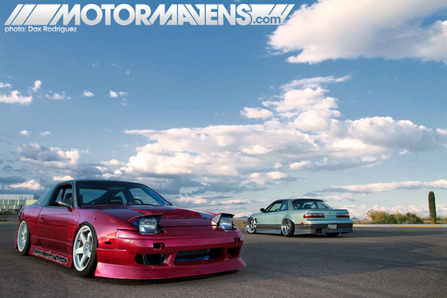 I can hear the theme song to Welcome Back, Kotter playing in the background as I type this. I'd like to apologize for my absence to all the people that actually like my work… Mom and Dad, I'm looking at you.  To everyone that only comes to Motor Mavens for the photos, this one is for you guys from someone you don't know, never met and probably won't ever meet. Thank God it's Friday!
Don't be confused, this just isn't a "welcome back to the site" for me. Oh no, this is a huge welcome back to fresh cars built by cool people on real world budgets. Welcome back to grassroots drifting and sick street cars, which is what this site was built upon and the whole reason why we keep pushing forward.  Like a skilled surgeon, Mike Burns and company have suited up in their drifting scrubs to save the all important life of grassroots drifting; but instead a sharpened scalpel, his finely tuned instrument is this super rad RPS13 Nissan 240SX.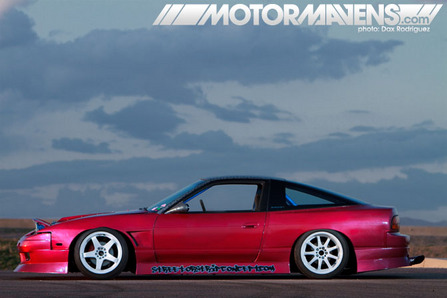 Rather than having me attempt to explain Mike's viewpoint to you, and his views on building his car, maybe I should just let him convey the message himself…
"My car was built all on a budget, so I can put it in harms way and not cry when it gets battled. I've never turned down a tandem fight, and never will…. I still plan to add more to it as the 2010 season progresses. I plan on driving in all the  local events, some XDC events, the AllStar Bash, and  anything team drift!!! Oh yeah, and f*ck all the mainstream "lifted" drift cars! We need to "level up" grassroots drifting, so us drivers have something to shoot for. Rant over lol!" – Mike Burns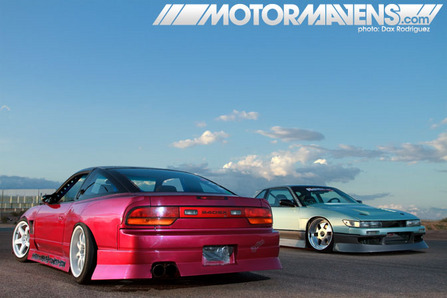 You might remember the S13 Silvia in the background if you saw my D1GP Anaheim coverage from some time last year. The car belongs to Joe Haven. Aside from having a cool last name, Joe is Mike's good friend and he also put quite some wrench time in on Mike's hatch. Joe doesn't just help wrench on cars either, he gets magazine features too – so be sure to check out your local newsstand soon for the upcoming issue of Import Tuner that features the mint green two-tone hotness.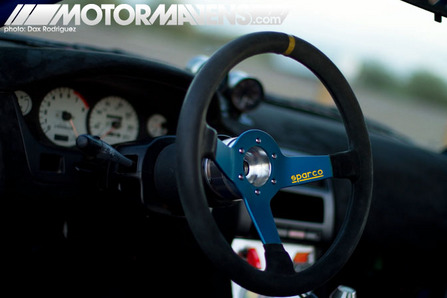 Back to Mike's RPS13 hatchback, let's take a look at the interior. Wait… is that an S14 dash I spy, blurry in the background? Why yes it is, and it's suede too.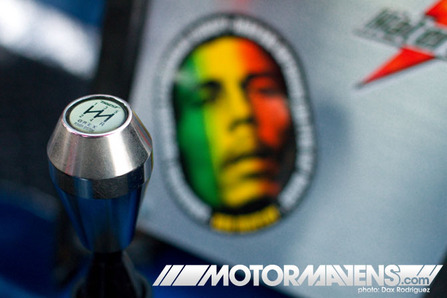 Taking a closer look inside, we can see that Mike has an aluminum Trust/GREX shift knob in place to get him through the gears. Since we all need to satisfy our souls by driving, the honorable Robert Nesta Marley now oversees the interior of Mike's S13… and just like his classic song Exodus, MotorMavens is the movement of the people.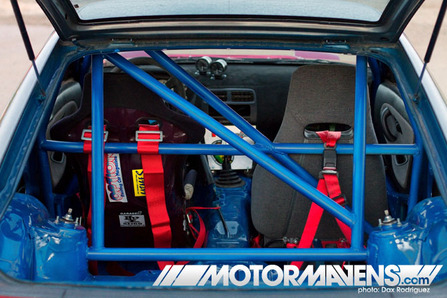 I bet you weren't expecting this color for the gutted, rollcaged interior, were you? That's one of the great things about Mike's car, it's just oozing with style and character. The roll cage was also handcrafted by Mike and Joe; they always say, "if you want something done right,  you have to do it yourself!" Super clean passenger seat, too!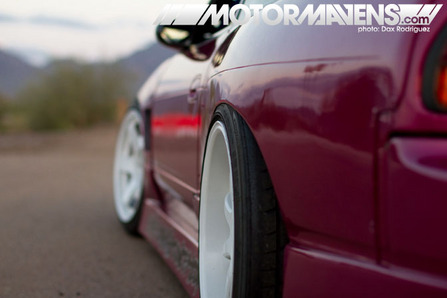 Out back, we observe the superhero fitment, as this S13 is tucked on 17s with an aero kit… pay attention kids! You might possibly learn something.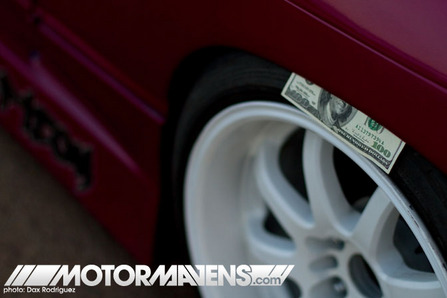 Just to show how close these wheels fit, getting this bill into the fender was harder then getting a fat guy into a Souper Salad.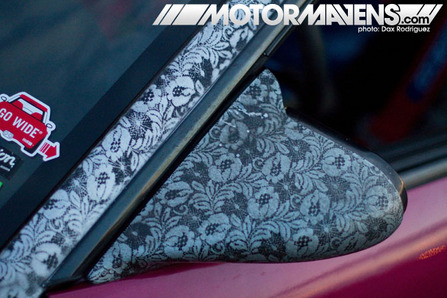 Notice this hot rod trend making its way onto drift cars? Lace paint stenciling… I can see this catching on.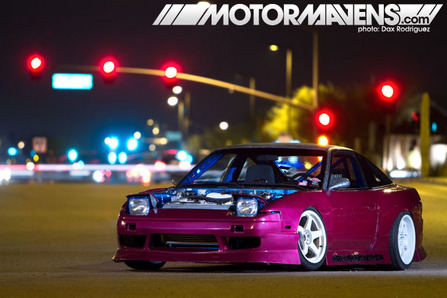 Here's the front view. I just wanted to point out to all the straight laced good two shoes people out there… don't worry, we got a permit to shut the street down. MotorMavens, unstoppable!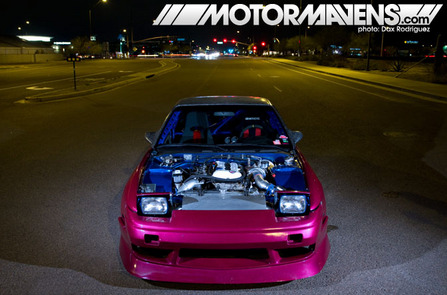 Here's a last shot, just so you can see Mike's engine bay. I know my hiatus on the site has been a long one. It might have caused some to forget my name, but I hope that most people were patiently waiting for me to shine a light back on the local Arizona cars. Whichever it may be, it's better late then never, and honestly I'd like to say it's been a pleasure and I look forward to bringing more fresh content to you guys!
:: Dax Rodriguez
SPECS
Kaaz 2way LSD
Silk Road coilovers
eBay Subframe collars, rear toe and camber arms
Megan Tie rods and ends
Custom Spindles by Mike Burns
Greddy boost and water temperature gauges
Bride seat
Garrett 50 trim turbo (no BOV)
Tial 38mm wastegate
Koyo radiator
Ford Taurus electric fan
Nismo motor mounts and fuel pressure regulator
Custom topmount manifold, Midmount intercooler pipping, and oil catch, by Adam at Street or Strip Concepts
Saard 850cc injectors
CG Tuning tune (on E85)
17×9.5 +17 Work XD9 (rear)—17×9.5 +fail Rota P45R ( front)
245/40/17 Federal 595 (rear)—235/40/17 Dunlop Z1 Starspec (front)
Z32 front brakes
Custom cage by Mike Burns and Joe Haven
Sparco steering wheel
Circuit Sports coolant overflow tank
URAS hood vent
Origin aggressive aero
Origin 50mm rear overfenders and 20mm front fenders
Custom "lace'd" roof
---