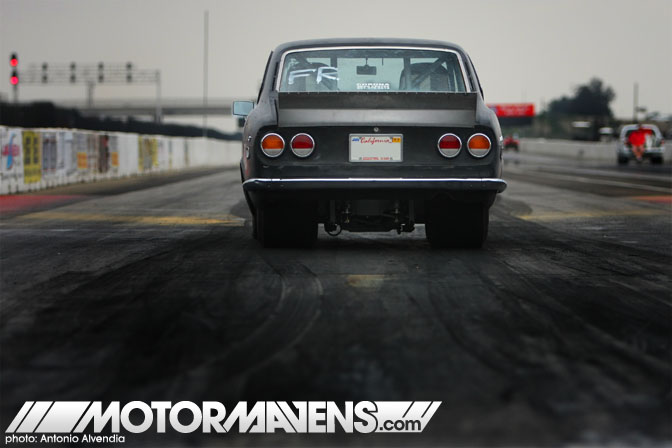 One nice thing about living in Southern California is that there isn't a shortage of events to attend if you like cars. A couple weeks ago, a few LA-based Motor Mavens went out to the IDRC drag racing event at California Speedway in Fontana because our friend Tobin Honda was nonstop promoting it. Let me rephrase that – he wouldn't shut up about it. In fact, Tobin personally called and texted me the night before the event to make sure I was going to attend, and he even texted in the morning to make sure we would show up! That's one persistent guy, haha!
Here's some background on IDRC – it's a drag racing series that's run by Hard Media Inc, the same people who produce D-Sport Magazine.
In case you're unfamiliar with D-Sport, here's a short background. The publisher, Mike Ferrara, is an old school racer himself, as a member of Southern Cali's OG and respected Speedline Racing Concepts crew. He is also credited as the guy who founded Import Tuner Magazine. D-Sport's editor-in-chief is Rob Choo, who is an original staff member (and former chief editor) of Turbo Magazine. Do these guys know their stuff? No question. These guys not only write, they know how to wrench on the cars their own cars too. (I think this is important for members of the automotive media!)
In fact, I first met Rob Choo at a junkyard on Alpha Street behind Irwindale Speedway, where I was working on pulling axle shafts out of an OEM LSD-equipped AE86… when all of a sudden, I heard some clanking sounds from the other side of the car. I craned my head around the back of the car to find a tall Asian guy trying to pull the axle on the other side of the car, so just like the Bob Marley song, I had to get up/stand up and let this guy know what's up.
"Hey man, back off, I got this. I've already started working on pulling the axles and LSD out of this Corolla." The tall Asian guy cheerfully replied, "oh but I already paid for it. I have the receipt right here" as he flashed a smile at me. That bastard! I thought to myself… but after talking to him a bit, he sounded like he was a pretty cool guy, and either way, I couldn't be too upset. He was an AE86er! He introduced himself as Rob Choo from Turbo Magazine.  (This was probably about 5 or 6 years ago)
Anyway, I decided to write this little background story on the guys behind D-Sport/IDRC because I think it's cool that pretty much everyone at D-Sport has a built up car. There are so many media people out there these days who aren't even car guys (and girls) themselves,  so the people from D-Sport get props for sure.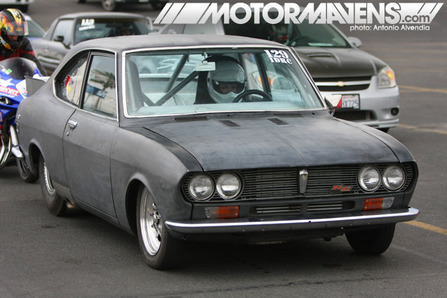 For the full "event coverage" style story, you can check the next issue of D-Sport Magazine or just look at Bob Hernandez's coverage on Urbanracer.
However, I wanted to point attention at a particular car that captured my attention. I was walking up and down the staging lanes at Fontucky when this Mazda RX2 caught my eye. From the front, it looks pretty simple and unassuming… that is, until you look real close.
If the rollcage inside the car didn't tip you off, then certainly the awesome looking rear wing would give you a hint? And if not that, look closely behind the car's front grill!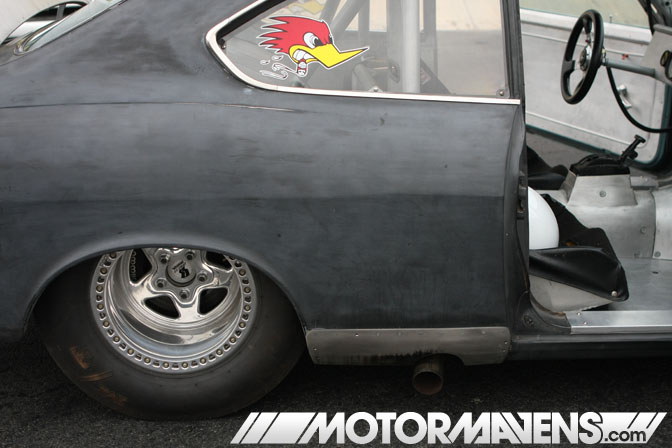 Check out the side exit exhaust, which sits right in front of the massive rear tire. The tire you see in the photo is actually a Mickey Thompson drag slick, mounted to what looks like a Weld Pro Star wheel? If you look real closely also, you might notice the brake calipers behind the wheel… Is that a Wilwood caliper I see?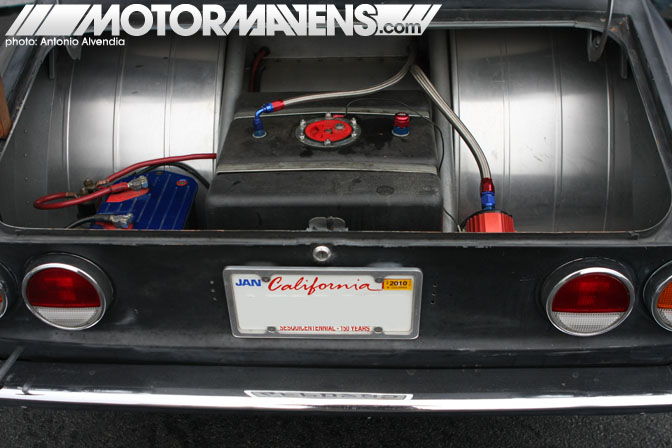 While he was in line getting ready to run, I had a chance to chat with the owner of this car, who graciously agreed to pop the trunk to show me his aluminum tub work and fuel cell. I think it looks gorgeous and bad ass at the same time. So raw. This RX2 is serious business.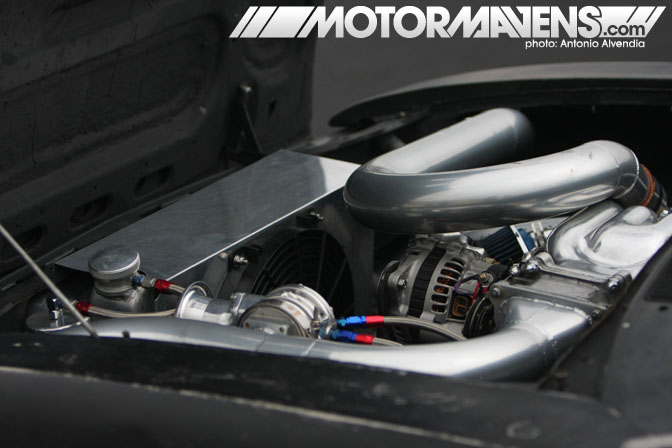 Of course, what would an old school RX2 be without a loud, strong rotary engine sitting under the hood? It's really amazing how fast people are able to get these 1.3 liter engines to go! Oh and check out that humongous radiator!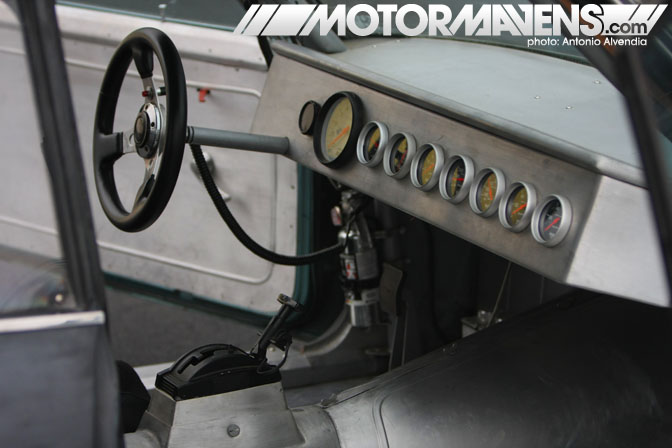 The interior of the RX2 is purposefully sparse, with only customized aluminum panels, a rollcage, and a bunch of Autometer gauges fitted to the custom dashboard. It makes me wonder what happened to the original RX2 interior, but either way, I think think this drag monster looks awesome!
According to the RX2's owner, he sometimes drives the car out on the street, even with the tubbed rear end and huge Mickey Thompson tires in the rear. Apparently, he even drove this RX2 with his super fat race race slicks on the 5 freeway to go to Sevenstock!
Just imagine… what in the world would you think if you saw this thing pass you at 100mph on the freeway!?!
BAD ASS.
:: Antonio Alvendia
---