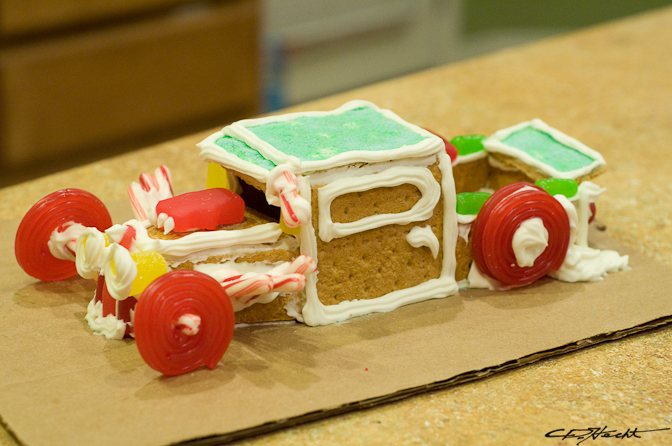 Hey everyone! We got these photos from our good friend Chris "Hechtspeed" Hecht from the My Ride Is Me website. We think it's a hell of a lot cooler than building a gingerbread man or gingerbread house! Maybe we should do some sort of gingerbread car building competition next year???
MERRY CHRISTMAS TO EVERYONE!
Thank you so much for all your loyal support of our website! It's hard to believe that the MotorMavens website is still less than a year old! We officially launched the site in May of this year, and it's already ranked pretty damn high because of all your site visits and comments and linkbacks!!! You guys are the best! Thank you so much – we appreciate all your awesome comments! From the entire Motor Mavens Family, best wishes to you and your families during this holiday season!
Oh, and let's not forget the specs:
-Ford Model A Pickup, genuine Graham Cracker, Bonneville rat rod
-Licorice slicks in the rear, with licorice wide whites skinnies on the front (Notice the mad camber yo)
-Engine is a Buick GN topped with a 6-71 Gummi Blower and angle cut candy cane straight pipes a la rat style
-Green Jello Roof with high mounted candy cane side mirror
-Bright yellow Gumdrop headlights with icing trim
-Classic Mike-N-Ike grille
:: MotorMavens
---