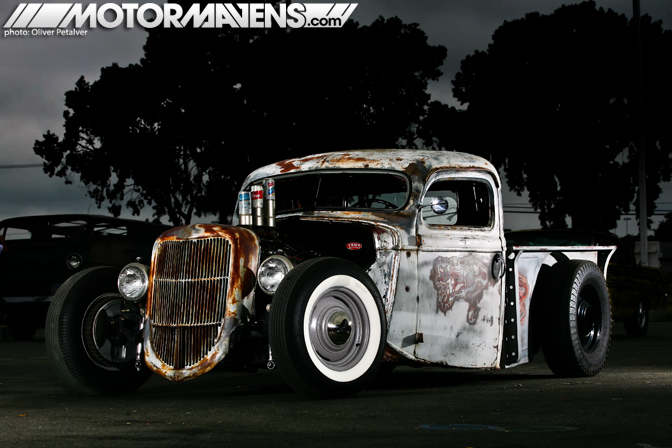 A while back, I attended the world's biggest one-day charity car show, Cruisin For A Cure, in Costa Mesa, CA. It was a great way to get the word out on the prevention of Prostate Cancer. While mandatory digital rectal exams (finger up-the-butt in layman's terms) were not part of the admission, the chance to view hundreds of classic, customized vehicles were. This was my first time attending this show and I've got to say, it was THE largest car show I've attended. Many cars caught my attention and, as I was leaving, I spotted this 1937 Ford Truck owned by Tom and Linda Chorbagian. So I hurriedly grabbed my strobes in the trunk and took a few shots during the festivities.
Its rat-rod look reminded me of a Japanese aesthetic called Wabi-Sabi (no, not the green stuff complementing your sushi). Essentially, from an artistic point-of-view, wabi-sabi is defined as flawed beauty. It refers to beauty as a result of age, wear and tear and any anomalies which add uniqueness. It's a growing trend in rat-rodding and it seeks beauty in the simple and imperfect. Tom's truck is a good example of the embodiment of this principle and has that perfect combination of burned paint, rust, and look acquired from age and weather – it's hardly an eyesore.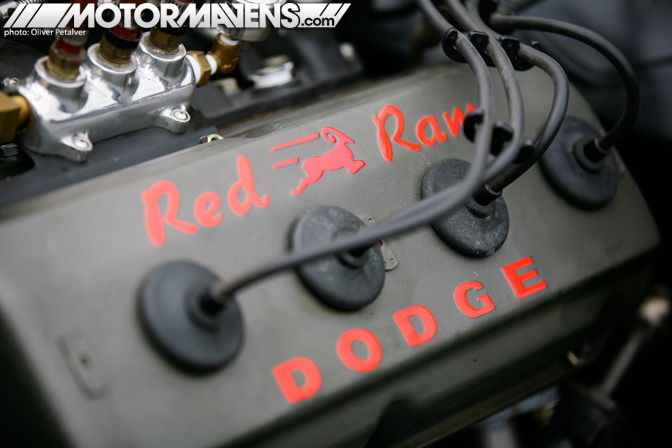 While a majority of tuners start off with a chassis, Tom started differently with his project. He first started with this 1953 Dodge Red Ram Hemi engine. Originally 241 CI, it was bored 80 over by Nick at Magnolia Center Machine Shop in Riverside, CA. In addition, a cam reground by Clay Smith was installed. According to Tom, the engine is strong and dependable.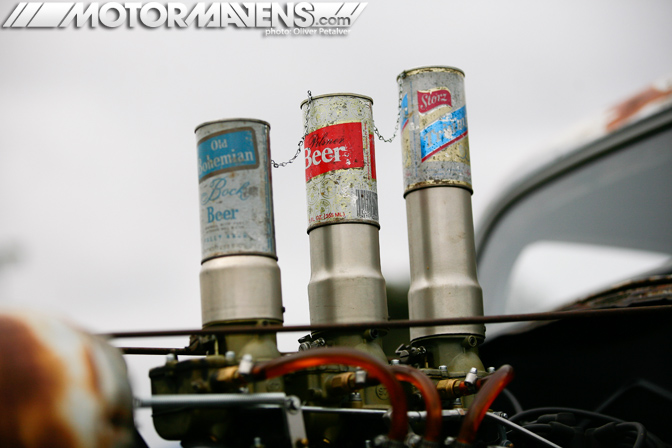 These Old Bohemian, Pilsner, Storz Beer cans, from his nephew Ryan, are not intended for illegal alcohol consumption. Tom creatively uses these antiquated beer cans to protect the stacks from bird poop while sitting at a car show. The stacks themselves were made from exhaust pipe and Tom had Jerl's Muffler, in Riverside, expand three pieces of pipe to fit the top of the carbs. The pipes were cut at an angle. He then drilled and tapped them and used a screw to mount them.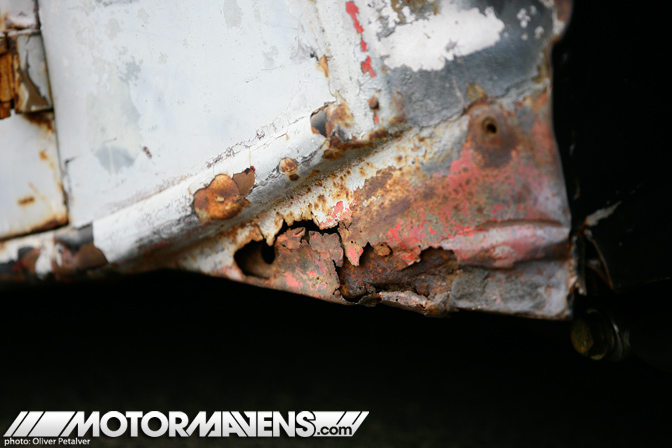 With engine in hand, Tom knew he wanted wanted to do a pickup, so he started looking for a cab. He found the '37 Ford cab out in Boron, CA and he and his brother went out and retrieved it. Tom's wife thought he was crazy to go all the way out there for a pile of rust. He got the cab and frame rails from the guy in Boron. Then he started gathering parts. His  brother-in-law Pat, of Pat's Gearbox in San Jacinto, built a nice Ford 9″ rear end. The front and rear buggy springs and the entire front end is from So Cal Speed Shop.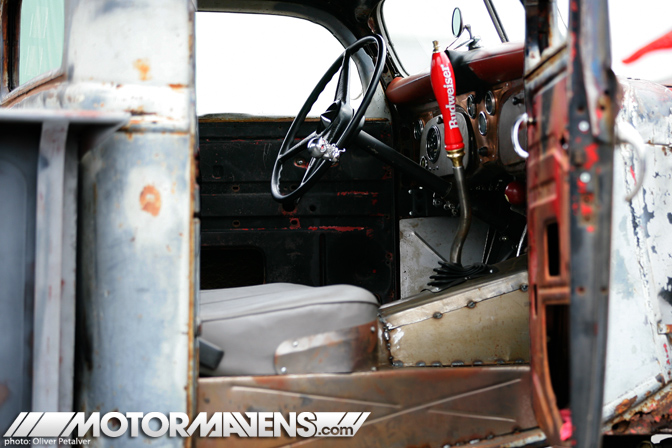 Simplicity at its best. The  interior holds a bench seat from a Chevy S10. The 5-speed manual transmission was sourced from it as well. Connected to the shifter is a Budweiser Beer Tap shift knob. The steering box is a reverse Corvair style. The steering wheel and column were taken from a '53 Ford COE Pickup in a junk yard. The '36 Ford pickup grill shell is an Ebay find.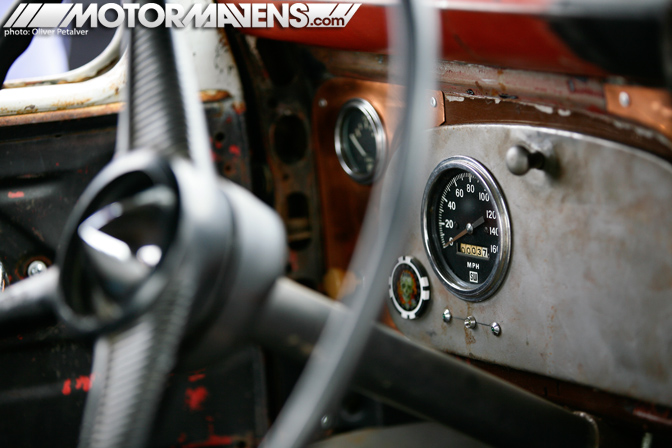 Tom kept the gauge cluster simple with old Stewart Warner gauges. Look closely and you'll notice the speedometer is mounted on a glove compartment door. Opening the glove door will expose the brake master cylinder and the hydraulic clutch reservoir. Mounting them under the dash kept the firewall clean.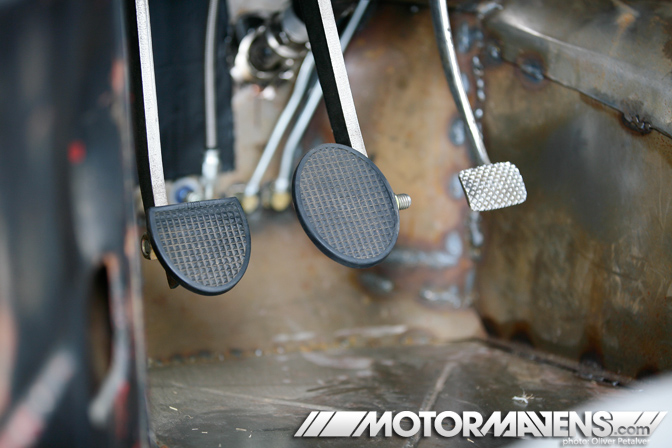 Have you ever seen an accelerator pedal smaller than the brake and clutch pedals? Wouldn't it be a challenge to heel-toe shift with this? The gas pedal is sourced from a Harley brake pedal. The pedal assemblies were all custom made by Ted's Rod Shop.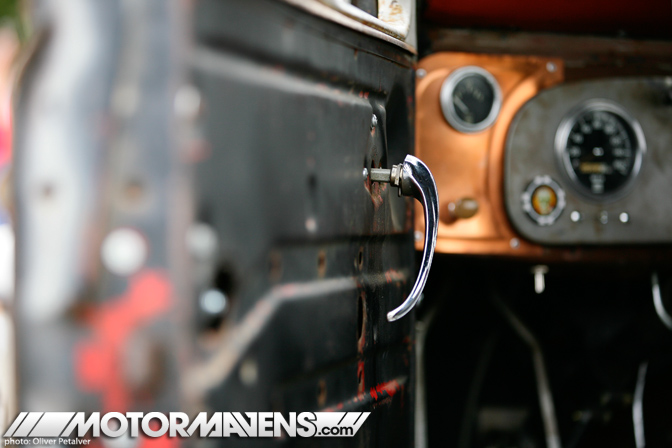 Beauty in imperfection. There are no fancy door knobs with the bling-bling. The imperfections in the door panel and the asymmetry with the door handle perfectly complement each other.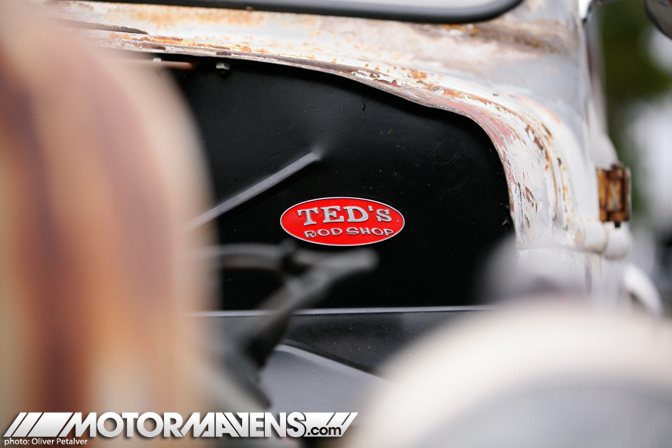 At some point, as is often the case, the build stalled a bit. Since this was Tom's first ground-up project, the car not being a mid 50's Chevy (which Tom is familiar with) and his lack of confidence with welding, the project was at a standstill. Tom decided to see if Ted's Rod Shop was willing to take on the project. Prior to the build, Tom's only experience with Ted's Rod Shop was as a customer buying a few parts. Eric at Ted's Rod Shop checked out the project and decided to work his magic.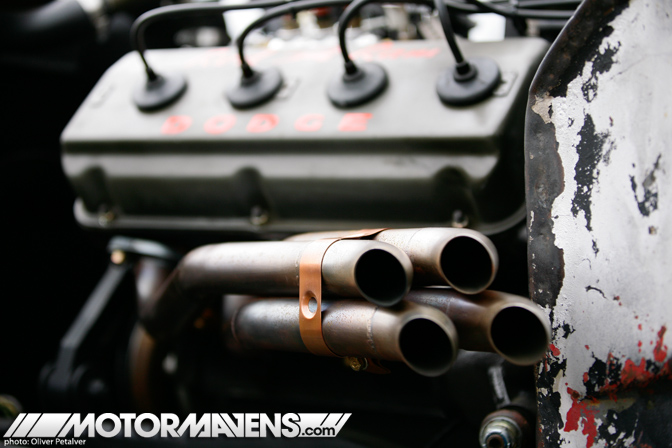 The headers are custom one-offs created at Ted's Rod Shop. Without a catalytic converter and muffler, you can imagine how loud this truck is. Pull up next to this thing and it'll be sure to leave your ears ringing.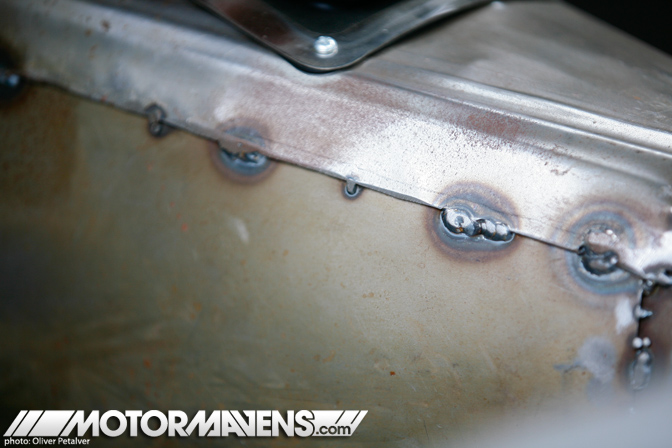 No carpet here. The firewall and the floor pans are also Ted's Rod Shop's creations. The grill shell was sectioned and the cab was channeled over a custom made chassis.
Eric fabricated the bed out of straight sheet metal. Rather than the typical box-shaped bed found on most trucks of its era, Eric created an aggressive bed that goes perfectly well with the truck's aggressive, low stance.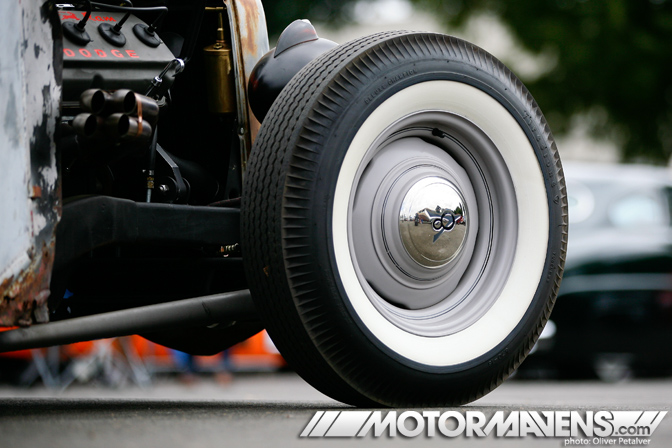 The grey 15″ steelies with V8 caps are from WheelSmith in Santa Ana, CA. They roll on bias-ply whitewall tires and the rears are Firestone cheater slicks from Coker Tire. The awesome disc brakes that look like old drums are from So Cal Speed Shop.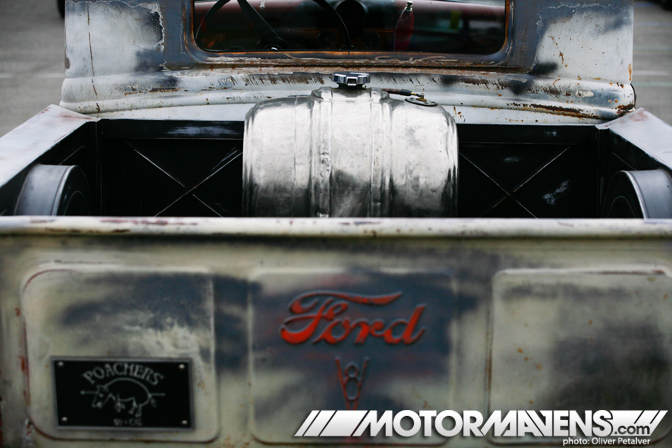 According to Tom, this '38 Ford tailgate was "stolen" for $10 from a friend. Look closely and you'll see Tom's car club, Poachers.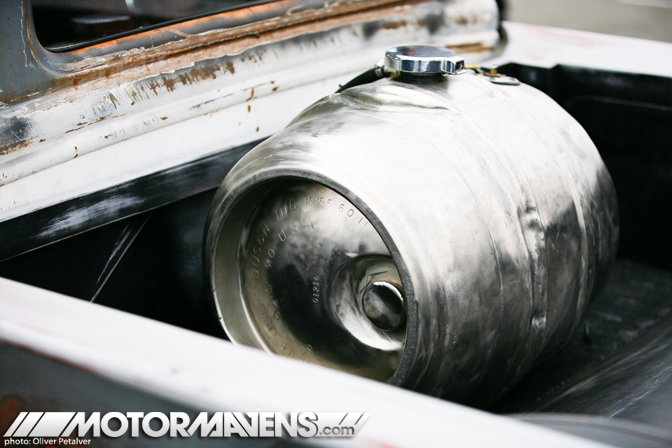 The Anheuser Busch beer keg Gas Tank was given to Tom as a gift from a friend. This stainless steel tank was a challenge when it came to cutting and drilling. All he had to do was get the float in and the bunghole welded. Tom states there is no problem with sloshing and he says the old Stewart Warner gauge works perfectly.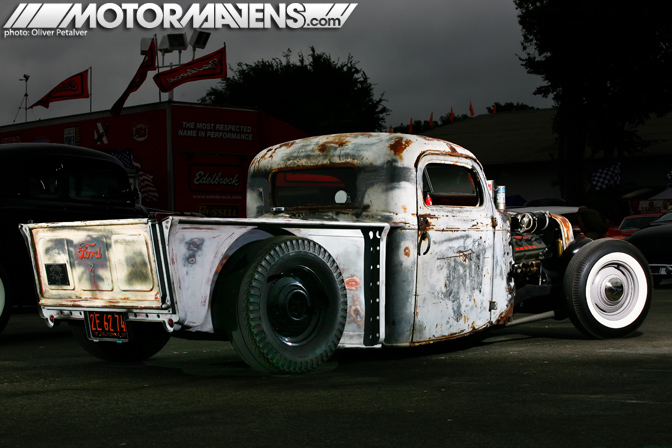 The promise of large quantities of beer was all it took to convince his brother and nephew, Ryan, to spend a couple days in his garage and chop 4″ out of the top.
What you see is a culmination of hard work, patience, parts and labor from friends and family, and a LOT of beer. The build goes from a '36 grill shell to a '37 cab to a '38 tailgate. Pieces from each of the three years were taken and it took approximately three years to build. No candy paint here nor are there any carbon fiber parts. Steel is the deal and the wabi-sabi concept takes pleasure in things that are old and "faded." So the next time you see an old rusted car sitting in a garage, think about the natural progression time has crafted and try to embrace the rust and the relentless march of time that it represents. Wabi-Sabi.
Tom would like to thank certain people for their help in the building of this truck: "I would like to thank my nephew Ryan, my brother Charlie, Eric and his crew at Ted's Rod Shop in Riverside, and of course, my wife Linda for putting up with my obsession. Thanks to Tom G. for the beer keg, Nick at Magnolia Center Machine for the great engine rebuild, my brother-in-law Pat for the 9″ rear end, Luke's Transmission in Riverside, Henry at The Upholsterers for the rebuild on the seat."
::Oliver Petalver
'37 Ford
,
1937
,
Anheuser Busch
,
beer keg
,
Beer Keg Gas Tank
,
Beer Tap Shifter
,
Budweiser Shift Knob
,
City of Hope
,
Coker TIre
,
Cruisin' For A Cure
,
Dodge
,
Ford
,
Ford V8
,
HAMB
,
hot rod
,
Jalopnik
,
Jalopy
,
Jerl's Muffler
,
Kustom
,
Kustom Culture
,
Old Bohemian Beer
,
Oliver Petalver
,
Pickup
,
Pickup Truck
,
Pilsner Beer
,
Poachers Crew
,
Prostate Cancer
,
Rat Rod
,
Red Ram Engine
,
Stewart Warner
,
Storz Beer
,
Ted's Rod Shop
,
wabi-sabi
,
Wheelsmith
---