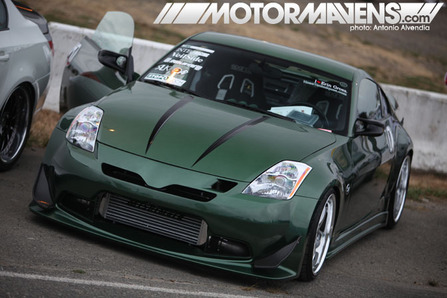 I'm still sorting through all the photos I took during my trip to Seattle… believe me, there were A LOT. However, I thought I'd just take a brief detour from the Formula D action to showcase some of the cars I saw at the event, which really clue you in on how dope the Pacific Northwest cars are. I just don't understand how people can sleep on the scene up there so much! All the big car magazines and media sites seem to only focus on Southern Cali, but those of us who have traveled all over the world can tell you that the Northwest has style!!! Tons of it. Let's take a look…
Up above is Big Radar's dark green Z33 350Z from Team Menace. Keep an eye out for this car in a magazine feature coming soon!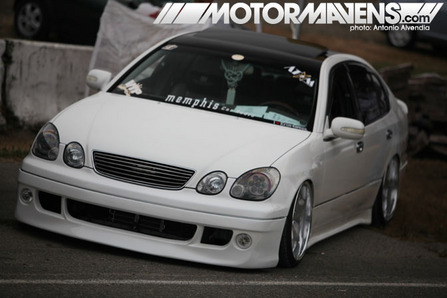 Also from Menace is this slammed JZS161 GS. I know everyone has seen VIP GS300/400s before, but seeing one in Monroe WA was pretty cool. I dig the front grill. Notice the big projector lights too; they look like machine gun turrets in there!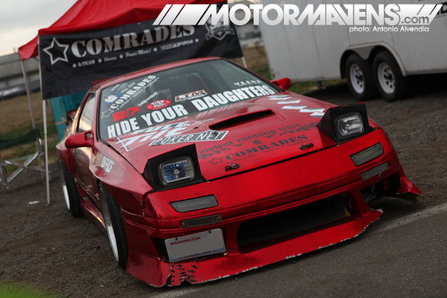 This internet famous red 1988 FC3S RX7 truck belongs to Earl Smith from Comrades, the Washington drifting supercrew.
Even though these photos don't really show them, I'm sure that everyone's wondering what kind of wheels this FC truck sits on. The answer is 17×8.5 (-6 offset) MB Motoring "72" truck wheels! Sure, they aren't really the type of wheels you would put on an S13 or something… but Earl was staying true to his "truck" theme on his FC. And besides, he said they were super cheap.
The car… err, truck… sits super low thanks to some Stance coilovers and looks even lower thanks to his aero kit, which is a combination of URAS and GP Sports parts.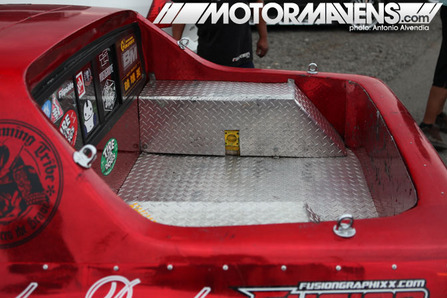 Check out the rear end of the FC – in this photo, you can see the texture of the red metallic vinyl used to wrap this FC truck, and of course, the heavy duty diamond plate sheets that make up the truck bed. Whatever, I just like the BM and the Dart Izumi Jr stickers!
What you can't see underneath the truck bed is the fact that Earl's FC rocks a Kaaz 2-Way LSD, thanks to Bob at Drift Office. Earl says he has a lot to thank Drift Office for; they have really supported him a lot and he won't forget it.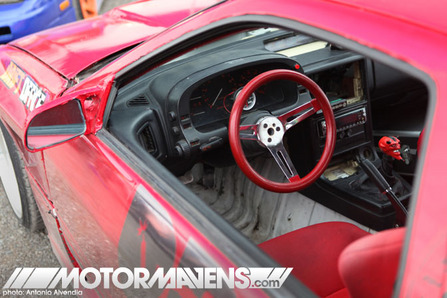 Inside the car, we see a Mooneyes 300mm (suuuuuper small!) steering wheel and a Mooneyes devil shift knob! Don't you think shifting with that thing would be uncomfortable?!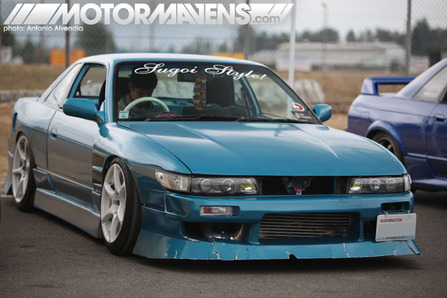 On the side of the track, I also noticed this light blue widebody S13 Silvia (Right hand drive, if you pay attention) with the Sugoi Style! sticker on it. I wonder if this guy is from Hawaii? He has a lei on his rearview mirror. Check the wheels too… they're a 17/18 inch Grenade wheel combo.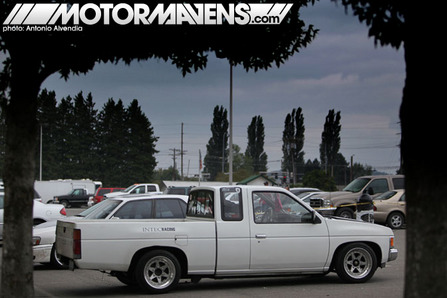 This Nissan hardbody pickup truck belongs to Pat Deveridge from Intec Racing. We were all hanging out by the grandstands on Saturday night after the event. I hear they're building this thing into a drift truck –  it already has an S13 KA single cam motor in it, but they're currently building an SR for the truck, and will be planning on swapping the suspension.
Everyone was trippin out on the wheels though… we thought they were 6-lug Speedstar (Longchamps) XR4 wheels at first, but Pat says they are 16×8 SSR Interceptors. Dope either way!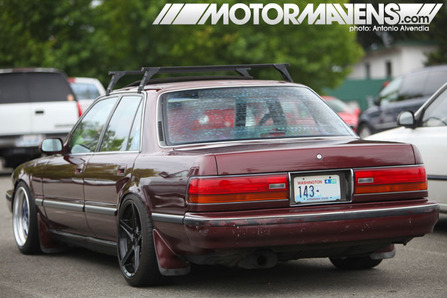 This dope burgundy Cressida belongs to Darren Kurtz. It already has a 1JZGTE twin turbo swap with a 5-speed transmission, JIC coilovers, a Nardi deep corn steering wheel, and a Bride seat. This thing is ready to go! Oh yeah, and check it out… Mustang Cobra wheels in the rear.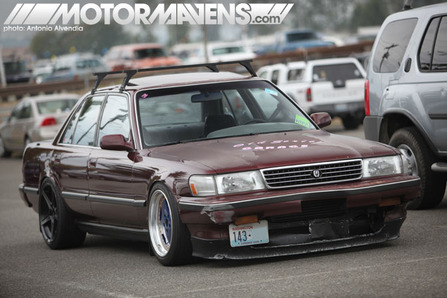 The front of the Cress sports Zauber wheels, which I like a lot. I was told that Darren had a full set of 17×8.5 and 17×9.5 staggered wheels, but he bent them the day before Formula D! Sucks!!! Hopefully he can get them fixed and back on the car. That would look awesome!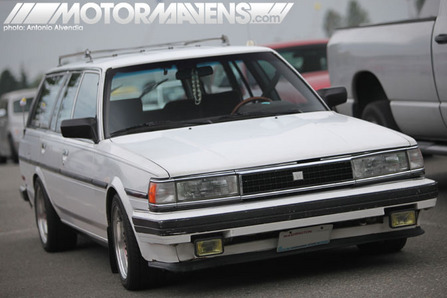 This 1985 Cressida wagon belongs to a guy that people call "Creepy Tom." It's nothing super crazy, but it's nice to see clean Cressida wagons like this one, which Tom uses as a daily driver. I dig the front lip spoiler and foglights. I was told that Tom's Cress has cut springs (oh no!) and sits on 15×8 Epsilon wheels. The Eps look good right now, but hit me up if you slam the car more and you want to upgrade to 9.5J RS Watanabes, Tom!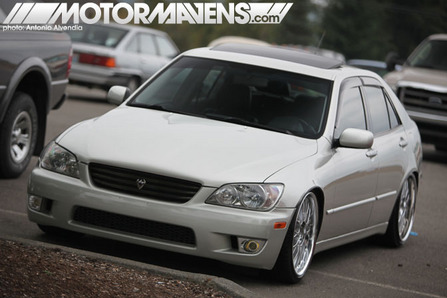 This clean IS300/Altezza was parked right up front in the parking lot, so naturally, everyone looked at it. I dig the visors, bumper, foglights, and grill… looks very clean! Just imagine how this car would look with an extra 2 inches all around! Even more outstanding!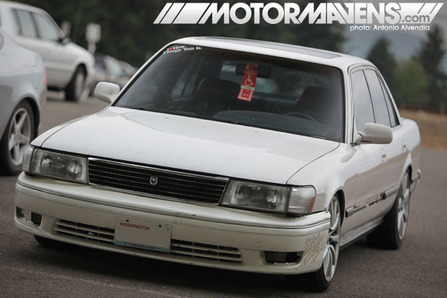 This "train style" Cressida belongs to Ian Dillon from Battle House. Ian loves goth girls almost as much as he loves Cressidas, and he says if he could, he would just build Cressidas all day long. His Cress is currently slammed on S13 coilovers, with Lexus IS250 wheels up front and 350Z wheels in the back.
Since you probably are wondering why this Cressida looks a bit different than normal, it may be because he's rocking a 1999 Avalon bumper that was custom fit onto the front end. Ian crashed his old Cressida into the wall at Evergreen, so he's currently working on this new car, which has a stock motor with 245k miles, but he has a naturally aspirated 2J in the works, which should produce 300hp.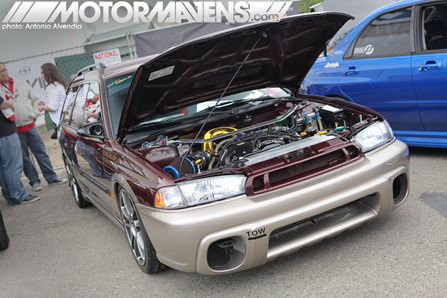 I briefly met the owner of this Subaru Legacy wagon as I passed through the Jtuned Auto Gallery. We don't see them too often in Southern Cali, but building up Legacy wagons seems to be a popular Northwest trend because of all the snow and ice that people in Washington and Oregon have to deal with.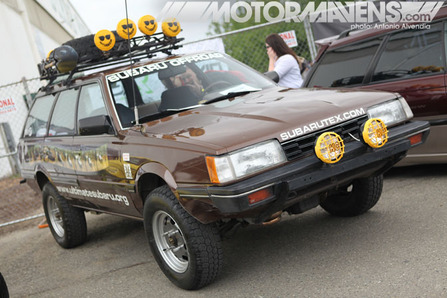 Here's a pretty unique looking Subie! I bet you this thing would be AWESOME on a woodsy backroad somewhere… This car HAS to be fun for blasting through forested backroads. Wouldn't you love to take it for a jump through the forest?!
Stay tuned to Motor Mavens for more photos from the Evergreen Pro Am and Formula D!
:: Antonio Alvendia
2JZGTE
,
350Z
,
Altezza
,
Antonio Alvendia
,
Battle House
,
Comrades
,
Cressida
,
Evergreen Drift
,
FC3S
,
GS400
,
Intec Racing
,
IS300
,
Legacy
,
Pacific Northwest
,
RX7
,
S13
,
SSR
,
Subaru
,
Toyota
,
VIP
---