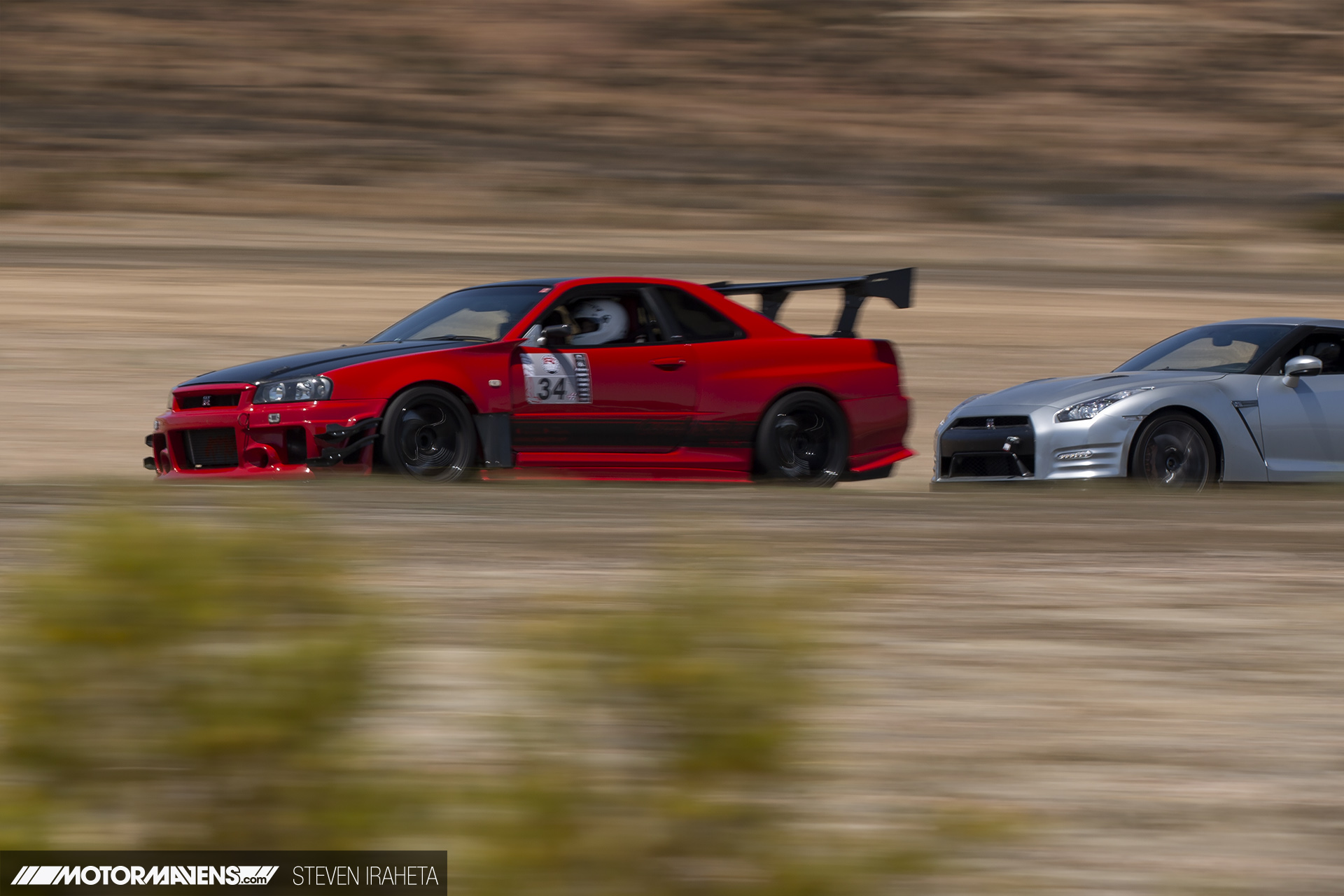 After talking to friends who attended R's Day with me, I've come to a few realizations.
First – everyone on the internet is currently hyping up the newly released Z35 Nissan Fairlady 400Z, but the Nissan Skyline GT-R still sits on the throne as the ultimate modern Nissan. In fact, as much as I like the new Z (I even shot a YouTube video about it), I'd still rather have an old high mileage R32 non-GTR than a new Z35. (Sorry Nissan, but it's true.)
Second – even highly modified R35 GT-Rs with upscale parts don't capture my attention like a simple R32 Skyline, much less an R34 or R33.
Third – I've recently come to realize that R's Day is most likely the largest gathering of Nissan Skyline GT-R owners and enthusiasts in the West Coast… and maybe in the entire United States? I didn't even think about this (duh!) until my friend Steven Iraheta asked me, "where have you seen more Skyline GT-Rs in one place?" It made me think, and I realized that the only place I've seen more Skylines was in Japan, at events like Super GT or the Nismo Festival at Fuji Speedway. (Obviously!)
So yeah, respect to Jack Yi and the rest of the crew that organizes R's Day!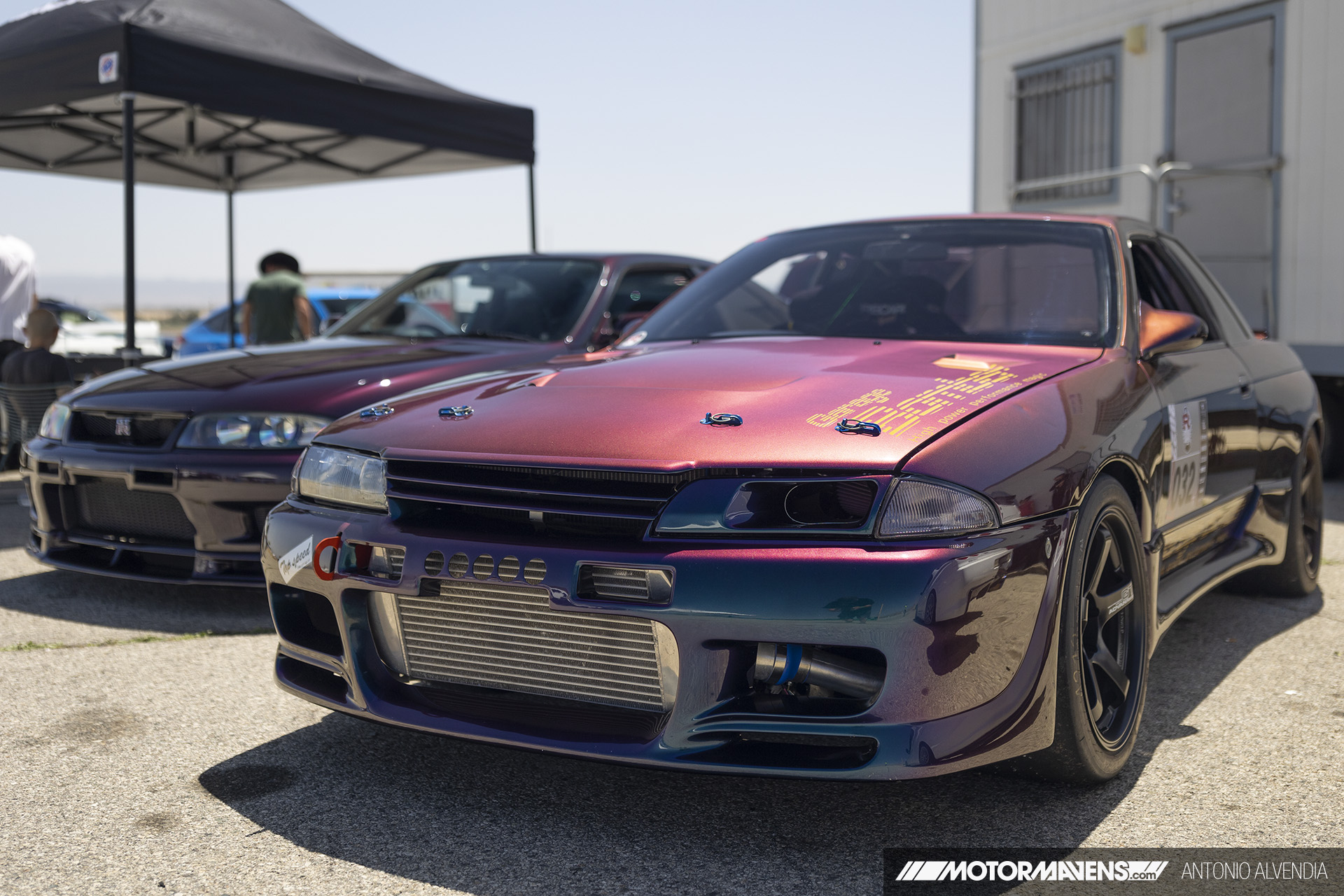 I have been wanting to attend R's Day for quite some time now. This event was my first time attending, and it certainly won't be my last! I don't currently own a Skyline GT-R (yet?), but I have massive respect for the platform. I have a lot of friends in the US and Japan who own GT-Rs, and I absolutely love the entire mystique about the car – from the power, the rarity, and the legendary motorsports stories that have been written because of this specific car.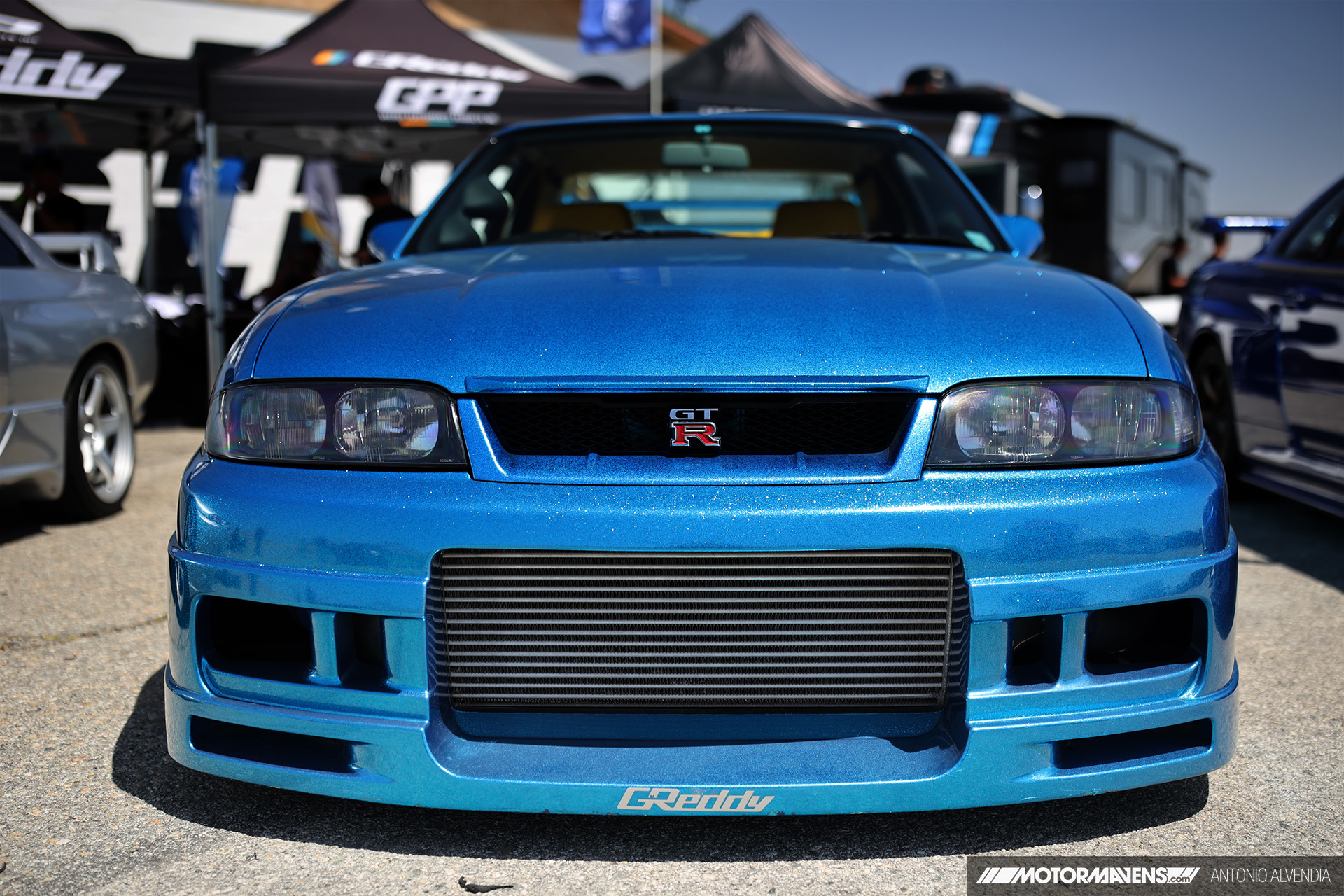 Speaking of legendary stories, it was awesome to see the GReddy SROC GT-R at the event. It only recently resurfaced after being locked up for years, so it's so cool to see it back in action! It was really great to see how automotive aftermarket industry veterans like Mike Chung, Kenji Sumino, and Mike Ferrara reacted to seeing the car, with their eyes lit up and big grins on their faces.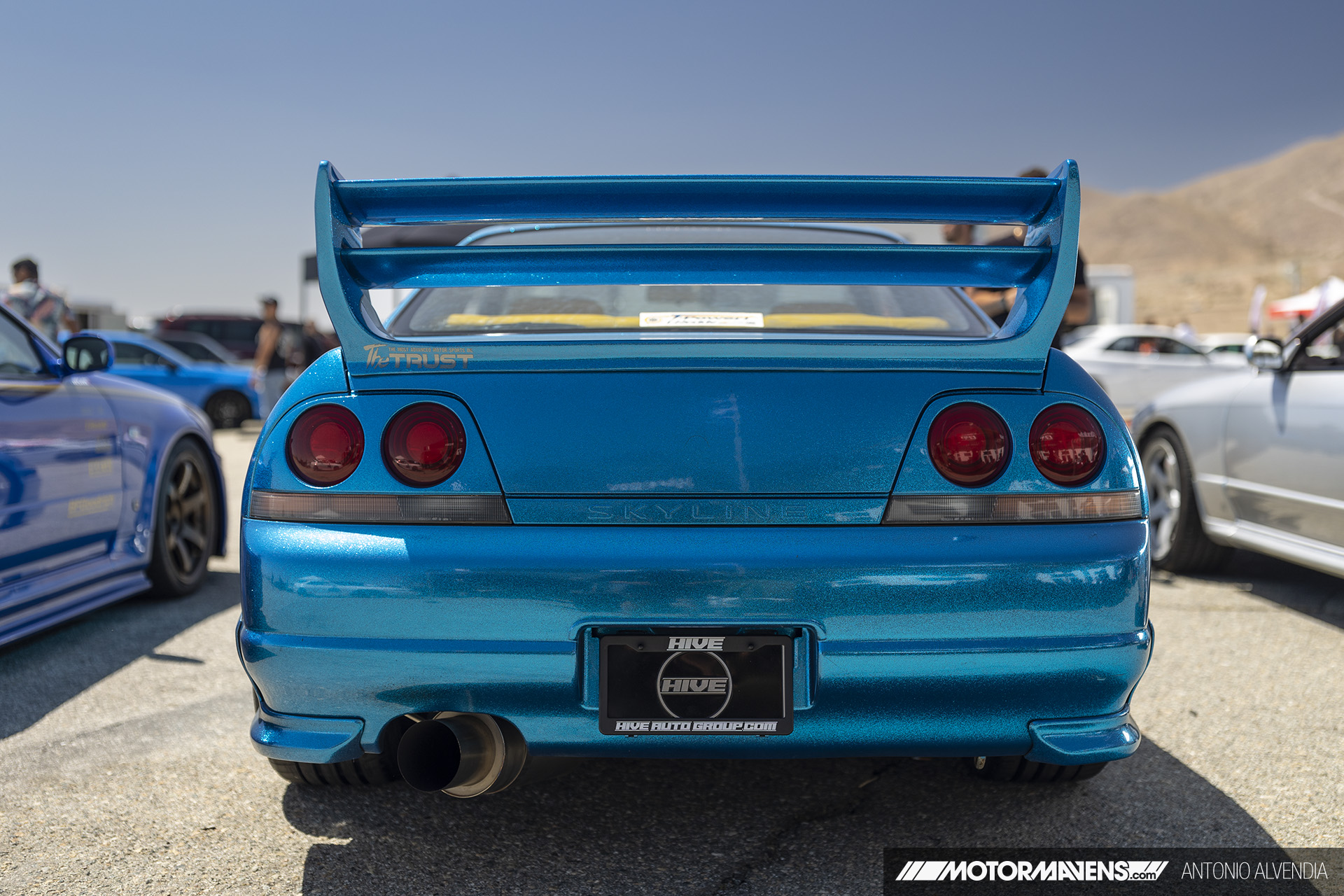 Apparently, the GReddy SROC GT-R is now part of the collection owned by the Hive Auto Group in San Diego, and it was great to see how much reverence Mike and Kenji from GReddy have for this car. This was a car that they were drooling over when they first began their careers at GReddy, growing up from their street drag racing background as members of Team Precision – a respected name when it comes to the early days of import racing.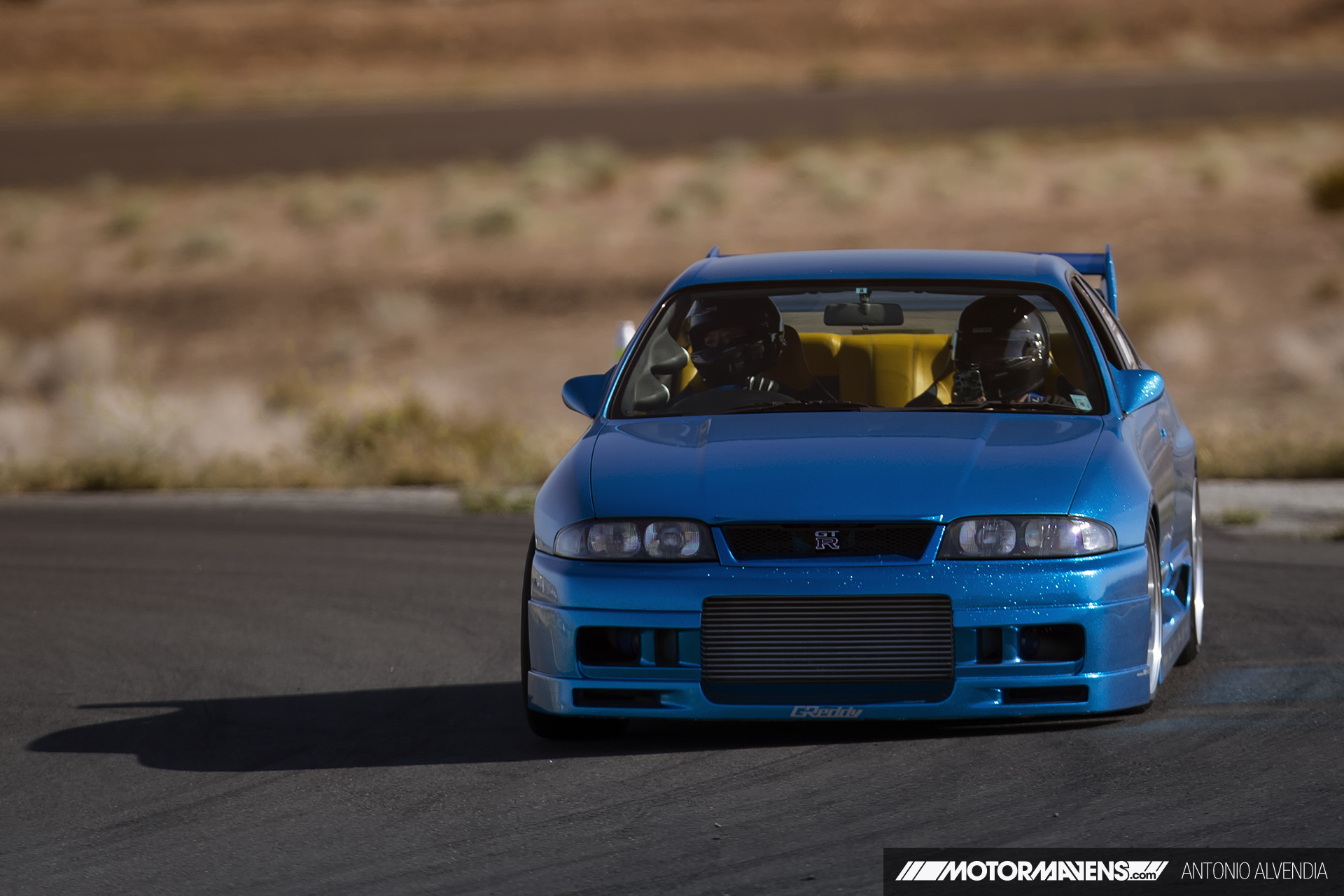 Here's Kenji behind the wheel of the GReddy SROC on track. One thing I love about the car is how low it is compared to the other cars I saw!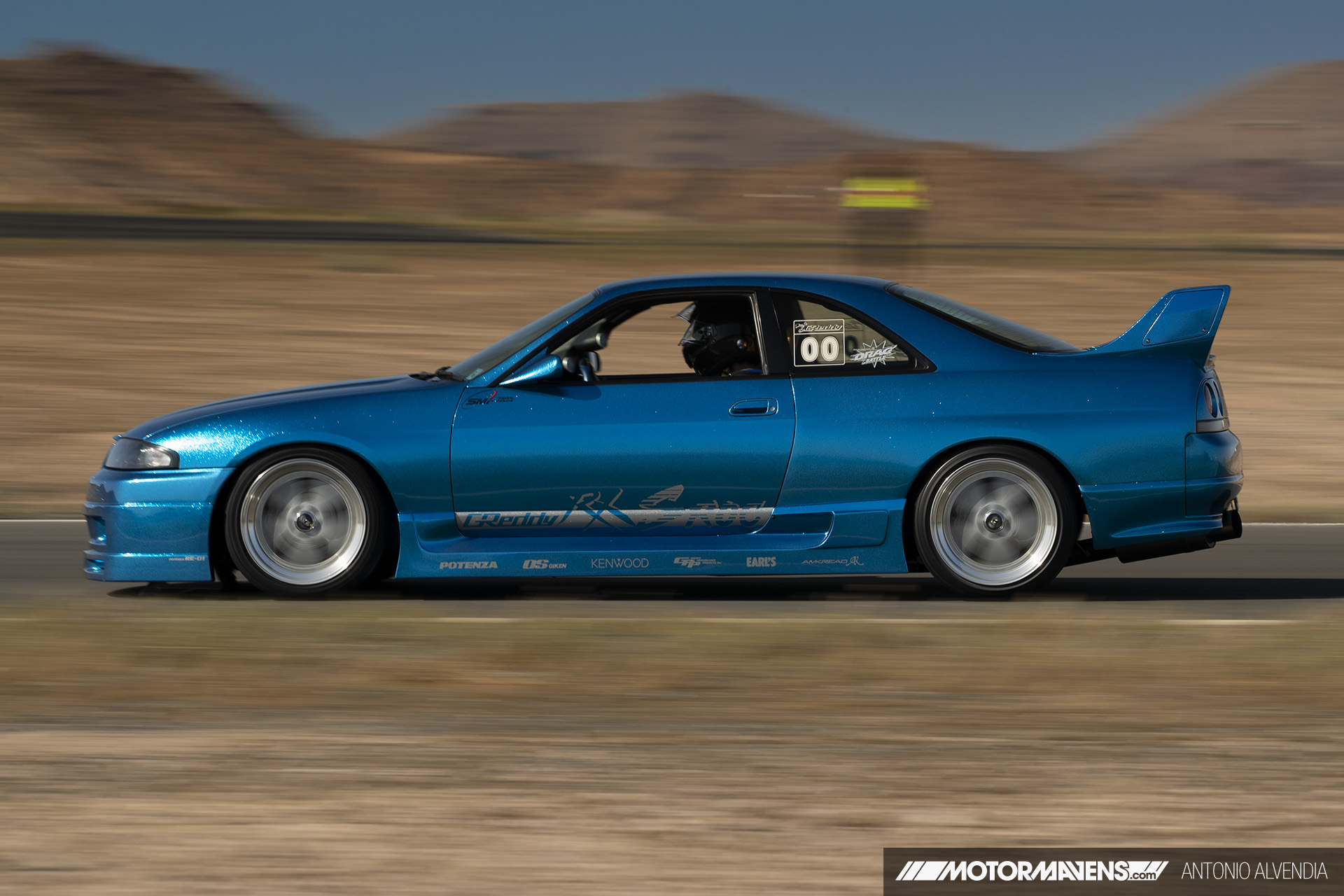 Have you ever asked yourself how many leaders of automotive companies are actual car enthusiasts?
I'm not talking about folks who say things like "oh, I like cars! I love the new Pagani Zonda R, and I used to have a Del Sol with rims when I was in high school" or "I used to help my dad with his El Camino when I was a kid. I grew up around cars."
I'm talking about real automotive enthusiasts – people that are out at the racetrack, car meets, and other automotive gatherings doing car stuff with other car people even when they're not technically at work and not getting paid for it.
Let me tell you, I know a ton of people who work in the automotive industry and related industries (things like automotive media, car care, insurance, video gaming, wheels, tires, engine related companies, etc). Let me tell you… there aren't a lot of actual car enthusiasts left.
This is why I respect people like Kenji Sumino from GReddy and Nick Fousekis from Falken and Alan Viado from Sparco for being some of the last real ones leading the industry.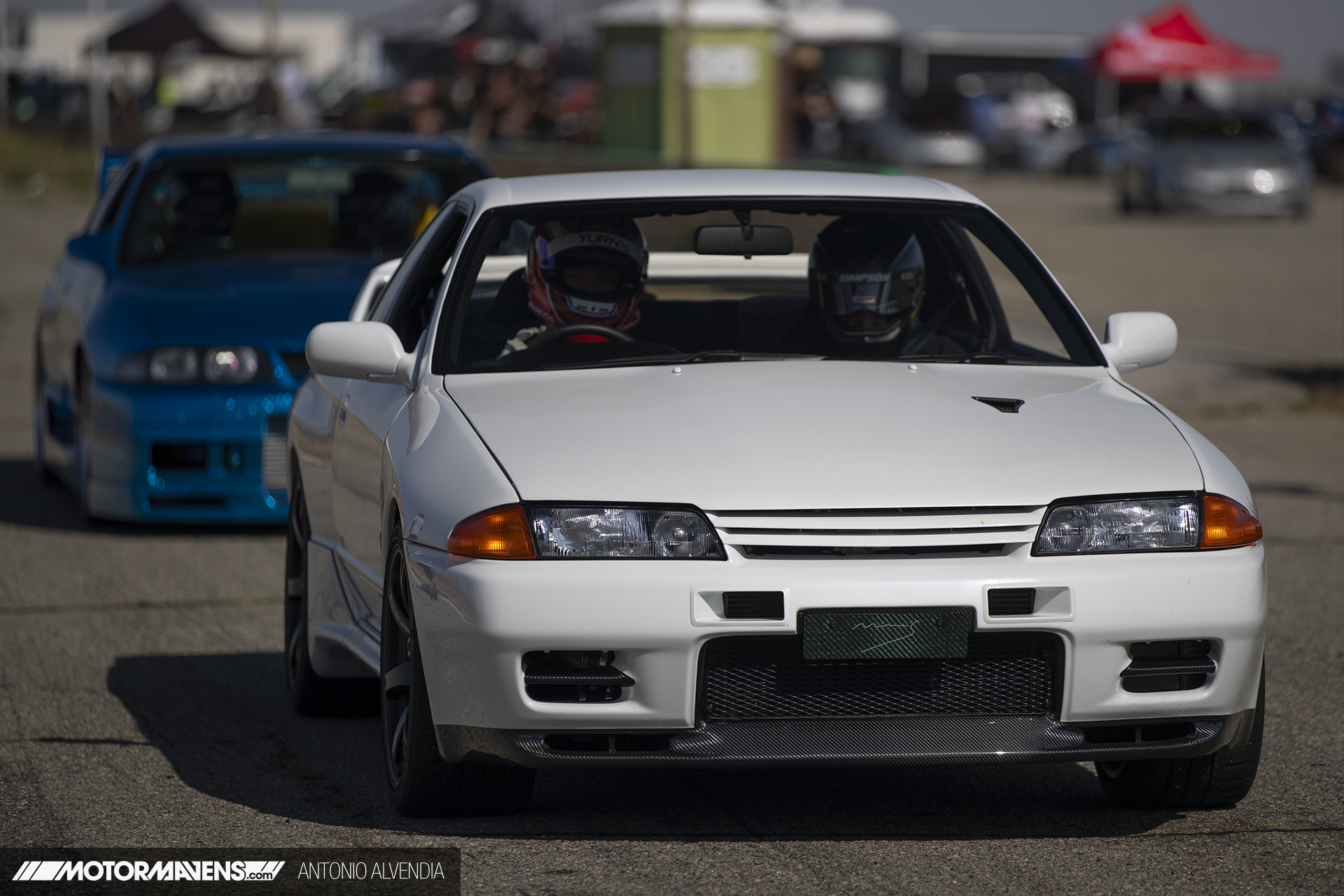 Perhaps the vehicle that was getting the most attention was the Mine's R32 GT-R, which underwent a no holds barred restoration by the Built By Legends crew. Formula D pro driver Daijiro Yoshihara is shown in the cockpit of the car here, getting ready to take the car out on some hot laps.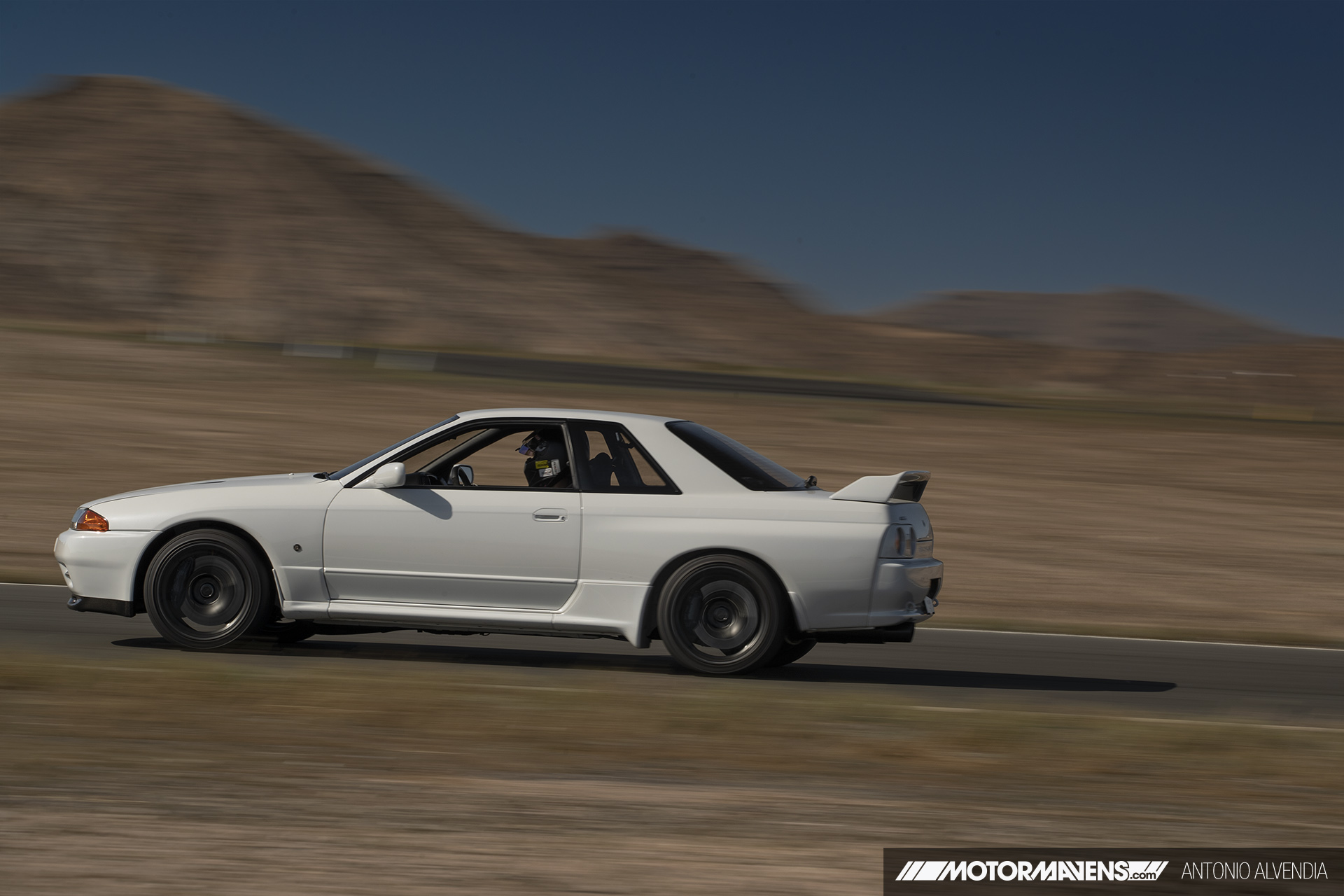 Here's the Mine's GTR on track – they even let some YouTube personalities test drive it! I wasn't on that short list, so I guess I don't have enough followers. I better work harder! 😉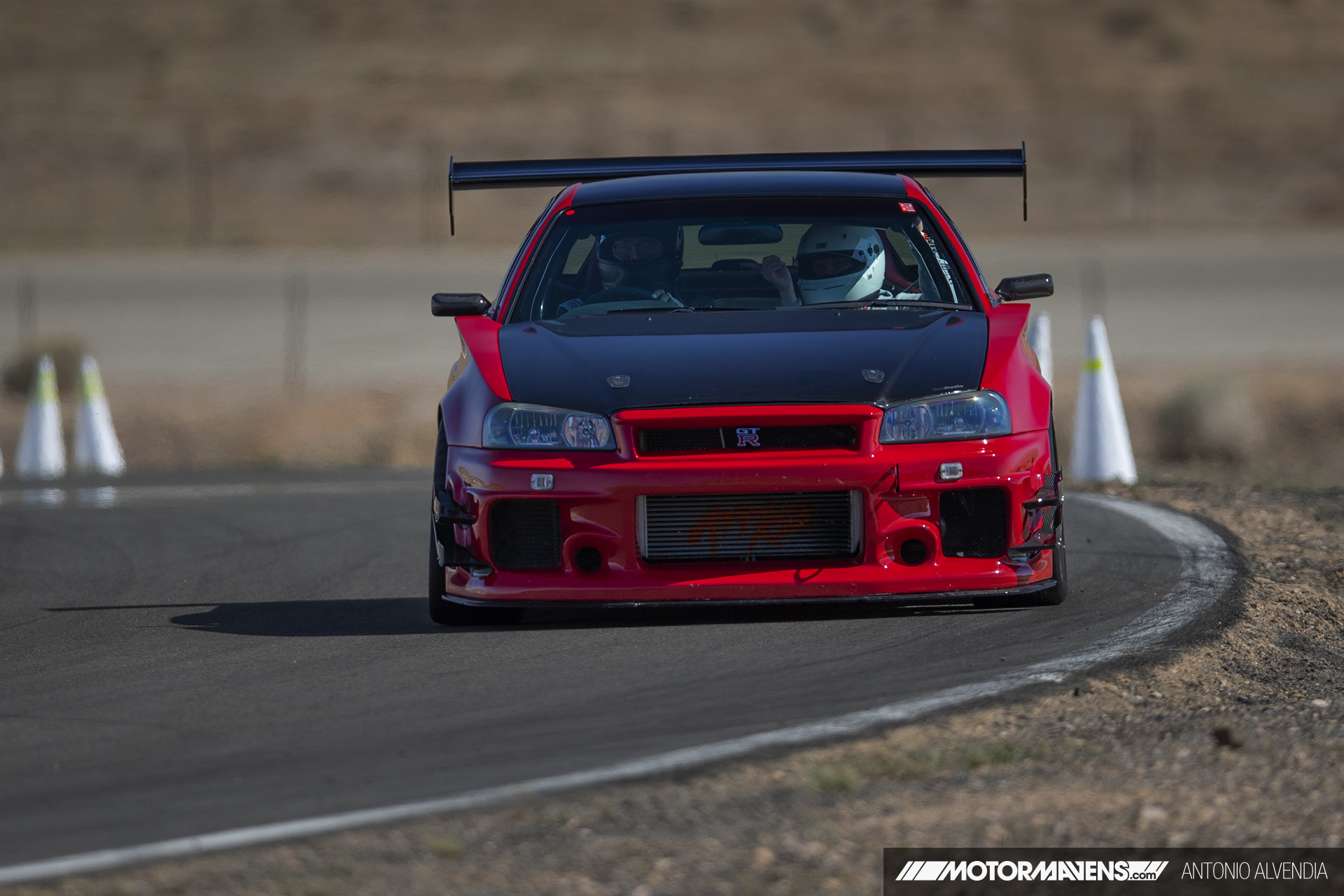 One of the GTRs that caught my eye the most was this red R34 from Canada. It looks so menacing!
If you look close you can see the ATTKD (Autech Tsukada) front mount intercooler. I have never seen one of these stateside. In fact, I think I've only seen this brand on early trips to Tokyo Auto Salon!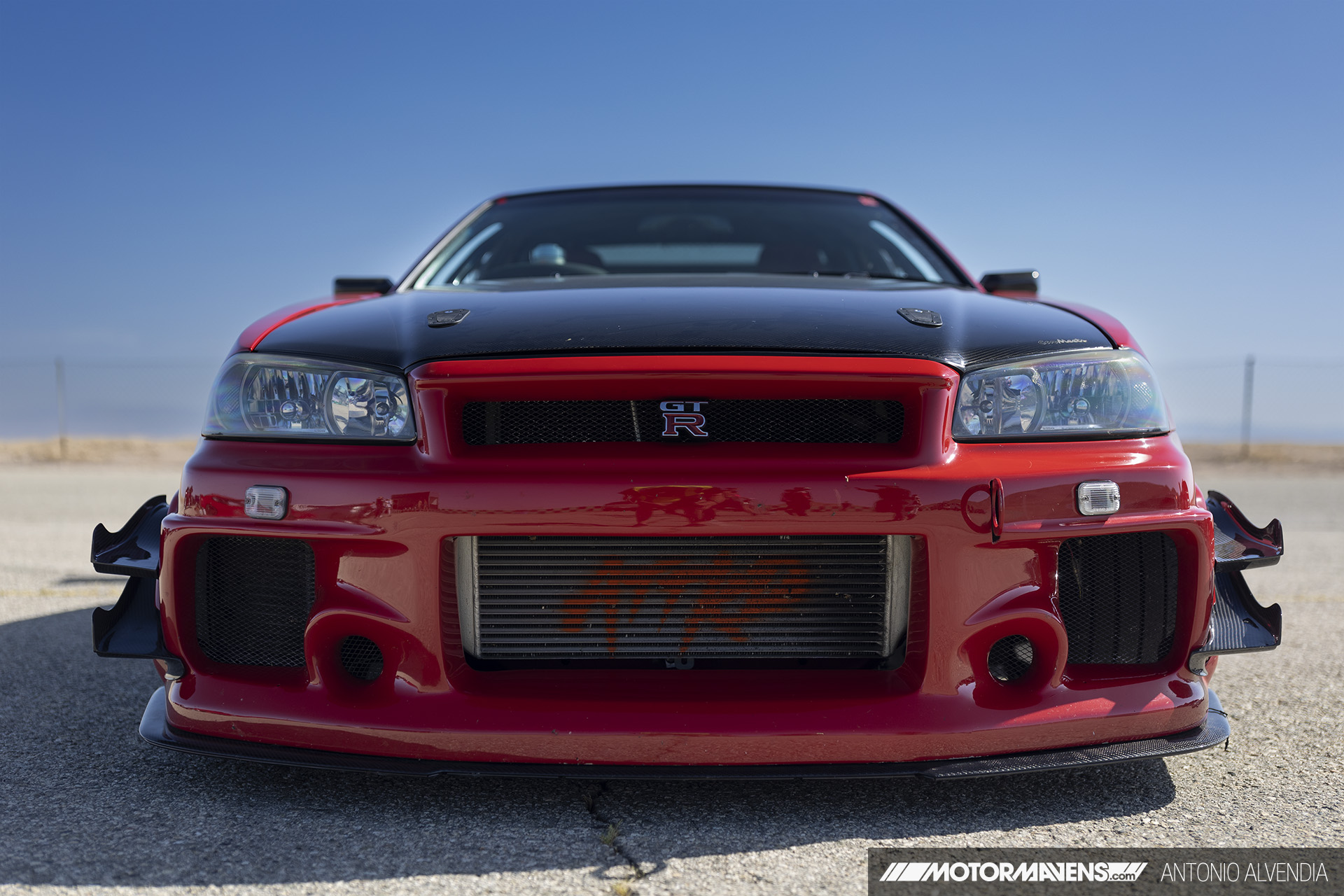 Ughhh. This R34 looks so menacing with its front bumper, subtle towhook, and carbon fiber canards and front lip.
It doesn't have RB26DETT power, but it has RS Watanabe Type R wheels and sure does look cool! Raul Toledo from Team Wildcards made the trek up to Willow Springs with his R31 Skyline to hang with the others from the Wild Cards crew and check out the event!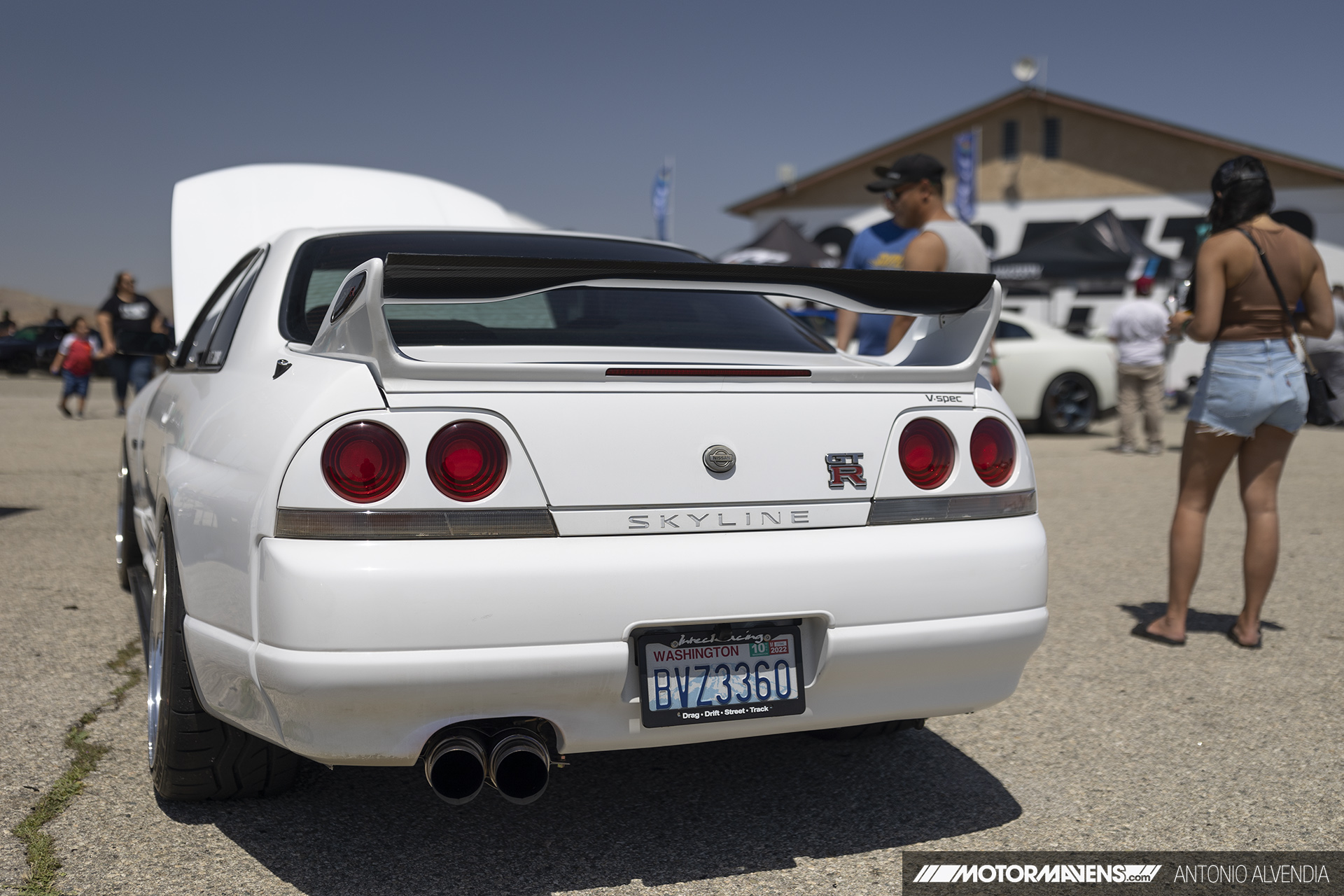 This R33 GT-R came all the way from Seattle WA as part of the display from Intec Racing.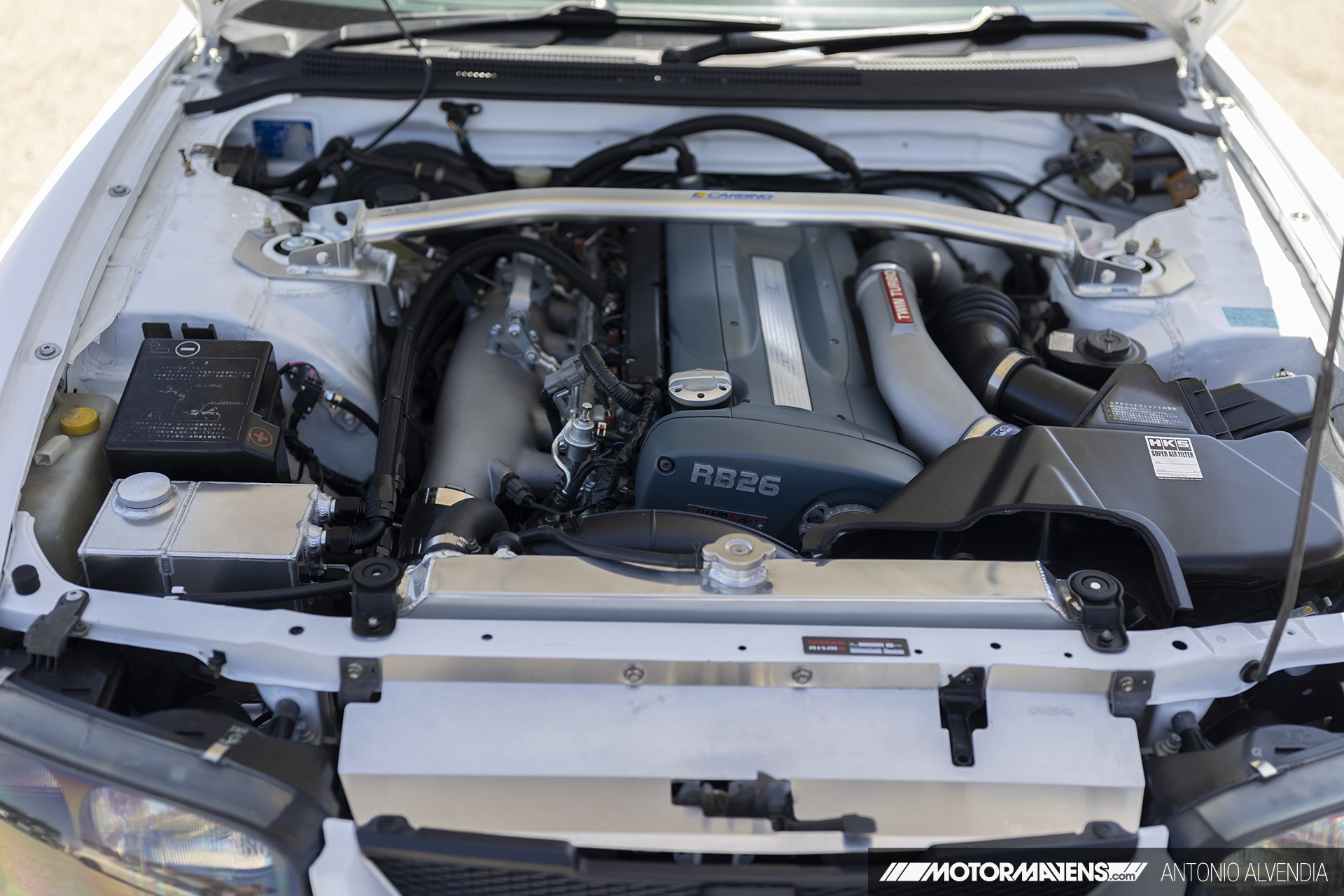 Look at that pristine engine bay! RB26DETT with Carbing and HKS goodies from Intec.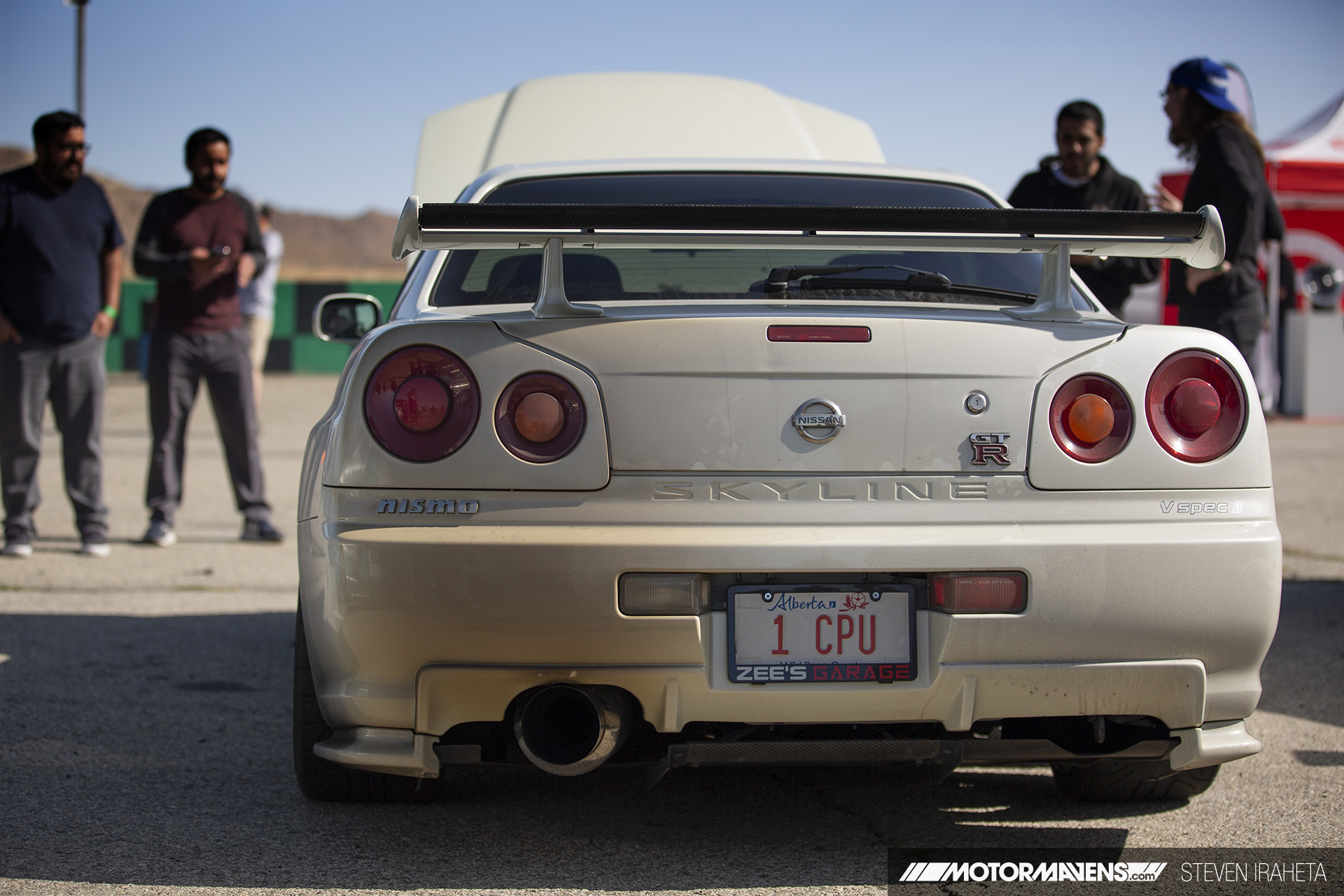 Tell em you're rich without telling them you're rich! I was told that this R34 GT-R owner from Canada actually DROVE all the way down to Southern California. It looked so crazy to see the burn marks on the rear of the car – apparently this thing shoots crazy flames! I bet that would look sooo amazing to see a massive fireball come out of this GT-R on the freeway, but I hear the car was recently re-tuned by Animal Auto in Socal, and now it has better fuel consumption and more usable power.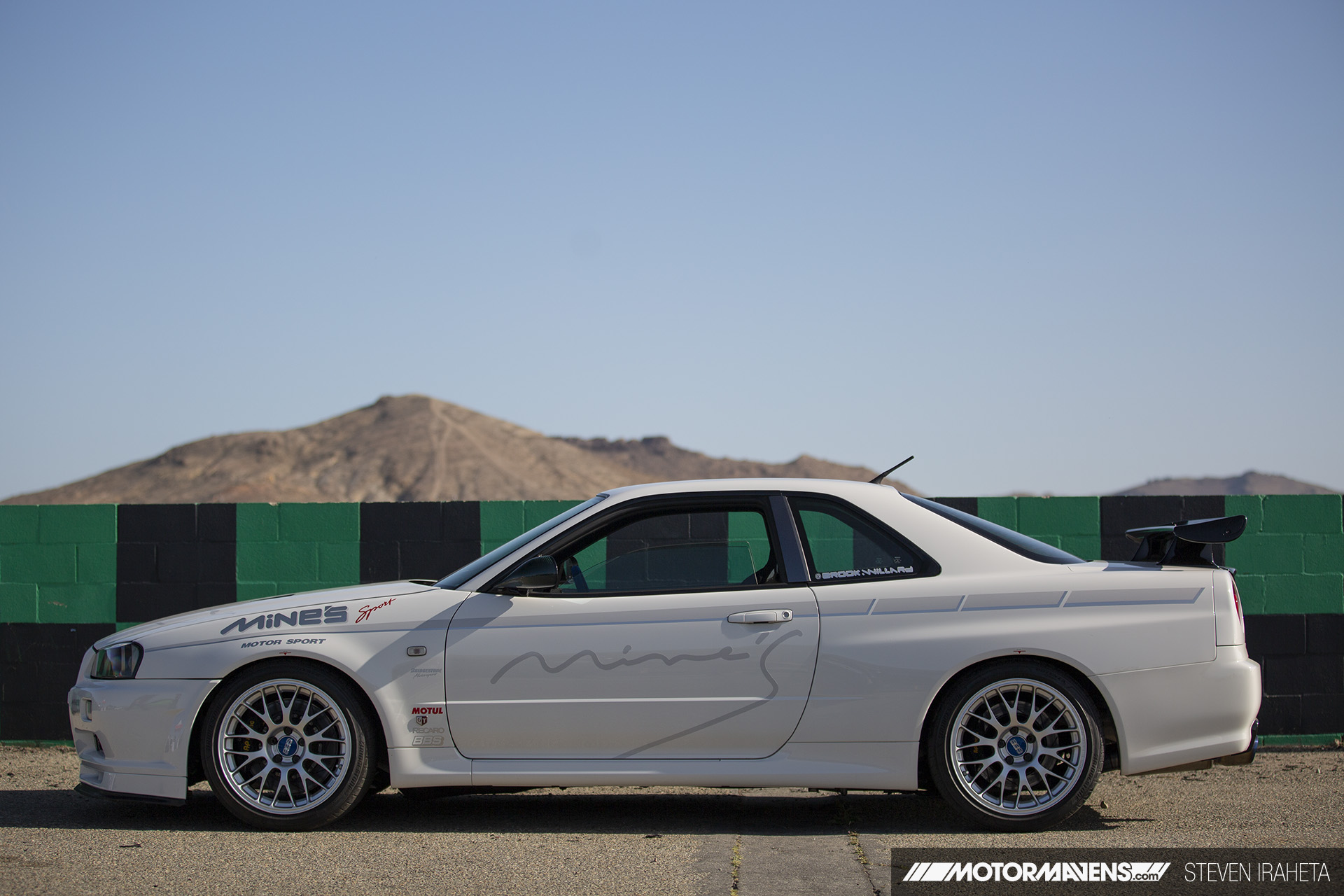 This specific R34 GT-R with Mine's graphics had an interesting story. Apparently, this is a customer car, but Mine's installed the engine and running gear from one of their other Mine's-built demo cars into this R34. They even installed their signature green carbon mirrors on the car, which apparently are something that people can't buy. These green carbon mirrors are only available to be installed onto cars that Mine's built themselves.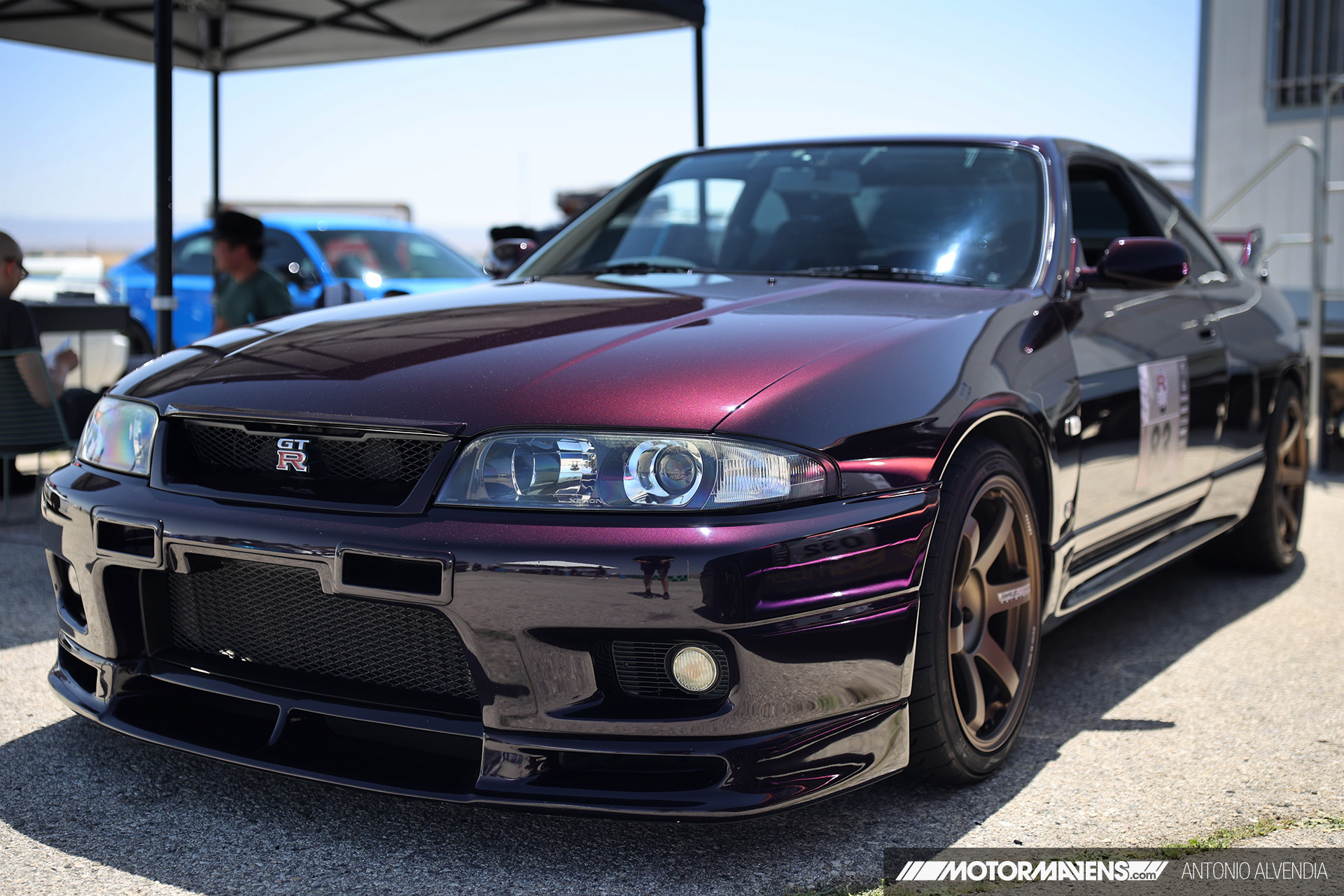 This Midnight Purple R33 Skyline GT-R looked super clean basking in the sun. It was like a throwback to the magazines from the late 90s and early 2000s, equipped with the standard fare of Volk Racing TE37 wheels in bronze.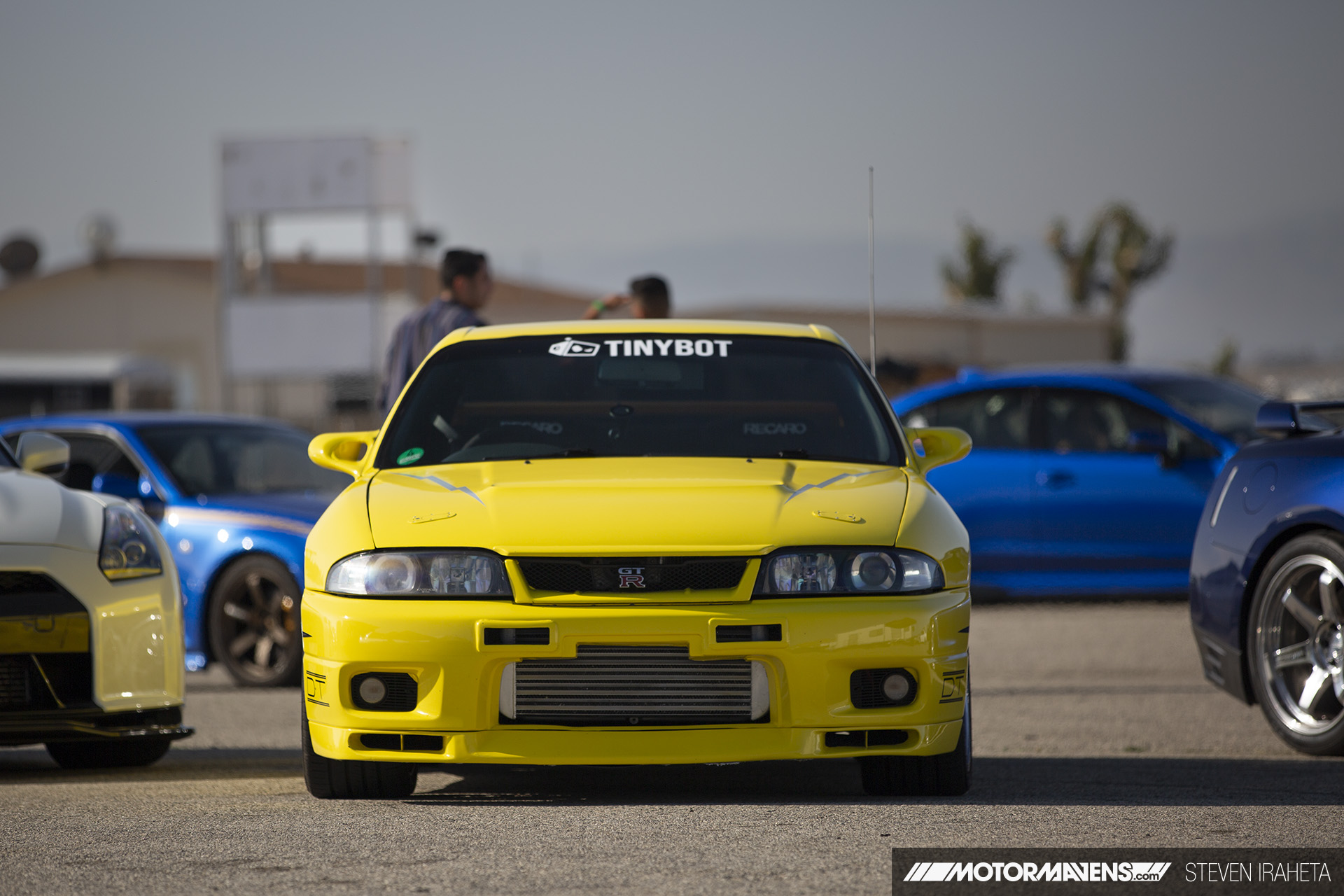 I didn't even see thi R33 at the event, because I was too busy hanging around other areas of the track. Good thing Steven shot a photo of it!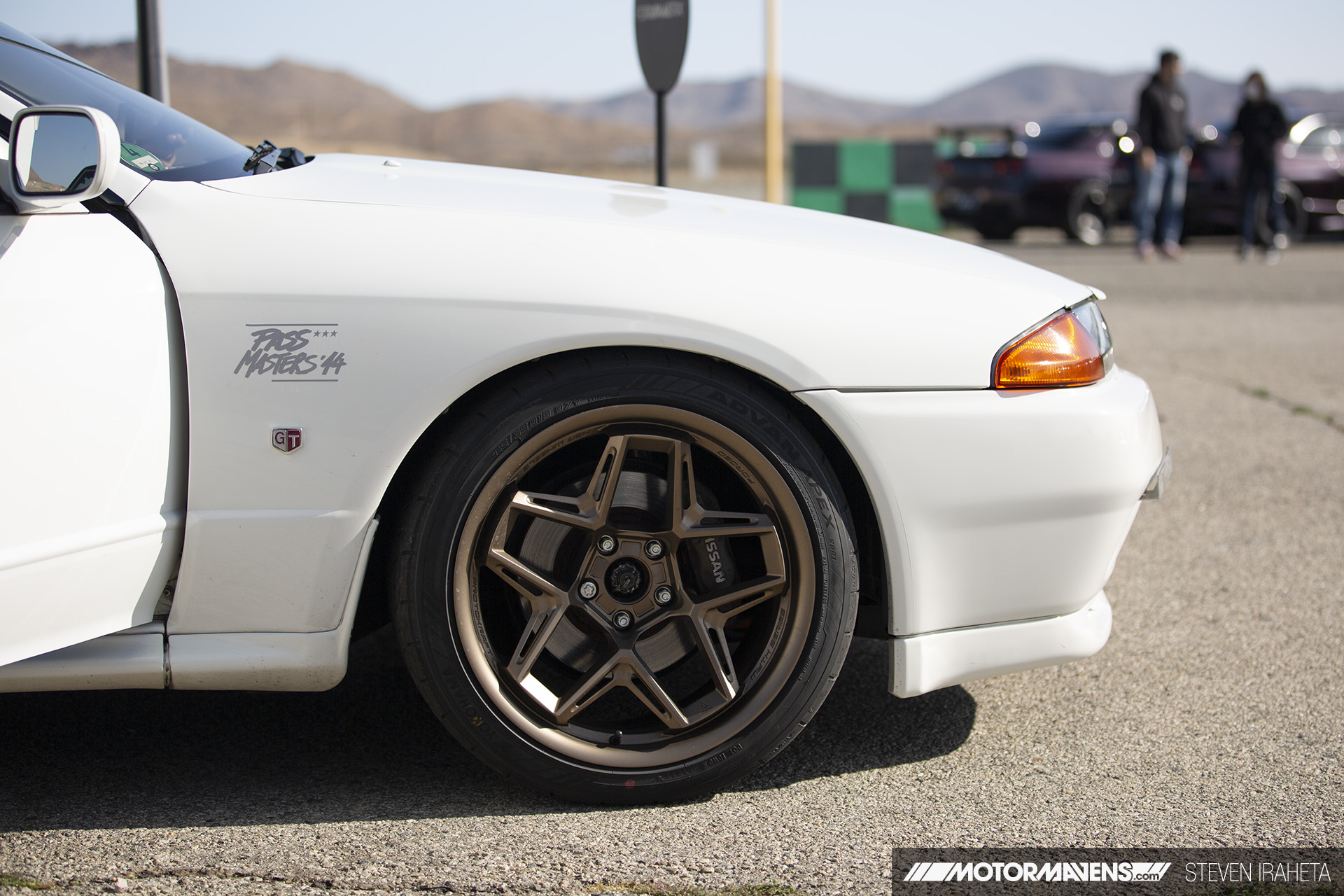 When this specific R32 GTR rolled in from the track, I was kind of puzzled by the wheels on the car. When I asked the owner of the car what type of wheels they were, he said that he was an automotive designer and he actually designed these wheels himself. These were a prototype set, apparently. He explained that he used to live in Germany, and he bought his R32 rather inexpensively when he was working as a designer for Volkswagen in Europe. I think it's such a cool story when people buy a car overseas, and import it to another country!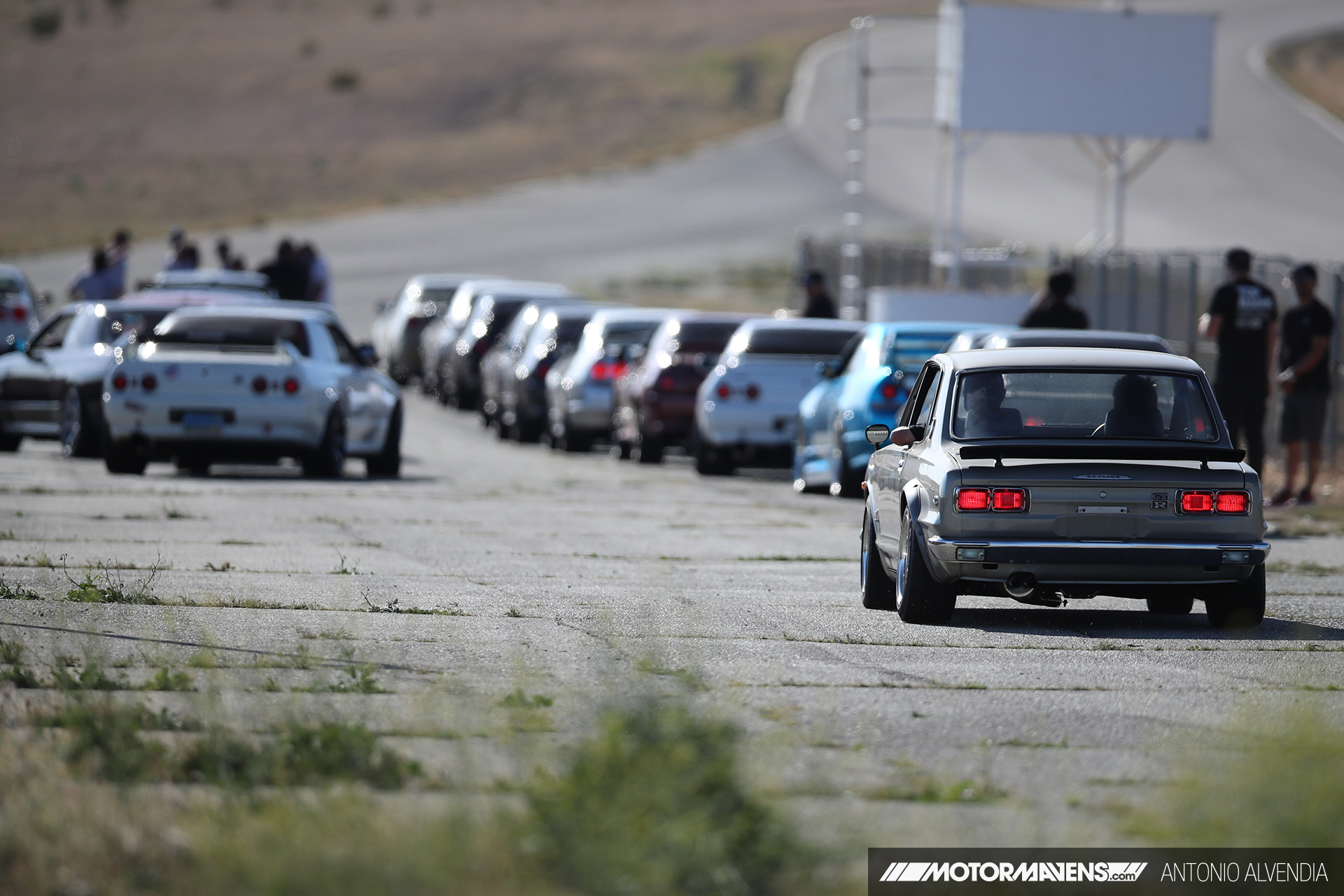 With all the R32 and R33 and R34 GT-Rs lining up on the grid, this KPGC10 Hakosuka really stood out from the crowd. When it accelerated, it made a special sound that only finely synchronized carburetors can make.
Although I'm currently building my first turbocharged project car (with turbocharged 2JZ engine), there's just something about NA engines and the good old fashioned sound of side draft carbs.
Can't wait for the next time these Rs gather!
:: Antonio Alvendia
Instagram: @AntonioSureshot • @MOTORMAVENS
www.antoniosureshot.com
MotorMavens on Facebook
MotorMavens on YouTube
400Z
,
Animal Auto
,
Built by Legends
,
Carbing
,
Daijiro Yoshihara
,
GReddy
,
GTR
,
Hive Auto Group
,
HKS
,
homepage
,
Intec Racing
,
Kenji Sumino
,
KPGC10
,
Mike Chung
,
Mike Ferrara
,
Mine's
,
Nissan Fairlady
,
R31
,
R32
,
R32 Skyline GTR
,
R33
,
R34
,
RB26
,
RB26DETT
,
Rs Day
,
Skyline
,
Skyline GTR
,
SROC
,
Steven Iraheta
,
TE37
,
Team Precision
,
Volk Racing
---