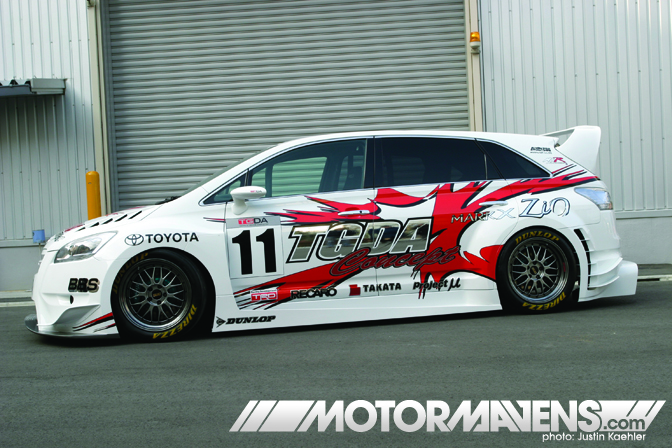 Despite my inflated sense of self-importance, I have to admit that no one in the industry really knows who I am. But that's okay. Even though I spent years working at some high-profile media companies, I'm at best remembered as "that one guy with the hat". I'm flattered when people remember me enough to recognize the fact that I often enjoy wearing hats, but that's neither here nor there. To be honest, I rather enjoy the anonymity; it keeps people's expectations of me low. But for the one or two people who actually care about what I have to say, I would like to state here and now that I am absolutely addicted to minivans. Tricked-out JDM minivans, to be precise.
Back in 2008, I – the guy with no "steez" or a functioning media outlet – somehow convinced Toyota Japan's corporate types to let me into the Toyota Technocraft facility in Yokohama to shoot the van you see here, the  Toyota Mark X ZiO TGDA Concept. Toyota Technocraft, for those who may not be aware, is where Toyota Japan builds all its "specialty" vehicles. Everything from ambulances to JGTC cars, plus the Mark X ZiO TGDA Concept, is made at this top-secret facility, and Toyota let me in to run amok in the place.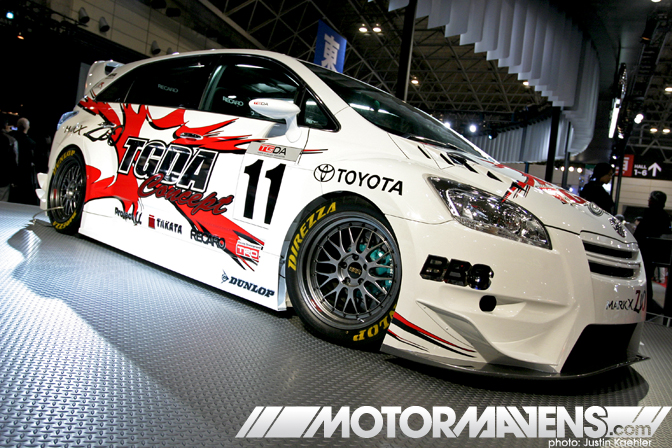 I didn't come alone; accompanying me was famed Max Power UK photographer Andy "Fly" Tipping and videographer Yusaku "Bento" Mizoguchi. Fly took some spectacular shots of the Mark X, which were unfortunately lost forever when his client RiceBoyTV was unceremoniously shut down. The shots you see here are photos I took myself…
This Mark X ZiO TGDA Concept was built by Mooncraft, the same company responsible for many of Toyota's Super GT cars, so you know the workmanship is nothing less than spectacular. The only body panels this TGDA Concept shares with the stock Mark X are the roof and front doors. Everything else has been removed and replaced – or reworked beyond recognition – to create the wild minivan you see here.
Given our scene's obsession with all things Super GT/JGTC, plus the fact that Mooncraft has made a kick-ass Super GT car or two in its day, it's easy to think that Japan's premier racing series provided the inspiration for this mom-mobile. But the man responsible for the car, Mooncraft's Kenta Sano, said that his inspiration came from Germany and its DTM race series. Sano-san was quick to illustrate the DTM influence by pointing out the Mark X's numerous ducts; this thing has more fins than Sea World. As radical as this car looks, it really is just a design exercise; the TGDA Concept's engine was pretty much stock at the time of the shoot. TRD wanted to add some power; perhaps I should give 'em a call to see if they gave this van the power to match its looks.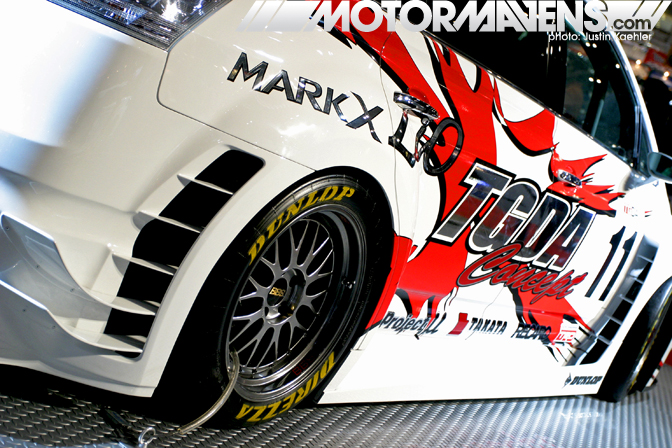 The stock Mark X ZiO is built atop the Camry platform and can be considered the JDM version of the Toyota Venza, and as such it is cursed with a soft and pillowy ride and several inches of fender gap. To get this van's suspension DTM-tite, Mooncraft added a one-off TRD suspension kit and a custom roll cage to the Mark X ZiO TGDA Concept. While these mods would be considered mild for a time attack car, they bring this minivan's handling abilities up to respectable levels. Aluminum BBS LM086 DBK rims sit at all four corners and are wrapped in Dunlop Direzza rubber, with Project Mu brakes peeking out from behind the LM spokes.
This is a racecar (technically), so the interior is pretty sparse… Recaro seats with Takata harnesses replace the stock car's cushy buckets, while the Camry-esque dash and steering wheel have been replaced with sportier TRD-produced units. Not bad at all! I wonder what this Mark X ZiO would look like next to a US market Toyota Venza?
::Justin Kaehler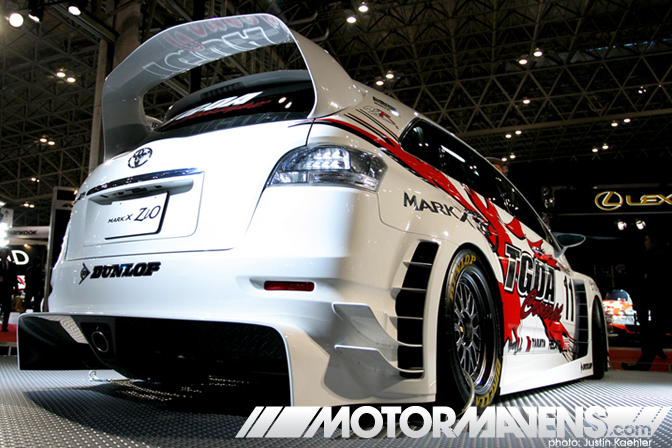 Specs
Toyota Mark X ZiO TGDA Concept
Chassis: DBA
Engine: 2GR-FE 3.5L V6
Owner: Toyota Technocraft
Power: 280 PS @ 6200 rpm; 253 (approx) lb-ft @ 4700 rpm
Engine: One-off TRD muffler
Transmission: Does a TRD shift knob count?
Wheels: BBS LMO86 DBK wheels; Dunlop Direzza tires
Suspension: One-off TRD suspension
Brakes: Project Mu rotors and calipers
Aero: One-off TRD front grille, front bumper, front fender, bonnet, side step, rear door, rear fender, door mirror, rear wing, rear bumper
Interior: Recaro seats; Takata harnesses; one-off TRD dash, floor panels, shift knob
A/V: Yes, please. Oh, you mean sound? None.
---