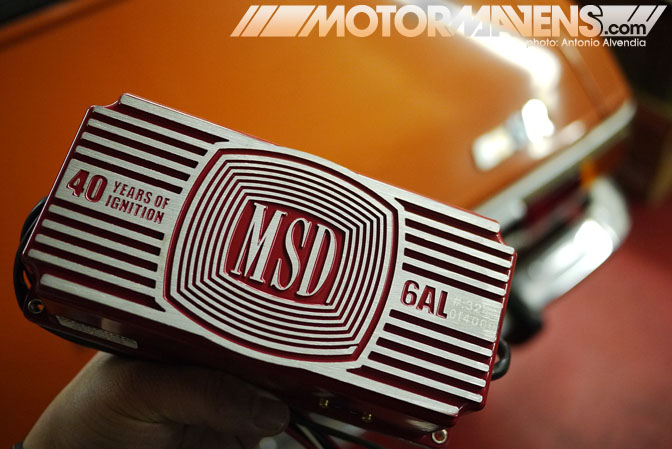 It's no secret that I and the rest of the MotorMavens Crew have a certain affinity for old school cars; especially cars from the 1960s and 1970s. When it comes to modifying a car from this era, I personally find it extremely important to retain the car's old school look and personality. After all, the retro character is what I like most about a nostalgic car!
For those interested in making tasteful upgrades to their vintage vehicles in a period correct fashion, the ignition experts from MSD have released a limited edition retro redux version of their popular MSD 6AL ignition amplifier to celebrate the company's 40th Anniversary! This 40th Anniversary 6AL amp features all the spark amplification power and features of their current 6AL model, but has the vintage MSD logo from 1970 on the outer casing. COOOOOOOOOOOOOOOOOOL.
Since I'm all about retaining the period correct style when making performance upgrades to my beloved 1973 TE27 Corolla SR-5, I just had to get one of these vintage MSD boxes for my car. My TE27's factory 2TC pushrod engine has been swapped in favor of a Japanese domestic market 2TG twincam engine (Toyota's 2TG engine is like the grandfather of the popular 4AG in AE86s), and built up by a close friend from Toyota Racing Development. It has been upgraded everything that TRD makes for the 2TG – race cams, oversized valves, dual valve springs, big bore pistons, rods, gear drive, you name it. The car hasn't been tuned yet; it's still sitting in the garage. I figured that right now would be the perfect time to upgrade the car's ignition.
If you have a classic Toyota, Datsun, Mazda, Chevy, Ford, Volkswagen, BMW, or other vintage vehicle sitting in your garage, you absolutely must get one of these retro ignition amps. You better act quickly, though – there were only 4000 of these bad boys made, and I have number 3245. (In the voice of an old Chinese guy from a 1970s kung fu movie) Hurry up and buy!
:: Antonio Alvendia
PS: Stay tuned… I'll definitely post photos when I install it in the car.
---