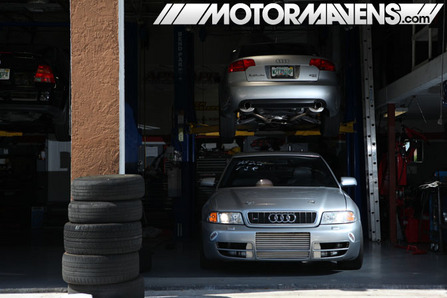 For those who are unfamiliar with the high performance "street car" builds on the East Coast vs the West Coast, we thought we'd chime in with some of our observations. From what we've seen, the West Coast car builders tend to build flashier cars with an emphasis on style and automotive fashion in a sense; whereas, the East Coast car builders tend to focus their efforts on building cars that look a bit more simple on the exterior, with modifications that a normal passerby might not notice at first glance.
However, don't let the purposefully plain jane outer skins fool you – East Coast gearheads are all about going fast. Their whole intent is on building sleepers – these guys build cars that only look mildly modified on the outside, but if you ever try to step to them on a highway or even a stoplight, they will make your shiny "chick magnet" feel as slow as your girlfriend's first car in no time flat.
Such is the case with USP Motorsports and their NINE SECOND 2002 Audi S4 turbo. For those unfamiliar with USP, they are a shop in the Fort Lauderdale, Florida area (Coral Springs to be exact) that specializes in building very, very fast Volkswagens, Audis, and Porsches. These guys are no joke! USP can do anything necessary to make their customers' cars go fast, including creating custom turbo kits, fabricating manifolds, and even completing in-house ECU programming and tuning with their All Wheel Drive and 2WD dynos which are located right behind the showroom.
We were first introduced to USP through a customer of theirs, Andy Williamson, the former editor of C16 Magazine who recently stepped up his game from a built-up Civic to a 996 Porsche 911 turbo. To be honest, we visited USP as a spur of the moment, last minute decision. We were in the Fort Lauderdale area on other business, and realized we were really near USP, so we just stopped in for a few minutes to take a look. We had the opportunity to chat for a few minutes with USP owner Chris Green, who was very busy trying to finish up some customer projects (he didn't really have time to do a full on photoshoot with the car that day, especially since this whole visit was unplanned and very spur-of-the-moment), but he was still gracious enough to pull his Audi out of its enclosed trailer for a moment so we could grab a couple photos of it.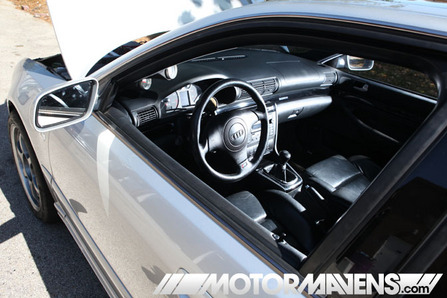 Looking really quickly at the interior of the car, it appears to be relatively stock. We love that! The interior is all pretty much intact, and at first glance, you wouldn't really think anything was different about this S4 aside from the gauges on the pillar and behind the OEM steering wheel. Like we mentioned earlier, the USP crew is all about building mild mannered street cars into high performance monsters, all while retaining streetability and driveability.
Oh yeah… did we mention that this S4 runs on normal PUMP GAS? E85 ethanol from the gas station down the street from USP, to be exact. See, Chris and his USP Audi S4 turbo prove that you can run 9 second quarter miles, with 754 horsepower at 32 lbs of boost and save the environment at the same time!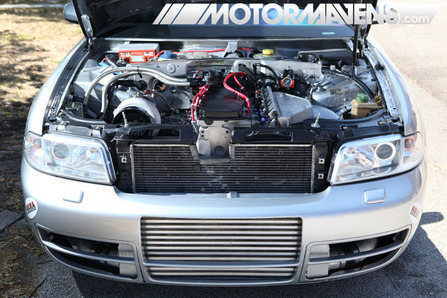 Check out the front bumper – you can obviously see that the bumper skin has been very cleanly cut out to allow air to hit the huge Buschur Racing front mount intercooler behind the bumper skin.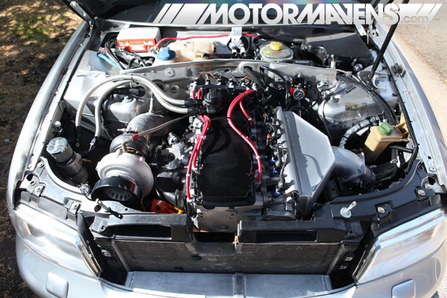 Behold, the heart of the beast. This doesn't look like a standard Audi S4 engine bay to you? That's because it's not. What we're looking at here is actually a heart transplant – Chris and the crew at USP Motorsports actually swapped in a fully built 12valve Mark3 VR6 motor from a Volkswagen Jetta into the engine bay of the Audi, using some custom USP parts, like their engine mount setup, intake manifold and intercooler piping. According to USP, this Audi has the best of both worlds – the built-up Jetta VR6 engine is simple, powerful, and reliable, which works perfectly with the all wheel drive system of the 2002 Audi S4.
See the big snail up front? That's a Precision Billet wheel 67/65 turbo with T4 .81 housing, bolted up to an ATP turbo manifold. USP also put a 3.5 inch aluminum downpipe and 4 inch aluminum catback exhaust on the car to prevent exhaust restrictions.
USP is running this whole setup with an 034 Stage IIc ECU and an upgraded USP fuel system, which includes an Aeromotive eliminator fuel pump and a custom made surge tank, which is mounted in the trunk of the car.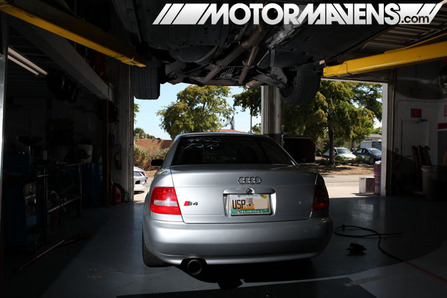 Obviously a car this powerful needs a strong drivetrain too which is why USP chose to use a Tilton carbon-to-carbon twin disc clutch and 034 EFI flywheel.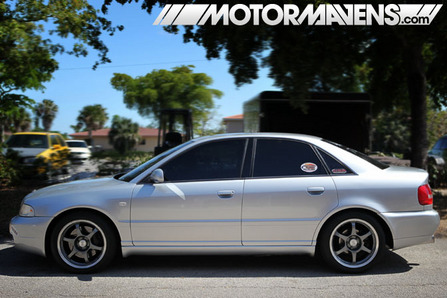 Just casually looking at it from the outside, normal people wouldn't think that the Audi S4 pictured here is a 9 second car. Regardless if it's at competing at the dragstrip or just cruising down the street to get a burger, Chris's USP Audi sits on the same exact 17×8.5 SSR Competition wheels wrapped in BF Goodrich 225/45/17 drag radials that you see in these photos. Not to mention, the USP S4 still weighs in at 3300 lbs – it hasn't even been stripped! Now THAT is what you call a real street car. A real FAST street car.
In fact, the USP Audi S4 turbo is so fast that it wowed the crowd at Moroso Raceway (now called Palm Beach Motorsports Park) recently, taking the overall win for the National Sport Compact Racing Association (NSCRA) True Street class with several 9 second passes.
Don't believe us? Click the link below to watch the video.
::Jose Gonzalez
Youtube video of USP Audi S4 turbo, doing 9 seconds at Moroso
Audi
,
Avon Bellamy
,
drag racing
,
E85
,
Jetta
,
Jose Gonzalez
,
NSCRA
,
S4
,
turbo
,
USP
,
VR6
---