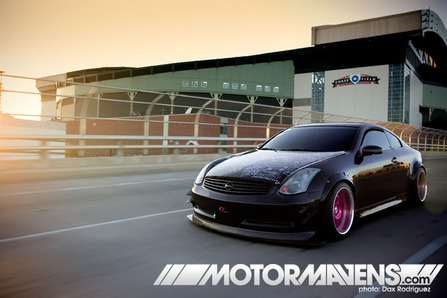 Shiny black paint… check.  Menacing stance… check.  Pink JLine wheels… check. ???  Prowling the city streets surrounding the Arizona Diamondbacks' Chase Field, we have James Parker's glorious G35 coupe.  To say that this car has undergone a complete transformation over the years would be a bit of an understatement.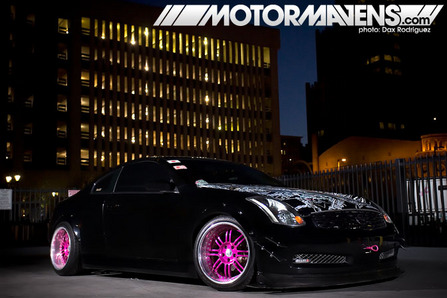 The car was first photographed by one of our favorite photographers from Arizona – Mike Maez. Some four years prior to our shoot, the car was rocking a Greddy twin turbo setup and a far more conservative set of Racing Hart wheels.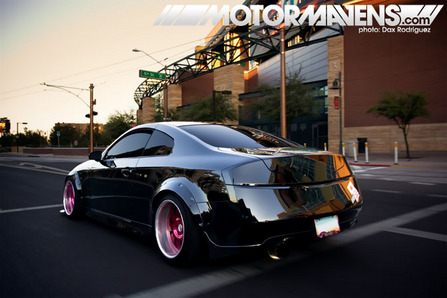 Now on its third VQ engine, this formerly force fed beast is temporarily focused on form, although function will soon follow in the near future. However, for now… check out the shine on that paint job! Insane.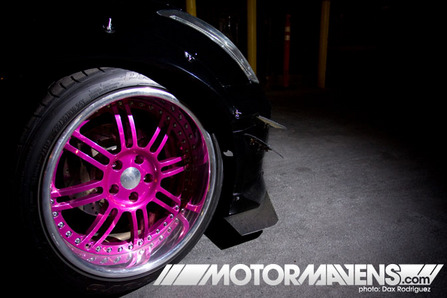 Although 18 inch wheels are of a smaller diameter than what we are used to seeing on most G35 coupes, the fact that they are staggered in a 9.5 / 12 inch width with a zero offset means they were definitely ordered with the right priority – wide wheel barrels are more important than large diameter wheel centers. However, the sheer fact that they are pink definitely make them catch our attention. a statement.  Combine this wheel setup with Vertex sideskirts, an APR carbon fiber lip, custom overfenders, and a trick set of canards and you have a recipe for trend setting street heroics.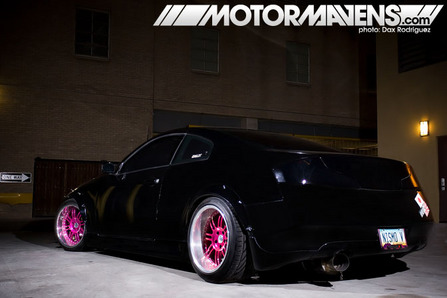 James chose to rock Buddy Club D1 coilovers and Nismo swaybars to keep his G35 low and cornering tight, while JUN cams, honed and polished plenums, a JWT intake, and a custom HKS exhaust keep the VQ's exhaust note stout.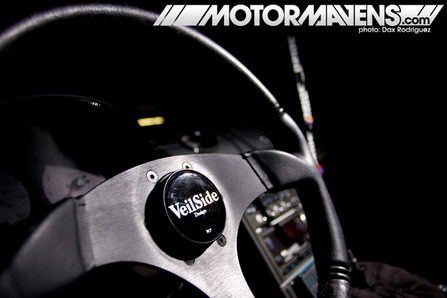 On the inside you'll find that things are kept fairly simple with just a Veilside steering wheel w/quick release and a carbon fiber center dash console.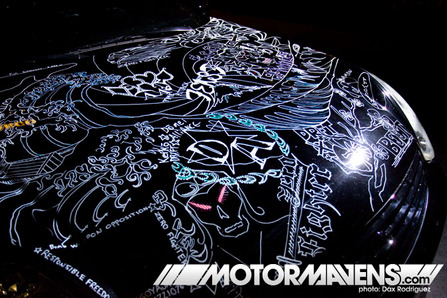 One last piece of the puzzle on the outside of G-money is this rather eccentric paint marker collage sprawled out all over James' hood.  When asked why exactly he chose to illify his hood in such fashion, James simply responded by saying, "I was just bored."  While most people resort to video gaming or practicing their advanced nunchaku skills, James embarked on a journey that Bob Ross himself would be proud of. (Remember? He's the guy who used to paint on PBS/public television. I think the name of his show was "The Joy of Painting," but I'm not sure, and it doesn't matter cause he's dead now anyway.)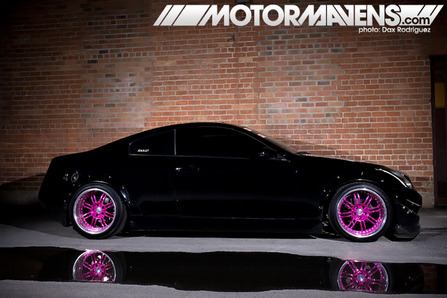 Overall we can't wait to see what James has in store for his next round of G35 mods.  Although he has had some bad luck in the past with motor troubles (*cough*cough* three VQ engines), he is no doubt in tune to what the G35 platform is capable of.  If the current iteration of his ride is any indication of the future, be sure to wear your neck brace for our follow up visit!
::Dax Rodriguez
---