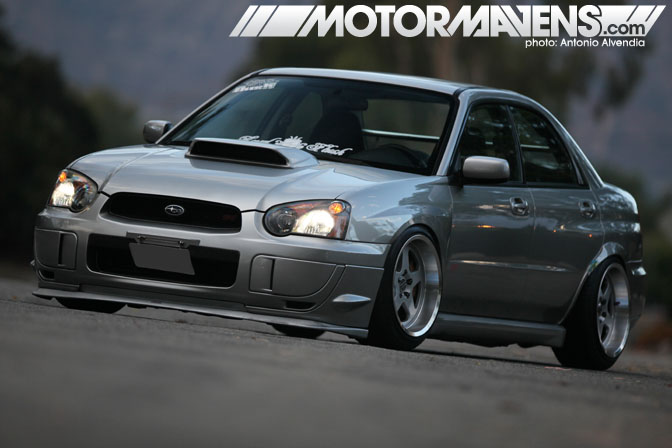 A few years ago, the term "royal flush" wouldn't make you  immediately think of cars.   Rather then picturing a car's wheel fitment and ride height, it was more associated with card games.  However, with wheels right at the fenders, tires tucking underneath them, and frame rails sitting only a few inches above the tarmac, this Subaru Impreza WRX STi owned by Austin Mardian from the Royal Flush Crew really embodies what it means to have your car sit flush.
When Austin rolls out to car meets and shows, he and his friends from Royal Flush crew definitely roll deep, with more than enough slammed cars to back up the name.  For those of you local to Southern California that have been to many of the larger car shows, you might have seen several of the Royal Flush "VIP" style cars.  Whether it's a Lexus or Infiniti on air ride or Austin's STi, they mob out in big numbers to all of the events they go to.  While some of the cars in the crew scream for attention, the clean subtle look to Austin's STi was actually what caught my eye when I saw his car for the first time.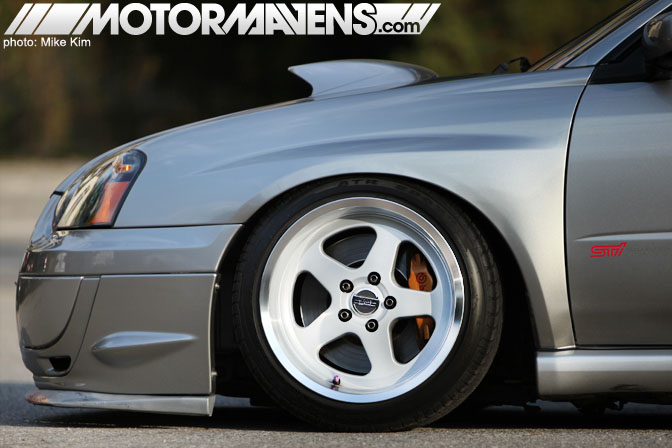 Out of all the different styles and facelifts that the Subaru Impreza WRX STi has been given stateside, this GDB body style is my favorite of the group.  The chuki 2004-2005 front end had the best looking headlights (in my opinion) and a clean, simple looking grille, which set it apart from its predecessor and successor. Even though I know a lot of people who really like the kouki version Impreza, the three part split grille of the 2006-2007 face lift model wasn't exactly one of Subaru's greatest styling triumphs… at least, in my opinion.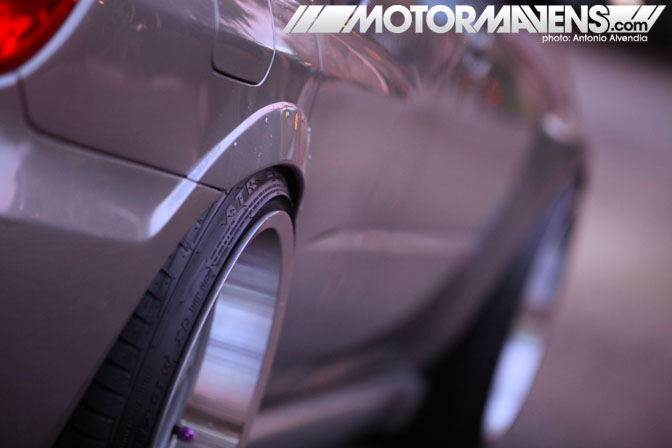 Instead of trying to describe what a "slammed," "flush" or even "hellaflush" car is (to non-car people) using words, I've now begun to show my photos of Austin's car on my iPhone 4S.  His car not only sits this low when it's parked, but he drives the car everywhere as it sits, slammed to the ground.
When I asked him, "How the hell do you drive a car this low every day?" Austin simply replied,"Very carefully."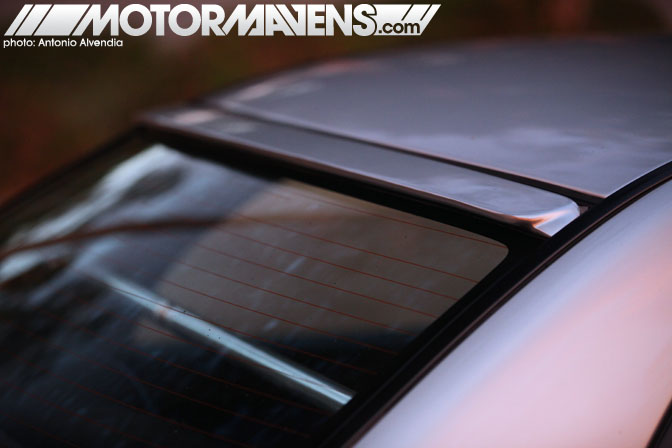 I'm usually not a fan of rear window lips but this Kakumei rear window spoiler is a very nice addition to the subtle sporty, yet elegant look.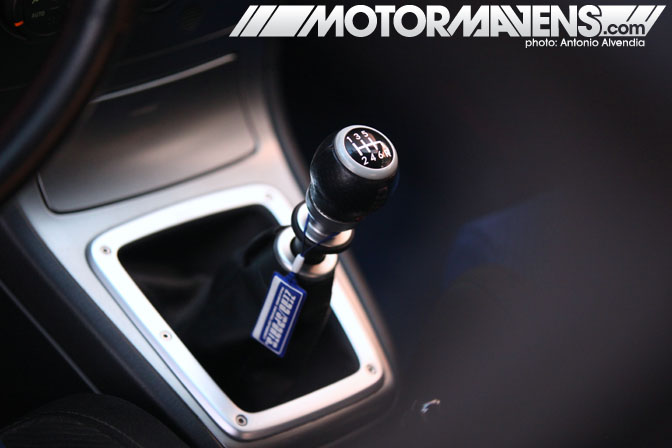 The 6 speed transmission of the STi is one of the tricky ones to get into reverse if you've never driven one before.  I've once heard a story of the ring reverse on the STi's shifter prevent a car theft from occurring, after the idiot thief couldn't figure out how to get it into reverse gear.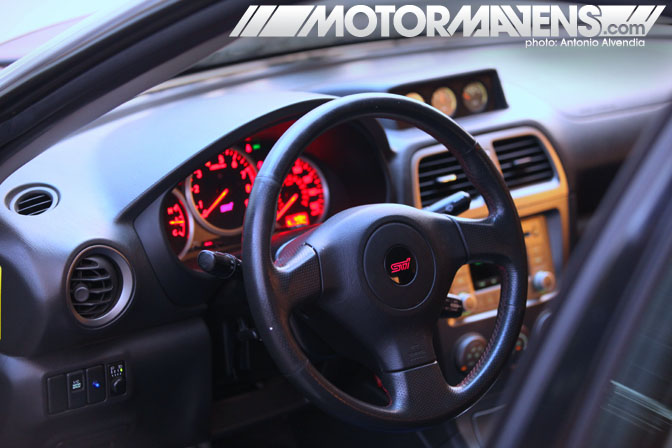 One big difference between a standard WRX and the STi model are the changes in the interior.   The steering wheel and gauge cluster look a bit more sporty, as they're branded with the STi logo; you also get a nice set of factory installed Recaro Seats.  With the C-Pillar Bar in the back and 3 new gauges added to the dash, Austin made some nice complementing additions to the factory STi setup.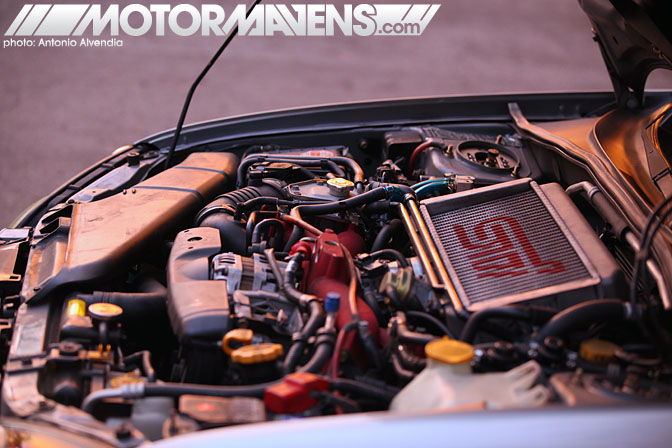 The engine is still pretty unmodded for the time being. However, if you look under the hood and see that nice STi logoed intercooler, you'll understand why the car has that huge hood scoop.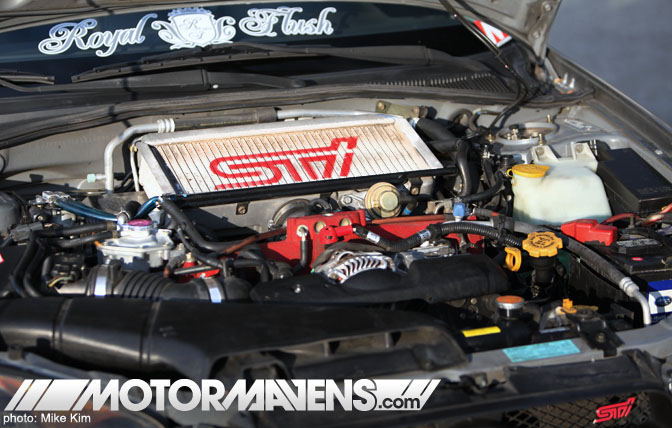 Even though the engine isn't heavily modified visually, it still has a few power producing mods.  With a K&N filter, a Titek/SP Engineering downpipe, Walbro fuel pump and a few other mods, this car puts down 330whp and 350lbs of wheel torque.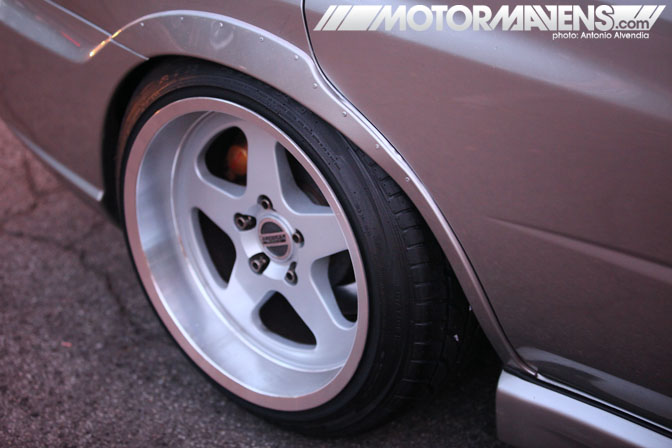 These rear over fenders are actually the OEM ones that come with a stock STi.  After going through several sets, Austin decided to rivet the replacement ones on – they kept breaking off in the past, because of his wheel fitment and ride height.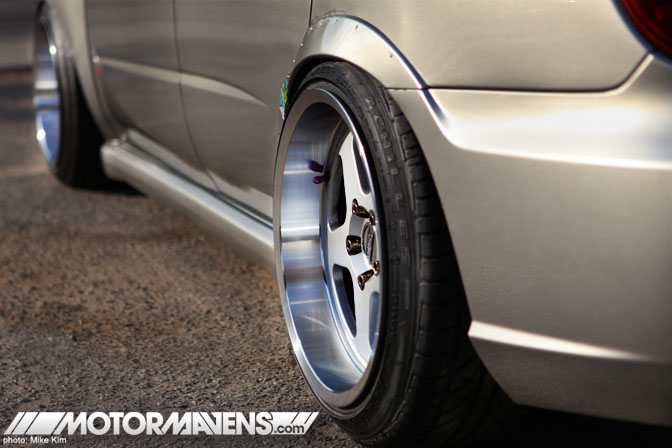 Sitting only a couple of inches off the ground, his car is riding on some BC Racing BR coilovers, which give it the aggressive stance.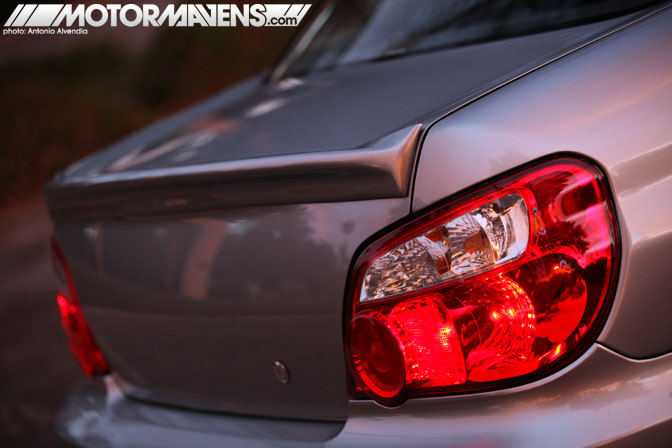 This rear trunk lip spoiler is the perfect compliment to the sleek styling and look… and I have to say, the 2004-2005 tail lights are by far my favorite ones of this generation.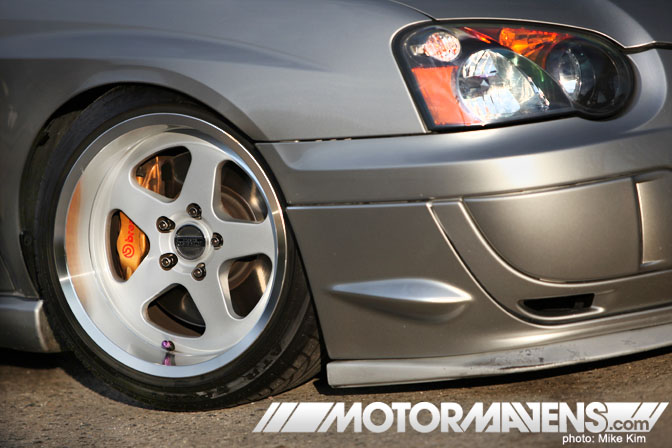 The wheels on Austin's STi aren't exactly JDM or even VIP wheels at all. The aggressive offset and and fitment was actually designed for a Ford Mustang!
These Saleen wheels, originally meant for American Muscle, give this STi some really incredible fitment to match it's super low stance. One of the big highlights of the STi over the base model Impreza WRX have always been the massive Brembo brakes on all four corners. Being an upgrade that would normally cost a couple of grand, it is a much needed addition to the extra horsepower the car gets.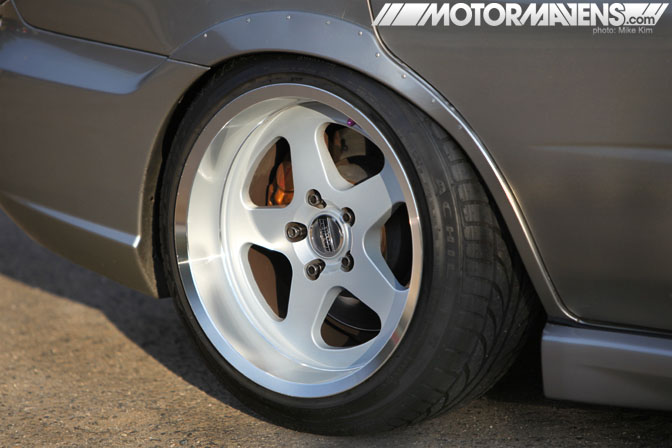 Stretching some 215 width tires on these 17 inch wheels, they barely fit underneath the flared fenders.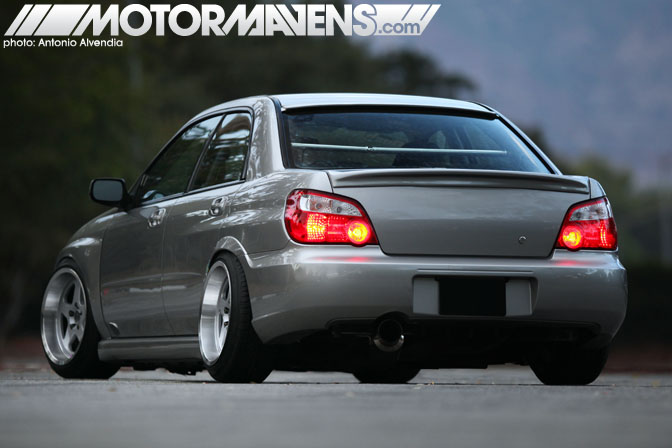 With a discontinued Injen Super SES exhaust and a Honda (yes, I said Honda) CR-X C-Pillar bar, this slammed STi does a nice job of mixing sporty styling with the clean look normally associated with VIP cars.  Taking off the large rally style wing was a very good move for pulling off a clean look.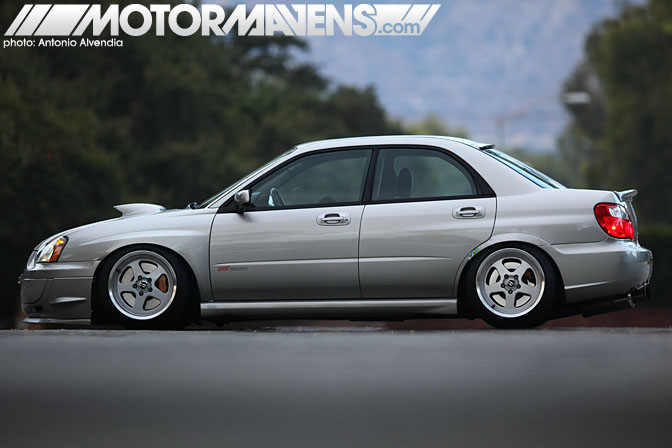 Most of the time, when people buy a STi to modify, the goal is speed and handling over style.  Subaru, with it's rally background, is usually not associated with low stances and sleek looks.  I mean, seriously… look at that hood scoop!!!  However, I do have to say, Austin did a very good job of pulling off a great look with his STi… I wonder if this car might inspire other Subaru owners to change their own game?
::Mike Kim
Photos by Antonio Alvendia and Mike Kim
---