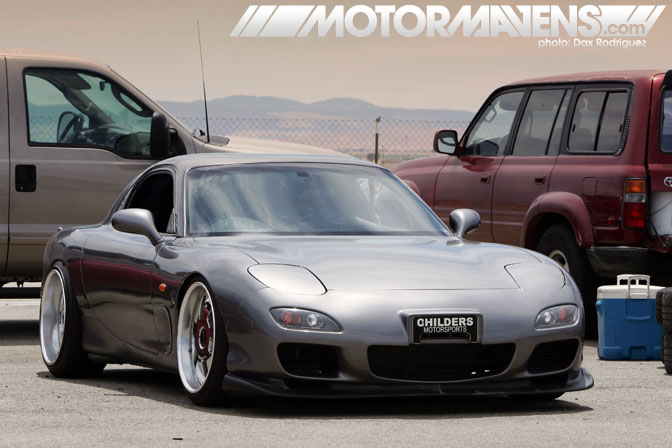 More All Star Bash!!! We love it, so Motor Mavens keeps it coming! Most of the people in the MotorMavens crew live in different states… but yesterday after everyone got off work, we were able to put our photos together and organize them!
So here you go… enjoy the photos!
Here's an FD3S RX7 that many of us were jocking in the pit area… I think Dax snapped this one right as we drove out to Jack in the Box for lunch. Does anyone notice anything strange about this FD? The steering wheel maybe? Either way, it doesn't matter to me if a car is LHD or RHD, all I care about is sick stance – and just look at this FD's rearrrrr… DOPE.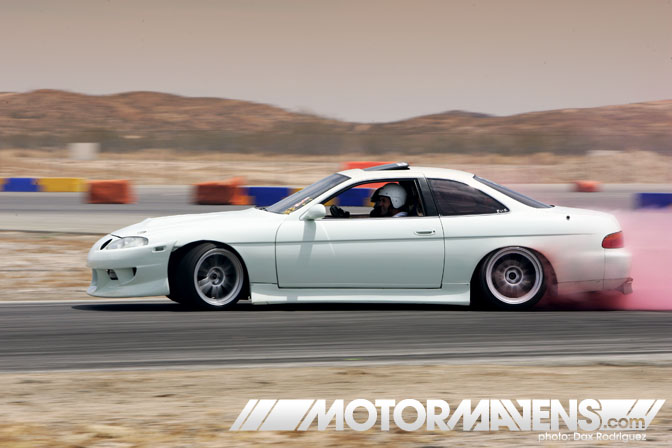 Here's BigWaveee Dave's 2JZGTE powered SC300, which you can see here tucking the rear tire hard, with the rear wheel lip almost touching the fender (or was it?). This super clean SC was producing pink smoke for part of the day, due to the limited production Kumho rubber on his rear tires! I haven't seen these tires in quite a while! It makes me think of Formula D (2006 season?) events when Enjuku Racing was running these tires. Rumor has it that the red smoke tires are created with a secret blend of vulcanized rubber and kim chee…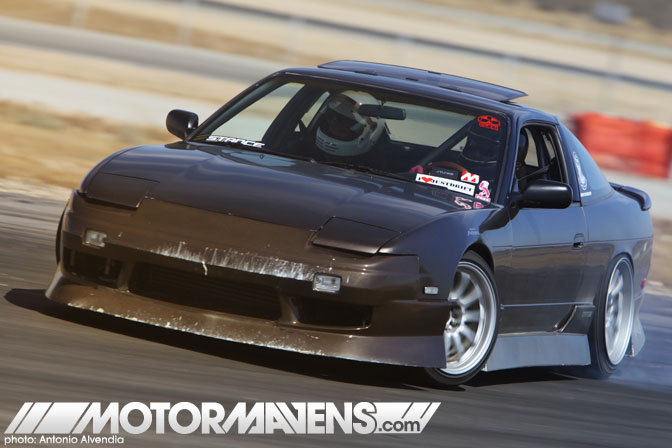 It looked like Rogansan was working on smooth transitions on the Streets of Willow infield section in his metallic root beer brown RPS13. I never get tired of looking at this car – it's stylish and clean as hell with the OEM steel fenders, aero, and proper fitting wheels! I think more people need to build S13s like this! Check the rear wheel clearance! That ish is precise!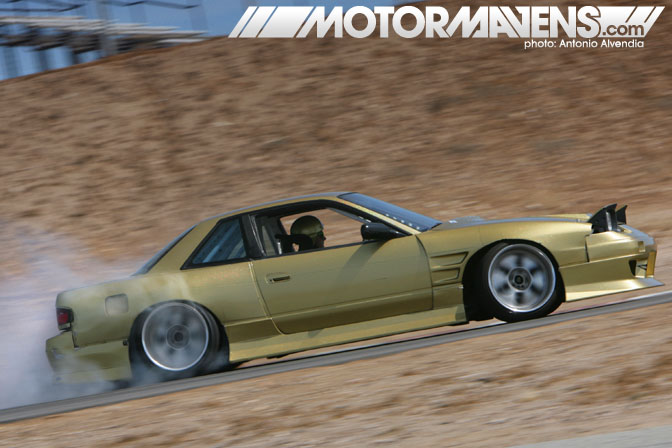 Tommy Roberts from San Diego's WSC crew was rippin it as usual, with big smoke accelerating up certain sections of the Streets course. Here's another car you can't have too many photos of… just look at the rear of the car, observing the precision of the rear wheel clearance as the car hunches down during acceleration… and the aero bumper and sideskirts sit super low! Outstanding. And with a matching gold helmet? Come on. Bananas!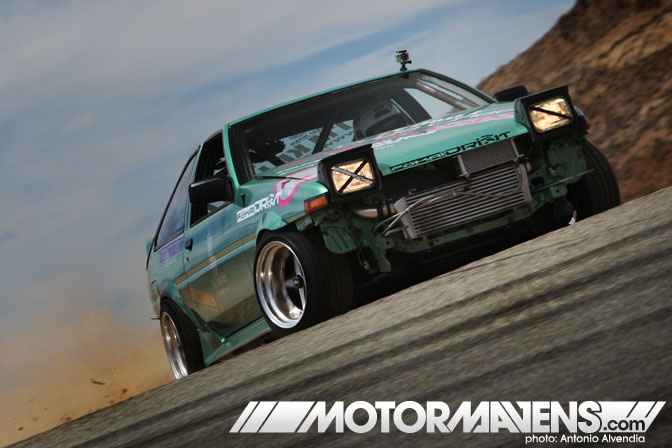 I just found out that Orange County based AE86er Luke Pakula is originally from Chicago – in fact, while we were all catching up and getting our grub on at KBBQ in Koreatown, Luke explained that he went to high school with some of the Risky Devil guys. No wonder they were so friendly and happy to see each other at the track, haha! Luke was working on aggressively conquering the top of the fishbowl on the back section of Streets, but at one point, he slipped off the pavement, with his rear wheels kicking up tons of dirt! Looked dope though!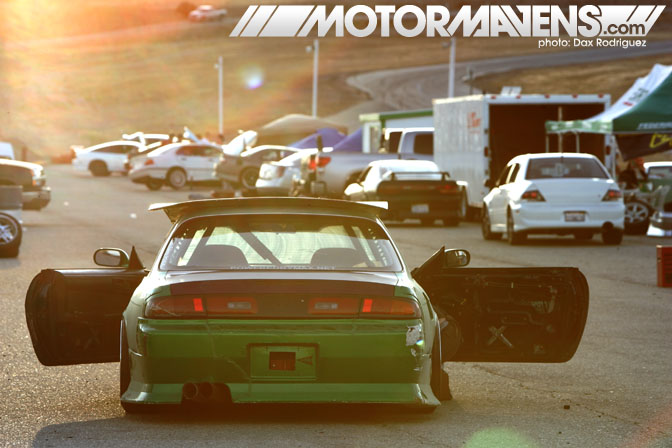 Here's some Jesus light on Matt Powers' S14. Dig the rear lips sticking out on both sides of the car, like thin silver lines that the tires are trying to hold onto for dear life.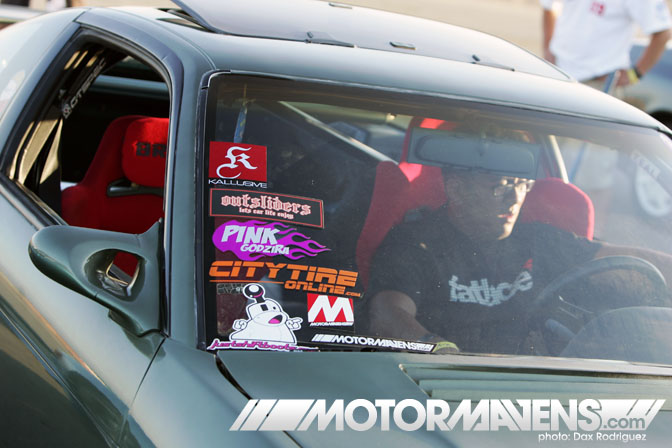 Here's Josh Maghirang from Risky D taking some time out to get acquainted with BH's newly built RPS13. Must have been sort of painful, as Josh's own RPS13 suffered a blown motor because the guys loading his car up into the transport truck left the car idling for a long time (30 minutes or so?) WITHOUT turning on the electric fans! The car overheated just sitting there, before it even had a chance to experience the California sun. Sucks! Oh well, we know Josh is going to rebuild the engine and make it even doper than before… unless he ends up buying an AE86! *cough*cough*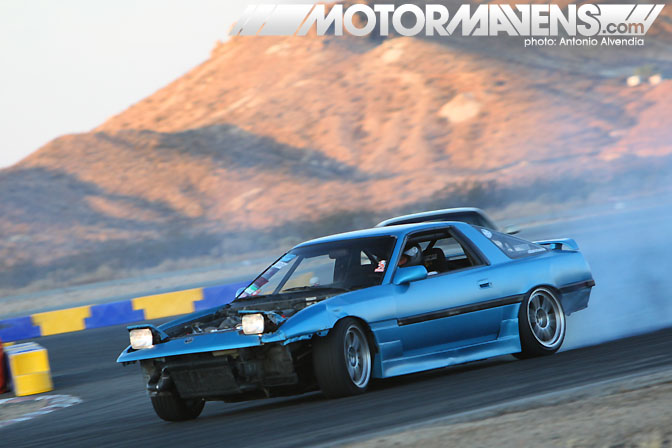 Leigh is the older Roto brother, reppin the Risky Dicks and Chicago with his JZA70 Toyota Supra. US model Supras of this year are MA70s, because of the 7MGTE engine that US models come with, but Leigh swapped in a 1JZGTE and a bunch of bolt-on performance parts, making this car into an actual "JZA70."
Leigh is on the road right now, driving his G35 with his brother Alex and Dave "Bruce" Lee back to Chicago… I know they're checking Facebook and MotorMavens while on the road so here's a reminder: "Keep your eyes on the road!!!"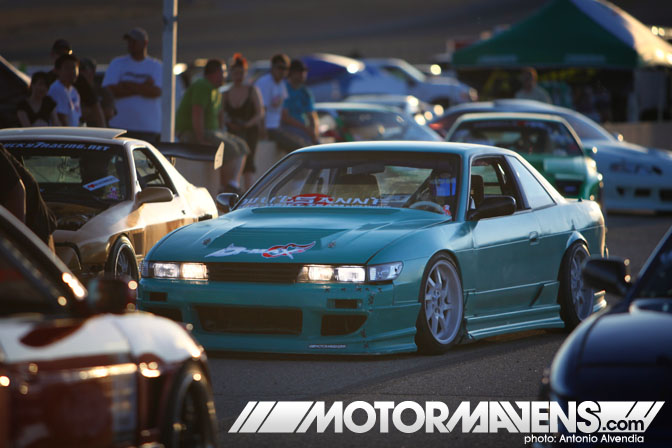 As the sun began setting on Streets of Willow and headlights turned on, I noticed Teddy P's teal Silvia S13 sitting on the grid, getting ready to run. I normally don't think Falken Hanabi wheels look good at all… but Teddy is a student on a budget, and can't afford the big baller rims just yet. However, he makes these Hanabis work somehow… with white paint and massive spacers. I think he said he had 30mm spacers on there… or bigger?
This just goes to show… even if you can't find or can't afford wide enough, proper offset wheels, you need to do something… ANYTHING… like rocking huge spacers to make your wheels come out to the fender. Good job Teddy! I know he will be rocking some sick white TE37s  or CE28s soon enough!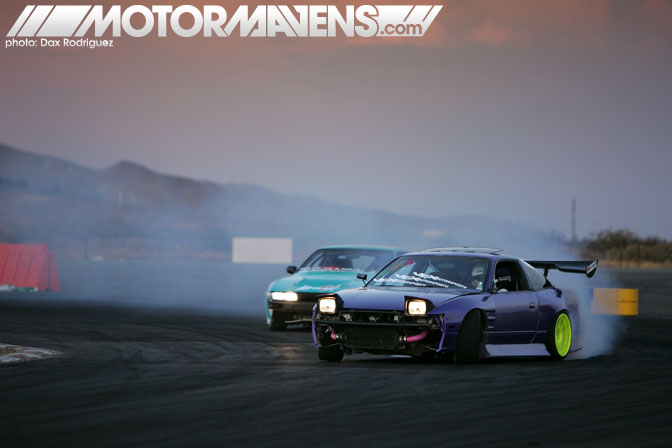 Spacers or no spacers, Teddy is an upcoming driver to look out for! He just graduated high school, but he's pretty aggressive with his drifting, showing no fear as he attacks corners and charges towards cars in tandem drift battles!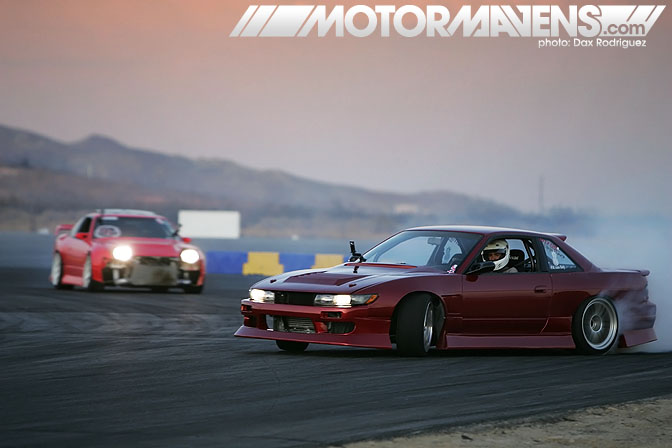 Here's a practice run with Aaron "Dousan" and Flybert on the Streets of Willow skidpad area… just look at Flybert's sick S13 Silvia, pushing smoke off those RPF1s! Man, that car looks so dope! I'm a fan of Silvia coupes right now…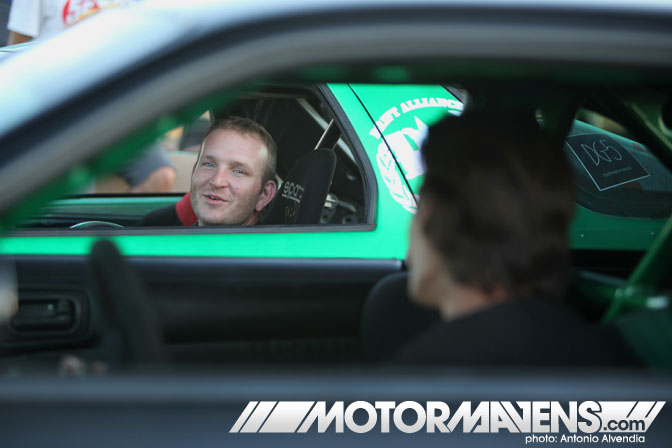 Back on the grid, Justin Pawlak and Forrest Wang sat in their cars, smiling and joking as they planned their moves for their team tandem competition. After they finished talking though, Forrest turned his radio back on (which was already on full blast), and some song from Madonna came on! LOL Everyone in the grid area looked at each other and laughed, then looked back at Forrest's car, like WTF? We hope he was flipping through radio stations; it would be pretty embarrassing to be bumping a Madonna CD in your drift car! haha!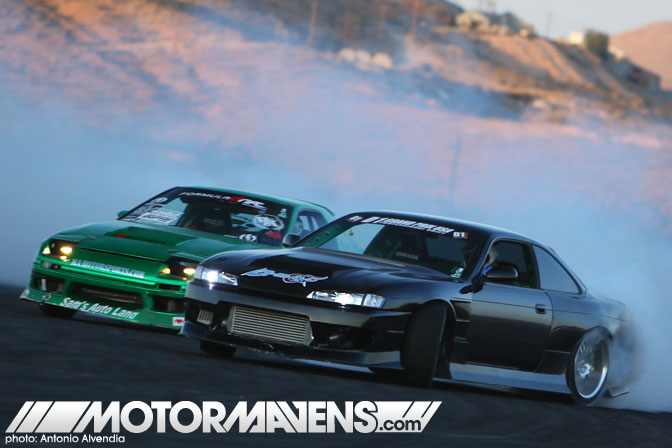 People quickly forgot about the material girl music as soon as Forrest and Justin hit the track, wowing the crowd with some sick smoky tandem runs, as they chased down each other's doors at the Streets! Outstanding.
Also notice their windshield banners… Formula Drift vs D1GP. FC3S vs S14. Super cool.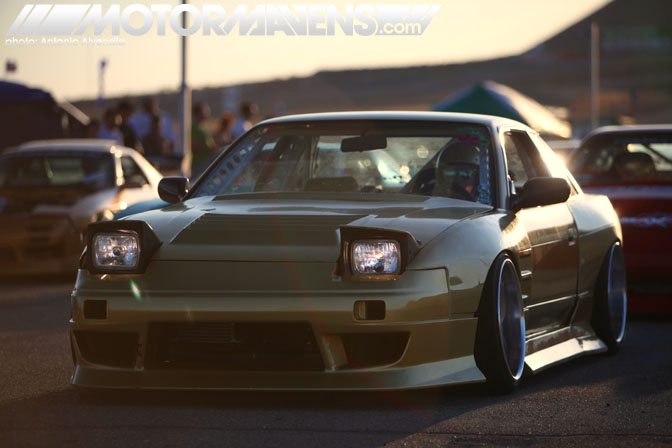 Meanwhile, on the grid was Tommy Roberts and his other San Diego based West Slide Connection teammates, waiting for permission to launch as the sun went down, looking like an automotive scene out of Top Gun… in fact, when these guys got out on track, they even began playing the theme music from Top Gun, which was pretty appropriate and bad ass! Hell yea!
Just stare at Tommy's car in this pic for a minute. Damn!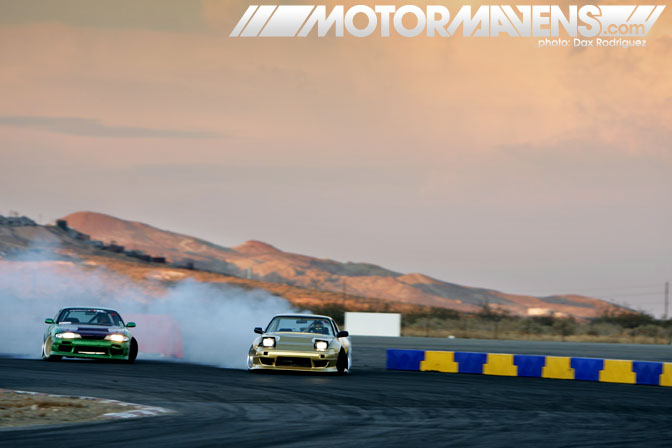 Here's a wide shot with Tommy and Matt on the course together, dogfighting on pavement as Matt prepares to lock in on Tommy's passenger door. All drivers did a great job in the tandem runs, but at the end, it was the WestSlide Connection that would take home the honors of First Place on Saturday night. But ASB isn't about winning trophies or anything, it's all about having fun, and enjoying the SPIRIT of drifting with your friends!
WE LOVE ALL STAR BASH!!! Stay tuned to MotorMavens for more…!
:: Antonio Alvendia
1JZGTE
,
AE86
,
All Star Bash
,
All Star Bash Weekend
,
Antonio Alvendia
,
BH
,
Dax Rodriguez
,
Dousan
,
drift
,
drifting
,
FC3S
,
FD3S
,
Flybert
,
Forrest Wang
,
Josh Maghirang
,
JTP
,
Just Drift
,
Justin Pawlak
,
JZZ30
,
LEigh Roto
,
Logan Yoshida
,
Luke Pakula
,
Matt Powers
,
Pink Godzira
,
Risky Devil
,
Rogansan
,
RPS13
,
RX7
,
S13
,
S14
,
SC300
,
Teddy
,
Tommy Roberts
,
West Slide Connection
---