Most of our readers who have been following us on Facebook or Twitter know that the members of the MotorMavens Crew just got back from an exciting Formula Drift weekend at Road Atlanta; we're happy to have been receiving tweets and Facebook messages from everyone all weekend! We're also happy to hear that many of our friends who were unable to make it have been watching the event through our website's live stream. Since most hardcore Formula Drift fans already knew the podium results on the night that it happened, I thought it would be pointless for us to do the same type of play-by-play recap that most other websites will be publishing.
MotorMavens was never intended to be an online newspaper. Instead of focusing on the results, with Daijiro Yoshihara and the Discount Tire S13 taking the win; Vaughn Gittin Jr's Monster Mustang coming in 2nd Place, and Chris Forsberg's NOS Energy 350Z finishing third; I thought I'd take a minute to focus on the importance of Daijiro Yoshihara's win.
Round Two of the Formula Drift Championship was important to Dai's sponsors, because it marked the first-ever win for his title sponsor, Discount Tire. Those who have been following Formula Drift since its beginning might also recall that it was Discount Tire's first podium since 2004, when Calvin Wan took 3rd Place in Sonoma with his Discount Tire RPS13 240SX. (There should be a party breaking out at Discount Tire's Phoenix, Arizona-based offices!)
Formula D Atlanta was also the second FD event in a row that resulted in a 1st Place finish on Falken Tires, which is huge for the massive teal and blue army! I know everyone involved in the Falken drift team is extremely proud of their drivers; winning both events back to back is no easy feat! On the corporate side, I'm sure these wins help justify the hundreds of thousands of dollars that Falken's been spending on drifting for the past few years!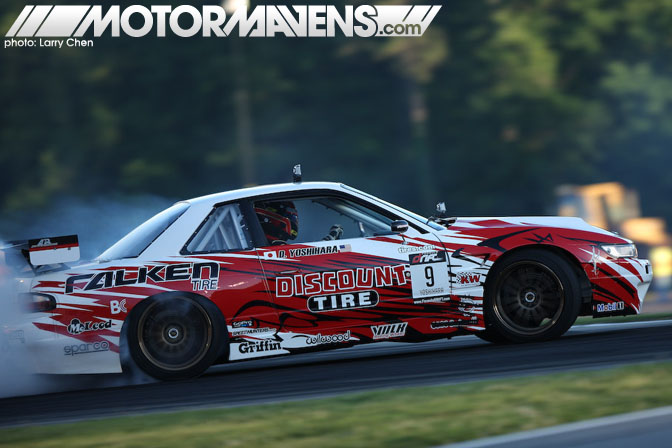 While these milestones might be important to the corporate sponsorship side of Formula Drift, most fans don't care about that at all. What made Daijiro Yoshihara's First Place win significant to the fans is the fact that it proves that the popular, yet "old and outdated Nissan S13 240SX chassis" is able to remain competitive and WIN in professional level Formula D Competition!
Daijiro Yoshihara has been driving a Nissan S-chassis for roughly ten years, personally owning an S14 Nissan Silvia in Japan and an S14 240SX here in the United States; with a history of driving S13s and an S15 competitively in Formula D. Aside from making their sponsors happy, Dai and all the members of his team (Mike Kojima, Scott Dodgion, and Owen Orrego) were excited to prove that an S13 chassis can actually win in today's professional level of Formula D competition! According to Dai, "I'm not sure, but I think maybe the last time an S13 won 1st Place in Formula D was back in 2006," when he won Irwindale driving the Pacific Rim Drift Team S13.
Sponsorships aside, winning First Place at Road Atlanta was a huge win for Dai personally. According to Dai, winning in Atlanta "was huge for me. It was my fourth 1st Place win in Formula D, but actually… for me, [winning Formula D Atlanta] was even bigger than the very first time I got 1st place, which was in Irwindale in 2006."
As I spoke to Dai on the phone last night, I questioned him on his comments… "are you serious? How could your fourth win be more important to you than the very first time you won?"
Letting down his guard, Dai confided in me, saying "it showed me I could do it. I could still compete for the championship as a top driver. You know, I felt I was in a slum. A slum? A slamp? You know?"
AA: "Dude. You mean a slump?"
DY: "Oh! Yeah. a slump!" Dai contunued on, "I know there are good days and bad days, but to be honest, I totally lost my confidence as a driver. I even thought about quitting."
AA: "What?!? Are you serious?!"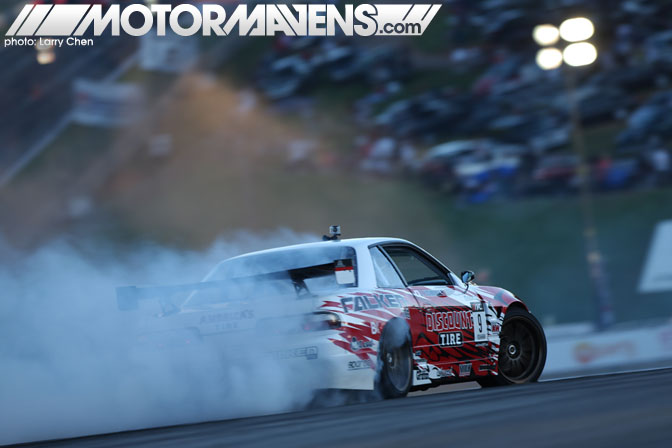 Dai continued on, "You know, I had a really bad year last year. I felt so bad. My sponsors built me a brand new Lexus, and I totaled it at Evergreen Speedway. I totaled a $200,000 car, man. You know, this is racing. Crashing sometimes is okay, but totalling a car is totally unprofessional in my opinion. Professional drivers shouldn't do that.
I even thought maybe I couldnt even be in the Top 5 as a driver. That's when I wondered if I should keep doing this or not. If I race professionally, I want to fight for the championship. Otherwise, there's no point for me.
You know, I was really scared when I was driving at Irwindale last year. I was still traumatized from my crash in Seattle, because I thought I might total the car again. The first time I drove at the Irwindale practice day, it was the worst! I was so scared! It was a week before the actual Formula D, at the KW practice day. I couldn't even get close to the wall! I was so scared, because I just didn't want to total the car again.
I couldn't even believe in myself at that point. I thought if I drive seriously, I'm never gonna crash or total a car. I never had fear before. Before, I had no problems going close to the wall or going fast. The level of driving in FD is getting higher and higher, and I wasn't 100% sure that I could still be able to compete and win at the top level."
Dai solved the problem by the actual FD competition day, though. He credits his friends for restoring his confidence, "I talked to a lot of random people, and they talked me out of quitting. After talking a while, and after more seat time, I had confidence again. I basically got my mojo back."
According to Dai, the most challenging battle in Atlanta wasn't even the final battle against Vaughn Gittin Jr. Dai says the hardest he had to fight at Road Atlanta was against his own teammate, Darren McNamara, and his Saturn Sky. "I think," Dai explains, "if he didn't hit me, D-Mac would have won. I could easily keep up with everyone on the track all day, except for D-Mac. His car is really crazy. It's just so fast. And I think it's set up perfectly for D-Mac's driving style, so it's easy for him to drive."
For those who seek details on the crash between Dai and D-Mac, it happened during the first run of the "one more time" round. According to Dai, "D-Mac told me he was real close to me from the initiation point all the way into the horseshoe. I thought was supposed to back off a little bit during the transition (transition from drifting the right turn to the left turn that leads out of the horseshoe), but he didn't, so our cars hit. I'm not sure, but I think maybe the judges might have penalized him because he was driving too close or too hard in the transition, and I got the win."
Now that he's won First Place and regained his spot on the top of the podium, Dai says, "I feel like I'm back to the start line again. And it's just a new beginning for me." Now Dai is focused on what he can do from this point until the end of the season. And be certain that he's going to be fighting for the series championship, every step of the way.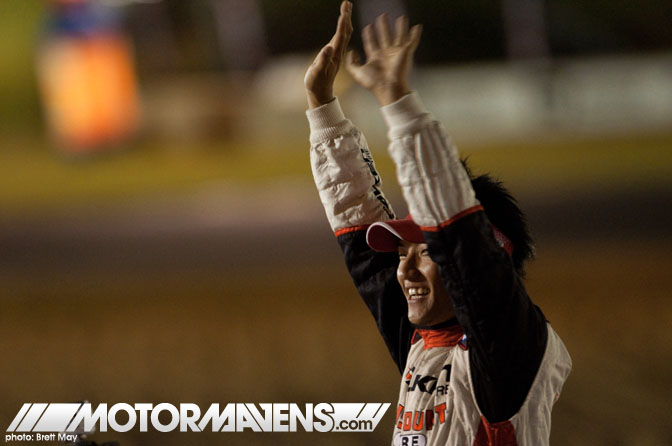 When I asked Dai what he needs in order to keep winning for the rest of the season, he explained, "my car needs more power." At its current state, Daijiro Yoshihara's Discount Tire S13 Silvia has 510 hp or so, thanks to the GM LS2 engine under the hood. Even though 510 horsepower certainly sounds like a lot of power, it's still a lot less than most other people in the Formula D Championship series. Most of the other cars on the Falken team are sporting about 700+ horsepower, which is almost TWO HUNDRED HORSEPOWER MORE than Dai's car!
Here's a photo of Dai, standing high above the podium in Atlanta, with his carbon fiber 1st Place trophy.
When I asked Dai more questions about his preferences in car builds, he said he thinks that Formula D cars right now are built too much like race cars, and he prefers drift cars that are a bit "more street."
Dai explains, "that's my taste because it's Japanese style. And I came from the street. I'm a touge driver, so thats why. Look at D1 style, the car's body is softer, and less stiff. I don't know, but I think US Formula Drift cars might be caged up and welded up too much possibly, but maybe that's better so we can drift at higher speeds. Or maybe it's just because Formula D has much stricter safety standards and rules than D1. I guess it could be a good thing though, if it keeps the drivers safer."
There is no "I" in "TEAM." These are the members of Dai's team that made it possible for him to stand on top of that podium behind him – Mike Kojima (left) and Scott Dodgion (right).
Scott Dodgion from SPD Metalworks is the fabricator who pretty much built the whole car in two weeks! The Falken Tire team was scrambling to get a car together for Dai after the crash in Seattle, so they had him build the S13 in only two weeks, using spare parts laying around in the Falken warehouse, including the GM LS2 engine that was sitting in the Sears Saturn Sky that was formerly driven by Ben Schwartz.
According to Dai's suspension engineer, Mike Kojima, "it's awesome that our team works well together. I feel that I'm the least important guy in the team, but I'm glad to be a part of it. On our team, it's really important that we listen to each other, and not let egos get in the way."
Mike is an extremely experienced track side engineer, with several years of experience being a race engineer for Nismo, and TRD before that. There were times when Scott and Mike argued about certain things (Mike thought it was most important to have a super tunable LSD in the car. He preferred to use an OS Giken LSD because he thinks it has the most tunability out of any other LSD he's tried)… However, Mike's preferred LSD didn't fit well in the quick-change rear end, which Scott thought was more important.
Scott wanted to be able to quickly change gear ratios at the track, to adapt the car to different track conditions. Scott has a lot of experience in dealing with different track conditions in drifting, especially since he worked with Rhys Millen on the RMR team for many years before he started his own shop. According to Mike, "In retrospect, I think Scott was right about the quick-change gear ratios being more important. He was right about that." Scott has a lot more skill in building cars than most people realize, and neither of us let our own egos get in the way, which really makes our team great."
Here's a pic of Mike Kojima, taking a nice long swig out of Dai's winning Martini and Rossi champagne bottle at the podium ceremony. I sure hope Dai doesn't mind all of Mike's backwash. So many lips touched that bottle, it was if they all were kissing each other, LOL.
I remember that as I was taking pictures at the podium ceremony, Mike ran up and gave me a hug, screaming, "See! Everyone said the S13 chassis was too outdated to win in Formula D! But we did it!!!"
After the event, I asked Mike to explain the challenges of running an S13 against the newer cars in more detail. He says, "the biggest challenge for us was getting the car to work well going fast AND going slow. We had to make a lot of adjustments to make it stick to the track and be fast, and to be able to accelerate and brake under drift. The biggest challenge for us was to make the car good for leading and following in tandem. We had to get the car to maintain drift behind a slower car in tandem, but then also be able to put the power down and accelerate away from the other car when Dai's leading. In fact, during the final battles in Atlanta, Mike says that Dai was able to accelerate away from his opponents, putting about 4 car lengths in between his S13 and his opponent's car sometimes.
In the photo above, we have (L-R): Owen Orrego,Scott Dodgion, George Ciordas, Daijiro Yoshihara, Mike Kojima, and Chris Marion.
Mike and Scott also mentioned that they wanted to credit George Ciordas and Chris Marion from KW Suspensions. Mike continues, "Chris was out at the track with us during test days, and actually gave our team a lot of great ideas on tuning the suspension."
Just as I was trying to hang up the phone, Mike also added, "Oh, and you know… Owen Orrego from Falken has been helping our team a lot in the hot pit, which frees up my time so that I can be Dai's spotter. Did you know he's never had a spotter before? Well, now that Owen is helping Scott in the hot pit, I can actually watch Dai up in the spotter's section, and give him advice while he's driving."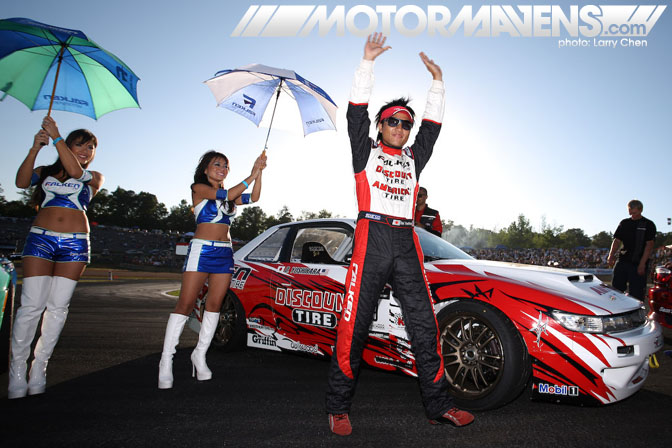 The team's new challenge is to make their S13's setup smoother for Formula D at Wall Speedway, which is an extremely bumpy track, especially since it has the huge 30 degree banking and a drastic bump when the cars transition into the infield. However, with this team's collective smarts at building and tuning cars, and their obvious attention to detail and teamwork, I'm sure they'll show some real good results at The Wall!
Stay tuned to Motor Mavens, as we have more photos from Formula D Atlanta 2010 coming soon!
:: Antonio Alvendia
Photos by Antonio Alvendia, Larry Chen, Brett May, and Jonathan McWhorter
More Formula D Long Beach 2010 stories on MOTORMAVENS
Driftfotos.com
Read more about Mike Kojima and the team's perspective at MotoIQ.com
Antonio Alvendia
,
Brett May
,
Calvin Wan
,
Chris Forsberg
,
Daijiro Yoshihara
,
Discount Tire
,
drifting
,
Falken
,
Formula D Atlanta 2010
,
Formula Drift
,
Jonathan McWhorter
,
Larry Chen
,
Mike Kojima
,
Moto IQ
,
Nismo
,
OS Giken
,
Owen Orrego
,
Pacific Rim
,
Road Atlanta
,
S13
,
Scott Dodgion
,
SPD Metalworks
,
TRD
,
Vaughn Gittin Jr
---