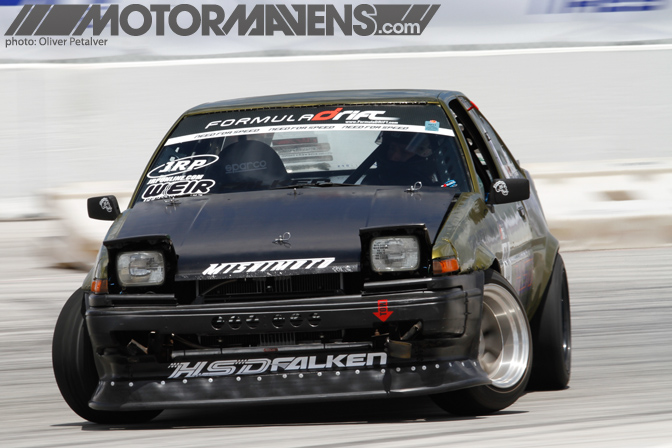 For the first time in Formula DRIFT history, the war was brought to the battlegrounds in Florida at the Palm Beach International Raceway (PBIR), and we're glad we were able to witness it!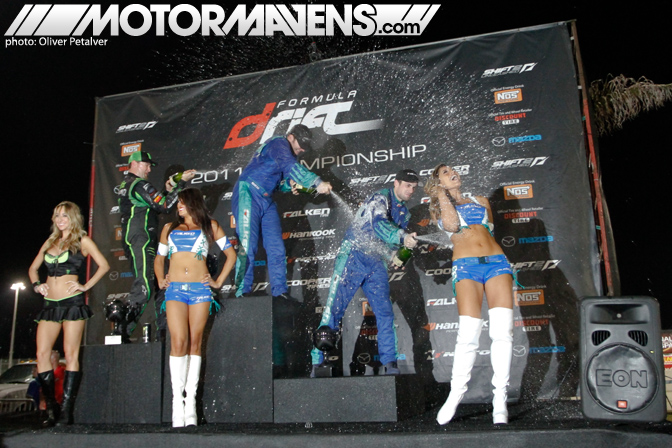 Locals got to witness a "Battle of the Mustangs" as Justin "JTP" Pawlak took another victory this year in his Falken Tires Ford Mustang against last year's champion, Vaughn Gittin, Jr. and his Monster Energy/Falken Tires Ford Mustang. Darren McNamara (who qualified 2nd) and his Falken Tire Saturn Sky ended up in 3rd place after defeating number one qualifier Chris Forsberg and his NOS Energy Drink Nissan 370Z. Florida was very very good to Falken Tires! In fact, Florida was very good – period.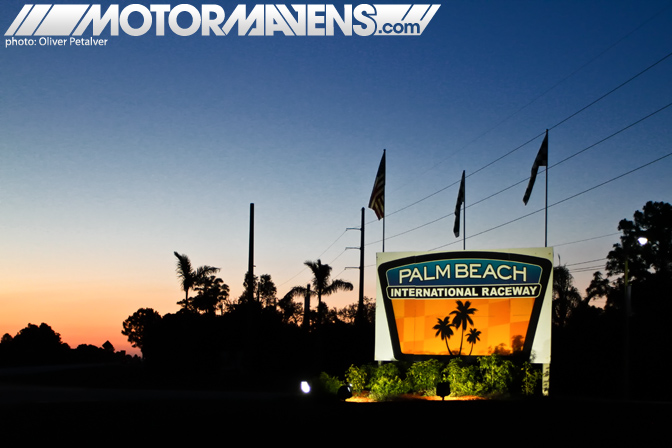 Formerly known as Moroso Motorspors Park, PBIR is a popular, warm-weather testing location during the winter months for many race teams.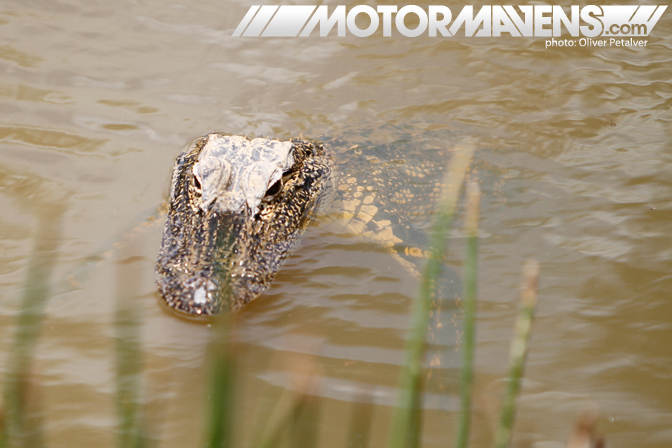 This little guy was familiar to all as he greeted those at the entrance of the Raceway. I heard that if you go off-roading in the wrong place, you may end up in an alligator-stocked canal. I heard there's a Darwin Award for that.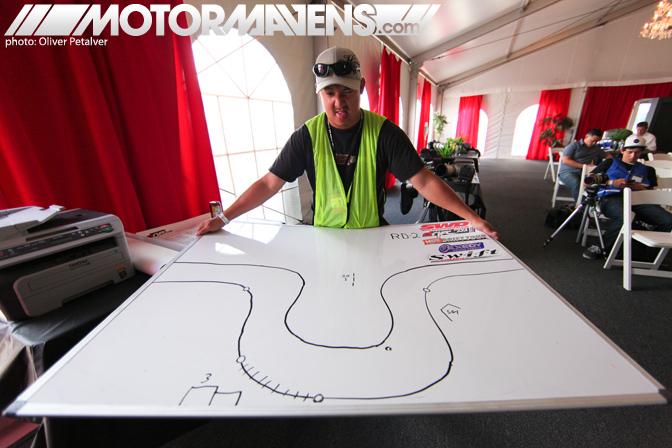 For those unfamiliar with the track layout, photographer Tram Tran shows us. Initially, the track was to start from left-to-right; however, the track was later changed going from a right-to-left direction for safety and entertainment purposes.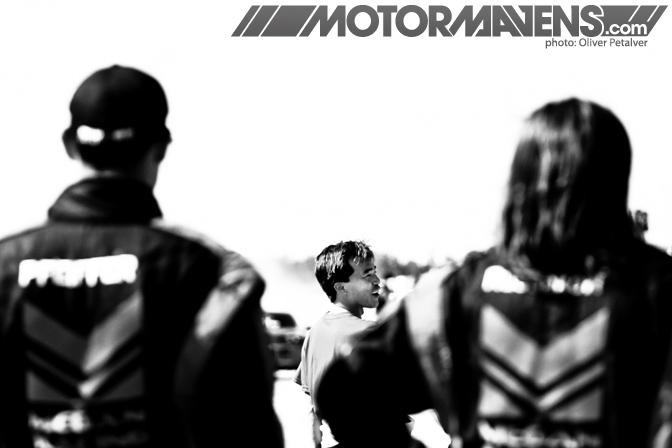 Notice anything different from Megan Racing teammate Taka Aono? Those long locks of his are long gone! Taka told me it was because of the hot weather.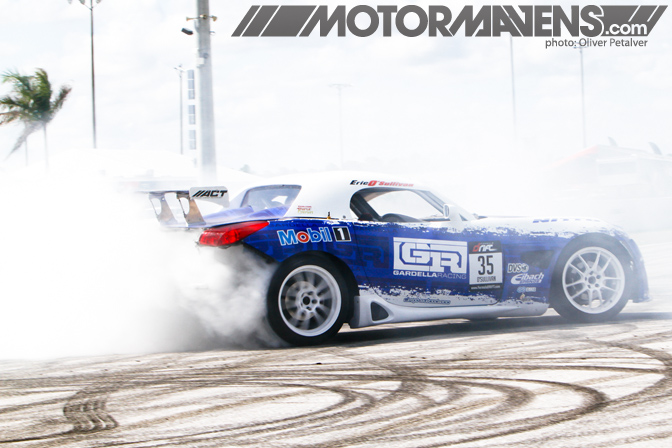 Eric O'Sullivan shows us the quickest way to warm up his tires – by burning out in a figure 8.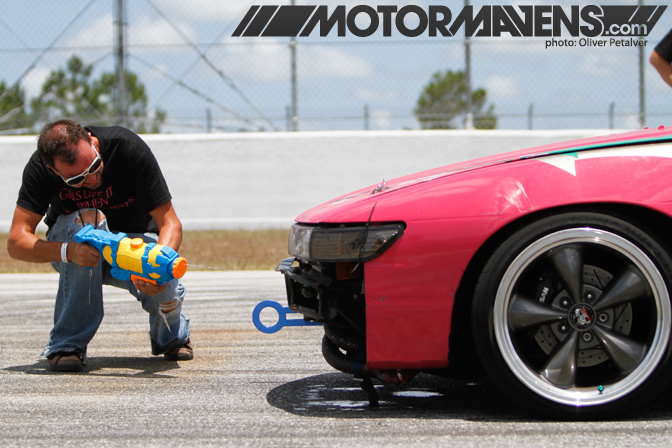 Joe Gorcesky's crew member shows us an alternative method for heat dissipation. Love it!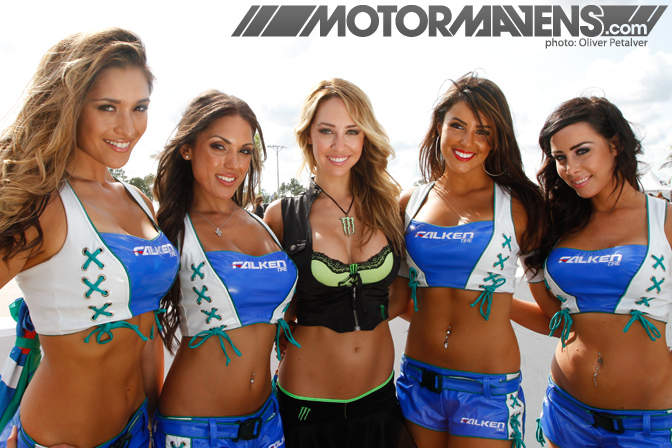 Another main attraction at the event were the Monster Energy & Falken Tire girls. Blazingly hot in an already hot environment!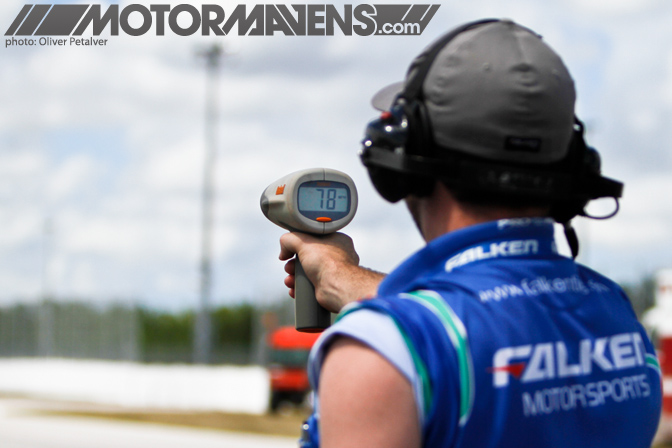 Cars entering Turn 1 were nowhere near the 78 MPH captured on this radar gun. Most entered with speeds in the mid-to-high 80s and even up to the low 90s!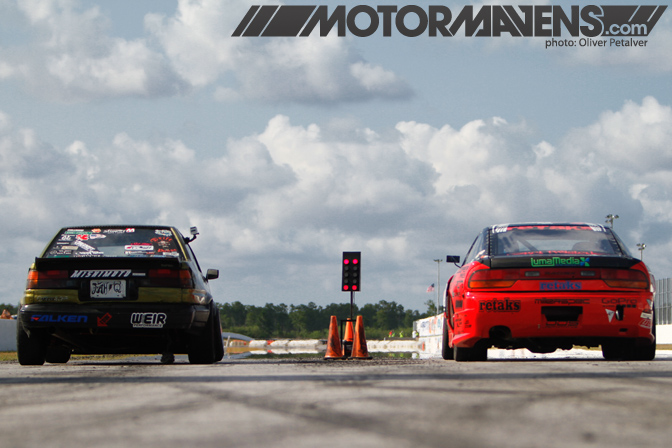 Canadian Drifter, Pat Cyr & his HSD Suspension/Falken Tires Toyota Corolla AE86 lines up against Toshiki Yoshioka in the Retaks Nissan S13 during the Top 32. Yoshioka was given the win by all the judges.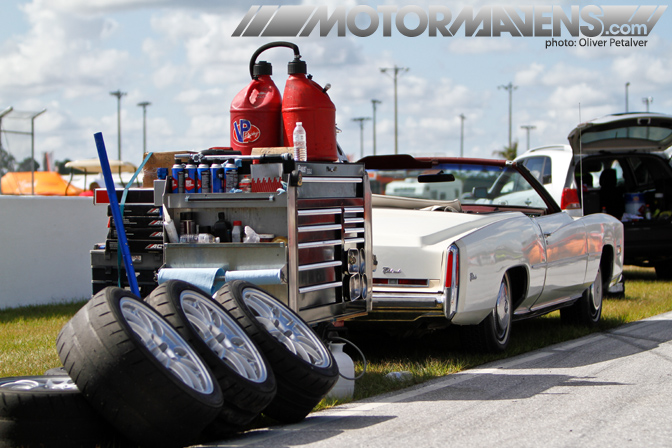 While the majority of racing teams use a truck to tow their equipment to the grid, the Bergenholtz Racing Team opted for something original – an old-school Cadillac Eldorado. Points to the Bergenholtz Racing Team for originality!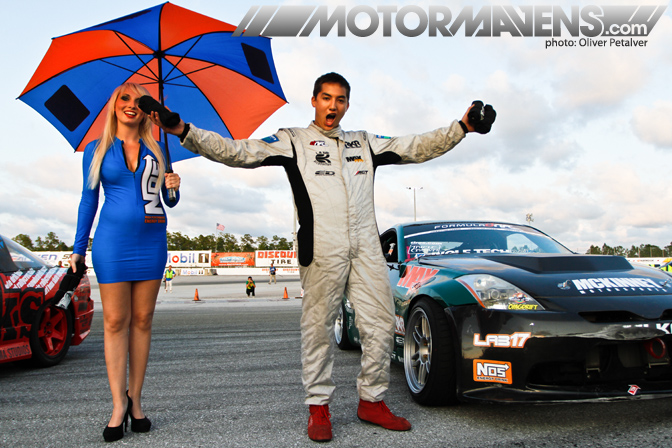 Rookie Ryan Kado is introduced during the Top 16 ceremony. His aggressive and consistent driving style got him this far. He battled Matt Powers in the Team Need For Speed/Nitto Tires Nissan S14 during the Top 16. The judges gave the win to Powers after Kado went off course during the 2nd run.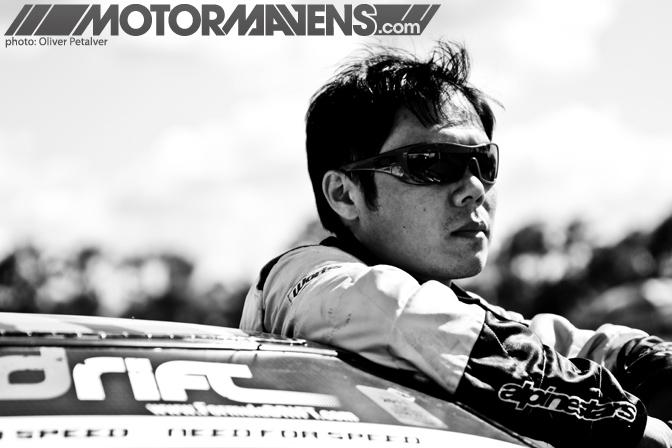 On the grid, D1 Grand Prix champion Toshiki Yoshioka awaits his turn to qualify. Yoshioka, piloting the Retaks Nissan S13, battled Conrad Grunewald in the Hankook Tires Chevrolet Camaro SS in the Top 16. His slower entry cost him points even though he had insane angle!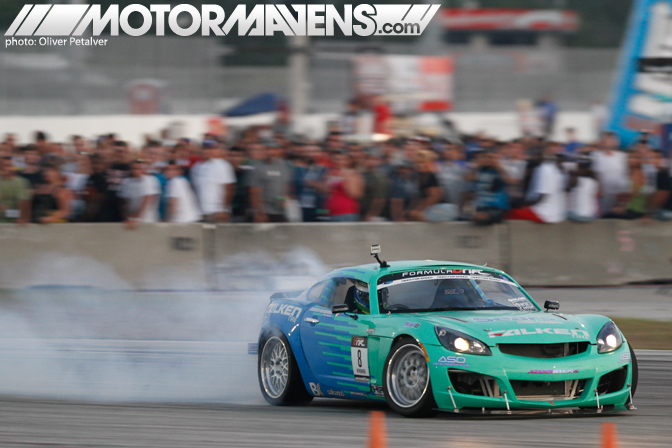 The overflow of fans from the stands is evident along the concrete barriers! Here, Darren McNamara, the #1 rated European drifter by D1GP and ProDrift Europe, finished third in the competition moving him to 2nd place overall with 236 points so far.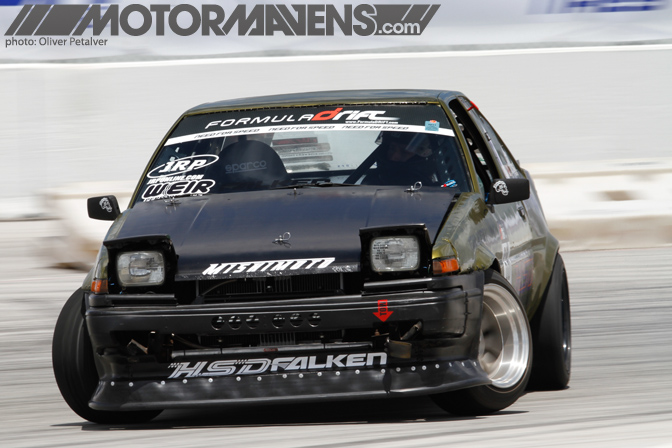 The continued use of the  Corolla AE86 is becoming increasingly rare in professional competition. Driftmania Canadian Championship (DMCC) champion Pat Cyr's continued use of this chassis, along with his fast entry speeds and aggressive driving style, have garnered him a very loyal (and very vocal) fan base!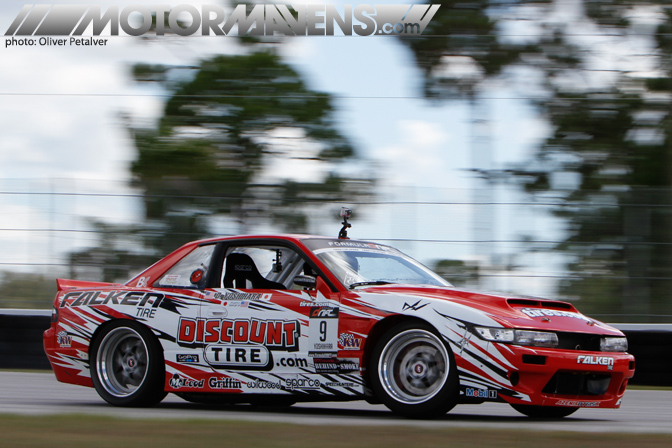 Daijiro Yoshihara was knocked out of the Top 32 in a battle with Kyle Mohan & his Nexen Tires Mazda RX-8. Both cars spun out of control but Dai was deemed to be at fault. Dai's elimination opened the door for the competition to take the top spot.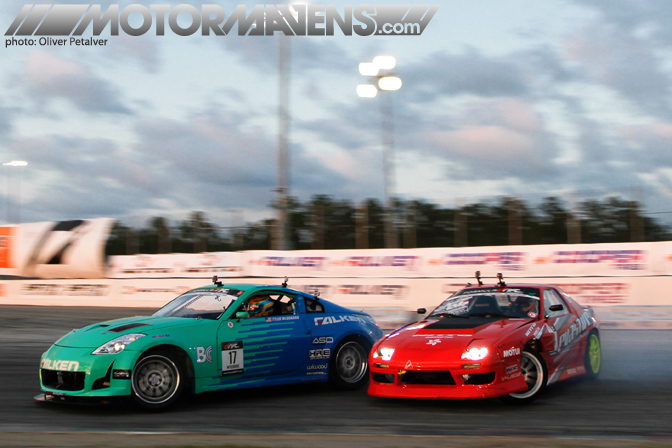 Tyler McQuarrie, in the Falken Tires Nissan 350Z, defeated Charles Ng and his Evasive Motorsports Mazda RX-7 FC to move on to the Great 8 where he met Chris Forsberg.
Number 1 qualifier, Chris Forsberg in the NOS Energy Drink Nissan 370Z, defeated Tyler McQuarrie and his Falken Tires Nissan 350Z during the Great 8.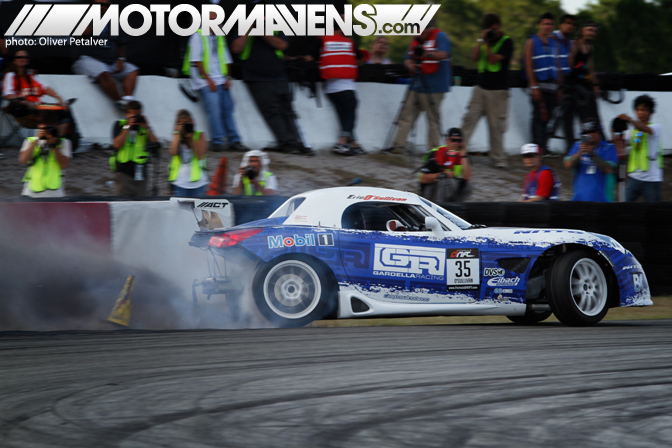 After crashing Thursday night on the first course layout, the Gardella Racing Team worked hard to get the Pontiac Solstice back on track.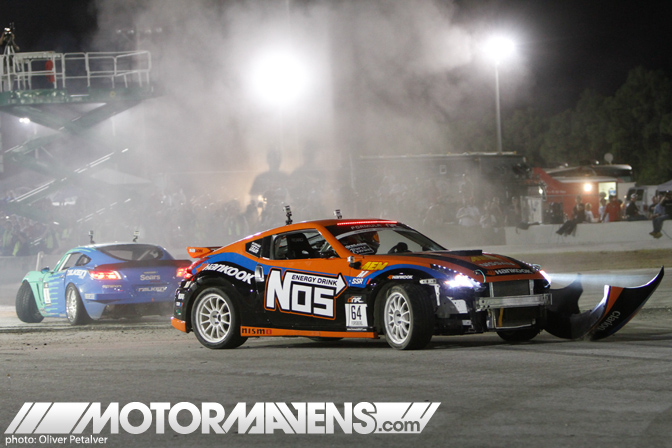 During the consolation round, Chris Forsberg lost control of his NOS Energy Drink Nissan 370Z and ended up with a facelift.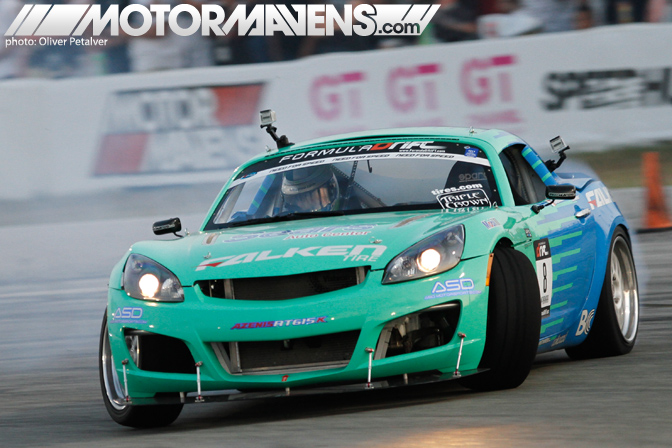 Talk about luck of the Irish! Prior to battling Chris Forsberg for 3rd place, Darren McNamara had a car fire and had to jump out while it was contained. After the fire was put out and the car was deemed drivable, "D-MAC" hopped back in his car and drifted into 3rd place!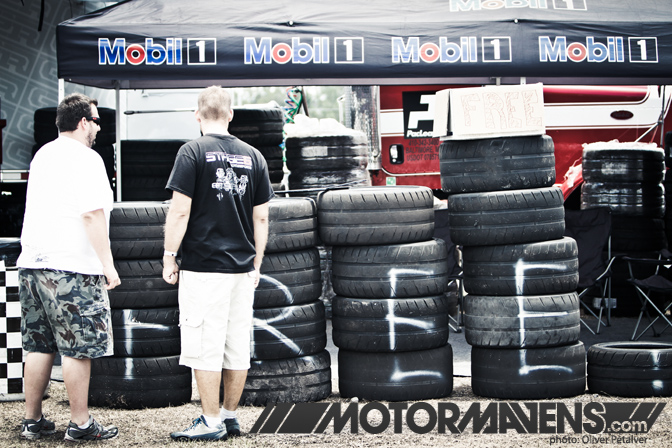 Along with the other teams, the Gardella Racing/Mobil 1 Team gave away tires used during practice and qualifying. In the great tradition of drifting fans the world over, they got the tires autographed and those tires became instant memorabilia. Wouldn't it be amazing if, in fifty years, one of these used tires was auctioned off at Sotheby's to some billionaire drift memorabilia collector for a few million? It could happen.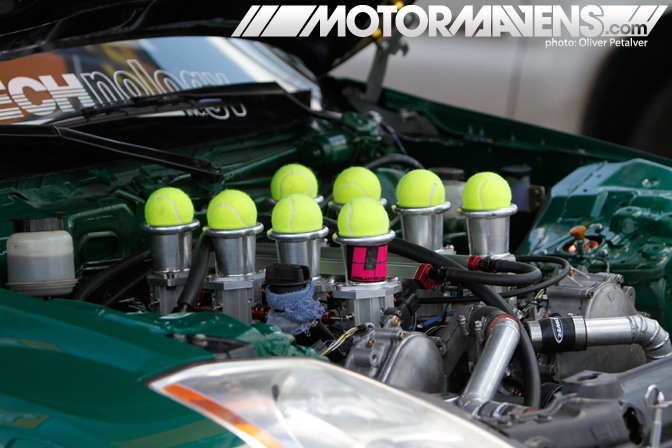 A creative way to prevent debris from entering Ryan Kado's 400HP Nissan VK56.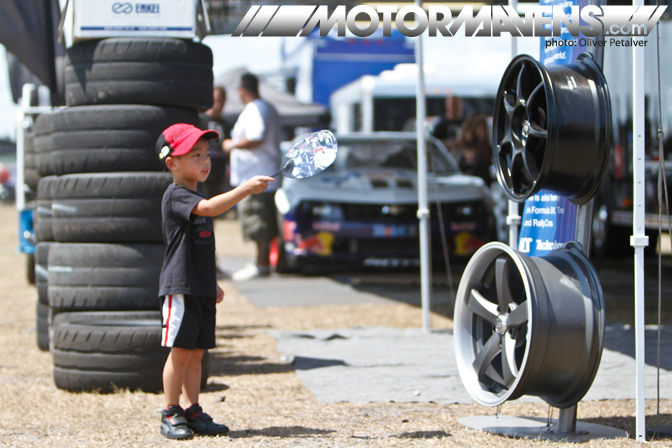 Fans of all ages attended Florida's first Formula DRIFT event. I say this kid has good taste in wheels!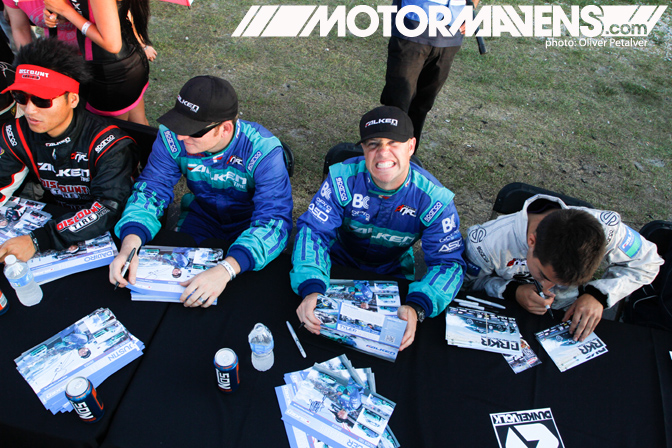 Tyler McQuarrie cheeses it up during the autograph session. He's currently 6th in overall standings.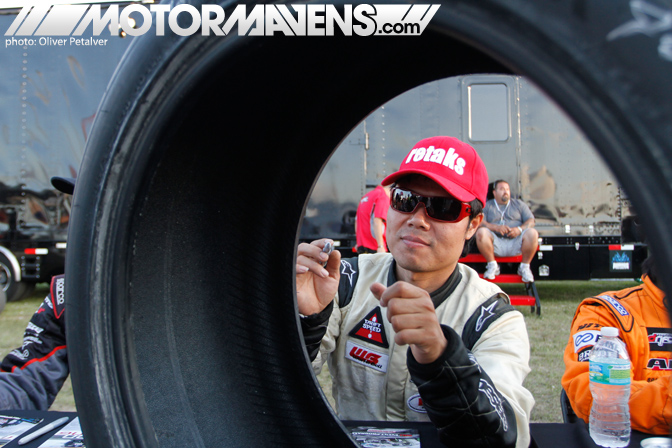 Toshiki Yoshioka, who pilots the Retaks Nissan S13, autographs a tire used during the practice runs. I'm really starting to think I should start my own collection!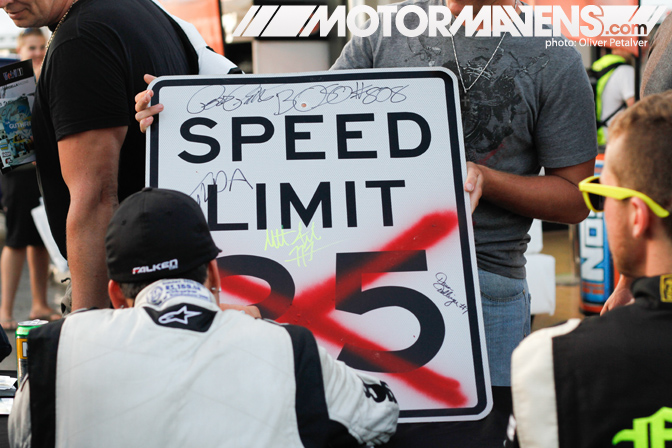 Or, I could just take it to the next level! I've got to hand it to the fans nowadays – they're definitely getting more creative about choosing the items to have signed. Matt Field's retina-burning yellow stands out as much on a traffic sign as it does on the track!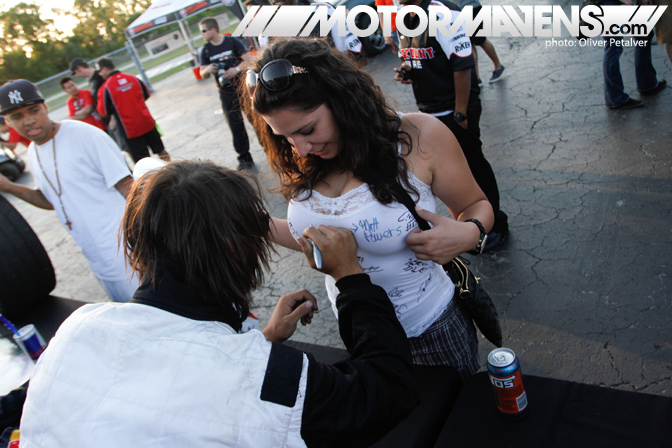 And, she takes it up another notch! Mike Skudlarek shows us where he decides to sign. As you can see, Matt Powers has his signature right on the sweet spot. I'm sure that dude on the left is thinking, "Why didn't I think of that?!" So, I wonder, how much will that be worth in fifty years? Of course, I mean the shirt, not the…uh…yeah. Moving on…
So far, this year's Formula DRIFT Pro Championship looks to be a close one with less than 50 points between the top five competitors. The competition continues on the East Coast at Wall Speedway in New Jersey on June 17-18. For more information, click here!
::Oliver Petalver
AE86
,
Bergenholtz Racing Team
,
Cadillac
,
Cadillac Eldorado
,
Charles Ng
,
Chevrolet Camaro SS
,
Chris Forsberg
,
Conrad Grunewald
,
d1 grand prix
,
D1GP
,
Daijiro Yoshihara
,
darren mcnamara
,
Darwin Award
,
DMCC
,
Driftmania Canadian Championship
,
Eric O'Sullivan
,
Evasive Motorsports Mazda RX-7 FC
,
Falken Tires
,
Falken Tires Nissan 350Z
,
Florida
,
Ford
,
Formula Drift
,
Gardella Racing Team
,
hankook tires
,
homepage
,
HSD Suspension
,
Joe Gorcesky
,
JR
,
Justin "JTP" Pawlak
,
Kyle Mohan
,
Matt Powers
,
Mazda RX-8
,
Megan Racing
,
Monster Energy
,
Moroso Motorspors Park
,
Mustang
,
New Jersey
,
Nexen Tires
,
Nissan 370Z
,
Nissan S13
,
Nitto Tires
,
nos energy drink
,
Oliver Petalver
,
Olivia Korte
,
Palm Beach International Raceway
,
Pat Cyr
,
Pontiac Solstice
,
ProDrift Europe
,
Retaks
,
RX-7 FC
,
Ryan Kado
,
Saturn Sky
,
Taka Aono
,
Team Mobil 1
,
Team Need For Speed
,
toshiki yoshioka
,
Toyota
,
Toyota Corolla
,
Tyler McQuarrie
,
Vaughn Gittin
,
VK56
,
Wall Speedway
---