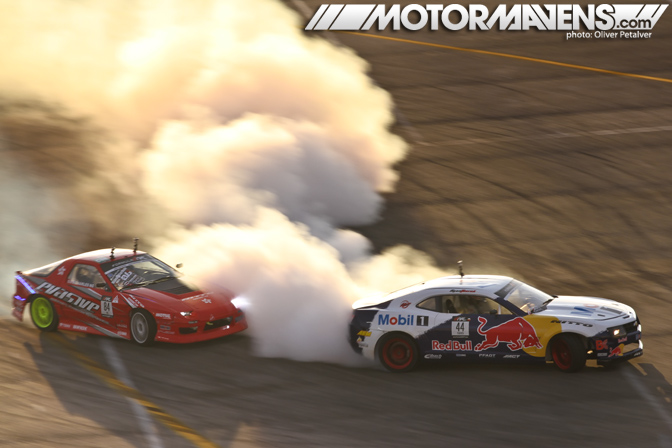 Round 6 of the Formula DRIFT series was held in the scorching heat of the Las Vegas Motor Speedway where locals went to witness Rhys Millen, in the Red Bull/Hankook Tire Hyundai Genesis, take first place in an already competitive season. Prior to Round 6, Daijiro Yoshihara in the Discount Tire/Falken Tire Nissan S13 was the leader in the Championship Point Standings with Justin "JTP" Pawlak (in the Falken Tire Ford Mustang) in second. Both failed to make it to the to the Final Four in Vegas, making the points spread even more slim.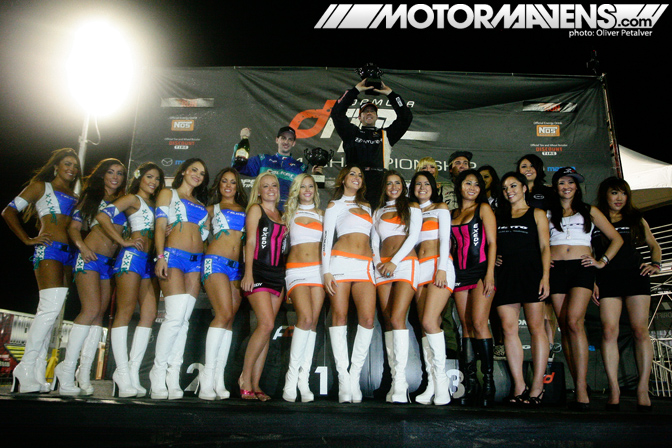 In addition, this past event made people do a double take as FD Asia drivers Adwitya "Dio" Amandio & Saranon "Non" Pornpatanarak each made their U.S. debut. There was also a bit of controversy as Justin Pawlak switched seats with Tyler McQuarrie in the Falken Tire Nissan 350Z while McQuarrie piloted JTP's Falken Tire Nissan S15 instead.
All in all, with a nail biting points race, Rhys Millen back on the podium, new faces, and driver crossovers, you can see how someone might say that Vegas was the place to be this past weekend!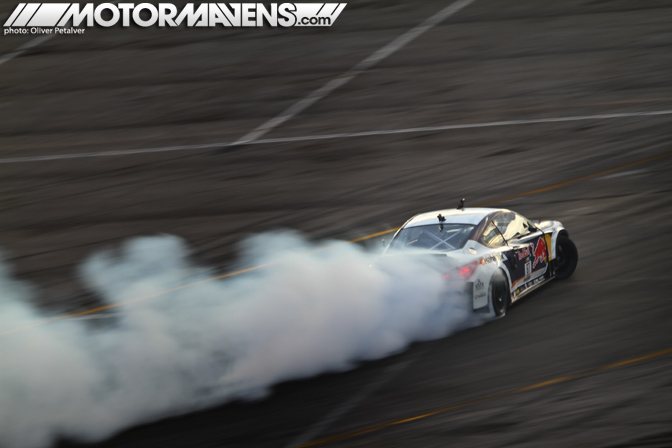 Rhys Millen reminded the fans that he's still got it! Two years ago, Rhys Millen Racing (RMR) debuted the Hyundai Genesis at this venue and failed to qualify. They say revenge is a dish best served cold – with burning tire shavings on top! I added that last part…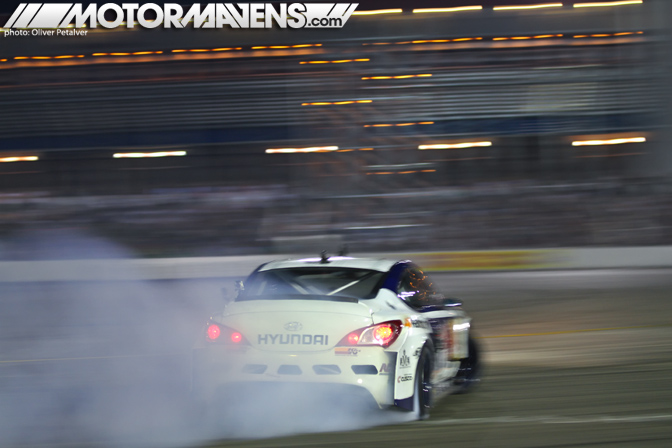 Nicknamed "Mad Skillz," Rhys Millen has over 20 years of racing experience. And, if you've been to a movie in the last decade and seen an amazing stunt car sequence, that was probably his work.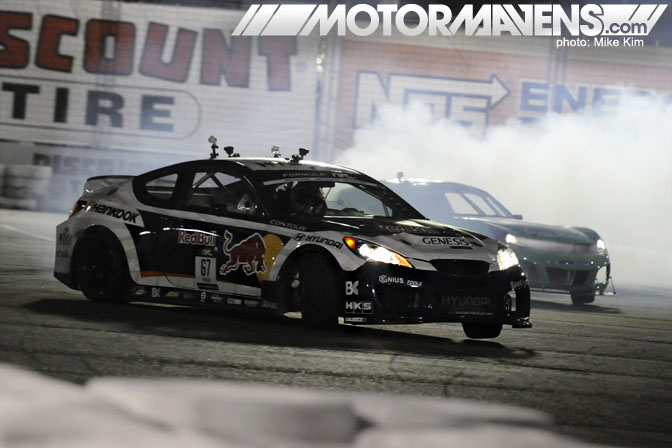 And here, Rhys battles Darren "D-Mac" McNamara in the Finals. It doesn't get much better than this!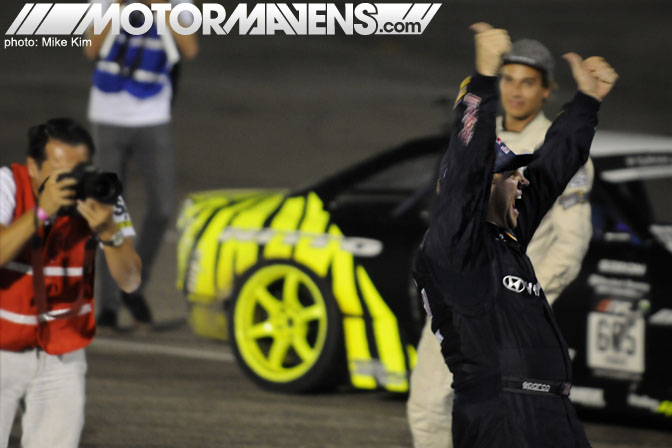 Finally – the thrill of victory! The former 2008 Triple Crown winner adds another win to his long list of accomplishments.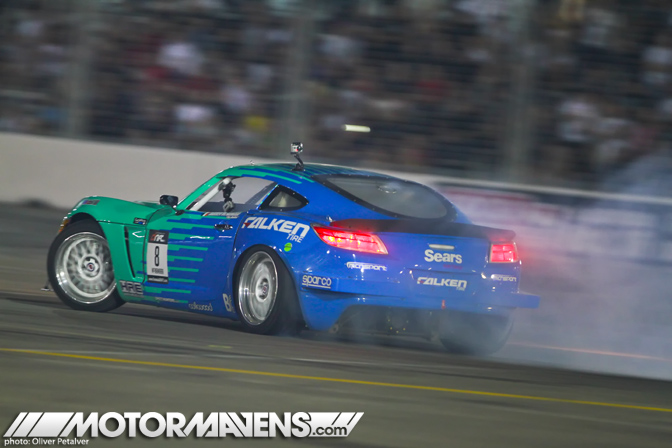 D-Mac, in the Falken Tire Saturn Sky, has been consistent all season. Currently in 3rd place in the Championship Point Standings, he is less than 35 points behind Points leader Daijiro Yoshihara. In fact, there are less than 52 points separating the top five drivers with the Title Fight to go! Is there any question of the amazing talent level that the Formula D Series has gathered together?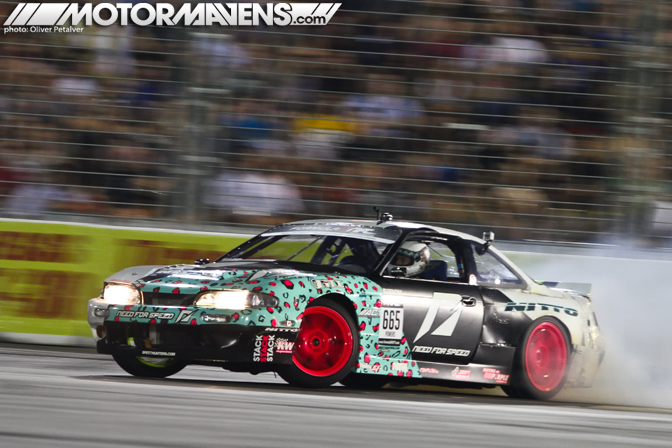 Fan favorite Matt Powers secured his chances in the Championship run in his Need for Speed/Nitto Tires Nissan S14) by taking third place after battling Rookie of the Year favorite Aurimas "Odi" Bakchis. Currently, Powers is in 5th place overall with 418.50 points.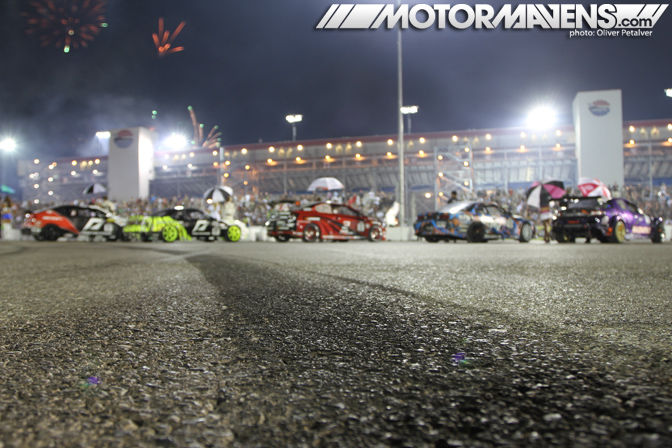 Las Vegas Motor Speedway turned up the heat by lighting up fireworks during the Top 16 ceremony.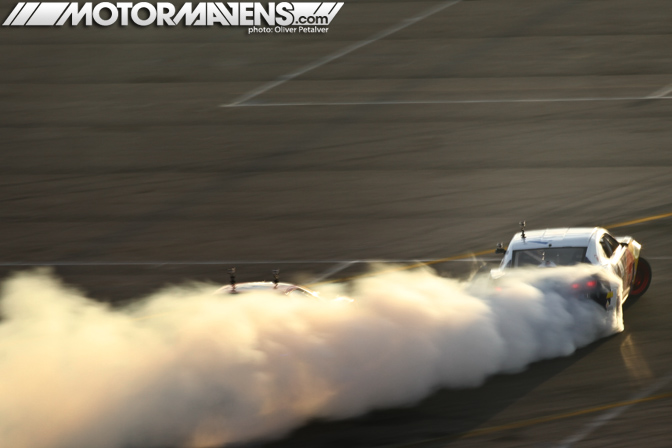 Charles Ng's Evasive Motorsports/Nitto Tires Mazda RX-7 FC is barely visible in the smoke put up by Ryan Tuerck's Gardella Racing/Mobil 1 Chevrolet Camaro.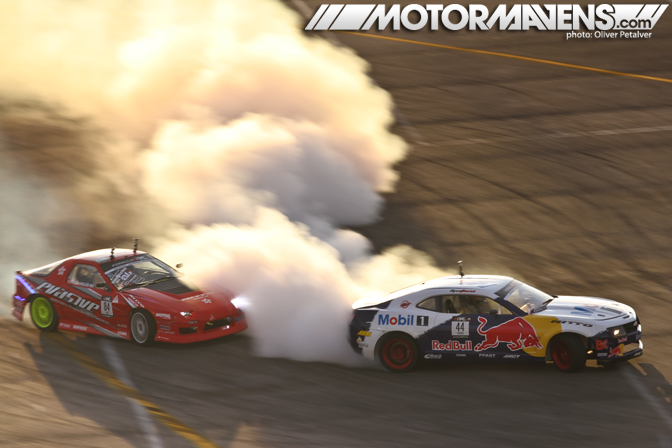 Ryan Tuerck defeated Charles Ng in the Top 32 and met Chris Forsberg in the Top 16. Forsberg went offline and Tuerck moved on to the Great 8 where he met D-Mac.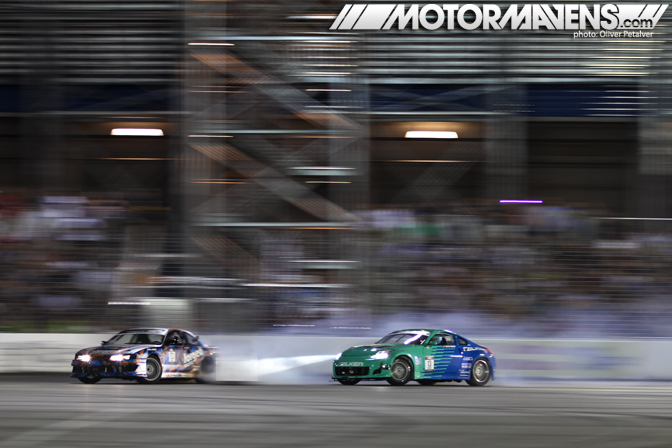 2011 Rookie of the Year (ROY) favorite "Odi" Bakchis drifted into a huge lead in the ROY standings by taking 4th place. Unfortunately, Walker Wilkerson was unable to qualify due to a broken clutch pedal. Here, "Odi" defeats Justin Pawlak in the Top 16. Whoa…wait. Isn't that Tyler McQuarrie in the 350Z, you ask?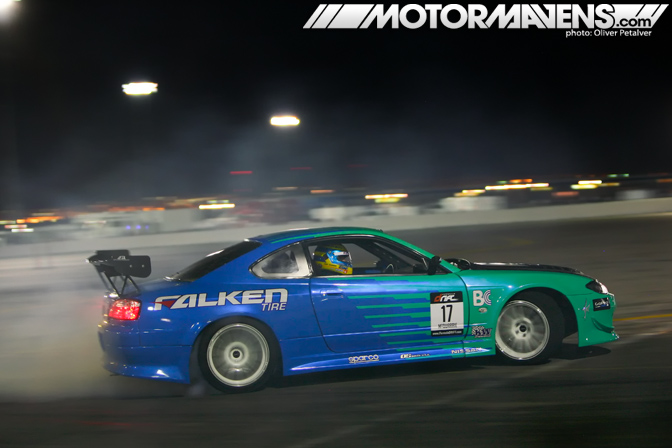 Since JTP's Ford Mustang was having problems, he borrowed McQuarrie's 350Z for the weekend while Tyler piloted this Falken Tire Nissan S15 previously driven by Calvin Wan/James Dean. Considering the short prep time, McQuarrie did a good job going from the Nissan 350Z to the RHD Nissan S15. He had the fastest entry speed during qualifying!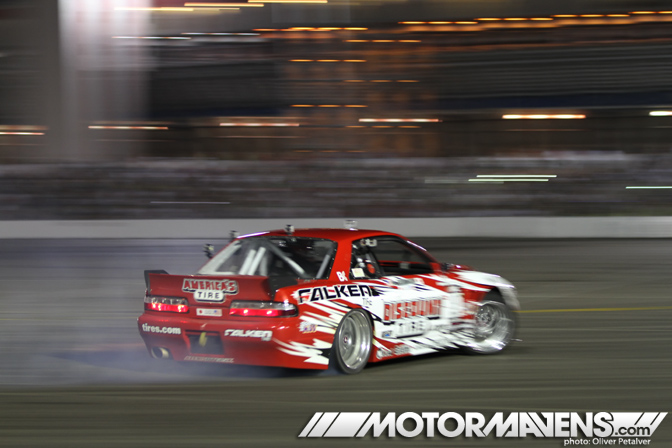 Current Championship Points leader Daijiro Yoshihara met Toshiki Yoshioka in the Top 16 where they battled all the way out to an OMT.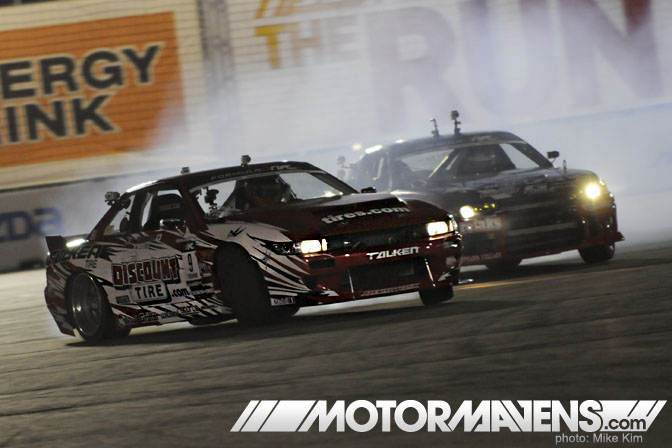 The result? Yoshioka got the green from all three judges to move on to meet "Odi" in the Great 8.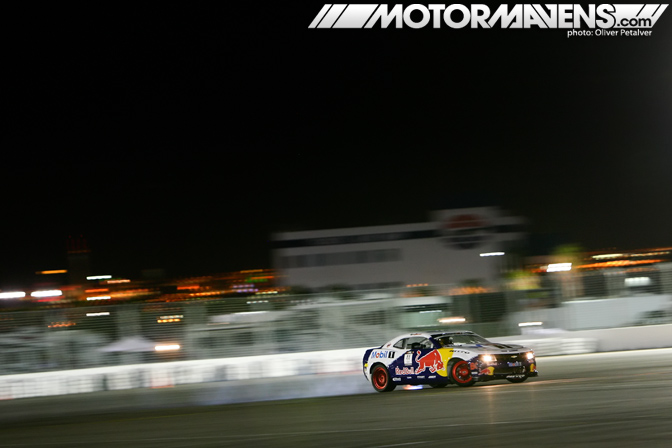 Ryan Tuerck is currently in 6th place behind Matt Powers with 370 points. The backfire of Tuerck's Camaro perfectly compliments the city lights of Las Vegas – don't ya think?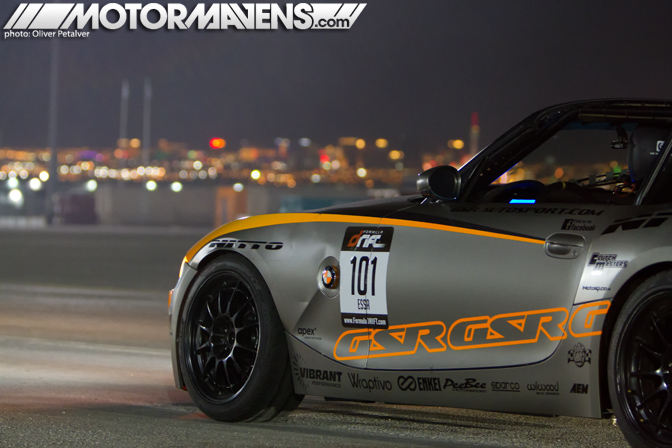 The starting grid provided views of the Sin City skyline.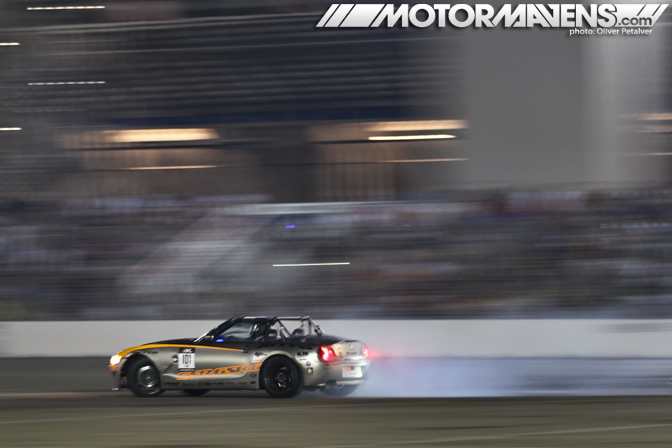 Mike Essa and his GSR Autosport/Nitto Tires BMW Z4 battled Kyle Mohan in the Nexen Tires/Mazdatrix/KMR Mazda RX-8 during the Top 16.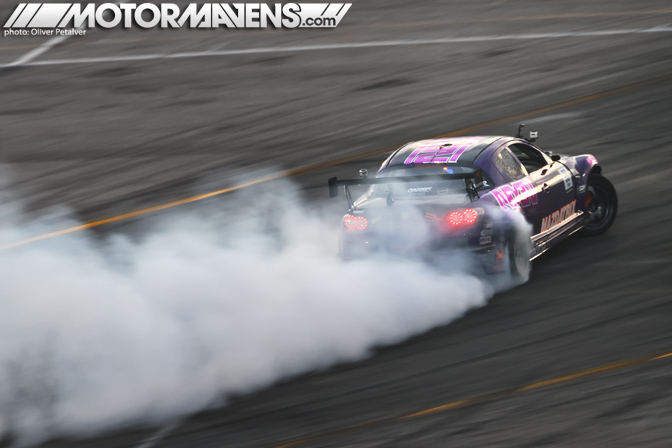 The battle was so close it required a One More Time (OMT). Unfortunately, during the OMT, Mohan crashed into the wall – hard.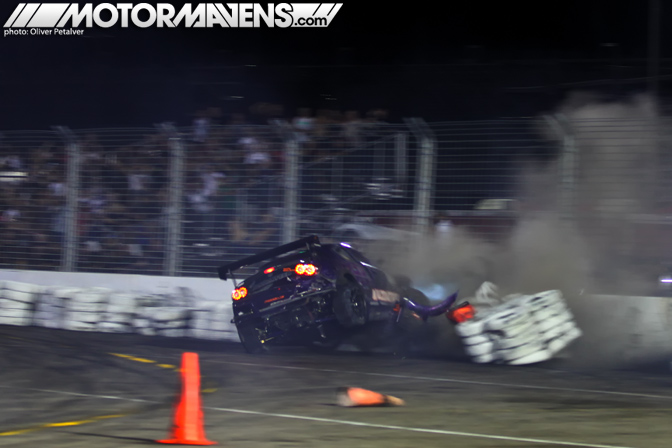 According to Formula DRIFT officials, Mohan made contact at a little over 100 MPH! Fortunately, Mohan showed the crowd that he was OK and had only soreness in his neck. Apparently, Mohan had brake failure. Perhaps his brake line was cooked by the turbo?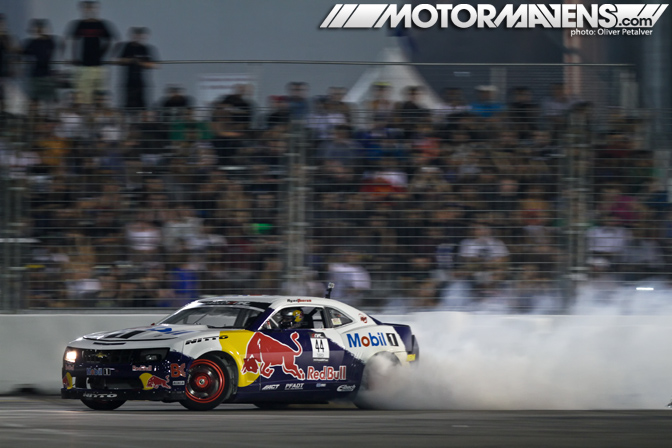 Last year, Tuerck finished the 2010 season in third place overall in the Pontiac Solstice GXP. He's teammates with Drift Alliance members Tony Angelo, Chris Forsberg, and Vaughn Gittin Jr.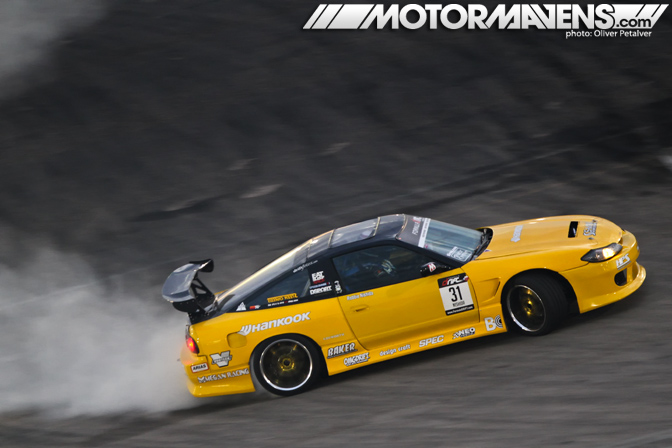 It was nice to see Robbie Nishida out at an event again with his Bridges Racing Nissan S13! Nishida qualified third. Unfortunately for Nishida, the car shut down twice on him.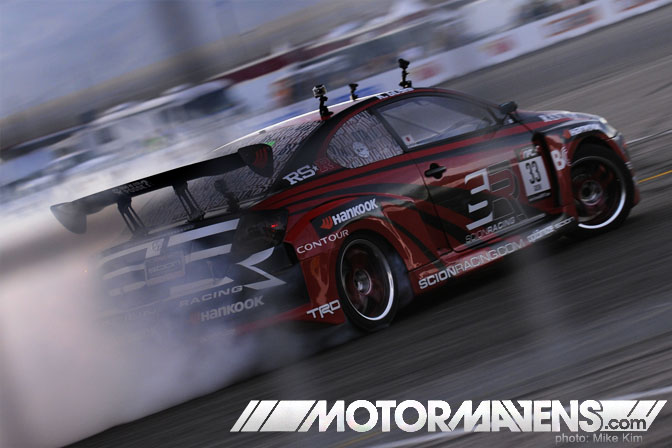 In the Top 16, Ken Gushi, in his Scion Racing/RS-R/Hankook Tire Scion TC, battled Conrad Grunewald. During Gushi's lead run, Grunewald passed Gushi while drifting. Gushi then moved on to the Great 8 to meet Matt Powers.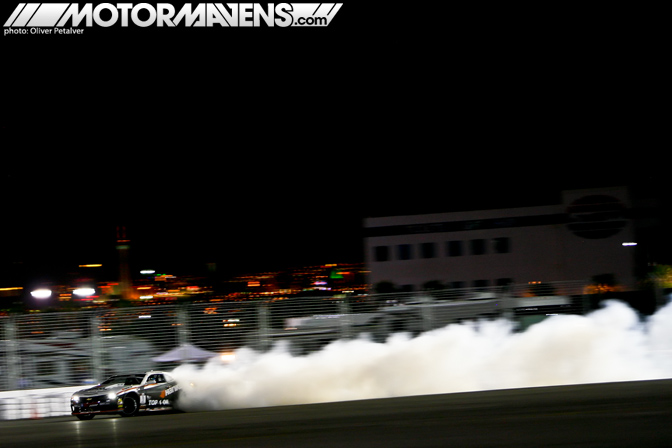 Conrad "Burger" Grunewald and his Hankook Tire Chevy Camaro SS currently sit in 7th place with 357 points.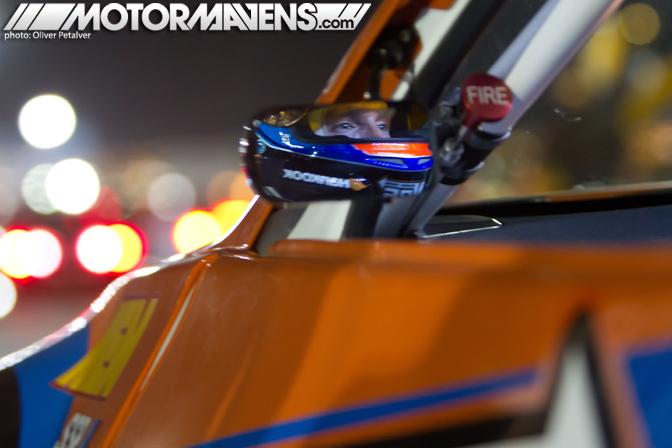 Forsberg focuses while he prepares on the Grid.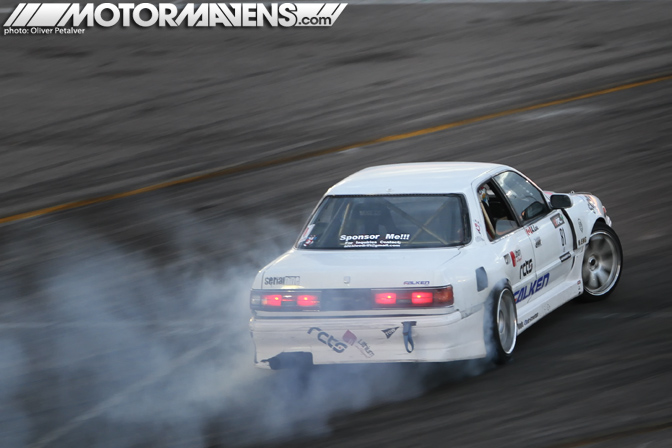 Alex "Wonder Kid" Lee qualified for the Top 32 and battled veteran Chris Forsberg. Unfortunately, Alex straightened out during his second run so Chris moved on to the next round. Hailing all the way from Canada, Alex is currently looking for sponsorships so, any potential sponsors reading this, you could do a lot worse than sponsoring a guy called "Wonder Kid" who's willing to travel all the way from Canada on his own dime to make FD series events.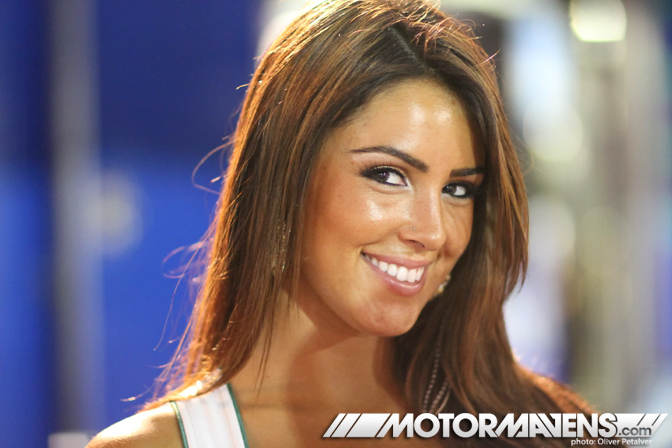 Falken Tire model Olivia Korte is all smiles.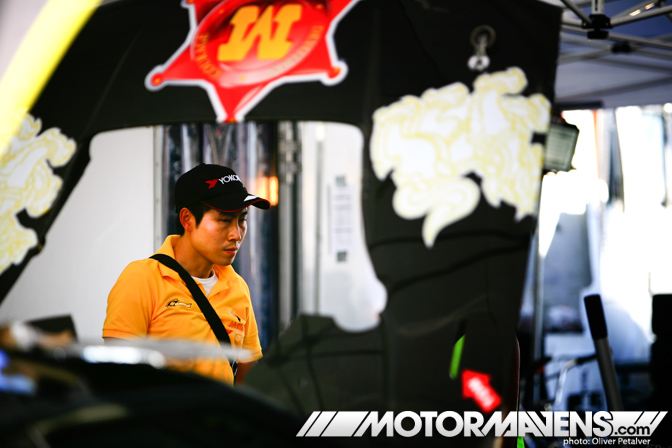 Hailing all the way from Thailand is FD Asia driver Saranon "Non" Pornpatanarak. Non finished the Formula D Asia season in 2nd place. Unfortunately for him, he failed to qualify at this event.
What immediately brought a smile to Non's face were these local natives of Sin City! And yes, I confirmed for him that they were, indeed, Thai – since they had long last names. 😀 Hopefully, he can do better in Irwindale – and good luck in the 2012 season.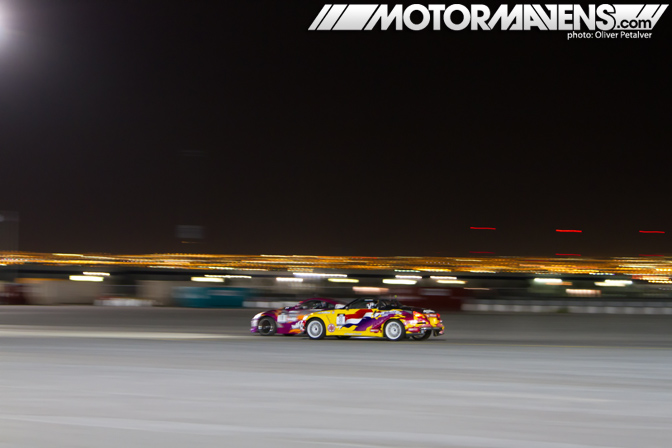 The other new face but familiar car was FD Asia driver Adwitya "Dio" Amandio. Coming all the way from Indonesia, Dio qualified 23rd in the Achilles Tire Nissan 350Z. If this car looks familiar to you, it is. It's Chris Forsberg's Championship winning car.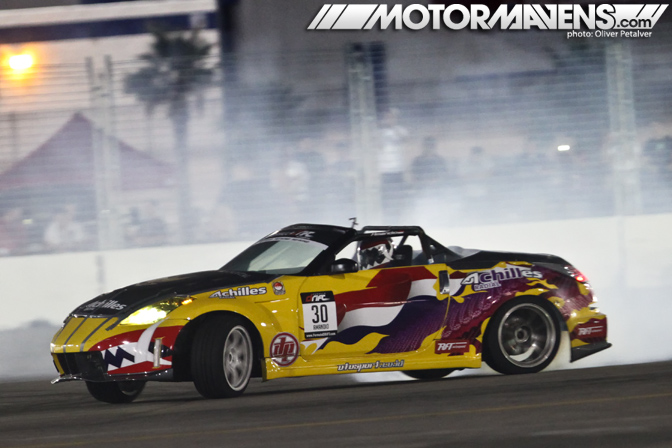 Unfortunately for Dio, he made contact with the wall during Thursday's practice. Even worse, he made contact again during the Top 32 during his battle with Mike Essa and the GSR Autosport BMW Z4.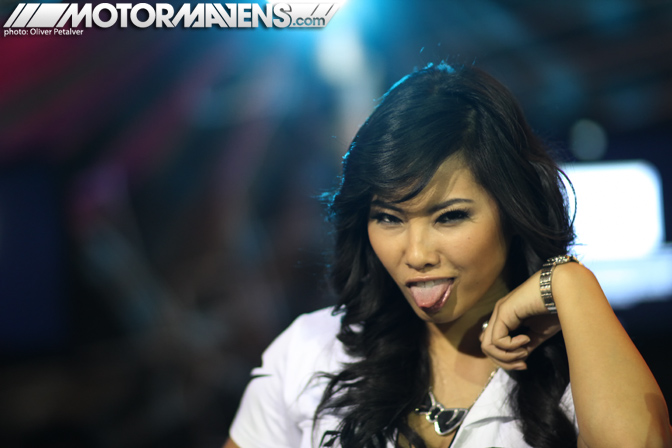 Need for Speed cutie Victoria Mai shows us her playful side.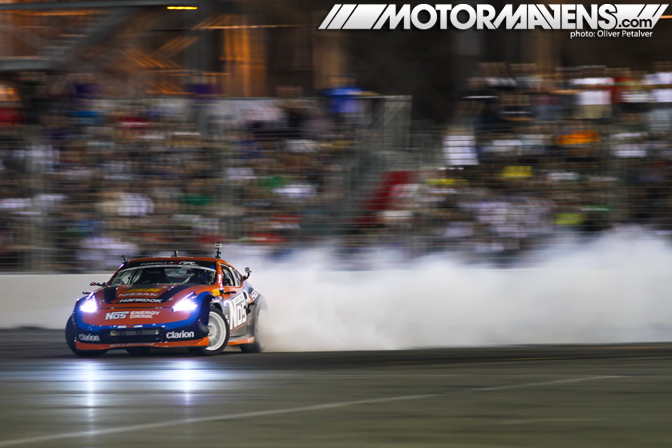 Chris Forsberg (NOS Energy Drink Nissan 370Z) piloted his way to the Top 16 where he battled Ryan Tuerck in his Gardella Racing/Mobil 1 Chevrolet Camaro. Forsberg currently sits in 4th place with 429 points.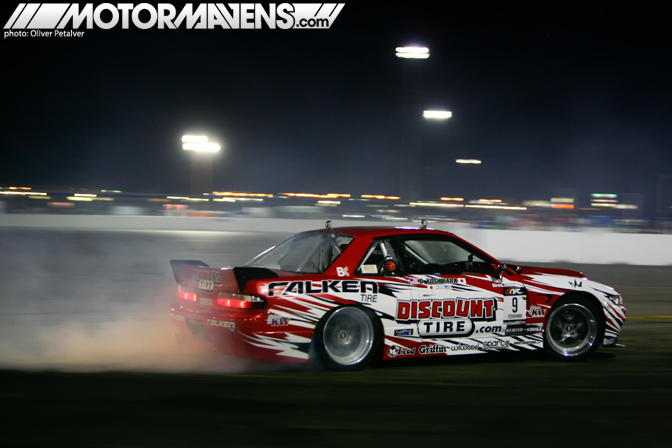 With less than 52 points between the top five competitors, Formula DRIFT Round 7 looks to be the most competitive Finals in Formula DRIFT history! Who will take the 2011 Formula DRIFT Championship crown? Dai? JTP? D-Mac? The Force? Mattycakes? Since the Finals are going to be held on October 7-8, this gives plenty of time for the teams to fine tune their machines. For more information, check out the official Formula DRIFT website. And keep your eyes peeled for more MotorMavens coverage!
:: Oliver Petalver
350Z
,
370Z
,
Achilles Tire
,
Adwitya "Dio" Amandio
,
Alex "Wonder Kid" Lee
,
AURIMAS ODI BAKCHIS
,
BMW
,
Bridges Racing
,
Calvin Wan
,
Camaro
,
Charles Ng
,
chevrolet
,
Chris Forsberg
,
Conrad Grunewald
,
D-Mac
,
Daijiro Yoshihara
,
darren mcnamara
,
Discount Tire
,
Drift Alliance
,
Evasive Motorsports
,
Falken Tire
,
FC
,
FD Asia
,
Ford
,
Formula Drift
,
Gardella Racing
,
Genesis
,
GSR Autosport
,
Hankook Tire
,
homepage
,
Hyundai
,
James Dean
,
Justin "JTP" Pawlak
,
Ken Gushi
,
KMR
,
Kyle Mohan
,
Las Vegas
,
Mad Skillz
,
Matt Powers
,
Mazda
,
Mazdatrix
,
Mike Essa
,
Mobil 1
,
Mustang
,
Need For Speed
,
Nexen Tires
,
Nissan
,
Nitto Tires
,
nos energy drink
,
Oliver Petalver
,
Pontiac
,
Red Bull
,
Rhys Millen
,
Rhys Millen Racing
,
RMR
,
Robbie Nishida
,
RS-R
,
RX-7
,
RX-8
,
Ryan Tuerck
,
S13
,
S14
,
Saranon "Non" Pornpatanarak
,
Saturn Sky
,
Scion
,
Scion Racing
,
Solstice GXP
,
SS
,
TC
,
Tony Angelo
,
toshiki yoshioka
,
Triple Crown
,
Tyler McQuarrie
,
Vaughn Gittin Jr
,
Victoria Mai
,
Walker Wilkerson
,
Z4
---