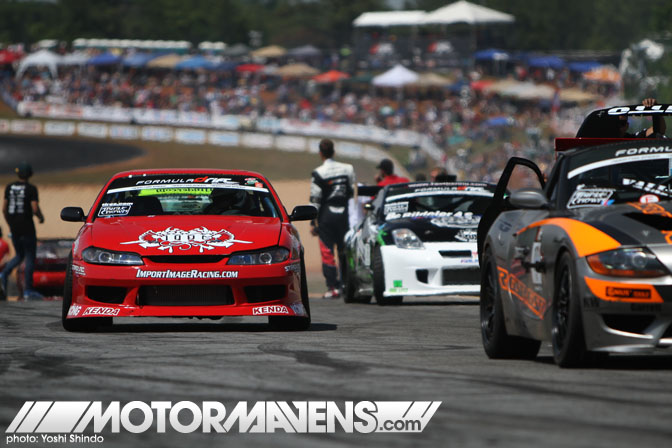 For the MotorMavens Crew, Round Two of the 2011 Formula Drift Championship at Road Atlanta represented a lot of hard work, and about 6 or 7 total hours of sleep for the entire weekend. Since our Associate Editor Jonathan "J-Mac" McWhorter lives in the Atlanta area, he volunteered to be the team leader for the weekend, and coordinated everything for the out-of-state crew members that would be flying in for the event.
Some people may not realize this, but Road Atlanta is a very special place for the MotorMavens Crew. Anyone who knows MotorMavens co-founder Andy Sapp can tell you that he has a very fond place in his heart for Road Atlanta. Even though Andy coined the now famous phrase Keep Drifting Fun, he has been drifting competitively at Formula D events in Atlanta ever since 2004 – the very first event in the Formula Drift series. Ever.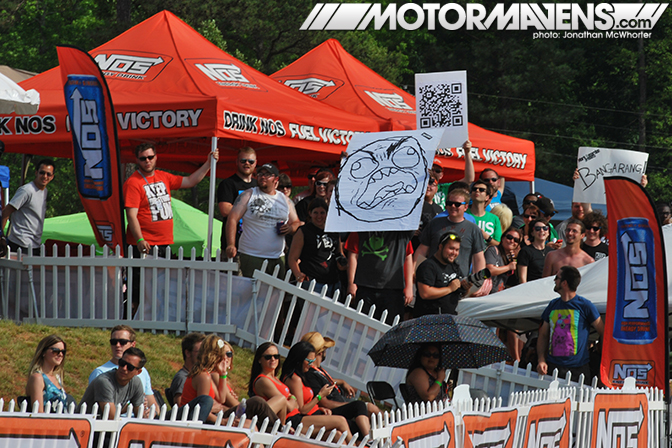 Unfortunately for Andy (and for his friends, fans and supporters), tradition was broken this year, and Georgia drifting fans did not see the sinister black Drift Mechaniks BMW E46 tearing up the tarmac on Road Atlanta's horseshoe. Apparently, the local Atlanta Pro Am organizer sold out all the driving spots super quickly – before Andy was able to sign up. He was completely devastated, as one might imagine.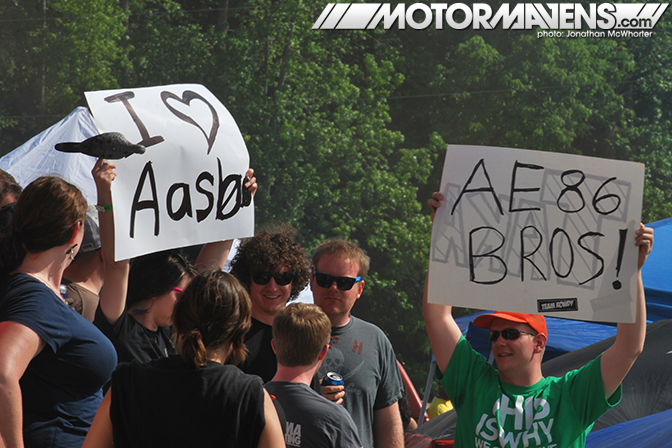 Without question, one of the reasons why the MotorMavens Crew has a lot of love for Atlanta is because of the people there. The members of the Atlanta drifting community are down to earth, friendly, and FUN to hang out with! Road Atlanta is the only track in the Formula Drift series where you can watch close tandem drifting while hanging out under a tent with your friends while grilling up some meat and drinking fun enhancing beverages!
Atlanta's own Drift Mechaniks crew and Team Rowdy are a perfect example of fun people to hang out with. They bring fun signs to drifting events and definitely enjoy their fun enhancing beverages. Our own Chris Rhoad can tell you about that. He was tweeting about his awesome hangover from the track side! haha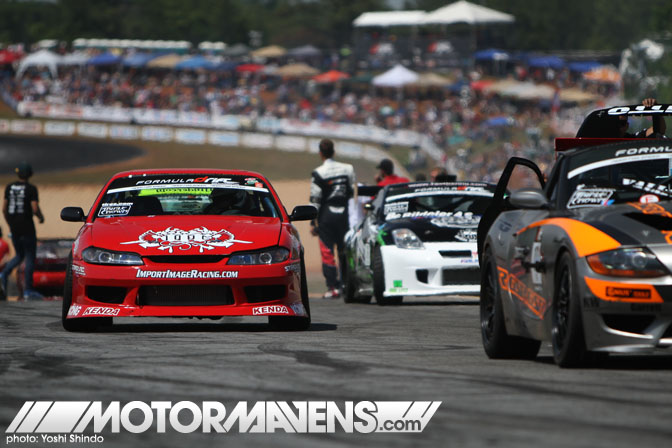 At Road Atlanta, one of the most exciting places to be is on the top of the hill, at the starting grid. Unfortunately, most drift fans aren't able to get up to the grid, as it's an exclusive area reserved only for those with Formula D hardcards. Every year, I love standing at the top of the grid, seeing the cars and drivers get ready to run, as the fun loving Atlanta crowd cheers and generally makes a lot of noise in the area around the track's horseshoe!
This red S15-faced S14 is being driven by Atlanta native Dennis Mertzanis, who was referred to as the "Greek Drifter" by Jarod DeAnda, the "voice of Formula Drift." I think Dennis' S14 looks better now than it ever has before!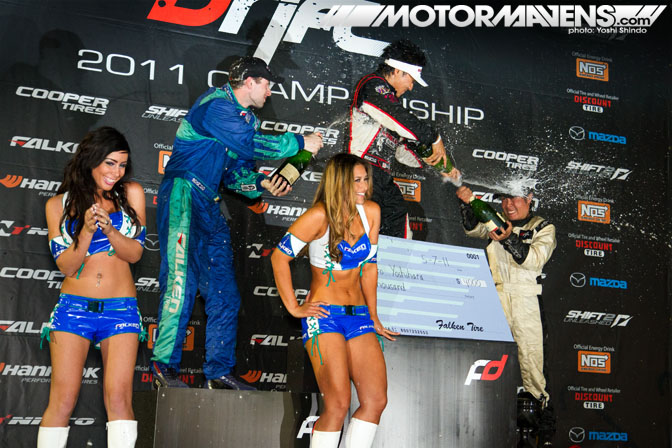 Let's be honest, just about everyone knows the results of Formula D Atlanta already. Falken/Discount Tire driver Daijiro Yoshihara made his way to the top of the podium AGAIN. Samuel Hubinette and Chris Forsberg used to be the guys to beat at Road Atlanta (both of them have won the event numerous times), but it looks like Dai is the new drifting champion of Braselton GA.
Second Place went to Dai's teammate, Darren McNamara, and Third Place went to D1 Grand Prix star driver Toshiki Yoshioka, driving the Retaks V8-powered S13 Silvia. At the track and on the Formula D Driftstream, there were quite a few people who didn't know who Yoshioka was!
For all the younger people who got into drifting after the era of Option Video, Hot Version DVD, and Battle Magazine, Yoshioka is one of the OG D1 drivers from Japan. He used to drive his local mountain roads near Okayama Japan with his FC3S RX7 and his orange AE86 with friends from his drift team, Bross Running Crazy. (Yes, they misspelled 'Bros.' Haha!)
Once again, our sharpshooter from Seattle, Yoshi Shindo comes through with a masterful shot of people getting sprayed with champagne. The funny thing is, once again, Darren McNamara is on the podium looking like he's out for vengeance! It seems like D-Mac is always out to get someone when he's shaking up his champagne bottle on the podium – who could forget Yoshi's amazing image from Formula D Seattle in 2010? (See below)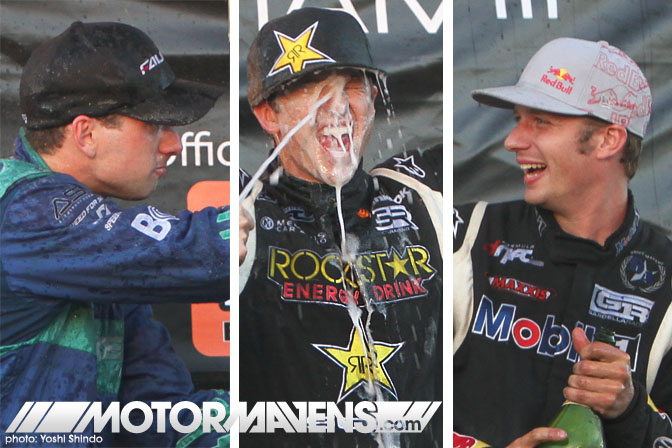 Just look at this guy! D-Mac (left) looked like he was really out to exact his revenge on 2010 Seattle round winner Tanner Foust (middle), with an "Oh shiiiiiiiit" look on Ryan Tuerck's (right) face! I think this has GOT to be Yoshi's best photo from the entire 2010 season. Does anyone agree with me?!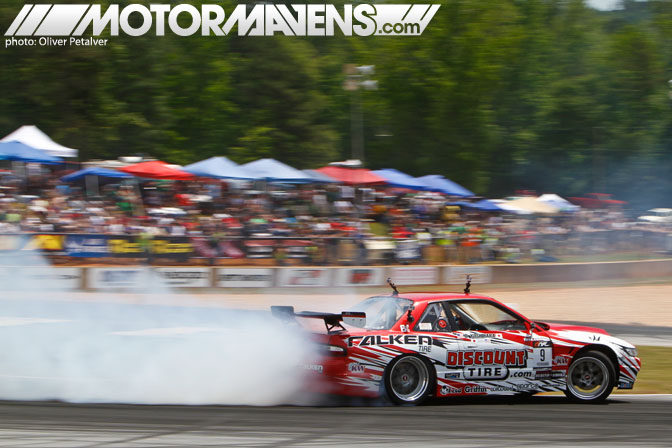 Back to the 2011 podium winners, here's a shot of Dai driving his Discount Tire S13 Silvia back up the hill towards turns 10B and 10A.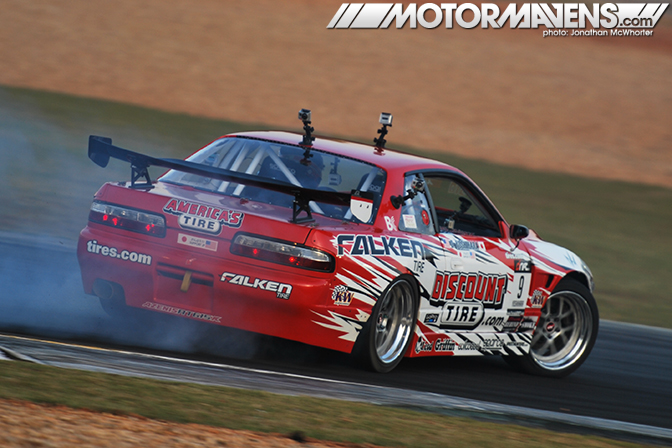 There are many things I like about Dai's S13. It's rocking the clean, simplistic lines of the Rocket Bunny aero kit, with some new fat lip, deep offset wheels, and KW Variant 3 coilovers that let Dai's trackside engineers Scott Dodgion and Mike Kojima fine tune both compression and rebound adjustments of the suspension for different track conditions. Aside from tires, suspension tuning obviously plays a huge role in helping Dai win races.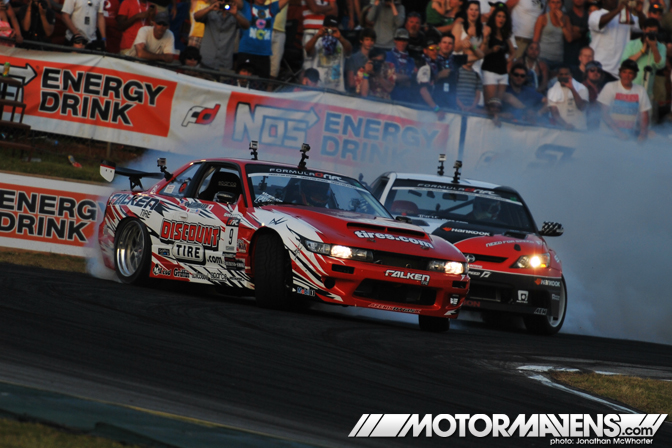 Here's Daijiro in the horseshoe, doing tandem with Norwegian drift favorite Fredric Aasbo. Aasbo garnered a TON of attention last year, with his JZA80 Supra running around the track, making inspirational amounts of noise as his engine bounced off the rev limiter. He's back this year as part of the Hankook Tires team, driving a Scion Racing tC.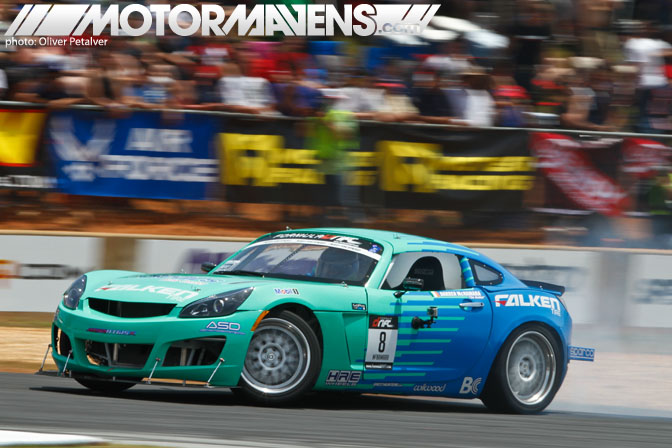 When you think of drifting, you normally don't think of the Pontiac Solstice or the Saturn Sky. However, this platform seems to work just fine for Darren McNamara from Ireland's ProDrift series. Here's a close up of Second Place winner D-Mac in the horseshoe, which allows us to check out the carbon fiber splitter bolted up to the front bumper.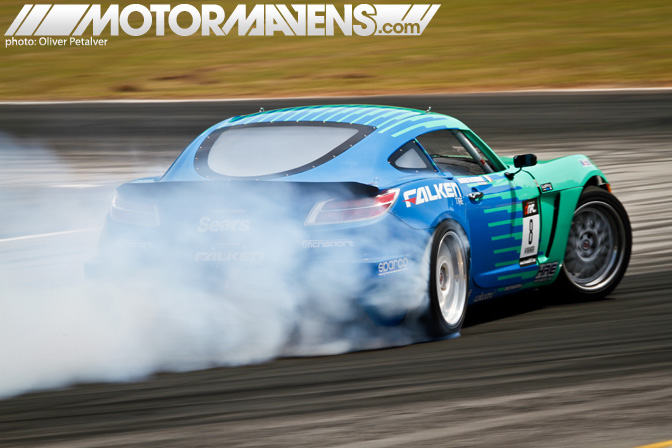 D-Mac's Saturn Sky has an interesting hardtop that debuted at Long Beach last month. I wonder if Formula D fans prefer the hardtop or the convertible? I think the hardtop certainly looks interesting, giving the car a different look to it; however, I would think that a open-top roadster would be better for visibility – it also doesn't capture all the tire smoke inside the cabin of the car.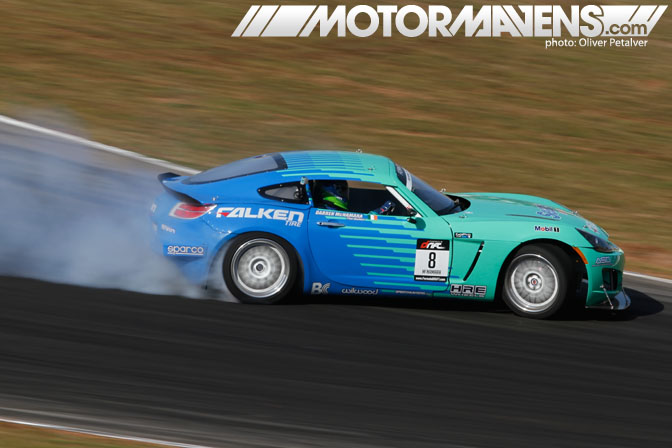 I love this super clean shot from Oliver Petalver, showing D-Mac accelerating back up the hill with speed, angle, AND smoke.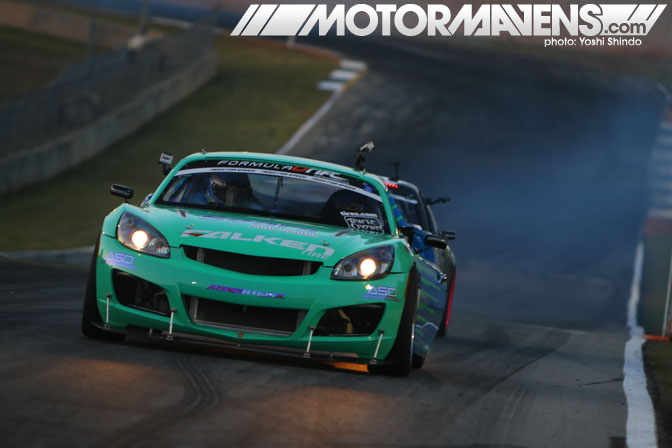 Sometimes I don't think people realize just how much of an elevation change exists at Road Atlanta. That hill is really steep! Here's a shot that illustrates the elevation. Hey, notice McNamara's door falling off?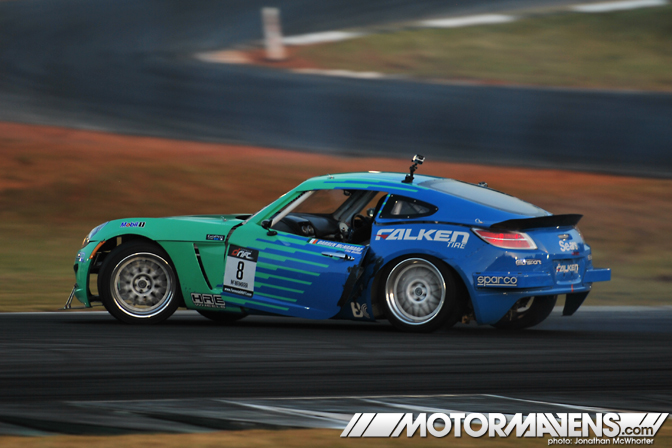 Here's another shot of D-Mac's door falling, even though it looks like it was duct taped shut! Looks like a job for zipties!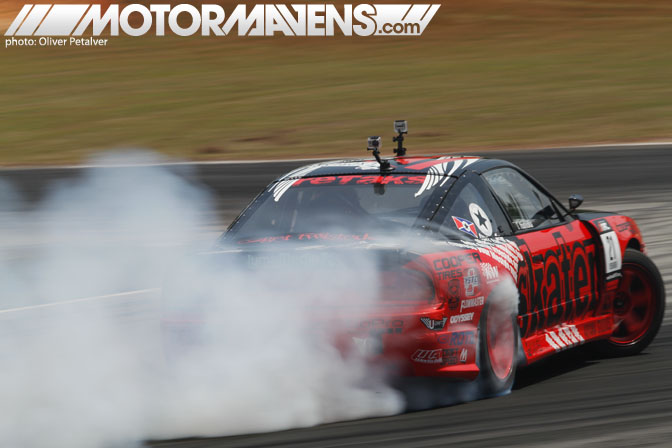 Now, onto the Third Place podium finisher, Toshiki Yoshioka. Yoshi is the driver and mechanic of the Retaks S13, which says "skater" on the side when the text is reversed. Driving a car with big V8 power is certainly a different feeling for Yoshioka – he's used to driving (and winning) drift events using an underpowered 4AG engine in his AE86 (with nitrous assist). If you don't know the background on Yoshioka, you can watch this video profile of Yoshioka and his nitrous-assisted 4AG 20 valve AE86 after he won Formula D in Las Vegas.
That's it for this installment of our Formula D Atlanta coverage… you can bet on seeing a whole lot MORE photos in just a few!
::Antonio Alvendia
Photos by Jonathan McWhorter, Oliver Petalver and Yoshi Shindo
Andy Sapp
,
ASD
,
Bross Running Crazy
,
Dai Yoshihara
,
darren mcnamara
,
dennis mertzanis
,
Discount Tire
,
Discount Tire S13 Silvia
,
Drift Mechaniks
,
Falken
,
Formula Drift
,
Formula Drift 2011
,
homepage
,
Jarod DeAnda
,
Jonathan McWhorter
,
keep drifting fun
,
KW Suspension
,
Metalworks
,
Mike Kojima
,
Moto IQ
,
Nissan
,
Oliver Petalver
,
Pontiac Solstice
,
Retaks S13 Sileighty
,
Road Atlanta
,
S13
,
Saturn Sky
,
Scott Dodgion
,
SPD
,
Team Rowdy
,
toshiki yoshioka
,
Yoshi Shindo
---