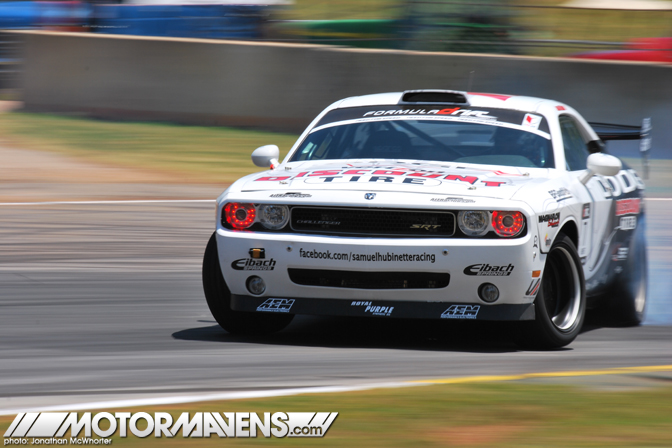 Right now I'm sitting in the media tower at Road Atlanta while practice continues just over the hill on the course. That's right, Allen Iverson, we're talkin' about practice! Not the game, but practice. With that being said, even though it was practice, the drivers were pushing it to the limit and beyond. Many cars ended up in the kitty litter on the initiation corner and some went into the wall.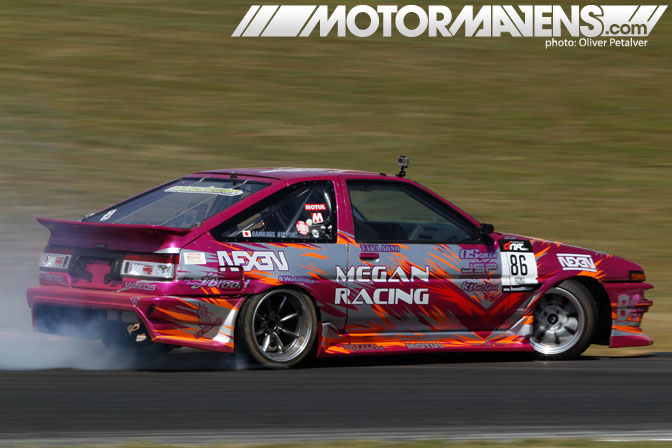 Above, Taka Aono shows us how to navigate the course cleanly and aggressively.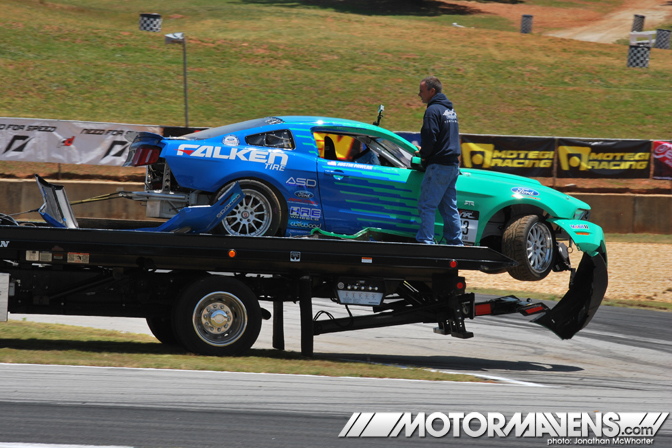 However, others had a different story to tell. During the first practice session, Long Beach champ Justin Pawlak got carried away with his recent victory and tried to win at practice. Truth be told, I didn't witness the wreck as it occurred because I was moving to a new photo location; but, judging  from what I heard, it sounds like JTP went to initiate into the first corner and his rear wheels caught the rumble strip or the grass and immediately introduced him to the wall. The damage looks severe in this photo but the Falken team was hard at work in the paddock putting Humpty Dumpty back together again. We hope to see him back out as soon as possible! In addition to JTP, Eric O' Sullivan in the Gardella Racing Pontiac Solstice also gave the wall a solid love tap coming out of the final corner back up the hill. However, O' Sullivan was able to drive off on his own without the aid of a flatbed.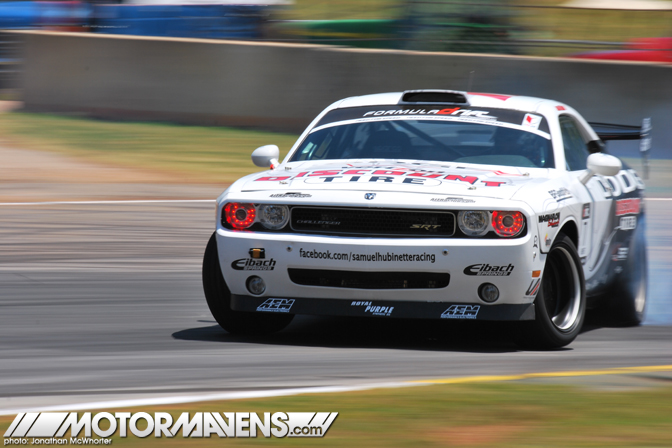 Another car that had to take it to the house early was Samuel Hubinette's Dodge Challenger. A mysterious mechanical issue caused Sam to coast to a stop after launching down the straight to initiate. There's no word on what the problem was but a sad-faced Sam driving back to the paddock says it's definitely not routine. Mechanical failures kept him from competing at Long Beach and hopefully fate does not hold the same for him this weekend.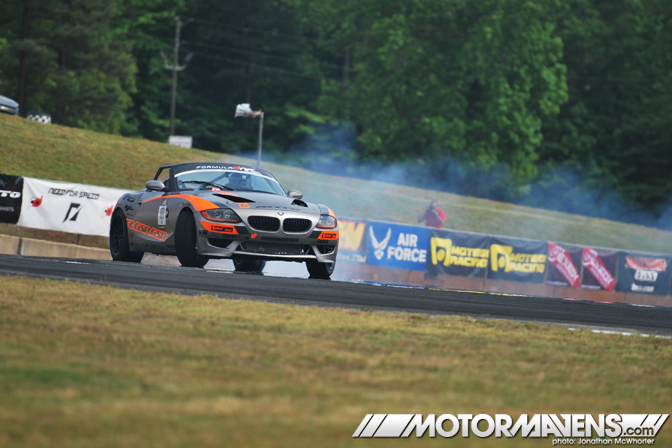 On a more positive note, Michael Essa was looking strong in his Bavarian rocket (BMW Z4) powered by a turbocharged S54 out of a BMW E46 M3. Originally, I was slightly disappointed when I heard that he was no longer running his V10 M3 from last year. I mean, who doesn't love that engine note? However, after seeing this car run in person, the disappointment quickly faded. As one of the few cars without a V8 in the series, it still manages to be unique in a slowly unifying field – and it still puts down just as much smoke! (Disclaimer: this photo is at the top of the horseshoe, right before he upshifts for the downhill smokescreen).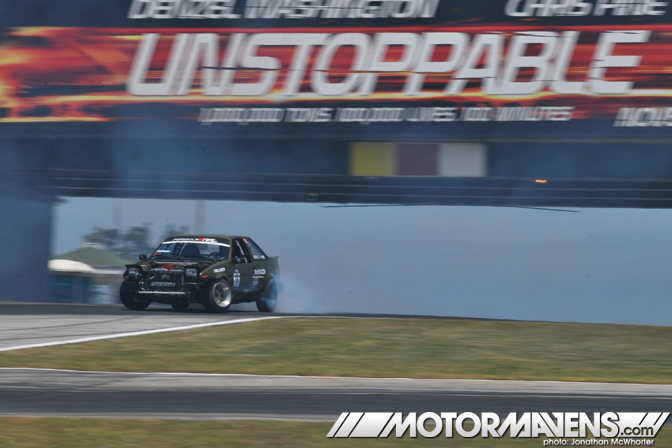 Speaking of unique, Pat Cyr's F20C powered, AE86 Toyota Corolla definitely fits the bill with what some might call a sacrilegious motor swap. However the same applies to the noise this car makes: bouncing off the limiter out of the horseshoe will make anyone's ears dance. I've gotta hand it to Pat for never having driven this course and having a relatively underpowered car – although, 360 HP at 20 psi is still no slouch by any means! He did very well his first day out. Granted, he paid a visit to the magic sand (if you've played Forza, you know exactly what I mean), but overall he figured out the difficult Road Atlanta course and has the potential to claim a spot if he keeps it up. Good luck Pat!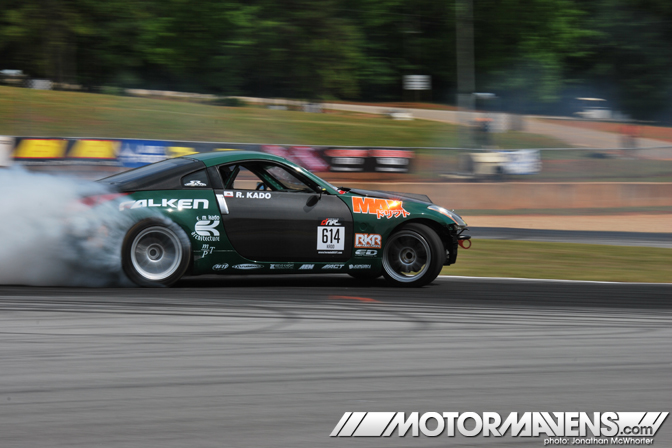 Another promising up-and-comer is Ryan Kado, the 19 year old rookie out of Sacramento, California.  Ryan was looking extremely smooth on track and his VK56 powered Nissan 350Z was laying down plenty of smoke. I'll be interested to see how the young gun performs when it comes time for qualifying. With an eventful practice day, who knows what will be in store for the rest of the weekend?
Keep your eyes glued to MotorMavens for more coverage and follow us on Twitter for live updates @MOTORMAVENS. That's it for me right now. I'm starving! Cracker Barrel anyone?
:: Jonathan McWhorter
350Z
,
86
,
AE86
,
BMW E46 M3
,
BMW Z4
,
Braselton
,
california
,
Challenger
,
Corolla
,
crash
,
Discount Tire
,
Dodge
,
Dodge Challenger
,
Drift Posse
,
Eric O'Sullivan
,
F20c
,
Falken
,
Ford
,
Formula Drift
,
Formula Drift 2011
,
Forza
,
Gardella Racing
,
Georgia
,
homepage
,
Jonathan McWhorter
,
Justin Pawlak
,
Mike Essa
,
MotorMavens
,
Mustang
,
Nissan
,
Nissan 350Z
,
Pat Cyr
,
Pontiac
,
Pontiac Solstice
,
Road Atlanta
,
Ryan Kado
,
S54
,
Sacramento
,
Samuel Hubinette
,
Taka Aono
,
Toyota
,
Toyota Corolla
,
VK56
---