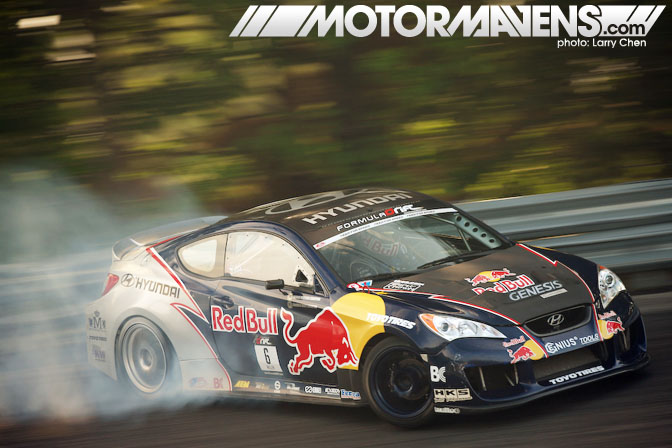 Formula Drift at Wall Speedway in New Jersey was definitely fun to watch. For me, it's always fun to travel and attend all the events in the tour, but this past weekend, I had some other commitments and couldn't make it to New Jersey. Luckily for us all, Larry Chen was out in New Jersey representing MotorMavens and capturing all the action!
Thanks to our friends at YoParts and Belle 1 Communications, we were able to watch Formula D live; the DriftStream live feed was really fun and entertaining! It was like an old school AOL chat room with tons of drifting fans blurting out information and opinions; I was impressed at how many people got involved in the live chat, cheering for (and sometimes clowning) drivers and teams! All in all, it was super fun – and I quite honestly was pretty disappointed that I had to shut down my computer in the middle of the Top 16 so that I could drive to my friend's house for a party/bbq (it was my fault – I should have just driven over there early so I could watch the entire thing at his house).
Wall Speedway is a pretty interesting track. It was originally built for circle track cars, but somehow was able to re-purpose itself for drifting, thanks to a lot of phone calls, legwork, and planning by the Formula Drift staff. Wall Speedway is also the most extreme banking that Formula Drift competition cars run on, with the most extreme sections of the track being 30 degrees – a really big difference in comparison to Irwindale Speedway's 18 degrees of incline.
Driving a steep oval like Wall is very difficult for many drivers, but seasoned pros like Red Bull/RMR Hyundai Genesis coupe driver Rhys Millen (pictured above) seem to just get it right all the time, riding the upper edge of the track surface and putting out big smoke at high speeds.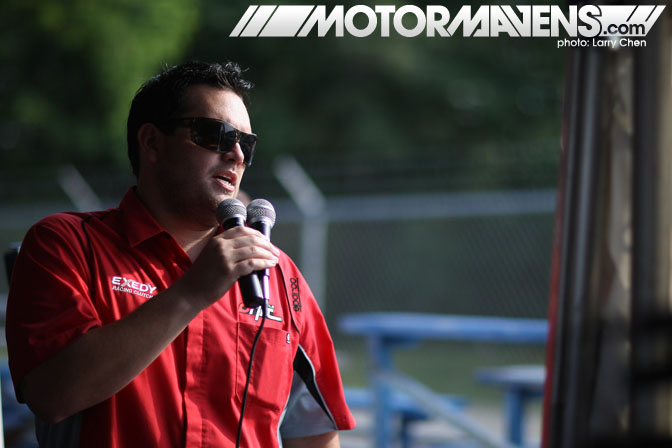 The voice that you always hear on the Belle 1 loudspeakers at Formula D events is Jarod DeAnda, aka J-Rod. I didn't even realize (until I saw this photo) that he was rocking two microphones! I'm not exactly sure why, but I'm guessing that maybe one mic is for broadcasting his announcing to the people at the track on event day, and the other mic directly feeds into the Driftstream live feed. If I guessed incorrectly, please let me know!
Anyway, it's kind of strange, but I actually met Jarod about 11 years ago at Tokyo Auto Salon 1999. I don't even remember how or why we began talking, but at the time he was a contributing writer to TMR M'zine, which in my opinion, was probably the best underground sports compact magazines of its era. TMR had cool style – it didn't have the most compelling writing, nor did it have the most outstanding photographs, but what always got me hooked on TMR was the cool subject matter that they brought to light, and the passion that they obviously had for the subject. I've thrown away many magazines over the years, but I still have all my issues of TMR. Maybe I should do a Papercuts> story on the magazine sometime in the future?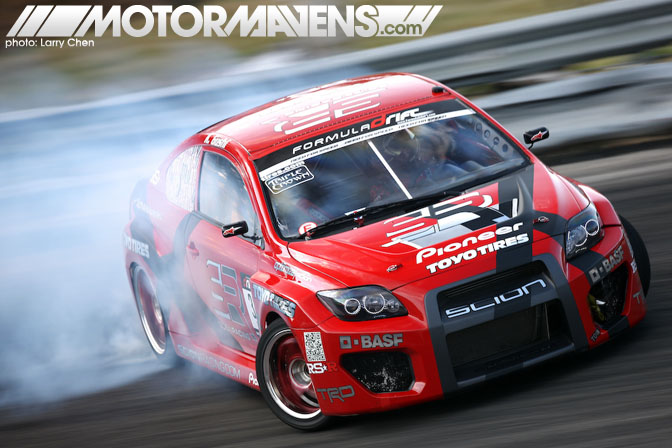 There has been a pretty big ongoing debate about Scion Racing and its involvement in Formula Drift. Some people are for it, and some people are against it. It's really interesting to read the comments section of our stories when our readers get into debates such as this one! One thing I'm actually pretty proud of is the fact that our readers had opinions on opposite ends of the spectrum, but were able to debate their points and speak their minds intelligently and respectfully. That is SO awesome. Honestly, when I see stuff like that, I'm proud to be associated to a website like MotorMavens, because the community of readers we have on our site is undoubtedly what makes the site cool.
Oh yeah, sorry if my previous paragraph disappointed people that expected me to write about the car. So just for you guys, I'll say the following… Ken Gushi's Scion Racing tC was previously powered by a TRD-built 3SGE Beams VVTi engine (drooooool! want!), but in a smart move for the company image, the fans (and for developing/selling parts), the car has been refreshed for the 2010 season with a Toyota 2AZ engine, which is actually the engine that comes in a Scion tC from the factory.
Team Gushi was inspired by the groundbreaking development work that Christian Rado and his World Racing Scion tC have been doing with their own Scion tC time attack and drag cars. I don't think there's anyone out there that would really contest the fact that Rado has been steadily kicking ass with his tCs. Scion has got to be happy with that… right? At any rate, if you want to check out some more details on the car's engine setup, then you can start by reading Kenshiro Gushi's blog.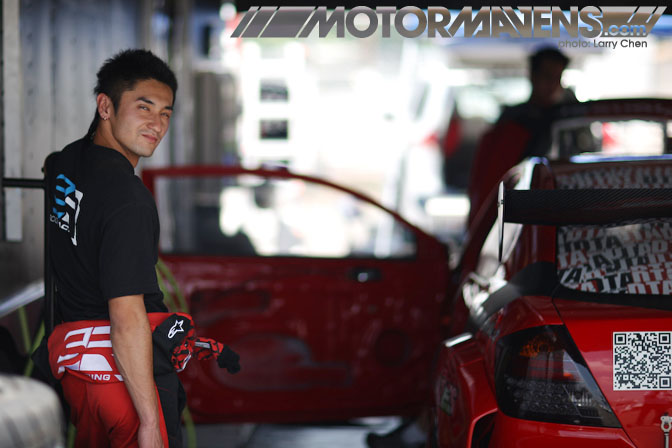 Here's our boy, Kenshiro Gushi. I say Kenshiro because he has told me on a few occasions that he prefers being called by his Japanese name of Kenshiro, rather then Ken, The Goosh, Kenny G or whatev. I'm pretty proud of how this guy has progressed in his career. I still remember Kenshiro when he was still in high school, trying to work on his champagne colored, engineless PS13 240SX at his dad's old shop in San Gabriel, CA.
His father, Tsukasa Gushi (aka Gushi-san), is a really good friend of mine since we're both AE86ers; in fact, I used to hang out at his shop all the time. To this day, Kenshiro's dad is one of the very few people that I trust completely when it comes to working on my prized possession, my kouki AE86. I can't say I've ever met a more honest mechanic. Gushi-san is the man!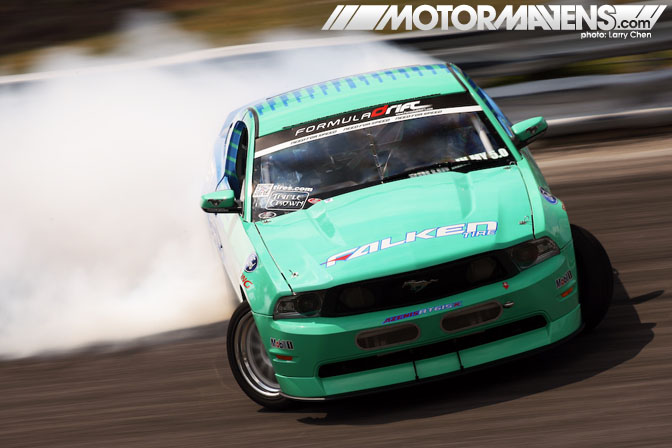 Hmmm… I know this is his third event with the team already, but for me, it sure is weird to see Justin Pawlak wearing a Falken uniform and driving a Ford Mustang. In fact, whenever I see the car, I still always think it's JR driving, even though I know it's really JTP. Regardless of the car he's driving though, JTP always drives very aggressively. He certainly has a different driving style than JR does in his Mustang, and I think it's cool to see the difference. Here's our boy JTP rocking his Stang high on the bank comfortably, as if he was driving his FC3S RX7 and he had done it a million times.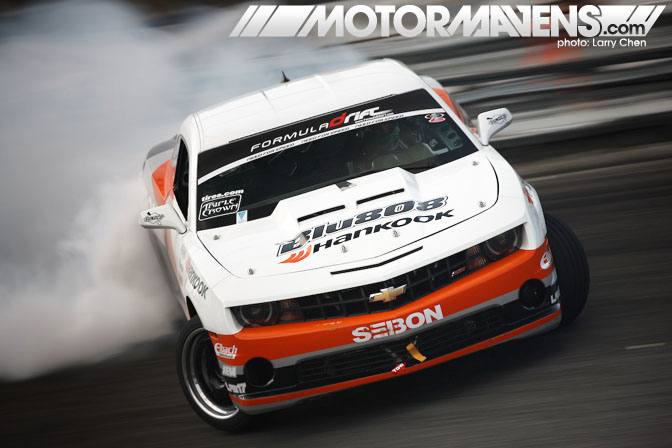 Here's the other brand in the Formula D Pony War! GM-powered Conrad Grunewald's Blu808 2010 Camaro has been nothing short of impressive at every single round thus far. I always look forward to seeing some door-to-door action between Conrad's Camaro and one of the Mustangs in the series!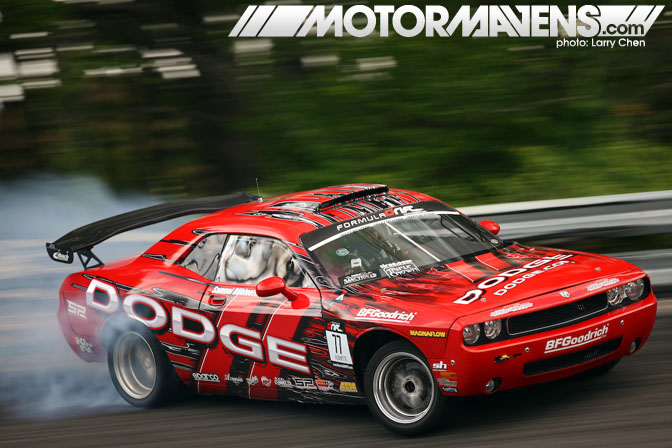 Musclecar mania! I'm not even sure if most of the fans know the details on this or not, but Samuel Hubinette is no longer driving for Mopar… but he did pick up Dodge as a sponsor. It's still technically the same company, but it's a bit different. While Mopar was more focused on the performance applications of the different Dodge vehicles, I think the Dodge sponsorship is more so about promoting sales of new Dodge vehicles. This is why Hubinette now has the red graphics scheme instead of the blue and white one.
Also notice that the car now has a revamped look on the front – it's now RED instead of black. It makes a lot of sense to paint the front of a car in a bright color, so that the cars look more visually appealing to cameras! A higher amount of good photos of your car = more media exposure overall, and the higher chance that the good photos of your car (and your brand) will be seen!
Oh yeah, and I've commented to Samuel's crew chief, Brad, several times about the wheels on the car. He knows they look tiny compared to the big car, but he doesn't care. According to Brad, "a smaller wheel with less rotational mass" is what they want, because it's better for performance. Bring on those 14×8.5s then, haha! (OR possibly, they could try to persuade their wheel sponsor to make lighter wheels..? I suppose people just need to deal with the cards they're dealt.)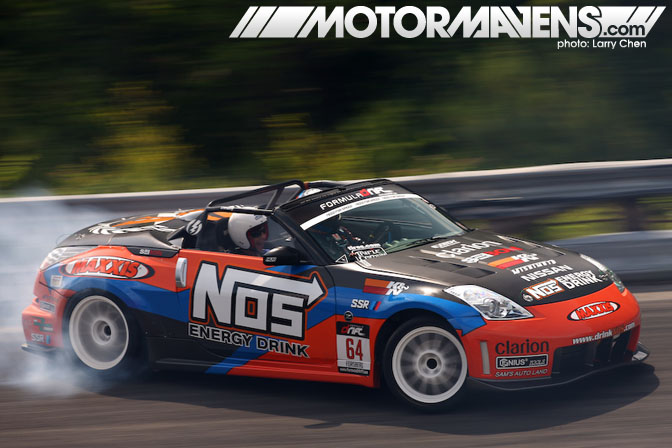 I suppose we should close off this particular round of Formula D NJ stories with a photo of Chris Forsberg and his Nos Energy Drink Z33 350Z Roadster. Of all the "big name" drifters in Formula D, I think that Chris (and his crew chief, Kevin Wells) are probably the best example of a privateer team leaving the security and stability of big corporate backing (Falken) to run their own program…  they've been doing a damn good job of it too. I don't think that there is a privateer team in American drifting that's been more successful than Chris Forsberg Racing… but wait. I wonder if our readers even consider Chris to be a "privateer drifter?" After all, if he's a privateer drifter, then should we refer to Rhys Millen as a privateer driver too? (Rhys runs his own program… but the key difference between Rhys and other drivers is that he always gets top sponsors because he runs a tight ship and is always on top of his game business-wise.) I'm curious to see how our readers view drivers like Forsberg and Millen. Privateer? Or not?
I think for our next installment of FDNJ coverage, we'll just leave the big names out of it and go deep into the grassroots and the stories of the privateers! Stay tuned to MotorMavens for engaging stories from an event that the writer didn't even attend! LOL
:: Antonio Alvendia
Photos by Larry Chen
2AZ
,
350Z
,
3SGE
,
Antonio Alvendia
,
Beams
,
Belle 1 Communications
,
BLU808
,
Camaro
,
Challenger
,
Chris Forsberg
,
Chris Rado
,
Christian Rado
,
Conrad Grunewald
,
Dodge
,
drifting
,
Enkei
,
Formula Drift
,
GM
,
Gushi Auto
,
Hyundai Genesis
,
J-Rod
,
Jarod DeAnda
,
JTP
,
Justin Pawlak
,
Ken Gushi
,
kevin wells
,
Mustang
,
nos energy drink
,
Red Bull
,
Rhys Millen
,
RMR
,
Samuel Hubinette
,
Scion
,
TC
,
TMR
,
Tokyo Auto Salon
,
Toyo Tires
,
TRD
,
Tsukasa Gushi
,
VVTi
,
Wall Speedway
,
World Racing
,
YoParts
,
Z33
---