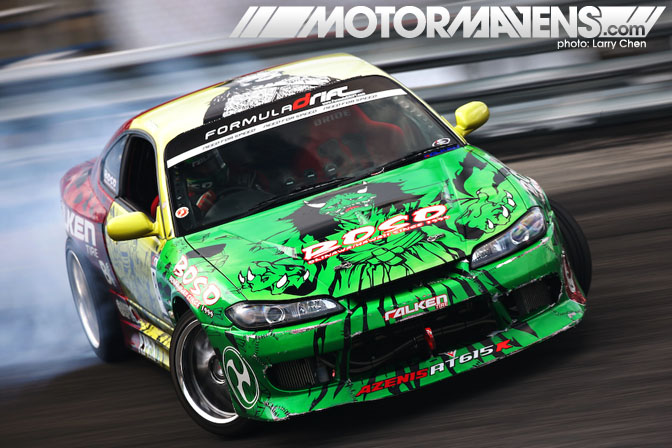 In the last installment of photos from Formula D New Jersey, I took a brief moment to look at some of the big dogs of the sport… I didn't get a chance to touch on all the teams, so maybe we'll revisit that some time in the future. However, right now, I think we should shine our spotlight on some of the drivers that don't get as much attention as they should… this goes out to the heart of the scene… the grassroots!
The first car in this story is Ross Petty's Garage Boso S15 Silvia. Some people might not consider Ross as a "grassroots" driver any longer, because he is now sponsored by Falken, but I still think of him as a being grassroots and hardcore. Together with his business partner Frank Siharath, Ross hustles hard every day at the shop; whether they're selling some used wheels and engines from Japan, or dyno tuning a car with an elaborate engine swap. Ross has been driving as a privateer for a long time; starting in Okinawa, and then moving to Hawaii (you can see clips of Ross driving at early Drift Sessions events on Oahu, if you dig up some old video clips from Grip Video or Green Bottle Video from Hawaii), and finally to the mainland (California). He's gone through several years of paying dues to get where he's at… and that's a concept that so many of the younger generation of drifters don't seem to understand.
So many of the younger drifters (including upstart drift videographers, photographers and bloggers) don't seem to grasp the concept of PAYING DUES. Everyone seems to want something handed to them for free, almost like they EXPECT IT or feel like something is owed to them. That's just not the case, so listen up.
>>> If you want to get big, you need to put yourself out there. If you want to get major sponsor support, then you need to REPRESENT HARD and show people what you're made of, and what you can do. Better yet, you need to do it for the love of it, even without sponsor support… because when companies see that you're going to be doing it anyway, and when they see that you and the people you run with are of quality and have a good reputation, they will want to align themselves with you, and eventually, they will throw dollars your way. (Even though sometimes the relationship might starts with a few cents, not dollars.) However, you have to do it because you love it; not because you're trying to get rich or famous from it. THIS right here, is the true recipe for success in any field. It's great to see that Ross has been pretty successful in following that formula.
Oh, what the hell. Before I get all Anthony Robbins on you, let me break up the motivational speech and give you a little bit of what you want to see anyway – the eye candy! Her name is Megan, and I think she has a gorgeous smile. Agree?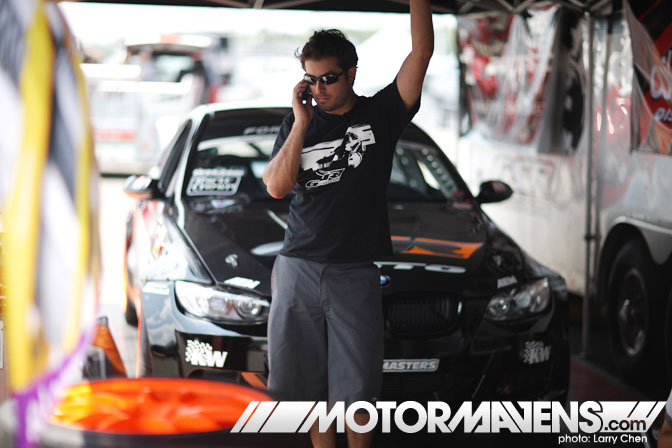 Here's another grassroots drifting success story – Mike Essa from GSR Motorsports is probably best known in drifting circules for the GM LS powered FC3S RX7 he drove last year, but he's certainly charging hard and making some big noise in the Formula Drift series! In case you were wondering, that noise comes from the E60 BMW M5 V10 engine that's sitting underneath the hood of his new black 3 series.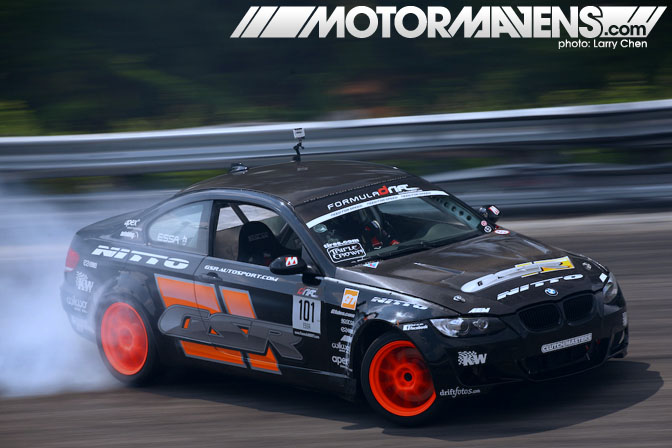 Mike seemingly came out of nowhere and made a big name for himself, and you wanna know something crazy??? Last time I spoke to him, Mike confessed that he couldn't even connect turns in January of 2008; he said he was still practicing doing donuts in a circle in January of 2008!!! And then he earned his Formula D license, began doing well in the series, and then got sponsored for a full new race car build. Can you believe that?! He says it's true!!!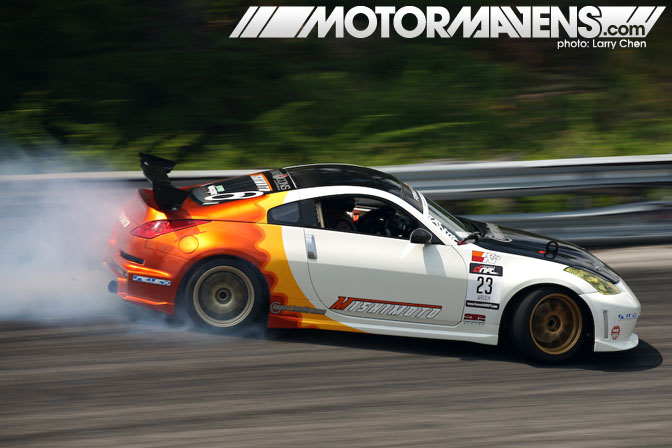 Here's a drifter that I admittedly don't know too much about. This is Matt Waldin, and I first noticed his car in Formula D at Long Beach last year. Ever since then, I've been seeing his name pop up on the internet more and more, as he's been pretty aggressive in getting as much seat time as possible! His Facebook page says he's based in West Chester PA, but I heard he's been traveling all the way as California and Toronto ON (Canada, in case you haven't heard) just for drifting! Awesome.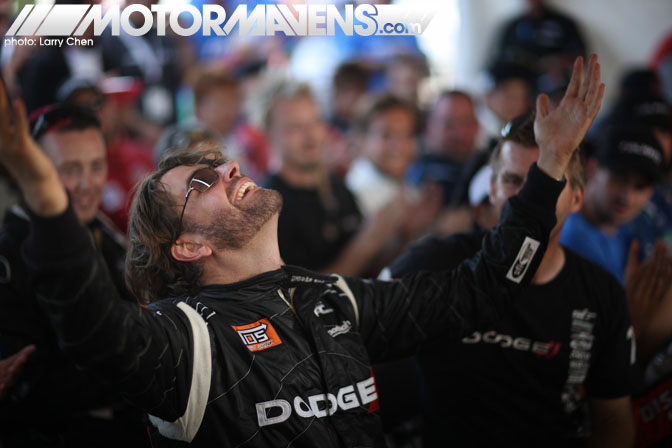 Raising his hands to the heavens here at the driver's meeting is ACP – Andrew Comrie Picard. In case you didn't know, he has a lot of experience as a rally driver and is sponsored by Dodge as a member of Samuel Hubinette's SHR team. I don't think I'd really call him a grassroots driver, but SHR is now a team of privateers without the big money funding from Mopar. They're still sponsored by a big OEM like Dodge, but from what they tell me, it's still a struggle because they aren't getting nearly as much support as they used to with Mopar and Nuformz in their corner.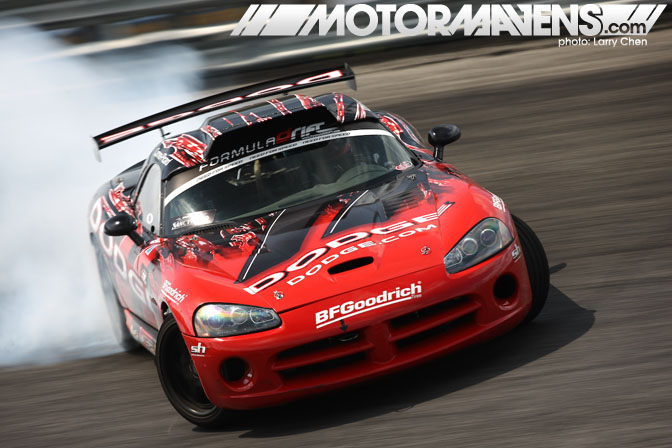 Here's the car that ACP is driving in the series – the Dodge Viper that was formerly driven by Samuel Hubinette. ACP was having some issues with the car at previous rounds, but it looks like he is improving now – that's great to see!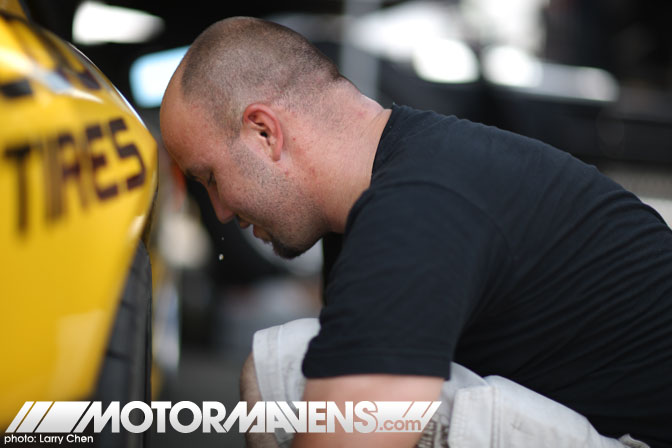 This is Jeff Jones from the San Fernando Valley; the Southern Cali 818 area. I'm not quite sure what he's doing in the pic –  he could be either checking his tire pressure, tying his shoelaces, or banging his head against the rear fender of his car! Hehe… When you look up "grassroots privateer" in the dictionary, you see Jeff Jones' face. This guy competed last year in a Nissan RPS13 with a turbocharged Supra engine in it (take THAT to all the people that put SR20DETs in Toyotas!), but this year, he has upped his game with the debut of his newly built FD3S RX7.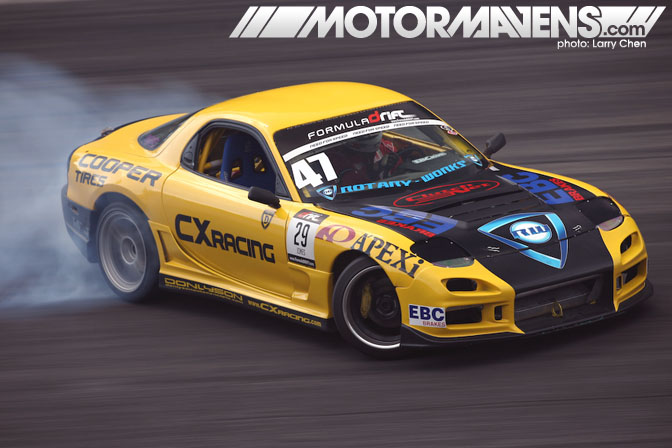 Here's Jeff's FD at Wall. I'm not quite sure, but from the looks of the spinning rear wheels, it appears like he's running Enkei RPF01 wheels wrapped in Cooper Tires. FD owners help me out here… not sure what kind of aero he's using. Is that a DRFT style front bumper?
I heard that Jeff's car is getting a graphic refresh pretty soon, which is pretty exciting to me! Anyone who reads this blog will tell you that I'm not only a fan of great looking cars with high levels of performance, but I'm also a fan of cars that have cool liveries and graphics. I'm not quite sure about the other details of the car (like what kind of mirrors those? I think I used to know a guy with mirrors like that on his 1980 Corolla… I didn't know they made them for FDs too?), but either way, Jeff and his boys are always out there pushing hard, and you gotta respect that… I'd love to see this guy succeed and start killing it at Formula D! Maybe we'll take a closer look at his FD in the future.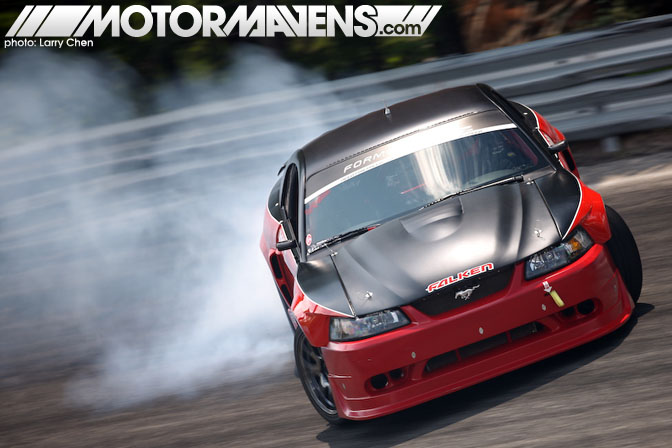 I think the last vehicle we'll feature on this particular update is this Ford Mustang, driven by Doug Van Den Brink. I've seen Doug's Mustang out at Formula D events in previous years, but man… that thing is really starting to develop! It's probably one of the craziest evolutions of that body of Mustang I've seen. (Sorry, I don't know chassis codes or anything for Mustangs.) I think we should probably take a closer look at this car too. From what I remember, I think it has rear mounted turbos or something near the exhaust, but I don't know all the details. It's certainly worth a look! I know I've never seen that type of widebody overfender kit on a Mustang of that type before. Car details aside, it looks like Doug had no problem riding high on the banking at wall – that takes skills!
Okay, that's it for now… I need to get to the office and FTP photos to some clients! Keep MotorMavens in your Favorites, because we have a lot more grassroots driver stories coming soon!
:: Antonio Alvendia
Photos by Larry Chen
(Privateer Drivers: You should buy copies of your photos from Larry at DriftFotos.com and show support to the people who support you!)
---