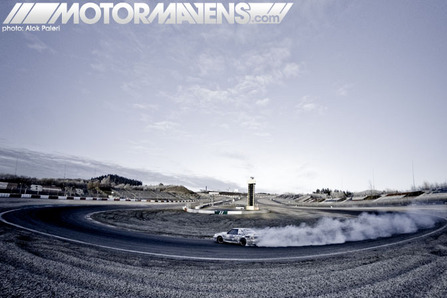 This is the time of year when people begin to pull coats and cloaks a bit tighter in anticipation of the weather to come. As a personal homage to this gradual increase of outer garments, I decided to fly to Germany and cloak myself with a little tire ash. Acknowledging the inevitable end of reasonable weather in Deutschland, the International Drift Series (IDS) brought the fight back to the Nurburgring for the conclusion of their season – although, this time around, there wouldn't only be IDS drivers at the event. There were three events in one: The Season Final for the IDS Street Class, The Season Final for the IDS Pro Class, and The Falken European Drift Championship (FEDC). The FEDC was an event that the IDS folks put together to give drifters from all over Europe an opportunity to show their stuff in a single event setting. Drifters from Denmark, Hungary, England, Poland, Luxembourg, The Netherlands and Switzerland among others, all made the long roadtrip. Having a drift competition on a section of the Grand Prix track meant epic entry speeds combined with technical sections and a lot of visits to the gravel traps.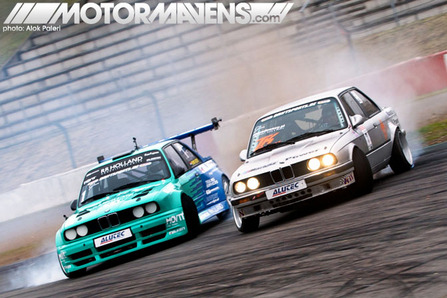 This is one of my favorite scenarios: a big dog, Remmo Niezen (Netherlands), against an eastern European local, Mariusz Manczak (Poland), battling it out in their V8 E30's. Remmo and his Falken E30 ended up winning not only the IDS Final, but also the Falken European Drift Championship.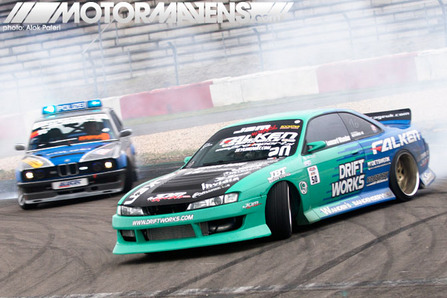 The S14 of Lennard Wanders is often hailed as one of the sexiest drift cars in Europe. Notice the Blister-ed fenders being chased down by a familiar ride.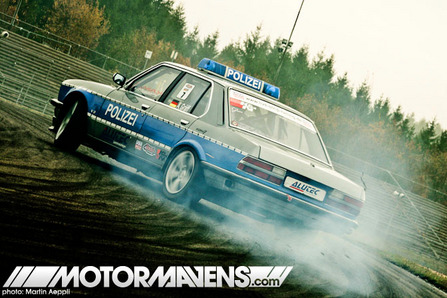 Yes, ladies and gentlemen, it's true. Alexander Graff was back in action. The car, which was completely totaled when he and his spouse collided earlier in the season, was completely replicated with this new chassis.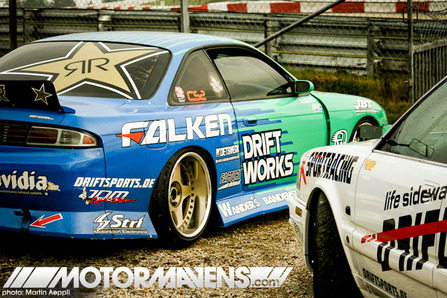 This is what I like to see in the pits. A Drift Works driver parked right next to a privateer like Florian Zimmermann (Switzerland) and his RWD Audi.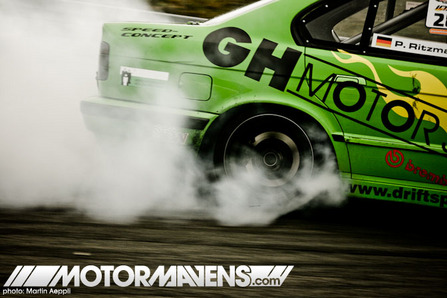 Patrick Ritzman (Germany) fared well in his rookie season. I can't wait to see him out next year when he puts a newer M5 V8 in this classic E34 M5.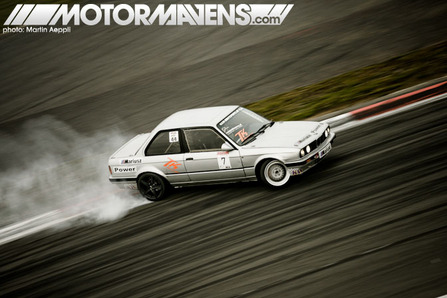 The track gave the drivers a challenging playground where they could utilize practically every technique they knew. Here, a high speed chicane transitioned into a tight uphill section which then led into an up-shifting sweeper.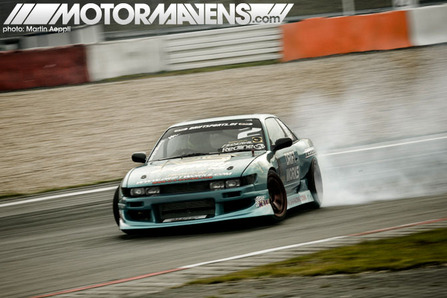 Dan Chapman (England) was unfortunately knocked out early in the competition due to an e-brake failure. The intensity of this guy's driving is inspirational.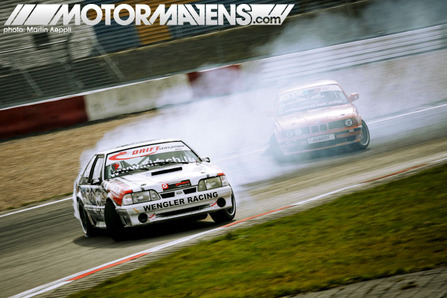 This is Yves Faber in his Fox-body Mustang being chased down by Rohan van Riel. When not ranting in Luxembourgish, these "Luxembourgians" truly showed they could drive -so much so that Faber ended up in the second podium position at the end of the FEDC.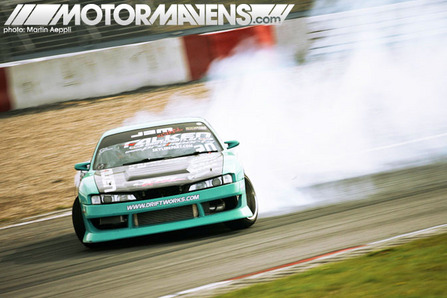 I understand that this is the third picture of Mr. Wanders and his S14, but DAMN! It's just so sexy!
The word epic is thrown around all too often in motorsports, but this may be a track where that word just doesn't do justice. The event organizers along with the drivers made it an amazing weekend. The competition was fun and the weather, even so late in the year, permitted some wicked smoke. I can't wait to see what next year brings.
Results
The Falken European Drift Championship (FEDC):
1st place: Remmo Niezen (Netherlands)
2nd place: Yves Faber (Luxembourg)
3rd place: Michael Sahli (Switzerland)
:: Faruk M Kugay
---