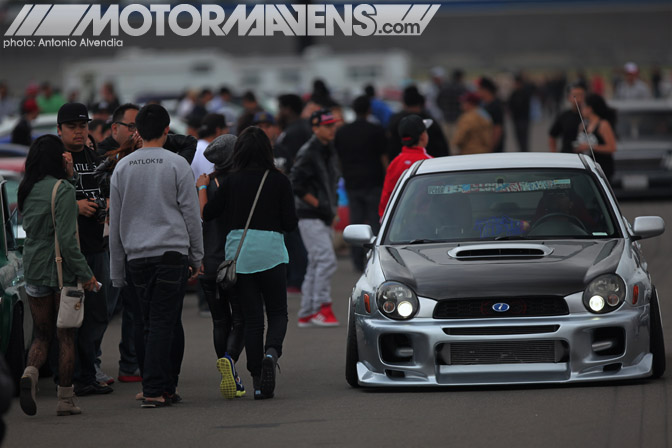 This weekend's inaugural Speed&Stance meet was crazy!!! I can't believe so many people turned up to the event, because we organized and promoted the entire thing in only five days. FIVE DAYS! Thanks to our friends at Speed Ventures, we were able to throw this gigantic car event in the parking lot of Auto Club Speedway in Fontana!
We advertised the meet to run between 12 noon and 5pm, but every single one of the infield parking lots at the speedway were FULL by 2:45pm! There was a crazy line of cars backed up from the infield parking, through the tunnel, wrapping all the way around to the Cherry Avenue entrance! I was told that once the parking lots allocated to the event hit capacity, the people at the gates had to turn away well over 100 cars! Insane.
Since traffic and road congestion became an issue, the good folks from Auto Club Speedway quickly opened up a couple more parking lots so that cars could pre-stage before rolling in to the actual show area, which saw both autocross and high speed road racing with Speed Ventures on the ROVAL course, and a beginner level car control clinic for Scion FR-S and Subaru BRZ owners called the 86 Dynamic Driving Academy.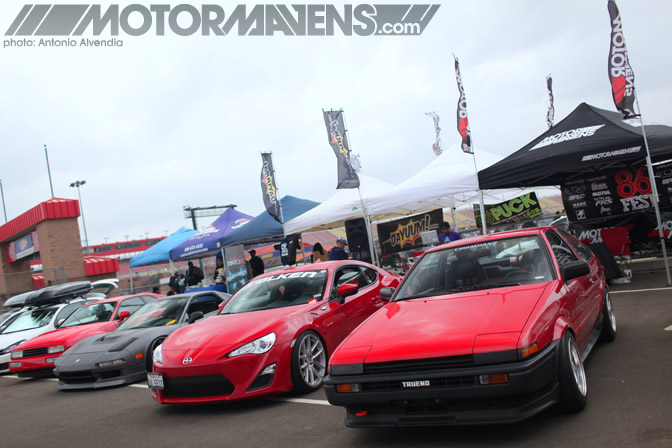 While the rest of our FR-S and BRZ friends who attended 86FEST learned how to do donuts, J-turns, and navigate a tight, technical course in the 86 Dynamic Driving Academy, Mike Kim and I decided to park our matching red cars (Mike's 86FEST Scion FR-S and my Cipher Garage zenki AE86 hatchback) in front of the MotorMavens booth to promote our upcoming 86FEST event at Auto Club Speedway on August 10 & 11 weekend. Mark your calendars!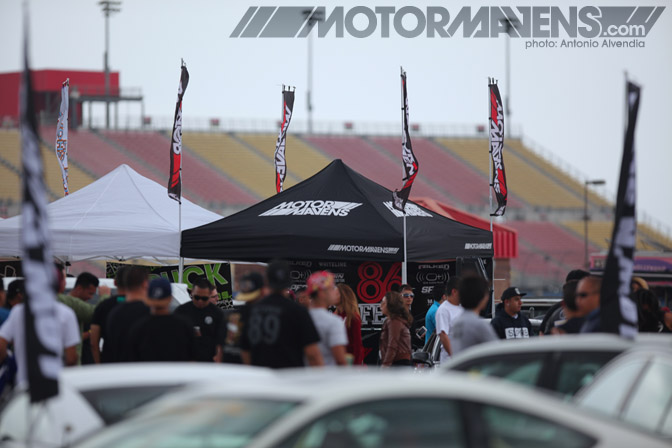 The area around the MotorMavens booth was packed all day long, and we were very happy to have our booth anchored together with our close friends from DaYUUM!, Fatlace, Eco Shine Auto, Dub Nation, and California Car Cover, which was displaying its Golden Shine line of car care products, as well as this super low and light jack, which was specially designed just for lowered cars!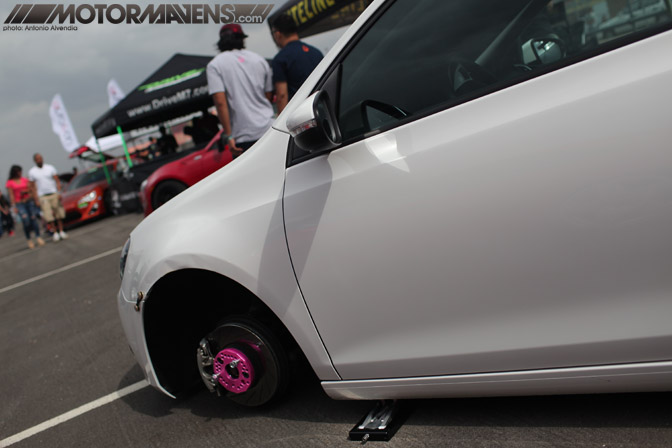 Our good friends Mitch and Tim Sison (Ahem… just to clear up the fact that they share a last name… they're brothers, not domestic partners. LOL) from Eco Shine Auto and Bernie Chacon from Dub Nation had the low jack on display at the booth. Bernie even jacked up his super low 2010 Volkswagen Golf TDI (aka Project Mk6) so everyone could see the capabilities of the jack!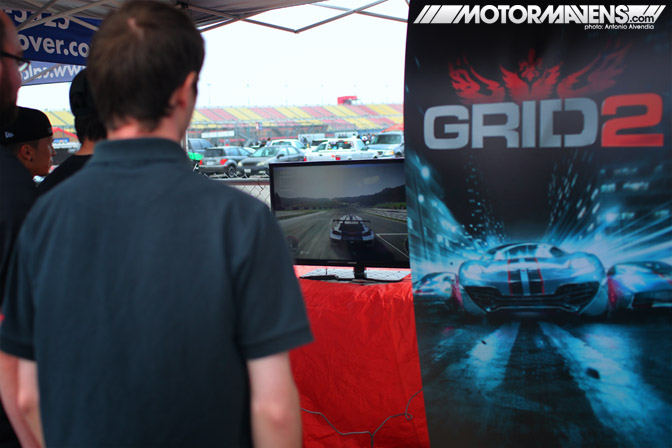 The good folks from UK-based video game company Codemasters were out at Speed&Stance this weekend also! Tons of event goers got the chance to play the not-yet-released GRID2 video game before its official release in retail stores! You can pre-order the game by clicking here.
We love wheels with super fat lips. Ella Mae here decided to show off just how fat Mr Seam's BMW Z4 wheel lips were by actually sitting inside his wheel! The members of the Low N Slow Crew from the San Fernando Valley are always up to something…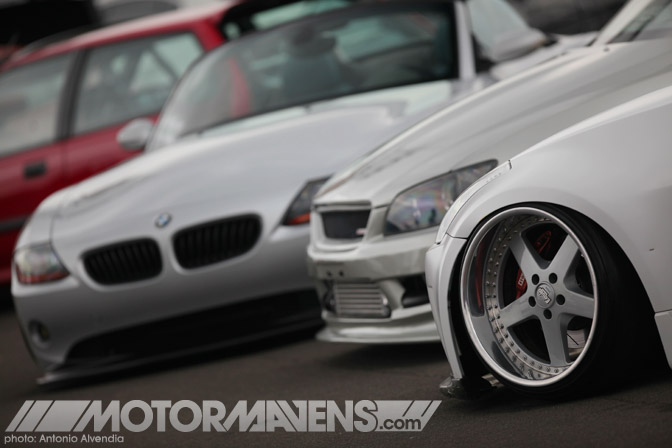 The Low N Slow crew rolled out deep, with something like 30 cars.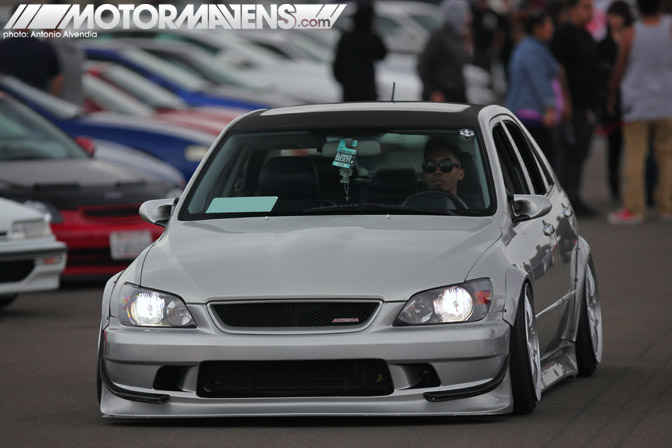 This clean silver Lexus IS300 broke necks with its super low slam! And those mirrors!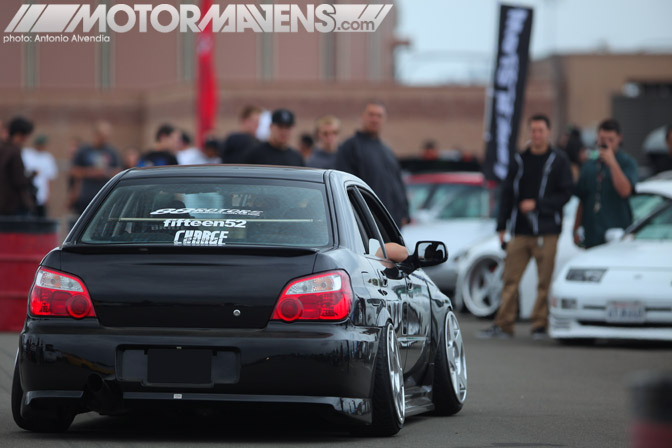 It's not often we see a Subaru Impreza WRX sitting on Fifteen52 Tarmac wheels. What do you think? Dig the look?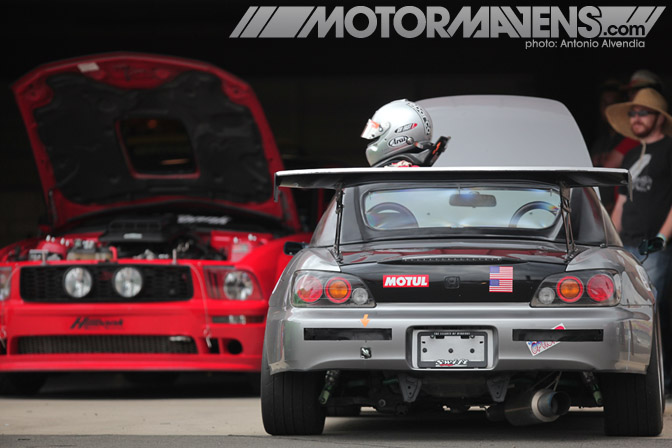 From the looks of the previous photos, we have the stance part of the event covered, but now check out the SPEED representatives! This Honda S2000 looked aggressive out on the track with its meaty tires, and track day setup! Check out the big GT wing, which is actually functional for creating high speed downforce on a steep banking of Auto Club Speedway, with slits cut out of the rear bumper to reduce air drag. The Mustang behind it looked pretty mean out on the track as well! Which of the two would you rather drive?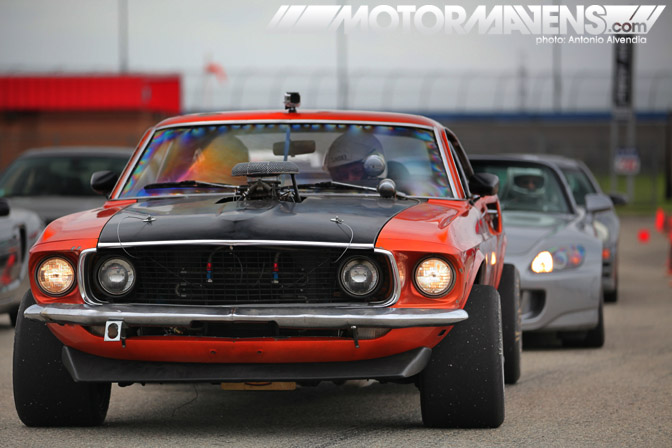 Speaking of mean looking Ford Mustangs, check out the offset and the meat on this Stang! It was lined up on the grid, getting ready to enter the autocross course. The front lip looks cool, as well as the hood mounted gauge! I think if the wheels were a proper offset (more positive), the car could sit lower and have a lower center of gravity. But what do I know? This guy probably runs faster than I do in autocross.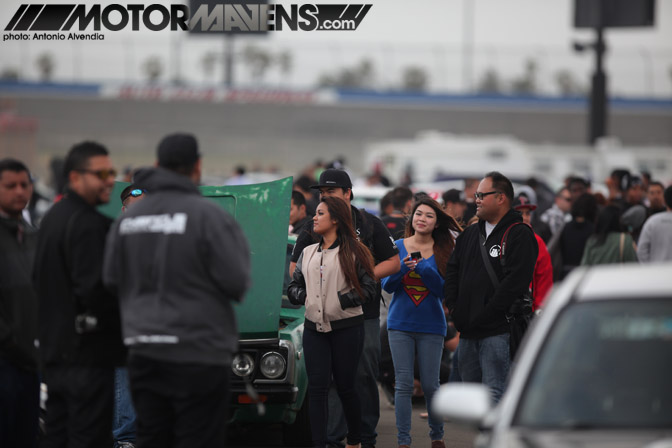 Seriously, there were soooo many people at our event. I couldn't believe it. In fact, I still can't believe it. TONS of cars, tons of photographers from many different media outlets, and we didn't even have to enlist the help of our hot model friends to promote the event. Not a single one.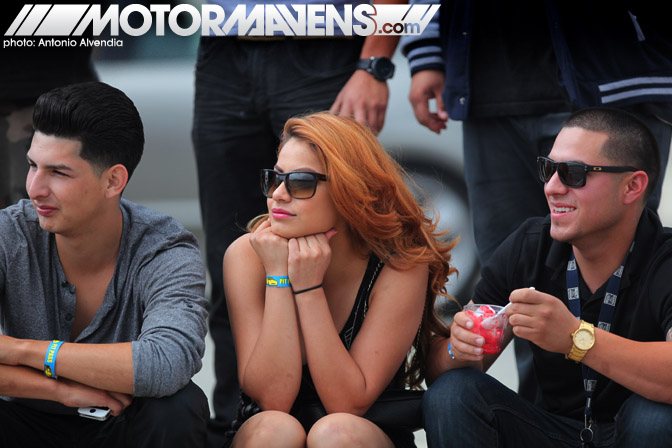 There were still plenty of ladies at the event though. Some of them were watching the action with friends at the autocross course…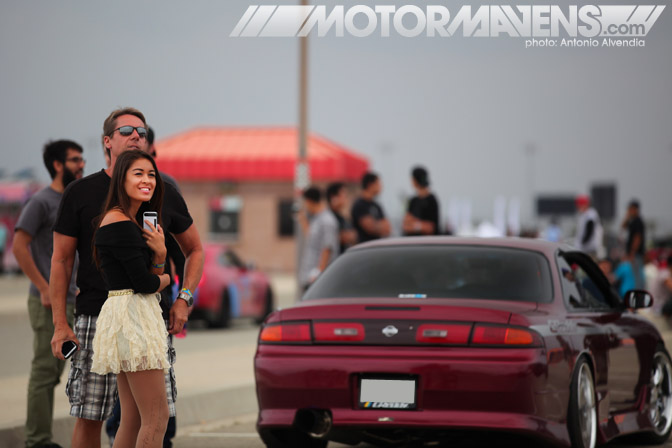 Some had fun watching the cars sliding through the course in the 86 Dynamic Driving Academy section…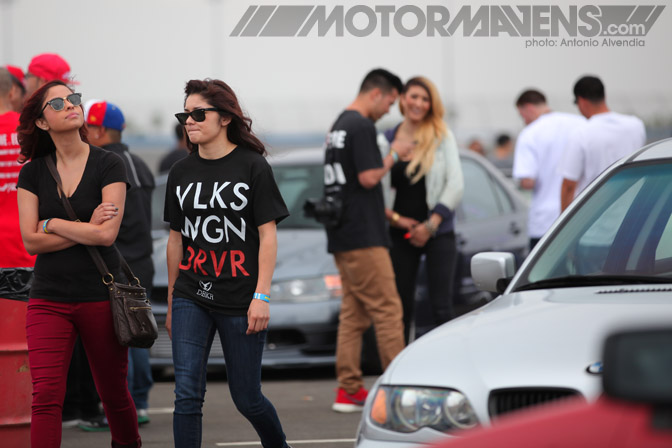 Some were just walking through the meet area looking at cars and enjoying the weather. The girl in the back looks like she's giving out her phone number. Nice! haha!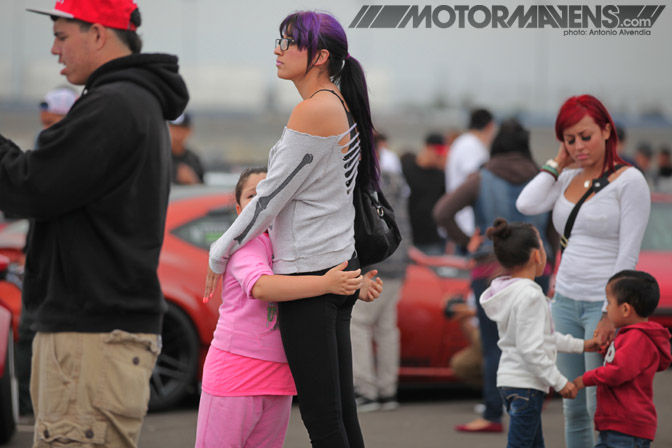 Others were just checking out the cars with their kids!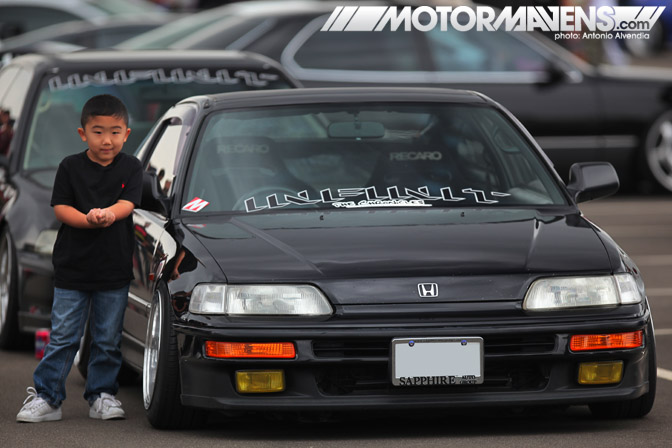 Actually, there were LOTS of very young car enthusiasts at the event. This is Nathan with his favorite CRX from the show – the legendary Infinit Wheels RHD Honda CRX SiR.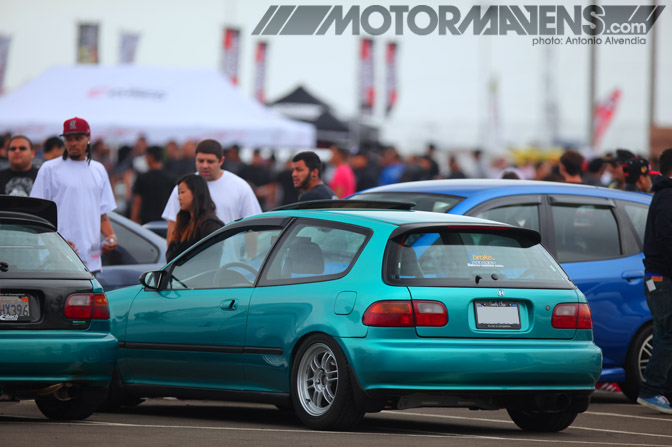 Seriously, this event was hella packed. And some of the event promoters on the flyer didn't even show up to the event. And some didn't even promote it or post anything about it on their social media channels. And the turnout was still crazy!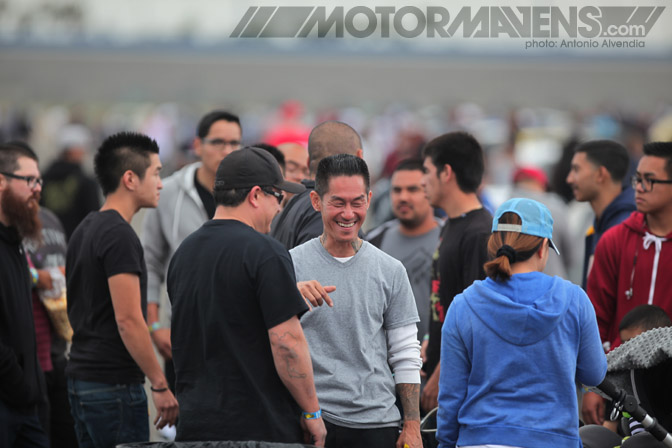 We had attendees from all different age groups, ethnicities, and economic backgrounds. Everyone just came together to have FUN and to enjoy the Southern Cali car culture!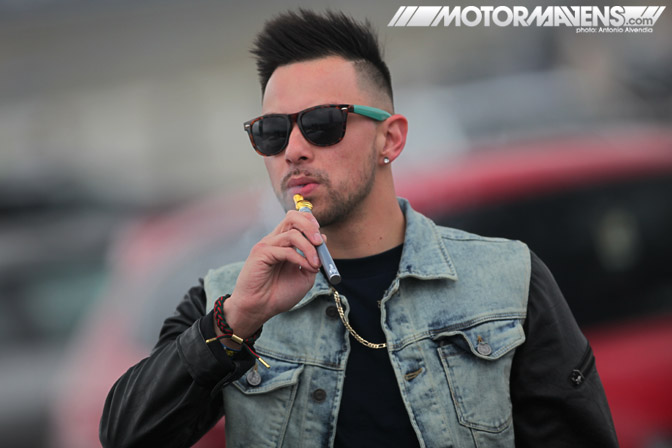 This guy! Our good friend Lance Feliciano came out to promote his new shop, Vape Supreme. Lance graciously donated a vape setup to our Speed&Stance raffle. It was won by the guy with the bad ass green Mazda Rotary Pickup!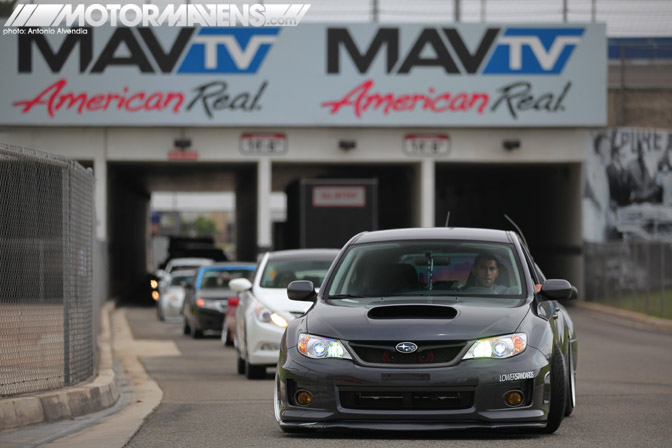 Check out the line of cars that stretched all the way from the venue parking lot past the infield tunnel!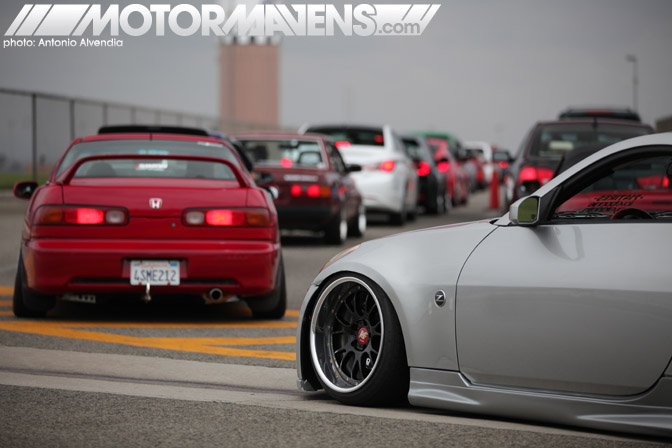 Once the cars got past the infield tunnel, they were split into two different lanes to roll in to the event.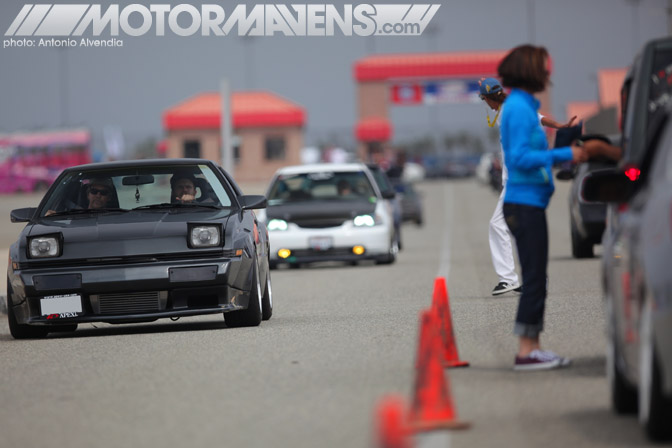 There were a few cars that exited the event early, but there were a LOT more people that were still waiting in line to get in. Check out the front mount intercooler and aggressive fitment on this bad ass Mitsubishi Starion.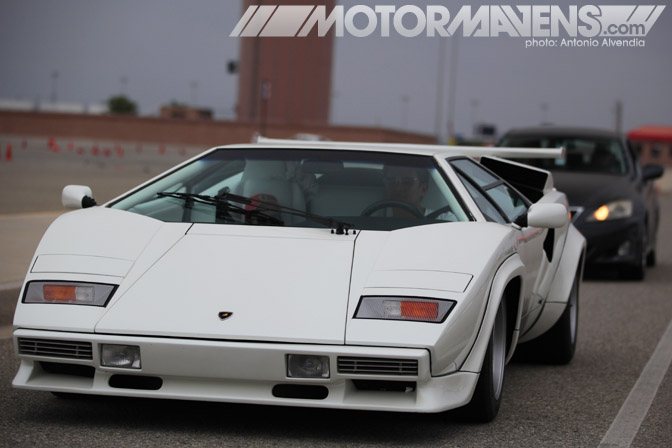 This is James Chen, owner of Axis Wheels. We talked about the event on Facebook, and I asked him to bring his gorgeous white Lamborghini Countach out to the event… and he actually did! Thank you for coming out, James!!! That car is so beautiful!!!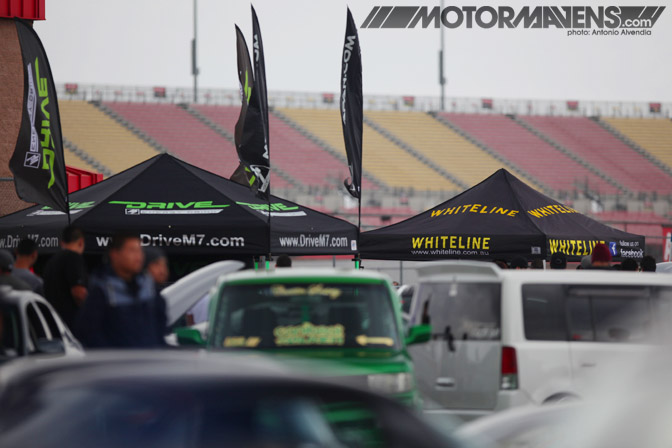 Lots of our industry friends were out at the event with vendor booths, showing off their latest and greatest products, like M7 Japan, Cusco, and Whiteline Suspension.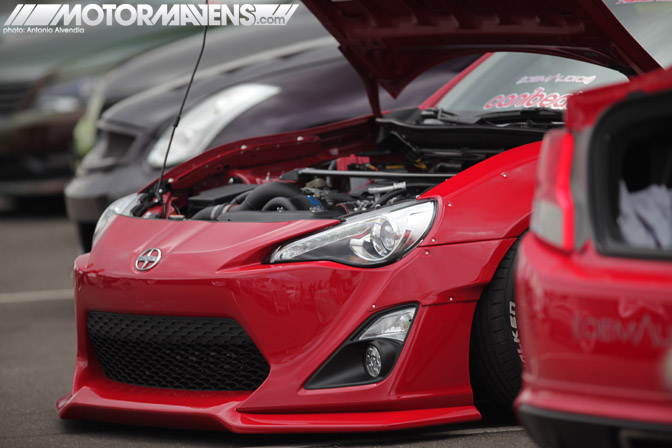 OEM Audio Plus debuted their new twin-subwoofer SL Series audio system for the Scion FR-S by using Canibeat Noel's crazy hypebeast FR-S build. We all joke about how everyone wants to be like Noel, and even use the #CanibeNoel hashtag on Instagram, but seriously… this guy built an awesome looking car. It's the most original and lowest of all the Rocket Bunny equipped FRS builds in the United States. Respect.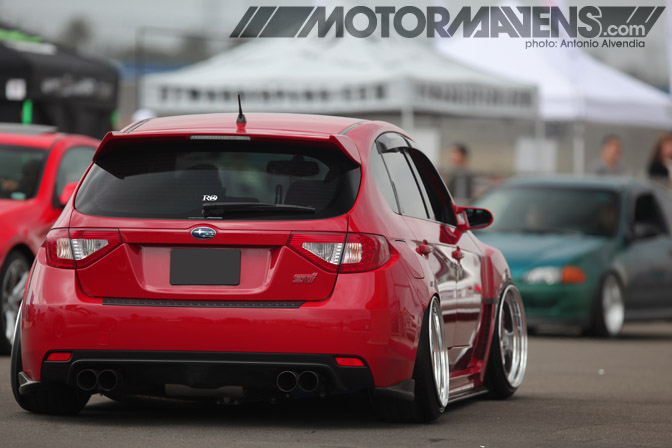 This Subaru Impreza WRX STi looked awesome with its aggressive stance. Traditional Subaru die hards will probably hate it though. The debate between form and function will probably never end…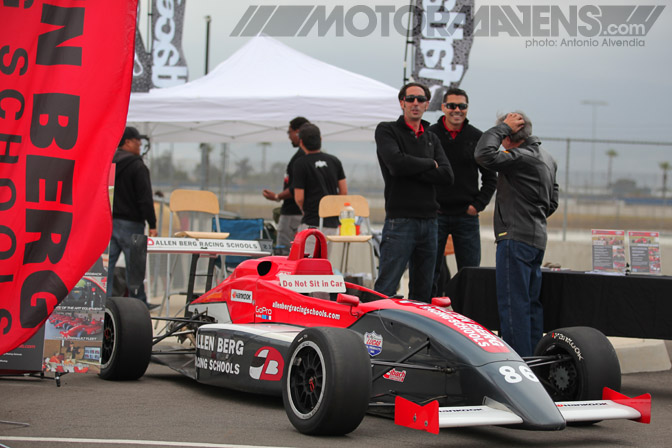 Most of our show attendees naturally look to power-adding mods for their engines when they think of driving faster. However, most of these guys don't realize that all cars are only as fast as the driver's ability. Fast cars don't make fast lap times – fast drivers do.
This being said, we invited Allen Berg Racing Schools to come out and set up a display at our Speed&Stance event. They brought out one of their open wheel school cars to speak to event attendees and show off a car that was capable of higher speeds and had a lower stance than most of the cars in attendance. Look at the front camber too.
The number on the nose cone was even 86!!! What a coincidence??!?!?!?!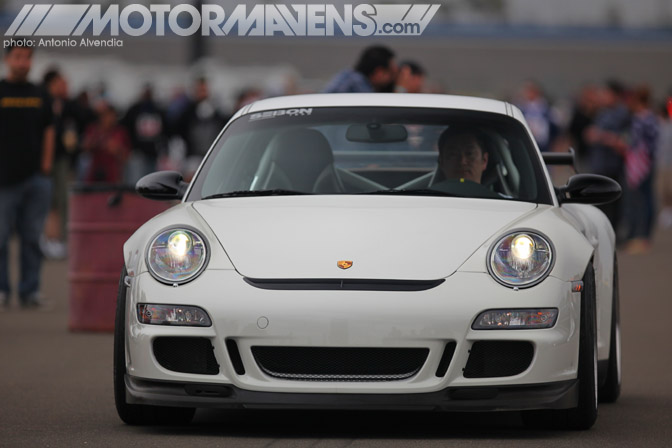 This guy is the man. Our long time friend Sean Lee, the founder of the Purist Group of car afficionados took a break from his driving instruction duties at the 86DDA course to chill with us and park his beautiful white Porsche 911 GT3RS at the MotorMavens booth next to my old red AE86. This car has been previously featured on MotorMavens, and don't be fooled into thinking this GT3RS is a Cars&Coffee showboat. This car is built and well tuned, and Sean stands apart from many Porsche owners out there, because actually knows how to drive it fast.
When you see the headlights of a seasoned canyon runner and track day veteran like Sean Lee in your rearview mirror, you definitely want to GTFO of the way. And like other well known Porsche owners like Nakai-san and Shinji from Rauh Welt in Japan, Sean says his love for performance driving all started behind the wheel of his red 1985 Corolla GT-S coupe. AE86 for the win.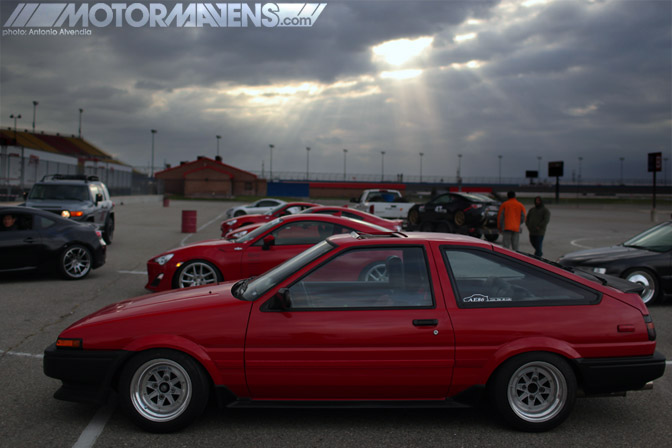 Huge thanks go out to Robby Caballes of R Spec Autoworks in Van Nuys CA for the suspension adjustments to my AE86 before the event and for bringing the MotorMavens tent out to the track for me! And thanks to my boys Anthony Juarez, Johnny Juarez, Midget, and John Sayno of Team Infinit for helping me transport the MotorMavens booth back from the event!
Thanks to Mike Kim and Daniel La Blanc from OEM Audio Plus for helping during teardown of the booth even though he was late for an important dinner date with his wife, and thanks for fay jai Danny Truong of Infinit Wheels for letting me use his Honda Ruckus to get around the event and snap photos all day!
I have TONS more photos from Speed&Stance! I'm still editing photos, so I'll be posting up more photos here on MotorMavens and on our Facebook page! THANK YOU to everyone who came out to the event! The turnout was incredible for only FIVE DAYS of promotion! Can you imagine what it might have been like if we promoted it for like… two weeks?
:: Antonio Alvendia
86 Dynamic Driving Academy
,
86FEST
,
911
,
Antonio Alvendia
,
Auto Club Speedway
,
autocross
,
Axis Wheels
,
Bernie Chacon
,
BMW
,
BRZ
,
California Car Cover
,
Canibeat
,
Cipher Garage
,
Codemasters
,
Countach
,
CRX
,
Dayuum
,
Dub Nation
,
Eco Shine
,
Eco Shine Auto
,
Fatlace
,
fifteen52
,
Golden Shine
,
Golf
,
GT3RS
,
homepage
,
Honda
,
import model
,
Impreza
,
Infinit Wheels
,
IS300
,
James Chen
,
lamborghini
,
Lance Feliciano
,
Lexus
,
Low n' Slow
,
Mike Kim
,
Mitch Sison
,
MotorMavens
,
OEM Audio Plus
,
Porsche
,
Project Mk6
,
Purist Group
,
road racing
,
Robby Caballes
,
ROVAL
,
Scion FR-S
,
Sean Lee
,
SiR
,
Speed&Stance
,
stance
,
Stance Nation
,
State of Stance
,
Subaru
,
Tarmac
,
TDI
,
Tim Sison
,
Vape Supreme
,
Volkswagen
,
VW
,
WRX
,
Z4
---