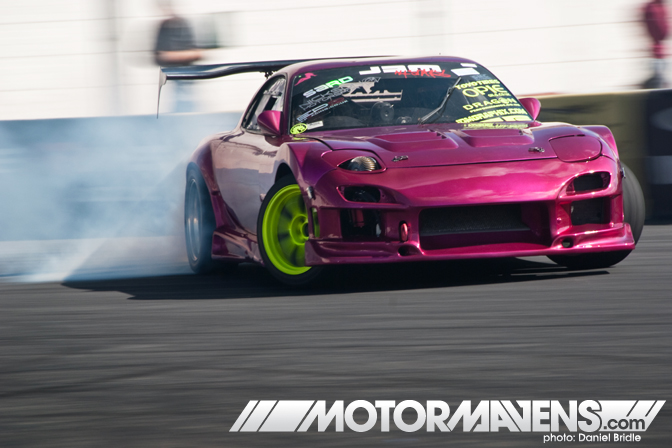 For the third year in a row JDM Allstars returned once again to the city of London in what can only be described as the landmark event of the series – Wembley Stadium. For reasons I'm not quite sure about, this years round was dubbed "THE BIG SMOKE." But over the weekend it became a very fitting title. In fact as I sit here writing this I'm still coughing and finding the remains of many deceased Federal, Nexen, Kuhmo, Neuton, and whatever other tyre brand you can think of, in my ears and nose.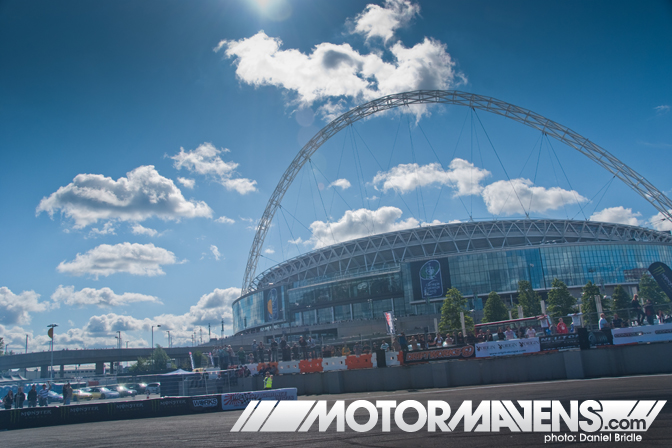 Wembley is THE event to go to in the JDM Allstars calendar. Drifters from all over Europe and even outside of Europe flock to Wembley to step up to the plate and show their talents in the competition. So bright and early (way too early) Saturday morning, I headed down into London to check out what was going on.
Usually I like to hang around the pits for a while to chat with drivers and friends, but with briefings to attend to and with the large amount of drivers competing, practice had to get underway pretty sharpish and I didn't want to miss out on any of the action. So I made a move out to the track and started shooting. So here are some photos from practice and qualifying!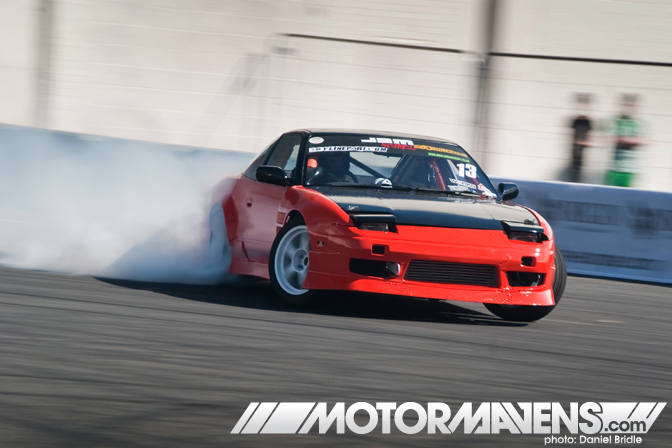 Matt Chiappa and his 200sx S13 is probably as grassroots as it gets in a pro competition. He seems to have struggled a little this season, but considering his tight budget and next to no sponsors he's done very well to drive at every event so far. But something changed this weekend, finally he got his break with the Severnside Imports/Low-Brain Drifters crew taking him under their wing. The car was resprayed (it was meant to be red but came out kinda orange) and lowered, and damn… He was driving superbly and the S13 was looking SO much better!
I try to refrain from preaching my opinions in my writing, but I had a discussion with MotorMavens Editor in Chief Antonio Alvendia about the subject of what making a competition car look better can do, and the simple fact of the matter is this. Whether you're the best driver in the world or not, if your car looks good and is well presented, you're a 100x more likely to have photos of it taken and posted on the internet and in other forms of media. If it's a big ugly battered car with a 4×4 ride height and horrible decals, no one wants to see that. Drifting is one of the most visual motorsports there is in my eyes and style is very important. Sponsors want to see a lot of coverage and a good looking car is a very easy way to get it!
So it's great to see that competition cars over here are getting better looking each year. Well done to Matt for doing a great job, and I hope he gets some more sponsors on board to help him with his drifting career!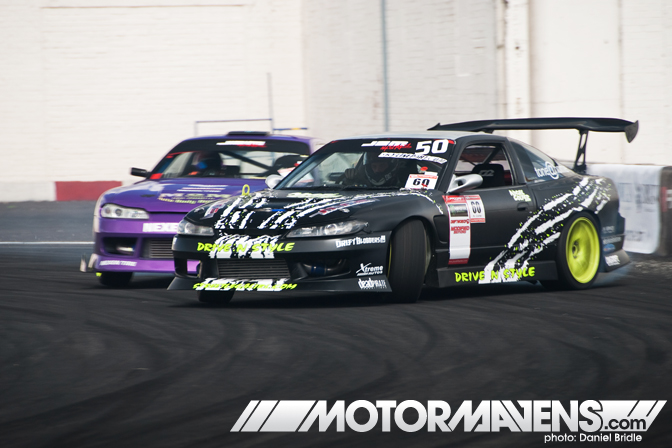 It was great to see the likes of Irish drivers Nigel Colfer and Christy Carpenters with their amazing S-chassis. I have to say though, Colfer's graphics on his S15 front ended 180SX made me think he was sponsored by Monster Energy Drink!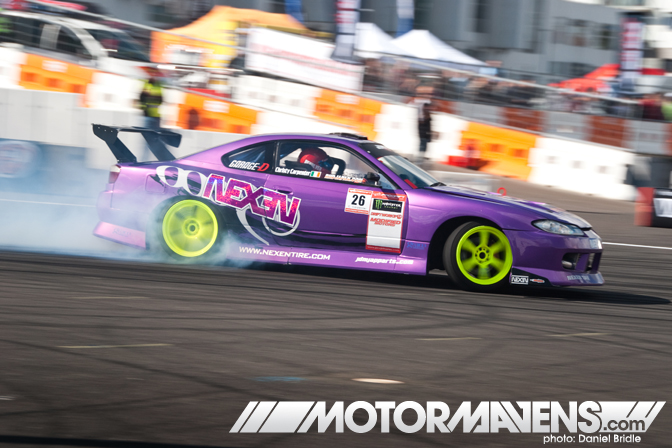 Probably one of the most beautiful cars in the line up is Christy Carpenters 1JZ-GTE powered Nexen Tire S15 Silvia. The purple paintwork is simply stunning in the flesh!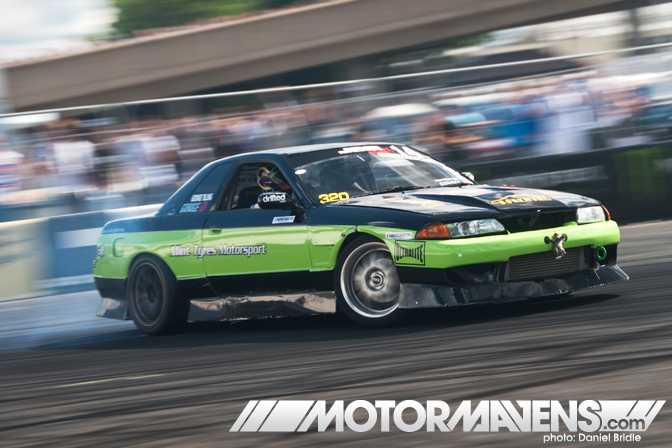 George Tilling was absolutely killing it this weekend in the Mint Tyres R32 Skyline. He qualified 11th and went onto well… I'll save that for part 2, I'll just say he became a crowd favourite on Sunday. It was pretty heroic!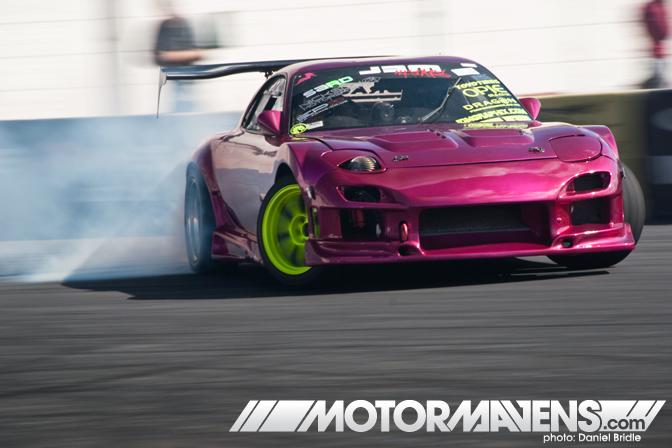 The Dragon Performance RX-7 FD3S was looking much better than since I last saw it at Manchester. New candy pink paint and a complete lack of graphics made it look pretty clean and street looking. What makes this car so cool though is the noise though; oh my God, the noise! I've met many people who either hate or love the sound of a rotary, but for me there's just something about it that makes the hairs on the back of my neck stand on end. The way it echoed around the arena thanks to all the surrounding buildings was amazing. I wonder how far away you could hear it in the city?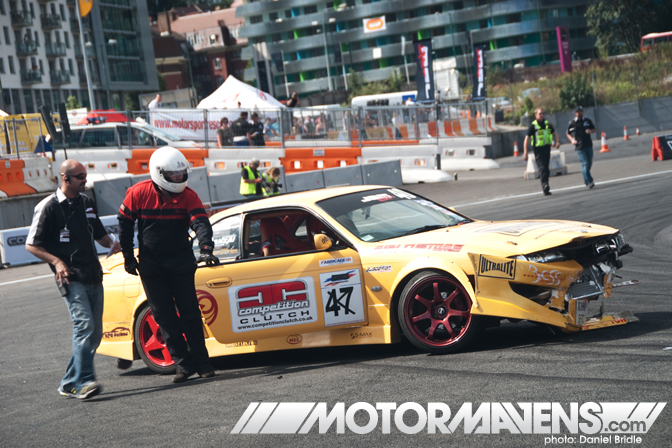 Ooops. The one time I turn around to talk to someone, there's a crash! Daniel O'Brien had a nasty encounter with Vincent Noott's PS13 Silvia. It looked like it was pretty unavoidable. They were twinning close around the main sweeper corner that runs close to the wall and Daniel span as they reached the tighter part of the corner, Vincent just didn't have enough time to react and went straight into the front end of Daniel's S14.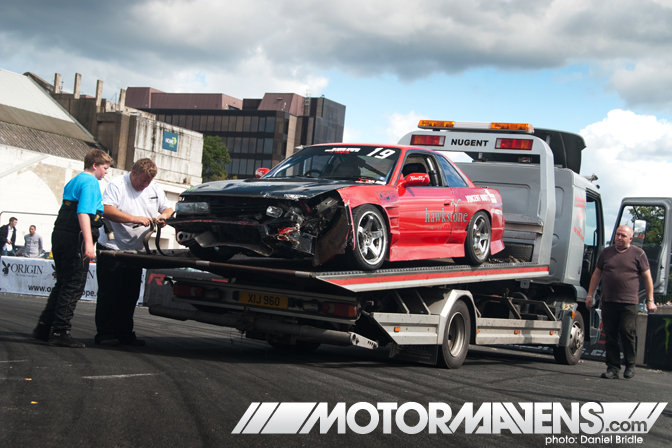 It looked pretty bad visually for both cars, but the S14 went straight off to the bodyshop and I'm not sure how Vincent's PS13 was repaired but by the time qualifying started both cars were back out there driving!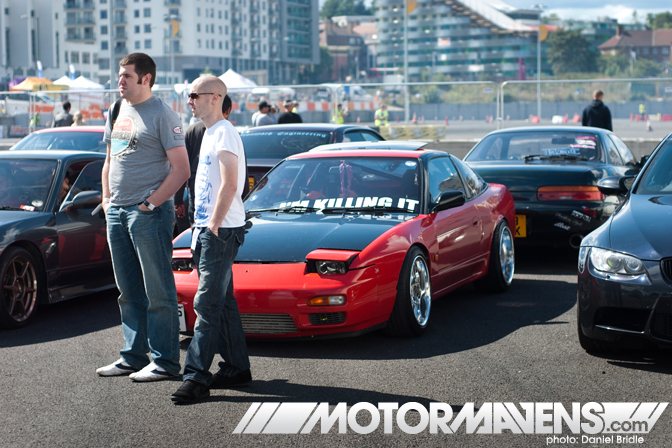 Whilst the accident was being tidied up I took the chance to grab some lunch and check out the Driftworks Clubstand. The turn out was the biggest so far, and there was some pretty sick street drift cars on show and yes that is a brand spanking new E90 BMW M3 on the right! I wish I had spent a little longer taking photos of the cars there.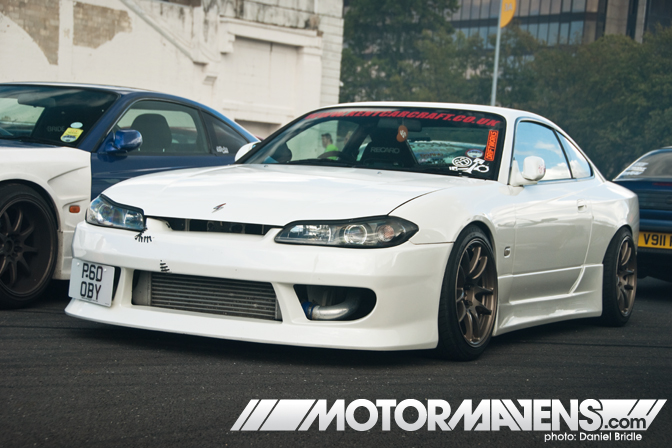 One of my favourite cars on the stand was this Vertex kitted S15. I couldn't find the owner to ask some questions about it, but it was beautiful! The S15 in my eyes is truly one of the best looking car designs Nissan ever came up with, it's a shame they don't make cars that look this good any more. Come on Nissan, get your act together and design something like this again!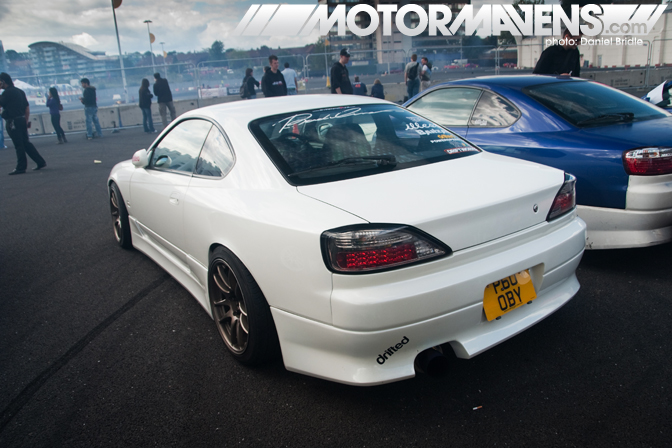 I thought I'd throw in this cheeky wee rear shot of the S15 too. I'm loving the fact more S15s are coming out of the woodwork in the UK and fortunately most owners of them seem to have good car style!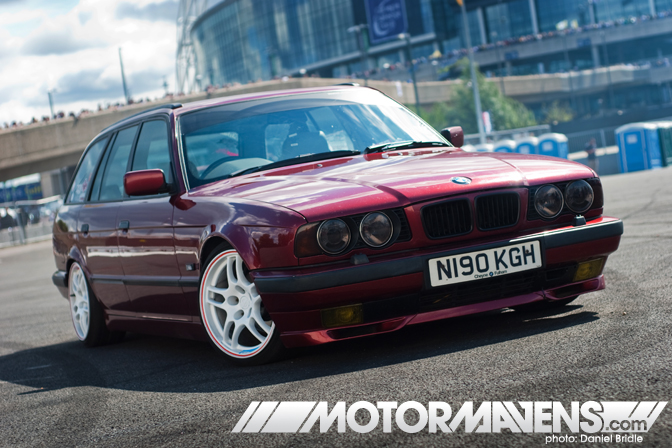 The organiser of the clubstand, Graham Beatty's BMW 540i E34 Touring gets more and more badass every time I see it. Thanks to a set of hub adapters Graham's BMW now runs the more popular 114.3 stud pattern so he can fit Japanese wheels. The car was rolling on Rota Grids for a while but Graham picked up a set of R33 Skyline GT-R rims and repainted them white with a matching red stripe. How many other BMW Tourings in the world run GT-R wheels!?
He's also slammed the car some more and sprayed the grill matte black. This thing looks tough as hell.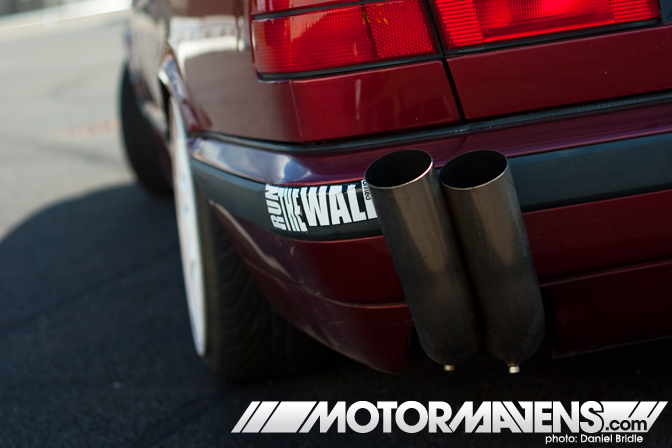 Another little addition was this set of not-so-subtle Bosozoku style exhaust pipes. The V8 sounds ear splitting through these now!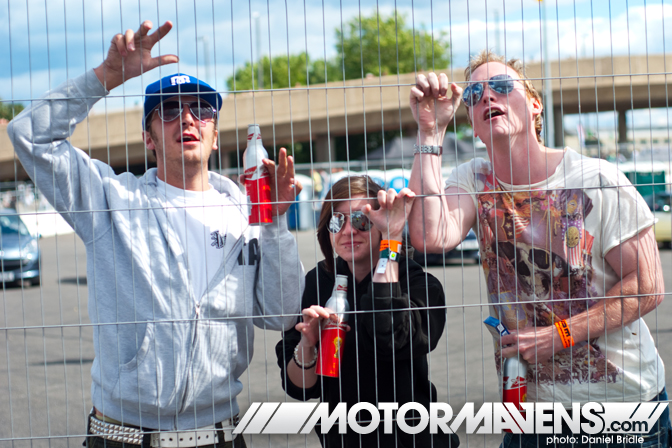 On the way back to the track I bumped into the beautiful Southern Style peeps, JFK and Jason Davis, along with their friend Becky Moore. Otherwise known as the matching Aviator sunglasses club. Keep an eye out on the site for features on Jack's new JZX90 Mark II and Jason's awesome MX63 Cressida soon!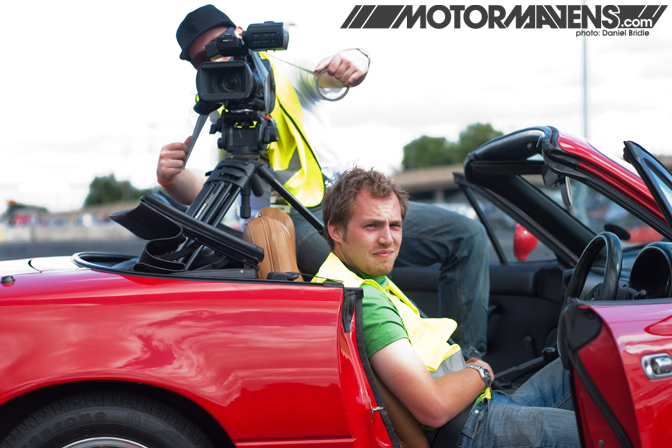 Videographers Al Clark of Driftworks and Josh Allen (the one with a camera for a face) of Will Shoot For Food fame were back together shooting the main film of the event. Al's just bought a Mazda Eunos Roadster pretty much for the job of being a film chase car. But I couldn't get over just how clean it was! It has pretty much all the original OEM bits on it intact, even right down to the fire extinguisher.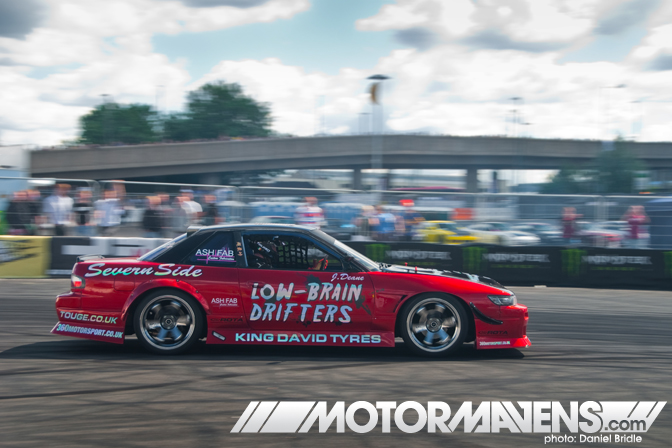 Wembley was also the debut for Severnside Imports/Low-Brain Drifters PS13! Finally James Deane has a car to drive in the team and I have to say, it's one of the best looking competition cars I've seen built in a long time. Rather oddly it used to have a normally aspirated SR20DE engine, but the guys at Severnside have fitted a turbo, making it an SR20DE-T as opposed to the factory SR20DET. It seems to go pretty well with a little over 300BHP!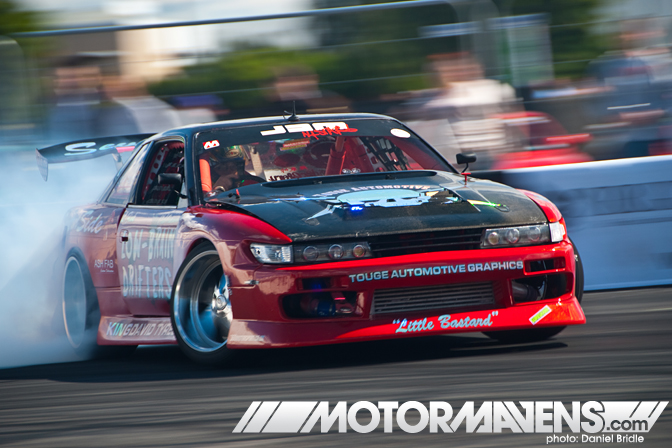 Luke Fink's Severnside Imports/Low-Brain Drifters PS13 was also updated to match. Slammed on 18x12J chrome Work Equips and with matching candy red paintwork, the "Little Bastard" looks how it should have been from the start. Dope!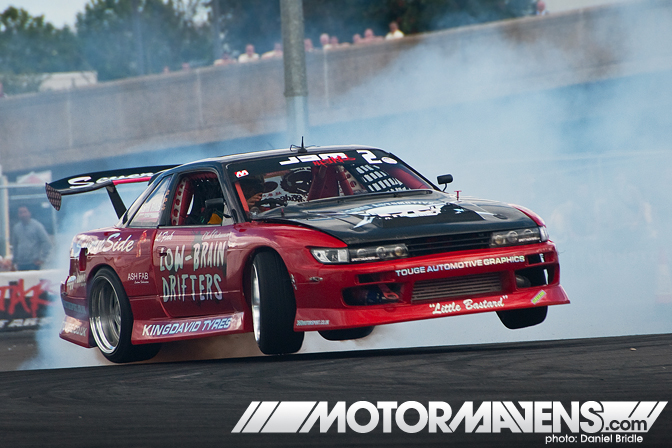 Despite the fancy new paint and baller wheels Fink wasn't shy to put the car to work as you can see here as he launches the car over the infamous Wembley Jump. There's also a slight jump on the first corner of the track, and on one of his final runs, he went over it so hard when he landed the tyre popped off one of the rear rims. The sound of that beautiful Work Equip scraping along the tarmac made me die a little inside…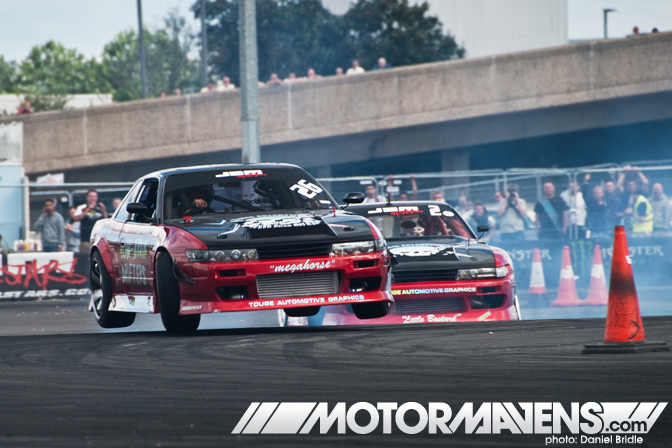 That said James Deane was driving his car just as hard! The jump at Wembley is always one of the most exciting features of the track, and it adds that little extra degree of challenge for the drivers.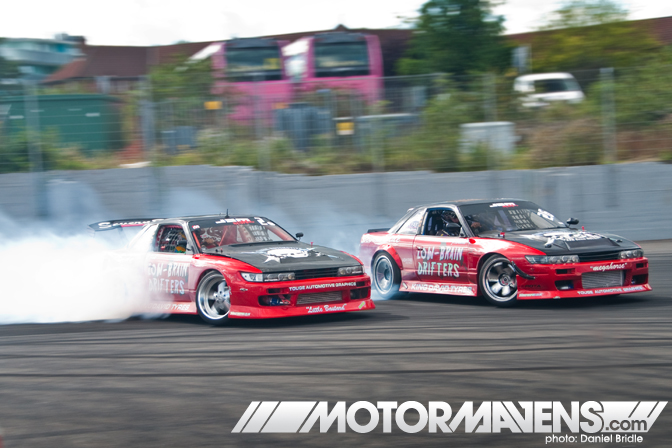 I would apologize for the amount of photos of the Severnside cars but I'm not really sorry when they look this good! I'd love to see how these two drivers would do if they went up against each other in battle, just their twinning in practice alone was crazy, I wonder how crazy it would be in competition?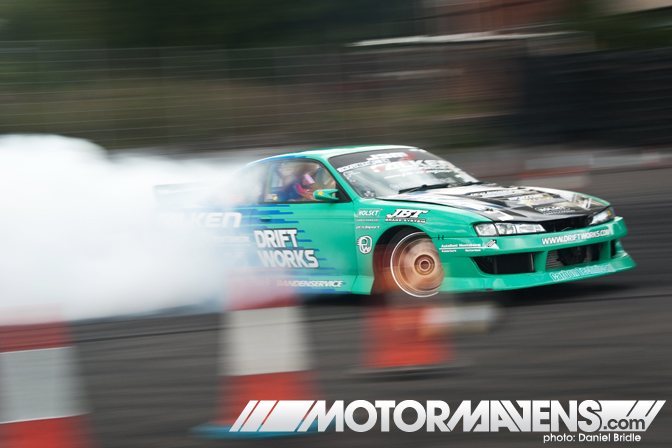 While I was travelling through Europe to check out drifting in Poland (more of this soon!) earlier in the month, I spent some time in Steenbergen in The Netherlands hanging out with Dutch driver Lennard Wanders. He's a seriously cool, chilled out guy, and it was great to see him make it out for Wembley. Wanders is known for his great car style and I think his kouki Nissan Silvia S14 is one of the best looking Team Falken cars there is. I did a little shoot with the car while I was out there, so if you'd like to see more of this car let us know!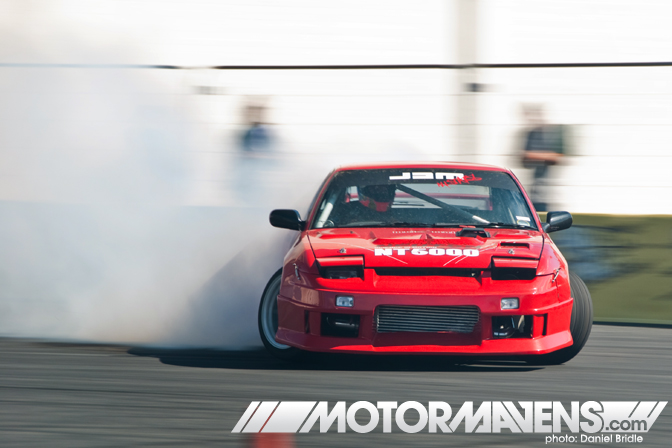 The "go hard or go home" Neuton Tyres/Mei No Mai team were out in force this weekend. Jon Calvert is 3rd in the championship at the moment and it's easy to see why. He was pulling some sick runs throughout Saturday with huge angle and a ton of smoke!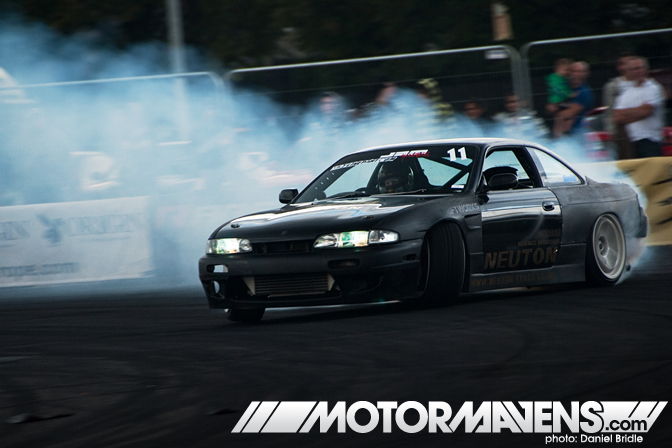 His teamate Mitto Steele was driving angry, and I would be too if the bodyshop had wrecked my car! They screwed him over and left his car to get damaged so Mitto had to quickly respray the body panels matte black. Not cool! Either way though, the car still looked mean and moody. So moody that when Mitto came out for his qualifying runs the sun seemed to dissapear behind thick black clouds. First time I've seen an S14 Silvia that can control the weather!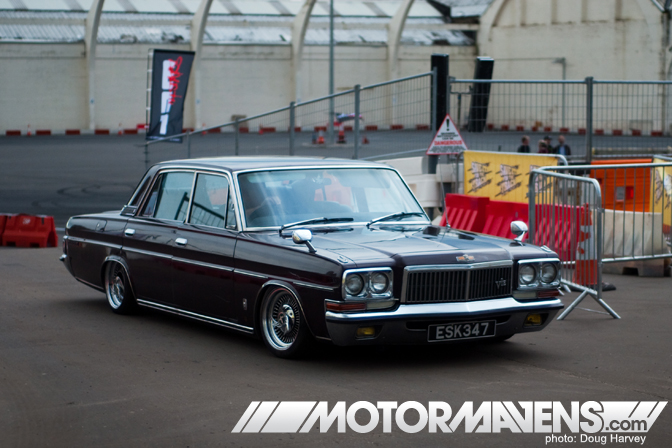 So, with the day coming to and end I headed back into the paddock to pack my gear up and head back home (I don't live far from Wembley so no need to stay at hotels this time!) but my good friend Doug Harvey came along and stole my camera for a while and took these photos of Phil Morrison's Nissan President low rider.
The Driftworks S15 Silvia wasn't working after things started blowing up after a demo at the Rockingham Japfest show, so Phil decided to roll in style with his daily driver.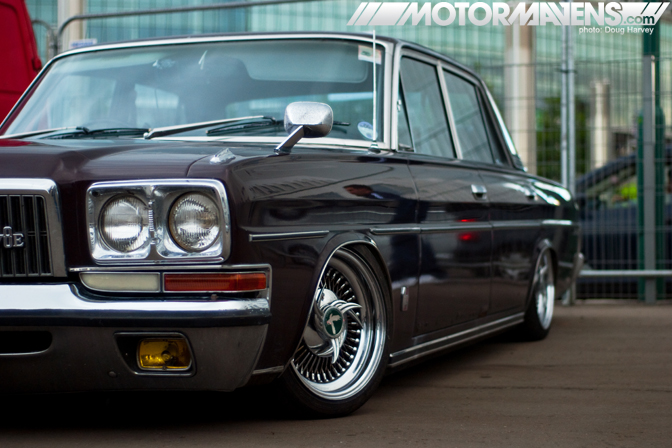 I have a huge thing for low riders at the moment, so I was stoked to see this. Also, cool photos Doug, thanks for taking them! Maybe we should get you a camera and you can join the MotorMavens UK crew haha.
So that's it for now, stay tuned for photos and stories from Sunday's happenings very soon!
:: Daniel Bridle
180SX
,
1JZ-GTE
,
200SX
,
2JZ-GTE
,
540i
,
Al Clark
,
Bas Plugge
,
Becky Moore
,
BMW
,
BN Sports
,
bosozoku
,
Brad Hacker
,
Christy Carpenter
,
CR Kai
,
Dan Chapman
,
Daniel Bridle
,
Daniel O'Brien
,
Dragon Performance
,
drifting
,
Driftworks
,
Duane Mckeever
,
E34
,
FD3S
,
Ford
,
homepage
,
James Deane
,
Jason Davis
,
JDM Allstars
,
Jon Calvert
,
Josh Allen
,
Kouki
,
KP61
,
Lennard Wanders
,
London
,
Luke Fink
,
Matt Chiappa
,
Mazda
,
Mei No Mai
,
Mitto Steele
,
Monster Energy
,
Morleysport
,
Neuton Tyres
,
Nexen Tire
,
Nigel Colfer
,
Nissan
,
Origin Europe
,
Phil Morrison
,
President
,
PS13
,
R32
,
RB20DET
,
RB26DETT
,
Rocket Bunny
,
Ross Ianson
,
Rota
,
RX-7
,
S13
,
S14
,
S15
,
Silvia
,
Skyline
,
Skylinepart
,
Southern Style
,
SR20DET
,
Starlet
,
Steve Evans
,
Stiggy
,
strawberry face
,
the jump
,
Toyota
,
Tra-Kyoto
,
UK
,
Vincent Nott
,
Wembley Stadium
,
Will Shoot For Food
,
Work Emotion
,
Work Equip
,
Zenki
---