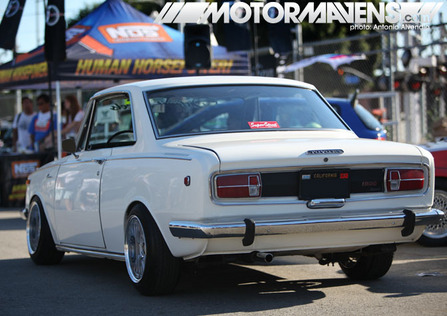 I'm sure many will agree with me when I say that I'm glad that the City of Los Angeles didn't complete its bulldozing and reconstruction project surrounding Downtown LA's newly built Alameda Street train station… this allowed Ken Miyoshi and his Import Showoff crew to continue their tradition of throwing the Nisei Showoff in the heart of Little Tokyo. According to Ken, this year marked the 10 Year Anniversary of the Nisei Showoff, which always took place in conjunction with the historic Nisei Week Festival in Little Tokyo, celebrating the culture of second generation Japanese living in the United States.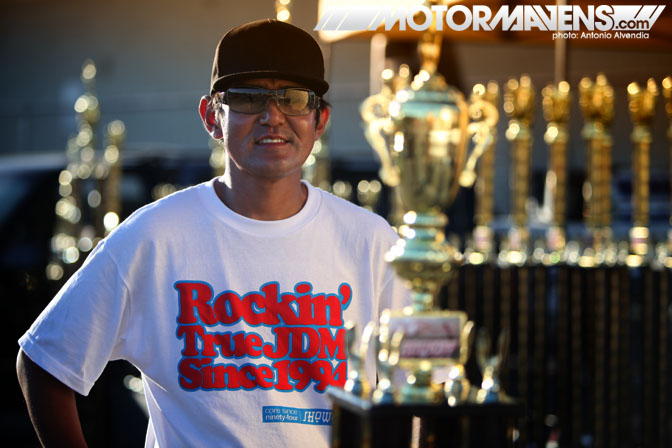 This year, there were a ton of new cars that made their debut at the show, and several regulars that received makeovers. According to Ken Miyoshi (pictured above), one of the things that has always separated Nisei Showoff from the other carshows is the face that  Showoff has a really qualified panel of carshow judges who really have expertise in the automotive aftermarket. Nisei Showoff's judges include people who have a background of working with companies like HKS, Blitz, Toyota, and places like that. This may be a major differentiation factor to some people, but to me, it's completely different.
Nisei Showoff just has a particular vibe to it. It starts early in the morning, in the exciting hustle and bustle of the competitor load-in, as the cars form ridiculously long lines, jamming up the streets of Little Tokyo as they wait for the show staff to let them in the gate and park at their assigned spaces. It continues throughout the day, as the noontime sun heats up the entire place, and you get to bump into old friends and catch up on the things that are going on in everyone's busy lives. For me, the excitement continues on to the late afternoon too, as I complete my rounds through the show and stop by the cars that catch my eye, making new friends and checking out all the subtle things that everyone has done to their cars. Probably the most fun thing about Nisei Showoff (for me at least) is the fact that Ken Miyoshi has asked me to be the official emcee for the awards ceremony. I've been doing this for the past three (or four?) years now… and that part is really fun, because you get to see what the owners of the cars look like, as they come up and receive their trophy at the stage.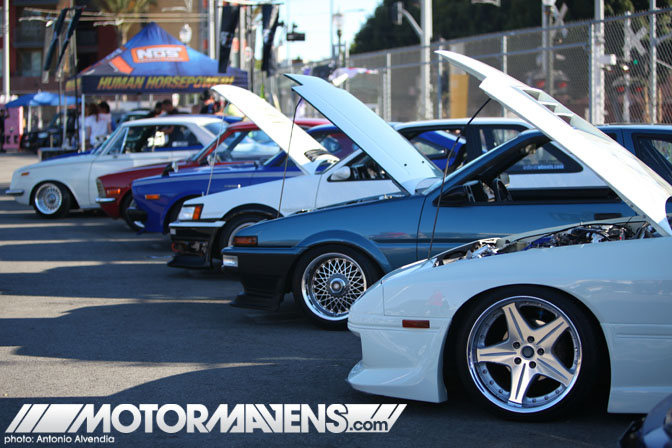 Sometimes carshows are weird for me, though. Why? Maybe it has something to do with the fact that sometimes the cars that I'm jocking the hell out of… are cars that don't even get trophies or anything like that. Maybe I just have a different style than others, but anyone who really knows me will tell you how picky I am when it comes to cars. There are a lot of times when I think that certain engine swaps, certain steering wheel hubs, certain hoods, certain bucket seats, and stuff like that just ruin the look of a particular car. I think that cars need to have continuity, no matter what style or genre of car they might be. I'll speak more on this later.
For now, I just wanted to leave you with just a few photos from the Infinit Wheels crew, which rolls deep from the San Gabriel Valley (made famous by all the awesome Chinese restaurants and Asian drivers) all the way to the San Fernando Valley (made famous by porn videos). I know that many people will want to see more details of each one of these cars. Don't worry… we'll have those coming very soon.
We set up a MotorMavens booth at the show also, which allowed us to pass out flyers to those who hadn't heard of the website yet and sell a few shirts to those who liked our style. It was cool that Lawrence Keller's BRE replica Datsun 510 and his Datsun truck were parked right next to us. Lawrence is a real cool guy, and I was happy that both of his cars won awards at the trophy ceremony. It's pretty tough to win a trophy at Nisei Showoff, but winning two trophies for two different cars… that's real tough. I had the chance to experience that once, when I brought my kouki AE86 and my orange TE27 back in like… 2002? 2003? I gotta admit, I was pretty happy that day, so I'm sure Lawrence felt the same when the pride of his car collection won similar honors!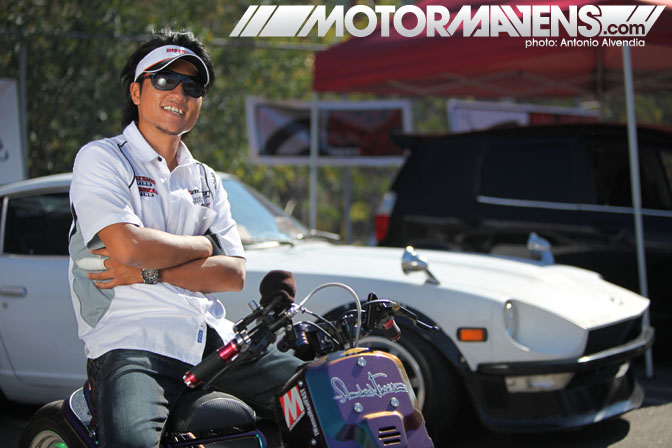 Formula D star driver Daijiro Yoshihara brought his GT Channel (time attack) Z33 350Z out to the show, and I kept trying to instigate a challenge between Dai's 350Z and the BOWLS LA 240Z… but unfortunately for me, Dai is just too nice, and so are the guys from Bowls. I kept trying to force them into some sort of competition, but they are just too respectful for their own good, and Dai kept on saying how the Volk TE37V wheels on the S30Z looked so dope, and the Bowls crew kept on praising Dai for being an incredible driver. I actually have all of this on video. I'll have to upload it from my iPhone later.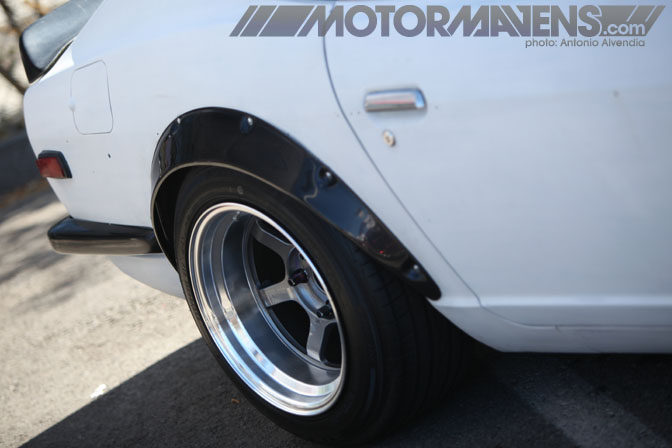 Here's a close up of the super fat lips on the Volk Racing TE37V wheels. These are definitely the in wheels to get right now, especially since they blend super light weight with super fat lips and aggressive offset. Finally, Volk Racing listened to the market and made something cool in old school car sizes!
If you've been around the scene for a while, you will remember the old marketing campaign that Rays was using to market the performance aspects of their wheels… "NO FAT CHROME WHEEL." I used to have one of those brochures hanging up in my garage. Pretty cool.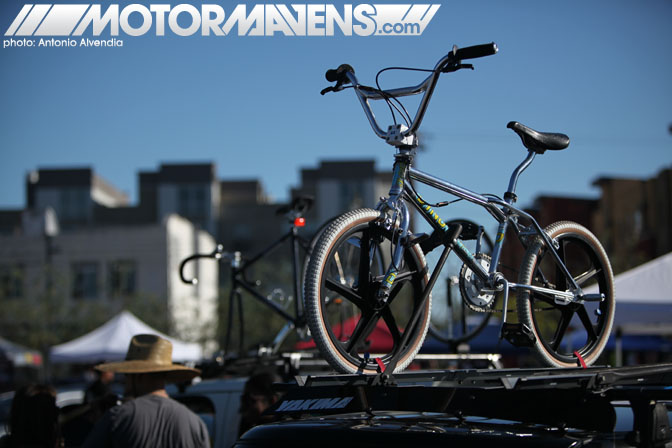 Bicycles are getting more and more popular as an "accessory item" for cars at shows, because bikes have been getting more and more popular again as a mode of fun transportation. Check out this Dyno BMX bike with the plastic aero wheels. I dig those wheels; they're pretty dope.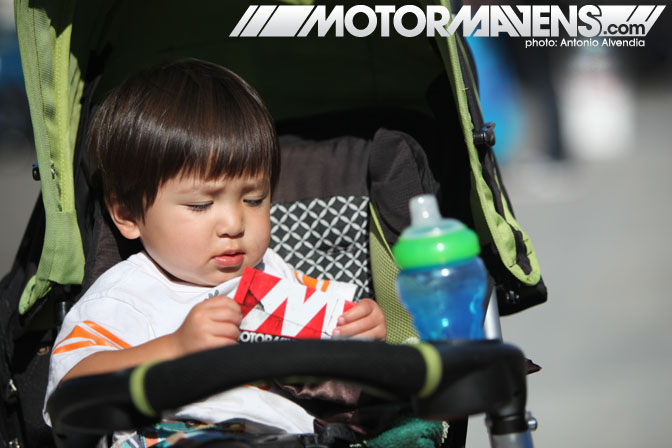 I'm not gonna lie. The MotorMavens Crew is pretty aggressive when it comes to marketing our brand. We were even passing out flyers to little kids, like Collin here, who is gonna be ballin with a fresh dipped car in just over 10 years. Gotta start em off young and teach kids which cars are cool and which cars aren't from the start.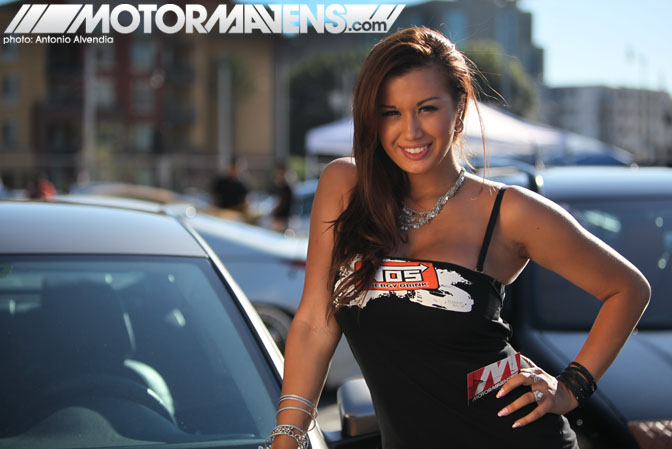 Natalia here was one of the more popular attractions at the NOS Energy Drink booth. I heard they were giving out free drinks too. Hmm… I wonder if anyone has tried Nos Energy and Vodka? hehe
A newcomer to the MotorMavens Crew, Horacio Flores captured a cool shot of one of the most famous EG6 Civics in attendance at the show… Phaze2 Arnel's infamous red EG hatch, which has been all over magazine covers and blogs since sometime last year. It trips me out how quickly this guy pulls his motor, gets his engine bay painted, and keeps changing things on his car. Once I paint cars, I kinda leave them as is until the paint gets scratched or faded… but maybe that's why his car gets more attention than my cars do. It's okay, I only build them for myself anyway.
The AutoFashion Crew always rolls out deep from San Diego, and they pretty much have the VIP market cornered. I think it would be pretty tough for another crew to battle the AutoFashion cars and win, but I'd love to see something like that. Check out more of the VIP cars from Nisei on the MotorMavens Forum.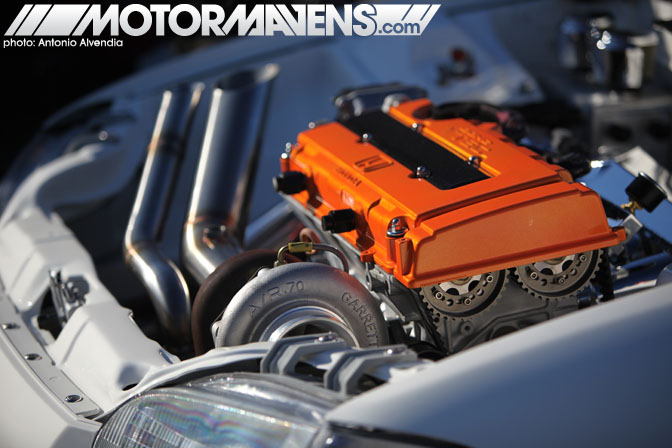 Nisei Showoff also brings out some of the best Hondas around. I was really, really impressed with all the dope engine bays that the Honda guys had, rocking their cars hoodless, showing off full built engines, fresh color themes, wire tucks, and rare wheels. This particular Civic caught my eye because it was rocking SSR Dori Dori mesh wheels, but honestly, I was jocking the engine bay a lot more than the wheels. (That's pretty rare for me… but this car was just so well done in my opinion. Dope and clean.) I'd love to see this thing run!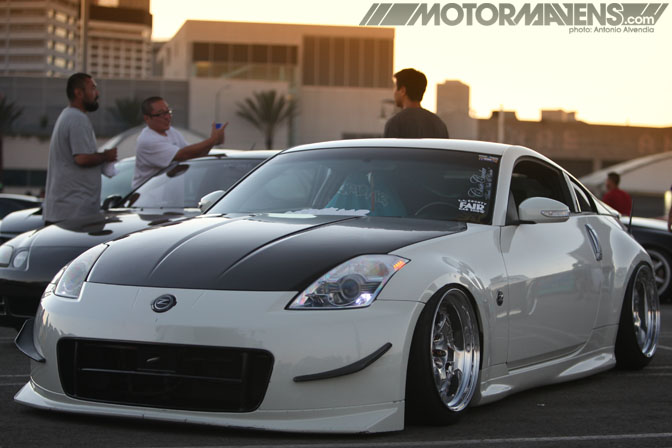 Another car that never ceases to impress me is Sean's super dope Z33 350Z. We'll be running a full feature on this car on MotorMavens in the near future. We've had the photos ready to go for MONTHS, but we're waiting on Sean's childhood friend, Edward Uche, to write the story. Therefore, if you want to see the full feature on this car, you need to bug Ed. That's right, I did just call you out, Uche. I said it. Get on game, son.
Oh, by the way… if you look behind the car, you'll see our old school homies Taiki and John. My homie HerbrockOne from Cipher Garage introduced to these guys at a restaurant named Shaka's in Monterey Park about 10 years ago! We became friends instantly, because Taiki had a bunch of AE86s (I even bought one from him once), and John had a ton of dope old school Mazdas. I love Nisei Showoff because it reunites us with old school homies like Taiki and John. Not everyone goes to drift events these days… Taiki must have given up on AE86s, because he started building old school Mini Coopers. However, you can be sure to see his 4AG powered Lotus/Ford Cortina on MotorMavens when his car is ready!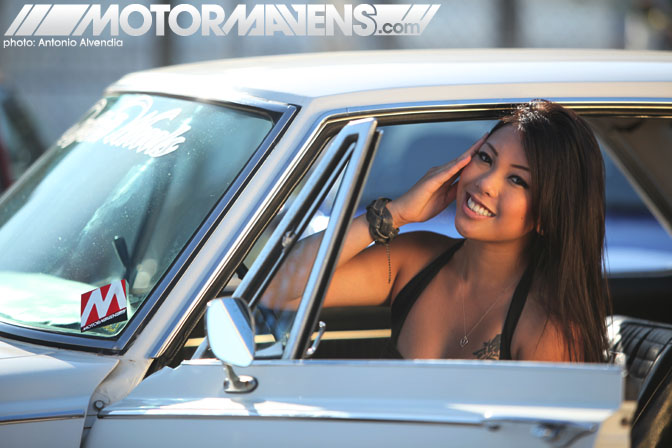 Here's a snapshot of Beckie Joon sitting in the Infinit Wheels 1969 Toyota Corona. Our quick photo session was cut short because the guy who hired her apparently got upset that she was taking photos with cars that weren't part of their crew. Oh well… but if you want to see more of Beckie on the site, let us know.
We'll definitely be posting more photos of the Corona in the next installment of the coverage.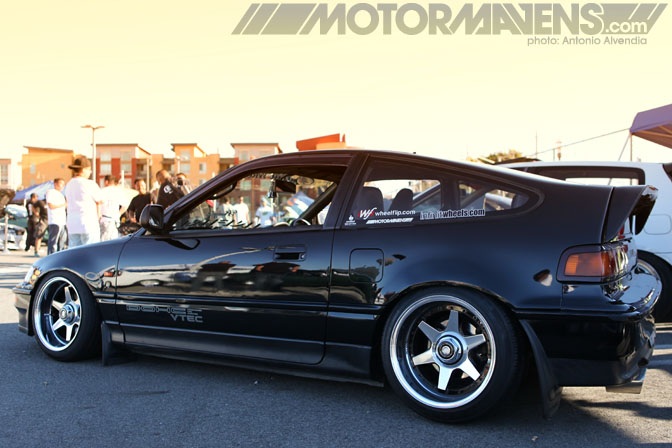 Repping Infinit Wheels and MotorMavens on the window was this super sick black Honda CRX owned by Anthony Do, which was low as hell! It made everyone drop their jaws in awe of this super rare set of Longchamps XRC wheels. Super fat lips and Longchamps on a CRX?! Damn. No wonder people keep returning to Nisei Showoff year after year.
:: Antonio Alvendia
350Z
,
510
,
Antonio Alvendia
,
Autofashion
,
Beckie Joon
,
BMX
,
BOWLS
,
Civic
,
Collin
,
Corona
,
Daijiro Yoshihara
,
Datsun
,
Dyno
,
EG6
,
FC3S
,
GS400
,
Honda
,
Horacio Flores
,
Import Showoff
,
Infinit Wheels
,
JDM Wong
,
Jonathan Wong
,
JZS161
,
Ken Miyoshi
,
Little Tokyo
,
Maureen Chen
,
Nisei Showoff
,
Phaze2
,
Ruckus
,
Super Street
,
TE37V
,
Toyota
,
Wheelflip
,
Z33
---