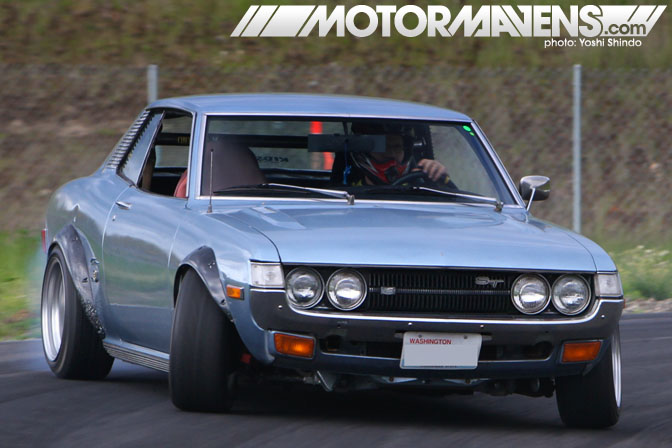 Last Saturday marked another successful event held at Pacific Grand Prix. It was a full event with not a spot left open on the roster for drivers – a roster which included two Formula D drivers who are currently in the top 10 in standings: Justin "JTP" Pawlak and newcomer Walker Wilkerson.
In addition to  the great American pros in attendance, it was an international affair as well. The Drift Union drift team from Canada came down again to show us how to have fun with style in their textbook tandem sessions.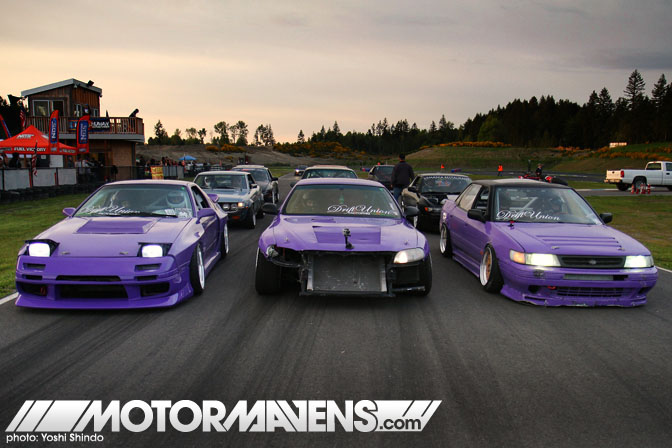 Large crowds of spectators arrived, filling the stands and lining the fences en masse to catch a view of the great driving presented that day. NOS Energy Drink and (for the first time) Greg Young from Northwest Riders clothing, set up shop to talk to people and to hand out prizes. If you missed it, don't feel too bad – here's the next best thing to being there!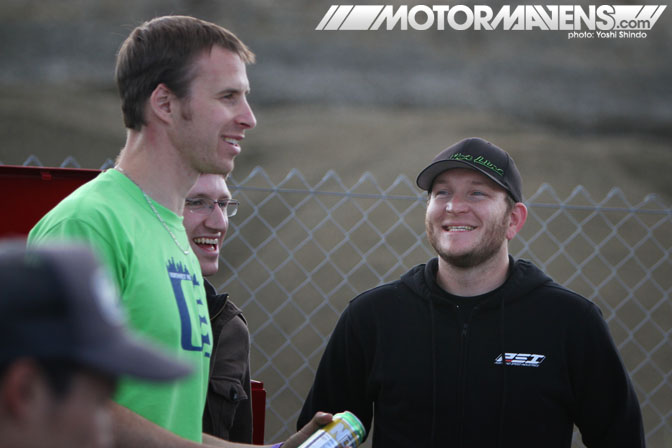 The day started off with the drivers meeting being presided over by Rob "Primo" Primozich. The emphasis for the early part of the day was to make sure that everyone drove within their limits. As cool as dirt drops are, they tear up the grounds and that's not something the staff of PGP likes to see. Even a full-on off-road excursion will get you black-flagged here but, to be honest, it's not that hard to stay on track.
During the meeting, Primo called up another gentleman – Justin Pawlak (whom most of you probably recognize as the #2 ranked FD driver piloting the Falken liveried Mustang). JTP, originally from Oregon, came up as a favor to an old friend, owner of PSI in Portland Oregon, Jason Oefelein, to give some pointers to Andrew Coomes, who is competing in the Evergreen Pro-Am series – what a lucky guy!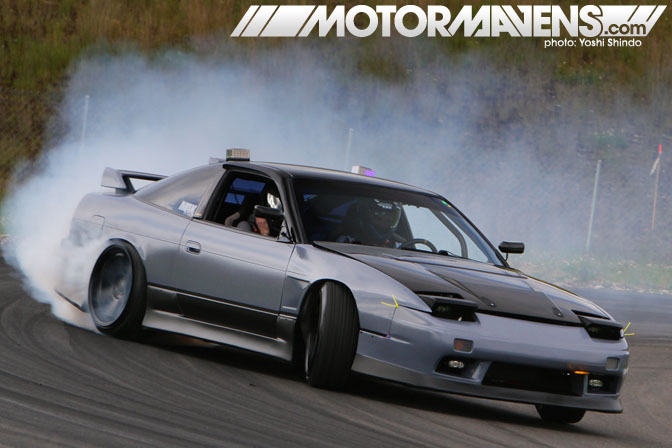 There were drivers of all skill levels present at this event and, even though some were new-comers to the track, that's not to say that they didn't know what they were doing. This two-tone Nissan 240SX S13 from Oregon was tearing it up all day. Smoke billowing from under the car at every turn, he put on an awesome show all day! The rear of the car even had police-style lights flashing! I hope he doesn't use those on the street…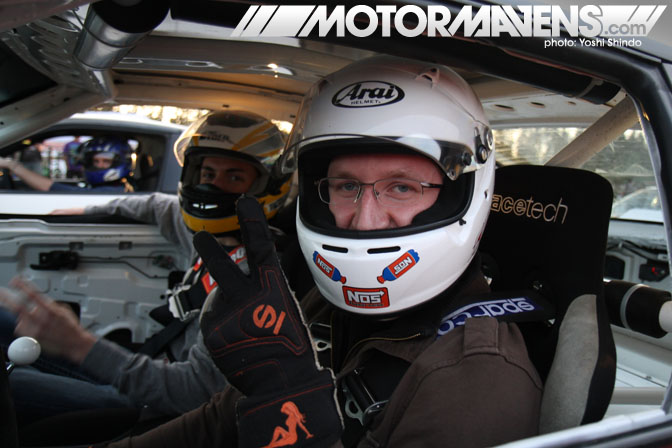 As previously mentioned, here is Andrew Coomes of AJC Drift sitting is his beast – the Rocket Bunny S13 fitted with a stroked 6.6L LS2 motor, dog-box tranny and quick change rear end built by PSI. Andrew's car means serious business and, with the pointers he got from JTP, he will be a force to be reckoned with in the upcoming Pro-Am event.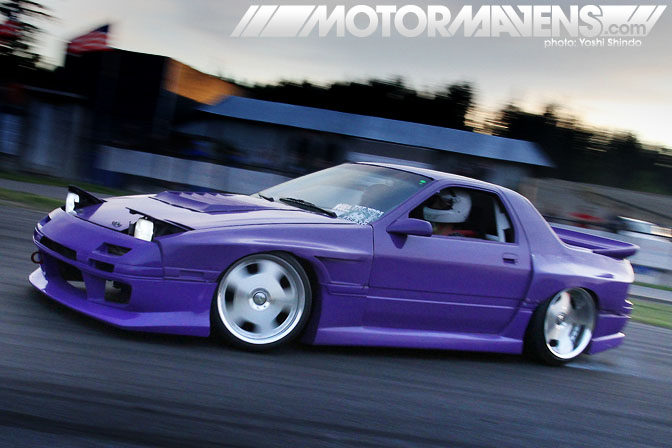 Shawn Browne of Drift Union was looking fresh in his Mazda RX-7 FC with the iconic purple team livery. The last time I saw him drift was at the team tandem event held last year and the driving has not dulled since then at all – quite possibly due to the frequent events in Canada that DU attends and hosts.
Rob Primo's Garage Autohero built 2JZ powered kouki 240SX S14 was unveiled at this event. I saw this car do some shake down runs earlier in the week but this was the first time anyone got to see it being driven in the dry; not disappointing at all. The AEM rev limiter rapping out at the transition from turn two to three was ungodly and unmistakable.
The rear of Primo's car looks every bit as sexy as the front and, if you are a fan of Seinfeld, you get the vanity plate reference. Hilarious, for sure!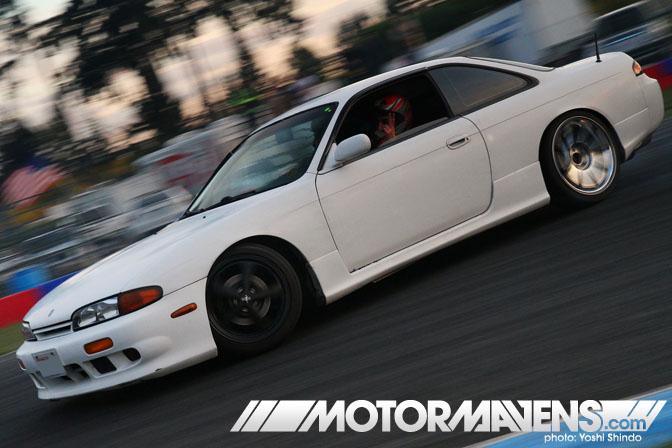 This gentleman was new to me, so much so that I didn't catch his name, but his zenki 240SX S14 was ripping up the track in classic OEM styling. I hope he comes out some more!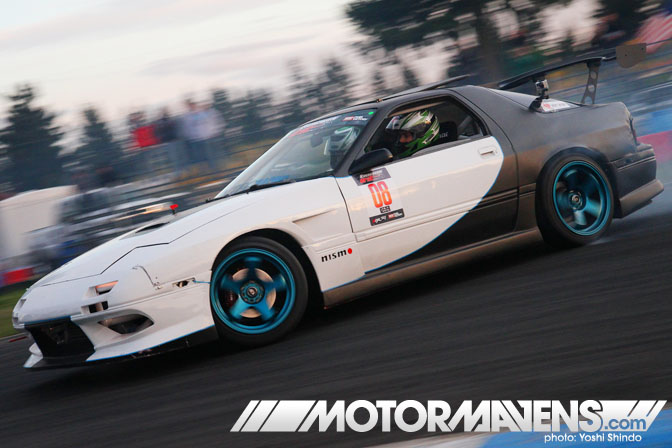 Kory Kozer was aggressive all day, whipping his SR20DET powered RX-7 FC around. Kory is also competing in the Evergreen Pro-AM series so check out the event coming up on the 5th at Evergreen Speedway.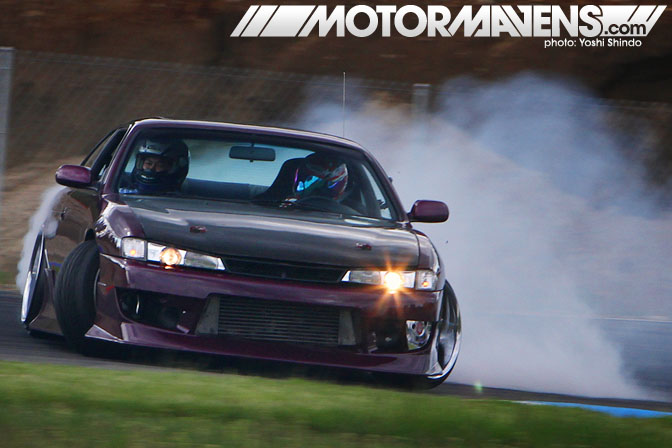 When your street car is what most people fantasize about making as their main car, you are doing something right. This sexy kouki 240SX S14 is owned by Walker Wilkerson, who is currently #9 in the FD standings for 2011. His track car was being stored in Atlanta so, for this event, he brought out his gorgeous street car with newly painted aero. All day Walker was practicing his backward entries into turn one. Talking with him about his entries, it sounds like he has a few ideas on how to get better by focusing on power and traction. He was having a few engine issues during the day that he will address and his traction could be improved with better tires and less camber. I'm sure that, the more he tunes the car to his liking, we will see some great entries from him in this car.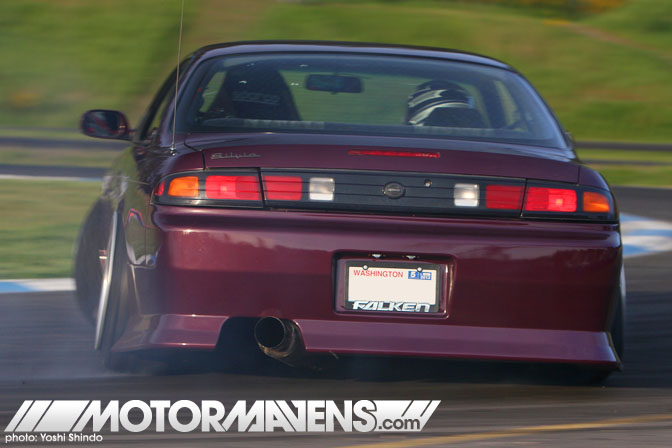 Here you can see how flush Walker's car is – giving it that aggressive and stylish stance. This isn't something you will see on his Pro car anymore but Walker still knows how to build something aesthetically pleasing – even if it's not totally made for performance alone. By now, Walker should be in Florida getting ready for this weekend's FD event. Good luck!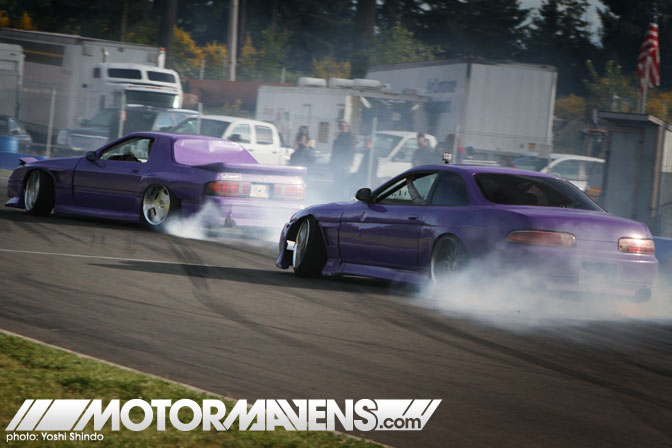 The Drift Union guys are well known for their past history of setting the bar for earliest entries and new member Steve Thompson, in his Toyota Soarer, had no problems fitting right in.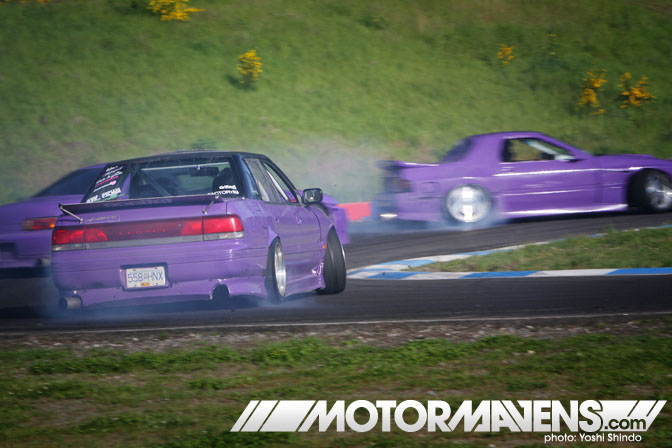 Logan Noel is bringing up the rear this time in his Subaru Legacy as the whole team tandems together. These guys go out together and stay together for the whole session each time; simply inspiring!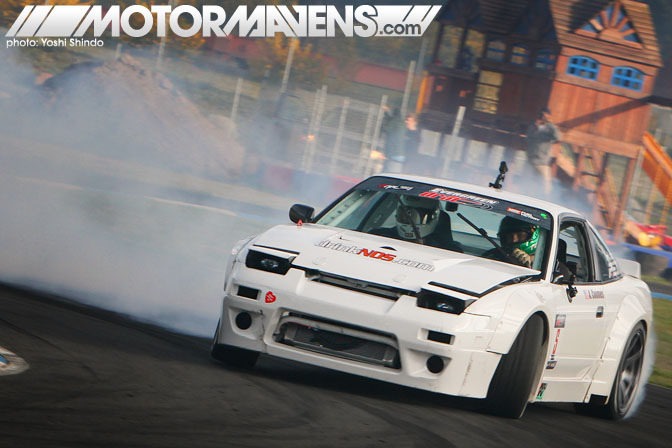 I must say one of the highlights of the day was seeing Justin Pawlak, in the green helmet, take Andrew Coomes' car out for a session. JTP was ripping up PGP like I had never seen anyone do before. My eyes were glued to him while he was running the gamut of the track. He also had the most amazing entry into turn four off the back straight of anyone I had ever seen drift there – something I didn't even think was possible! Definitely something the rest of us could use as a benchmark for the future. Good luck in Florida, JTP!!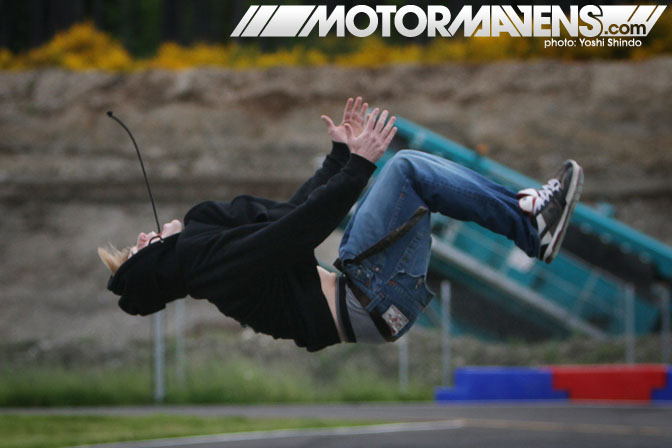 The drivers weren't the only ones having fun out there. Here we have Matt Watson doing a back flip out on the track. Matt drives a blue zenki S14 that was pictured in our Golden Gardens post. This day he was helping out by flagging for the event. I hope to see him out on the track in his car next time.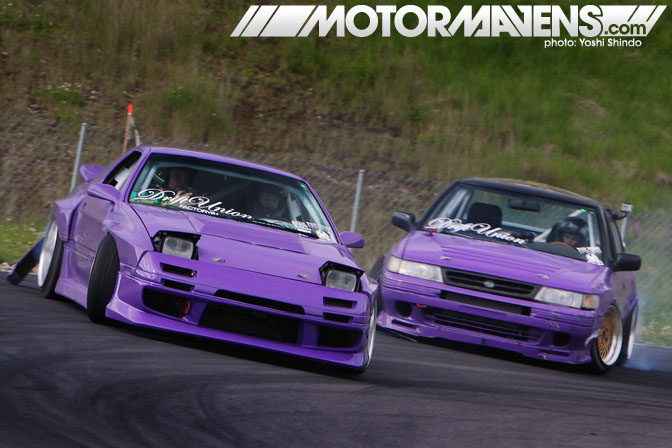 Here's Shawn and Logan from Drift Union, side by side on the far bank.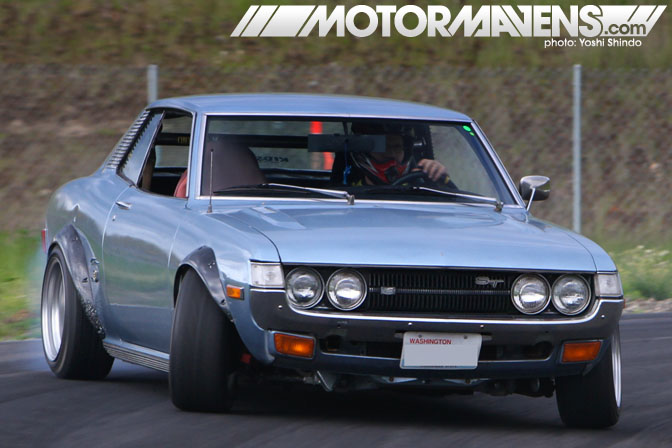 Matt-Panic was out in his freshly swapped Toyota Celica. You may recall last year he was drifting the black AE86 coupe. Well, this year he took the entire suspension and drive-train and fitted it into this Celica. The 20v 4AG seems rightly suited for this car. Matt says that it performs much better than his AE86 ever did! He's tried to convince me to join him but I just love my AE86! Sorry Matt!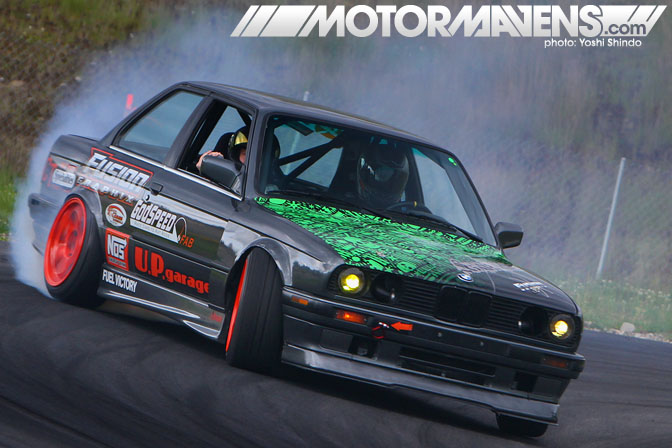 Erich Hagen came out for this event as well – after a bit of a hiatus. Erich, in his CA18DET swapped BMW E30 was entering as far back as the Drift Union guys were! It made me so happy to see him doing so well out there. His accent color changed from purple to orange for this season. I also overheard him saying that the hood will be changed soon as well – to go better with the orange. Good luck this year, Erich!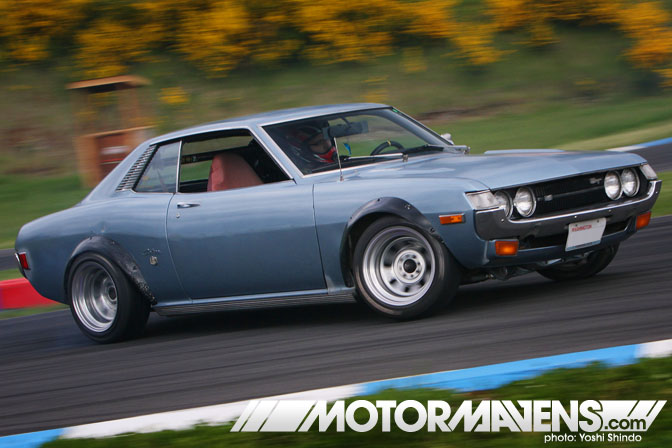 Here is another shot of Matt flicking his old school drifter. It definitely had that muscle car feel to it – complete with the slotted wheels and white lettered tires: very cool.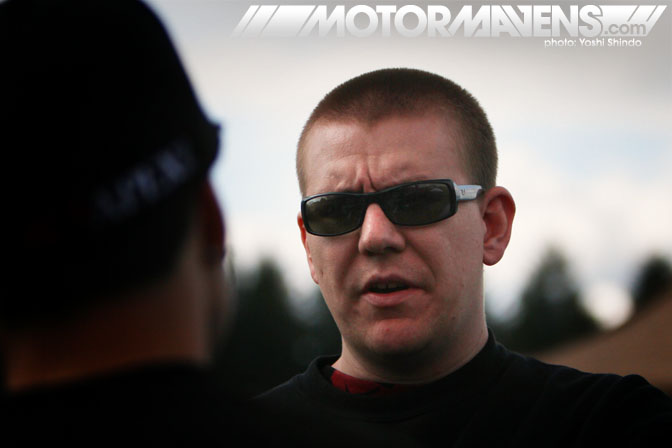 The last session had all 27 cars on track at the same time! I always love the grand finale at PGP – either being a part of it or watching. It's got to be the best part of the day!
At the end of the event, Primo awarded the rotating PGP trophy to Erich for his entries and consistent driving all day. Erich will now have to decorate it to his liking to be passed on to the driver it's awarded to at the next event. Northwest Riders clothing provided shirts to be handed out as awards based on being deemed worthy by Primo. Even spectators got awards! So make sure you come to an event and hang out until the end – the fun just keeps on coming!
Special thanks to Paul and Julie Zalud at PGP for letting us terrorize your track once again. Thanks to NOS Energy Drink and Northwest Riders clothing for coming out. Also, thanks to Garage Autohero, Intec Racing, Drift Office and PSI for showing up and being committed to grassroots drifting.
::Lucas Perez
Photos by Yoshi Shindo
240SX
,
2JZ
,
AE86
,
AEM
,
AJC Drift
,
browne
,
BWM
,
ca18det
,
Celica
,
Drift offfice
,
Drift Union
,
E30
,
Erich Hagen
,
Evergreen Pro Am
,
Evergreen Speedway
,
FC
,
FC3S
,
Garage Autohero
,
homepage
,
Intec Racing
,
JTP
,
Justin Pawlak
,
Kory Kozer
,
Kouki
,
Legacy
,
Logan Noel
,
LS2
,
Lucas Perez
,
Matt Gehr
,
Matt panic
,
matt watson
,
Mazda
,
Nissan
,
Northwest Riders
,
Pacific Grand Prix
,
PGP
,
PSI
,
Rob Primo
,
Rocket Bunny
,
RX7
,
S13
,
S14
,
Shawn Browne
,
Soarer
,
SR20DET
,
Steve Thompson
,
Subaru
,
Toyota
,
Yoshi Shindo
,
Zenki
---