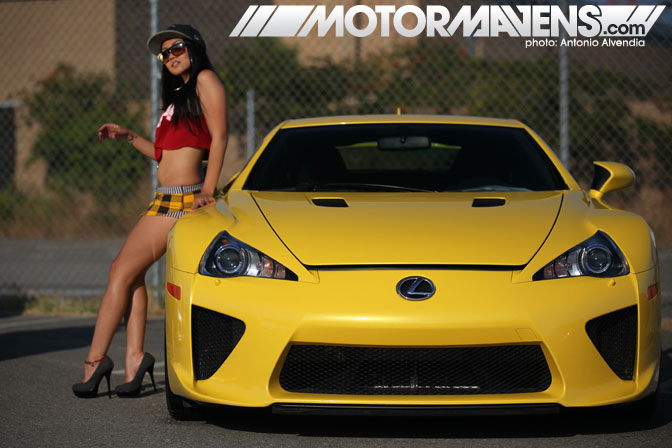 This past weekend, all the core enthusiasts in Southern California's Japanese car scene gathered once again on the intersection of First Street and Alameda in the Little Tokyo area of Downtown LA for the annual Nisei Showoff celebration. The event was super fun as always – when I showed up at the event, it felt like a big block party with several friends all gathered around different cars, admiring the immaculate engine bays, or trying to figure out new wheel sizing and/or suspension setups.
Although the event organizer, Ken Miyoshi from Mainstream Productions/Import Showoff fame, was able to hold yet another Nisei Showoff this year, there have been numerous years when he thought that the annual celebration of the finest JDM-inspired cars in Southern Cali would end. The city of Los Angeles has been developing the area that surrounds the show, so there is a brand new train station that was built right around the show location.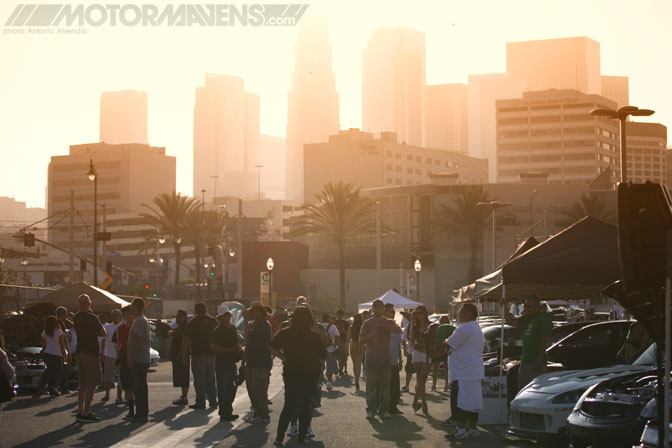 Who knows if the city's other proposed redevelopment projects will allow the show to continue for at least another year? We'll have to wait and see… but for now, I'll let the images speak to our readers. Check out the images I captured from Nisei Showoff!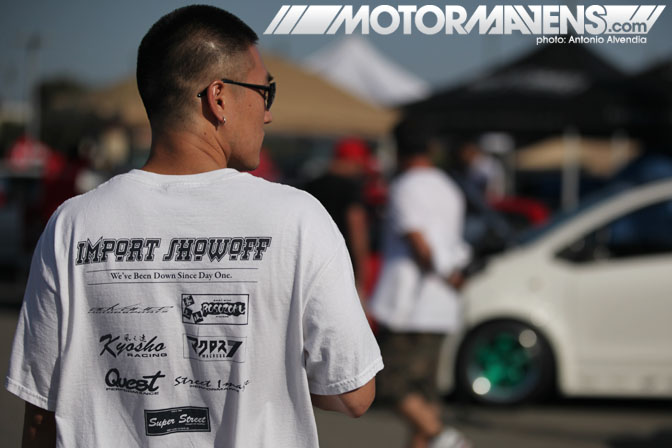 Walking around Nisei Showoff, I think probably only the OG heads would notice members of some of the old school car crews out in attendance. Nisei Showoff is cool because it's pretty much the only show that brings out the people that were behind the original "import racing" movement.
Nisei Showoff and its supporters bring it back to the days of street racing on Maria Street in Compton, Terminal Island near Long Beach, and Sylmar for the San Fernando Valley heads.
Late in the afternoon, I spotted former Super Street Magazine writer Ricky Chu, aka @rikdaddy from the old school crew Kyosho Racing. Although I don't think I knew him back then, back in the mid-to-late 1990s, the members of Kyosho had all sorts of done up Japanese cars, from turbocharged S14 240SXs to SW20 MR2s.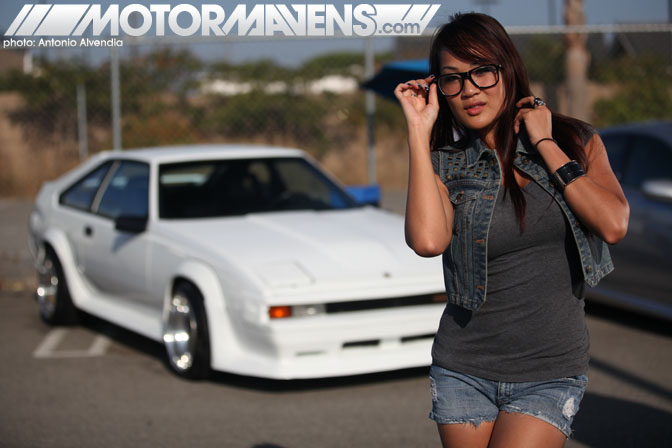 Speaking of old school, while I was having a good time talking to the super-fun-especially-when-intoxicated Tracy Linh (@misstracylinh) here, I noticed a familiar friend in the background – does anyone recognize this car from the early Drift Day events and competitions like the RS*R Drift Festival at Irwindale?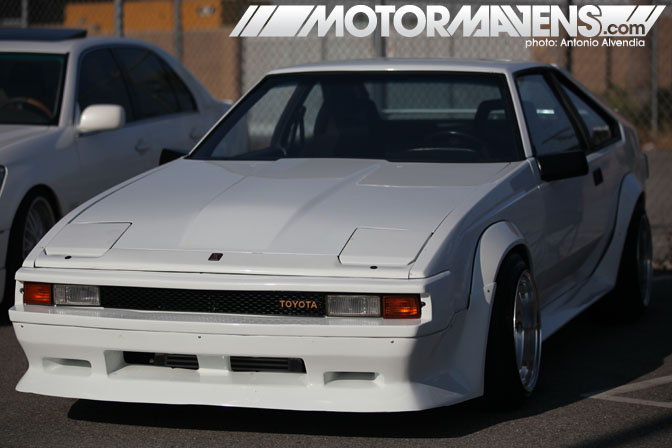 This 1982 JZA60 Toyota Celica Supra belongs to my good friend Javier Paramo. We don't hang out as much as we used to because he's a police officer now, but Javier and I used to chill together almost every day! We met waaaaay back at an event called Autopalooza at Buttonwillow Raceway, and instantly became friends because we both liked old school Toyotas.
After I moved down to Southern California, Javier would always just drop by my house to kick it (often times, he would have really bad timing, because he'd drop by at times when I had a girl over and didn't WANT my car friends chillin with us in the living room… stupid Javier!!!!) so we could work on our cars together, or go to the junkyard to find parts.
It was great seeing Jav's Supra because he just repainted it and redid the interior with black gradient Recaro fabric… although since he IS Mexican, I'm not sure if he put authentic Recaro fabric in there, or the fake "Ricardo" fabric that is hecho en Mexico. LOL
I saw Ken Miyoshi standing next to Jav's Supra, staring at all the details, because Ken used to have a Supra too! We'll show you more photos of Javier's JZA60 Supra (YES, I said JZA60, not MA60) in a future post on MotorMavens! Stay tuned!
Of course, everyone is saying the Lexus LF-A is the modern day successor of the old Toyota supercars like the Supra and 2000GT. It was AWESOME to see a bright yellow LF-A parked at Nisei next to a bright red Toyota 2000GT! Cars like these just don't come out to normal shows… so I had to grab @CHABA1LOVE here and stand her still for a moment so I could shoot a photo of her with the cars. Hell, her outfit matches the two cars perfectly!
SO DAMN GORGEOUS! (Calm down man, I'm talking about the Lexus) I'm normally not a fan of girls leaning on cars (especially cars that cost $375,000), but we checked and made sure that her outfit had absolutely nothing on it that could scratch the gorgeous Nurburgring yellow LF-A. I really need one in my life.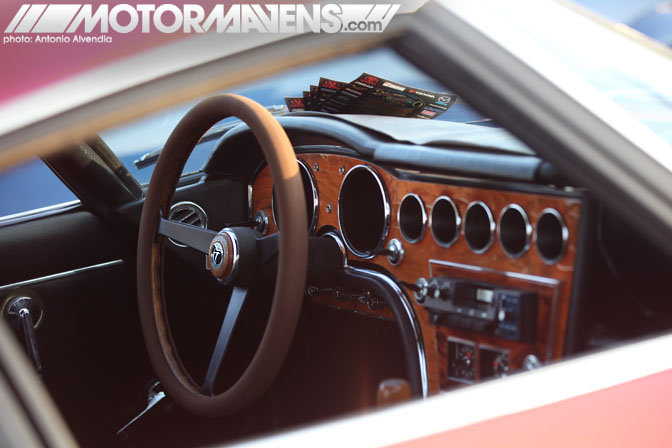 In contrast to the LF-A's famous computerized/animated graphics display, check out the completely analog interior of the Toyota 2000GT. That is real wood and metal on the dashboard by the way. It is NOT a plastic graphics overlay. This is what the real baller status cars of the 1960s were like.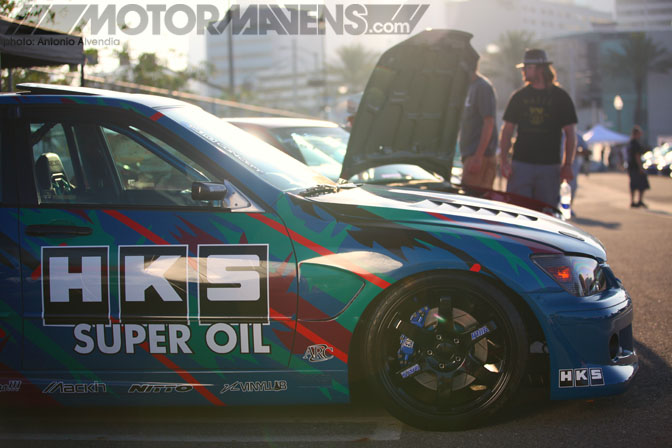 This HKS-liveried Lexus IS300 is a familiar sight at Nisei Showoff. Fully kitted and fitted, it always attracts attention because it has nothing but top notch parts bolted up! Look at the details – from the cage, seats, belts, mirrors, brake calipers, rotors, wheels, bumper, and aero kit! I wish more cars were done up to this caliber!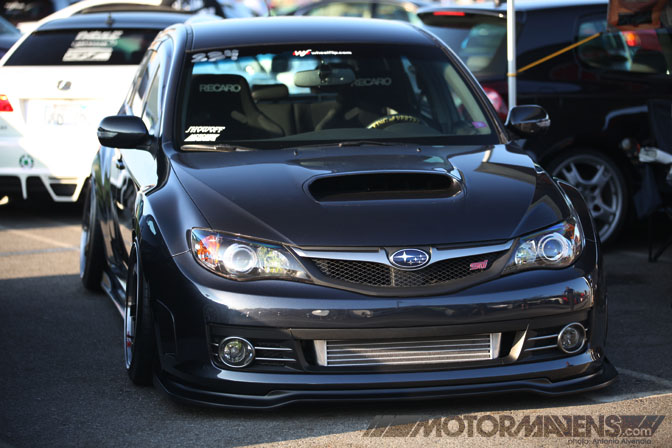 Daniel Leung's 2008 Subaru Impreza WRX STi has got to be one of my favorite "new bodied" STis around. It's super low and aggressive, and the limited edition Volk TE37 wheels poke out just the right amount! We were very happy to have Daniel and his brother Stephen display their cars in the MotorMavens booth at the Spocom show, but unfortunately, we didn't have too many photos with them.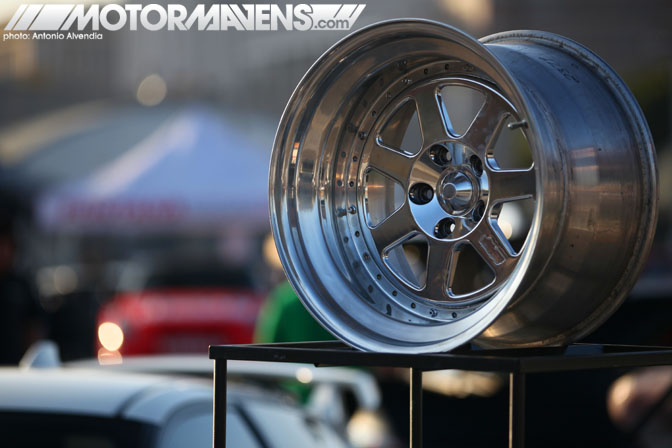 Daniel and Stephen's cars were actually in the Wheelflip.com booth, where former dark green metallizato S2000 owner Alex Zhao was displaying his ability to widen wheels. Alex always buys and sells wheels… check out these authentic Mugen M7 wheels, which have been chopped, widened, and stepped up to a larger size.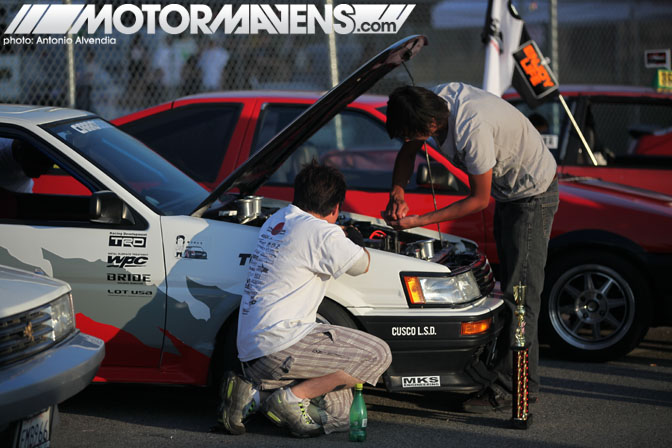 As part of the annual Nisei lineup, a LOT of AE86s showed up. Most of these guys are Club4AG members that came with hachiroku owner/organizer Moto Miwa. As usual, the hachiroku guys were wrenching on their cars… yup, even at a carshow!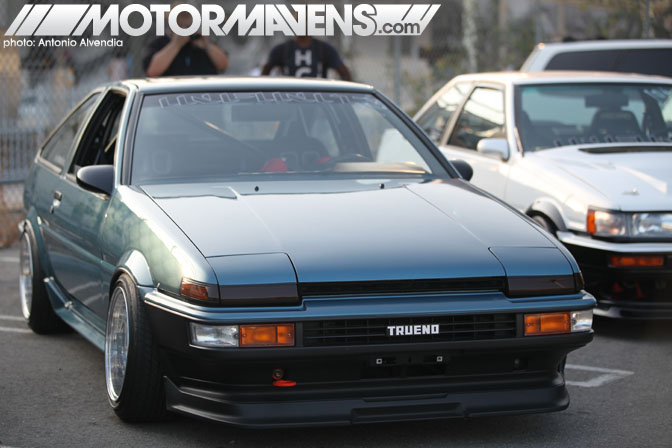 Probably my favorite hachiroku at the show was this dark OEM blue kouki AE86 from the Infinit Wheels crew, which had kouki bumpers, zenki lip, OEM sideskirts, and a gorgeous set of side mirrors. I love everything about this car, which is REALLY, REALLY rare. I never say that about AE86s. But I do love this car.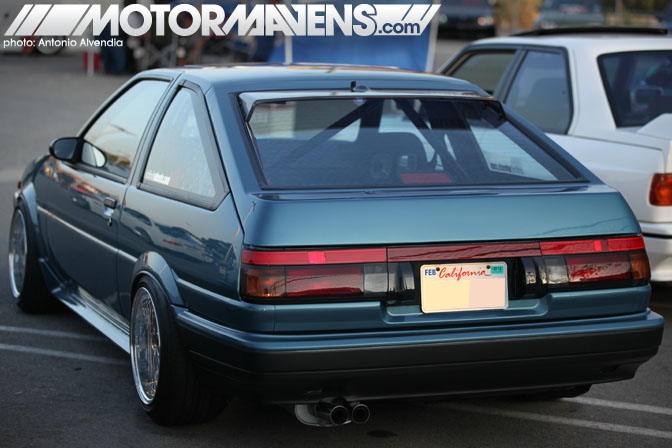 I don't even like the OEM blue Toyota paint color! All my friends who have known me for years know that I have extreme dislike for OEM blue Toyota interiors too! So why the hell do I like this OEM blue kouki AE86 so damn much?! It's because it has class and sophistication; it has aggressiveness and cleanliness. It has everything that I like in an AE86! (LOL it actually looks very similar to my own car.) I love the HKS exhaust, and the kouki OEM bumpers with only the tops painted. The super clean redline taillights set it off, and the rear roof wing?! BANANAS. I love it! Oh, and the wheel size and offset… PERFECT.
THIS is what a tastefully done AE86 looks like! Ghetto AE86 owners, take notes!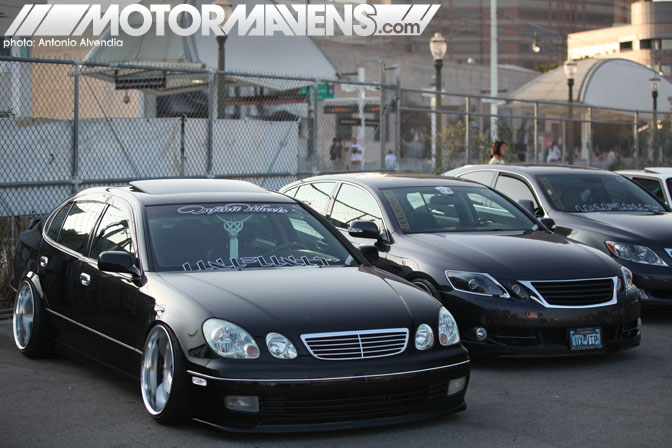 Don't let the Infinit Wheels guys fool you into thinking they only have old school cars. These guys roll DEEEP, and their crew includes some sick VIP vehicles as well, like this black JZS161 Lexus GS. Sooooo bad ass. I wonder if cops ever pull people over for the humongous VIP tassel hanging off the rear view mirror? I once got a ticket on Melrose Ave for hanging a crucifix from my rearview mirror. The cop said it was an obstruction of vision. Seriously?! A crucifix? That cop is going to hell.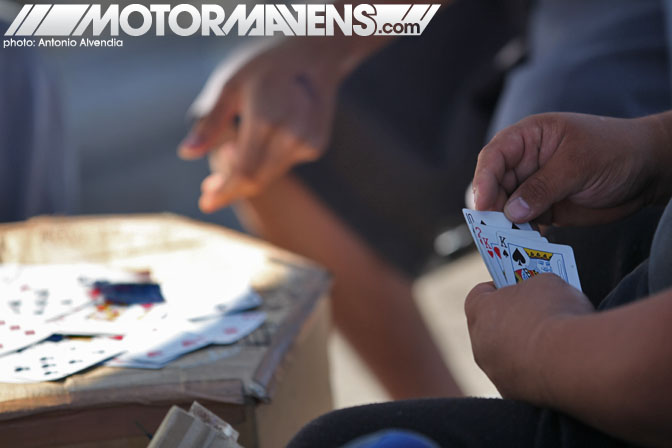 I was looking for my friends from Infinit at the show, but they were nowhere near their cars! Instead, I found them in the back, underneath a bunch of tents, using SSR wheel boxes as a card table! Hahaha! Oh yeah… don't try to cheat when you're playing cards with the Infinit crew, because some of the Vietnamese and Mexican members of the crew might shoot you!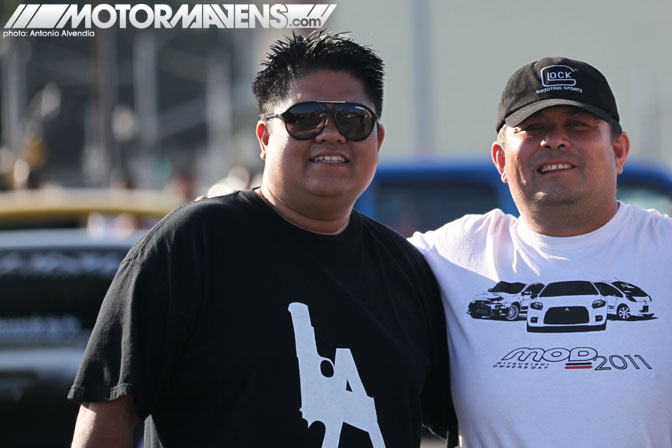 Speaking of shooting, if you want to really learn how to shoot with ACCURACY, you need to hit up my boys Brian and JD from ShootNRG. Brian Urbano (left) helps police officers shoot with more accuracy through the IPSC shooting courses he and his friends teach; he has also won 1st Place at Nisei Showoff several times before, with either his black JZA70 Toyota Supra Turbo, or his daily driven black JZA80 Toyota Supra Turbo 6speed hardtop.
JD (right) is a sharpshooter too, but most people know him from being the bad ass engine builder/tuner from the old school shop TNT Motorsports in the San Fernando Valley. At the street races, everyone knew JD for having the fastest 3TC powered Corolla out there.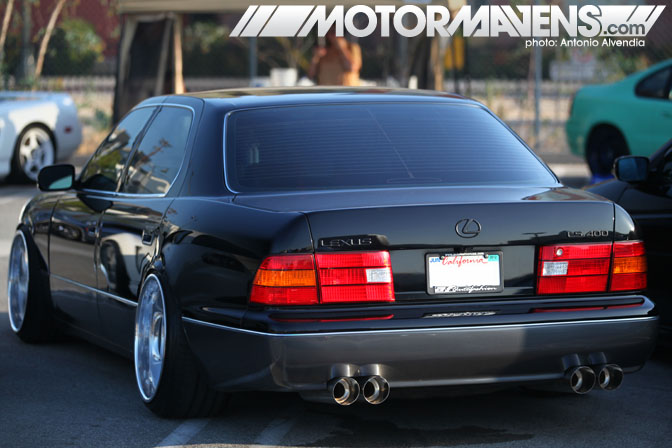 One of my favorite Lexus vehicles at Nisei just had to be this ridiculously clean black/gray UCF20 LS400. Just like the blue AE86, I think everything about it is PERFECT! I used to own a black/gray UCF10 LS400, and I know how difficult it is to keep a black Lexus clean!
Look how shiny the paint is, with the subtle chrome accents defining the split from gray to black paint… the amazingly perfect looking exhaust, and the aggressively wide wheels poking out just the right amount. This car exudes class and sophistication because it's not too much like a lot of the newer car builds being completed nowadays. Oh, did I mention how much I love that dual exhaust with 4 pipes?! Damnnnnn.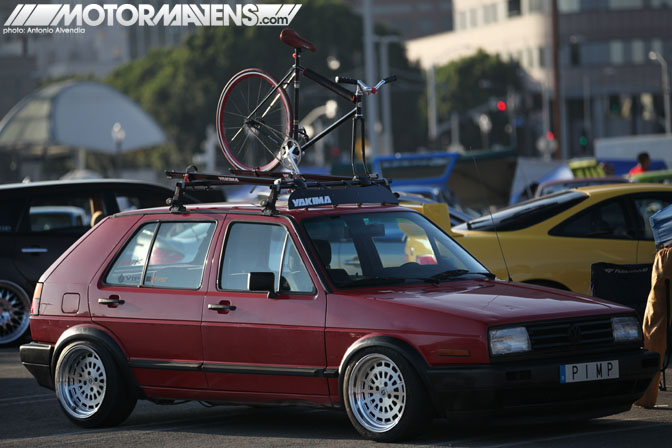 I don't know anything about this 4 door VW Golf, other than the fact that it's clean and I like the wheels and stance. It actually looks kind of similar to MotorMaven Tamer Omran's car, but this Golf looks much, much nicer. (Sorry Tamer. LOL) Does anyone know what kind of wheels those are?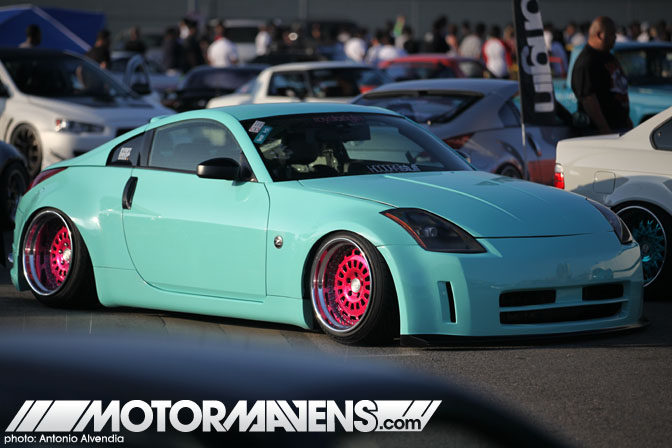 If you want the cops to notice you, you MUST try driving this Z33 350Z on the freeway! This thing is guaranteed to get attention! With bright anodized pink (or candy apple pink painted?) wheel centers and Aquafresh green paint, the colors on this Z makes me think of a can of Arizona Green Tea. Wild for sure!
Rotary heads! There were plenty of old school rotaries in attendance, from Rotary Pickups, RX2s and RX3s, but for some reason this clean and simple FB RX7 stood out to me. I've always liked these old school 7s.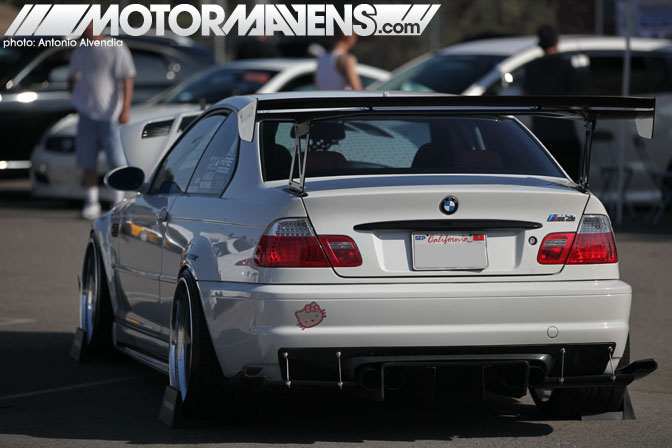 I was walking with MotorMavens shooter Oliver Petalver when we noticed this Alpine White E46 BMW M3. This thing looked suuuper clean and aggressive… and it's owned by a GIRL. Big respect to all the ladies building their cars RIGHT like this one! So awesome. I'd love to do a full feature on it, but I don't know how to reach the owner… =/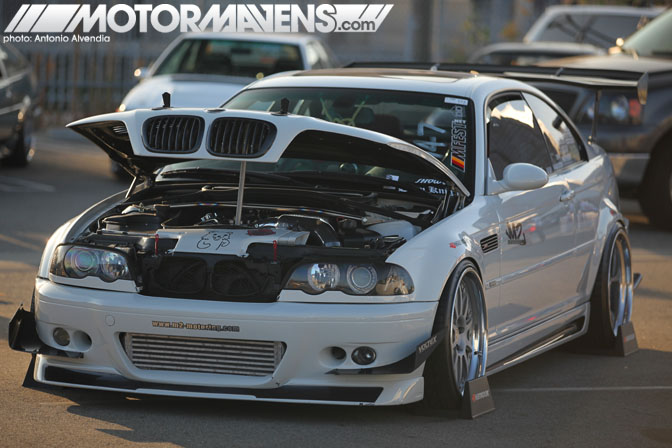 Here's the same E46 M3 from the front. So fresh! Wait a minute… are those Voltex canards? On an M3? Well, there's a first time for everything!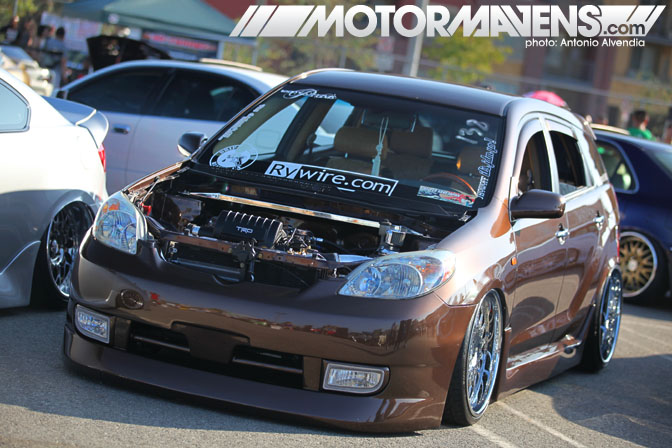 To close out our Nisei coverage, I'll show a little more love to the female car owners out there, by highlighting this super clean Toyota Matrix from the Praxis crew. This is hands down the best Matrix I've ever seen. The engine bay is immaculate, with a super clean wire tuck from Rywire. The wheels and aero kit are on point. The interior is super sick! Again, MUCH RESPECT to the ladies that are out there building cars the right way. I love it!
Retweet and repost the hell out of these pictures!!! Thanks for the support, everyone!
:: Antonio Alvendia
350Z
,
Alex Zhao
,
Antonio Alvendia
,
BMW
,
Celica XX
,
Daniel Leung
,
E46
,
GS300
,
GS400
,
homepage
,
Import Showoff
,
Impreza
,
Infinit Wheels
,
Javier Paramo
,
JZA60
,
JZS161
,
Ken Miyoshi
,
Kyosho Racing
,
Lexus IS300
,
Lexus LF-A
,
ls400
,
M3
,
MA60
,
Mainstream Productions
,
Maria Street
,
Mugen M7
,
Nisei Showoff
,
Ricky Chu
,
ShootNRG
,
Stephen Leung
,
STi
,
Subaru
,
Super Street Magazine
,
Supra
,
Sylmar
,
Terminal Island
,
TNT Motorsports
,
Toyota 2000GT
,
ucf20
,
Wheelflip
,
WRX
,
Z33
---