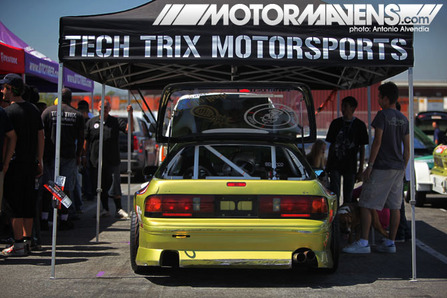 This has been an extremely busy weekend for the Motor Mavens crew in Southern Cali. Travis Hodges and I went out to bake in the sun at the IDRC Season Finale at Fontucky Dragway (aka Auto Club Dragway/California Speedway) all day Saturday. We'll show you some of what we captured at IDRC soon enough, but first I wanted to shine a light on a special event that took place today (Sunday) at Irwindale Speedway.
Even though I was still exhausted and burnt from our skin cancerous Saturday in Fontana, I somehow dragged myself out of bed and prepared my camera gear for yet another day at the track. While I found it extremely hard to pry myself from the ice cold air conditioning blasting throughout my house, I reminded myself that I made a commitment to show up. My friend Luke Pakula kept dropping me friendly reminders about the event the Slide Assassins guys were throwing at Irwindale Speedway, so I wanted to come through and show support of their event, on behalf of the Motor Mavens crew.
After all, the Motor Mavens movement is all about supporting grassroots drifting! Everyone on our team does their best to show how much we genuinely care about the scene by being out there as much as we possibly can. Actions speak louder than words, so hopefully people will notice that our site doesn't only cover the big events like Formula D and All Star Bash… Motor Mavens shows love by shining a light on some of the smaller events as well. And luckily for us, some of the grassroots drifters have been showing us love back!
We just can't tell you enough how much it means to us when we see people showing their support of the site by rocking our stickers on their cars, by leaving comments on our blog posts, by reposting our links onto different forums, blogs, Facebook and Twitter pages! It is especially means a lot to us when people voice their support when they see us at events. We love that people appreciate our site, because we put a whole lot of heart and hard work into it!
THANK YOU to all those who have shown support of our site! We do this for you!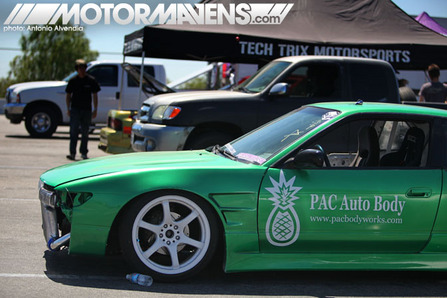 In the pits at Irwindale, a whole lot of Slide Assassins cars and crew were congregated around Mike Essa's Tech Trix Motorsports tent. I also noticed that a bunch of their cars seemed to rock a similar sponsor sticker, PAC Auto Body, who can be reached by visiting the website on the door of this S13. Seems like these Rays Gram Lights wheels are another common thread that holds the Slide Assassins together? Good choice on buying good wheels!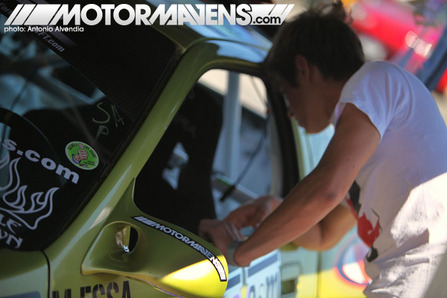 When I walked up close to Mike's car, I noticed he was still rocking some MotorMavens stickers on his car from Seattle Formula D. Thanks a lot for continuing to rep our stickers, Mike! Awesome to see they haven't been peeled off.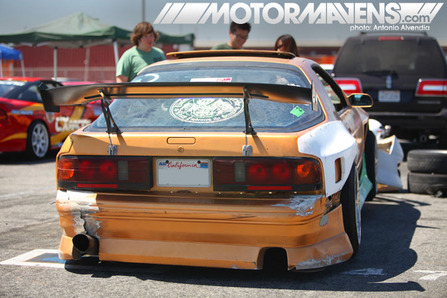 This particular gold/bronze FC3S RX7 looked familiar. I remember seeing this thing fenderless and furious, spitting flames out at Willow Springs during All Star Bash Weekend. It now sports new rear overfenders, and some thinner tires, which make it look light years better. If only it were yellow, it would sorta make you think of a car driven by a certain Samurai from Marionette, wouldn't it?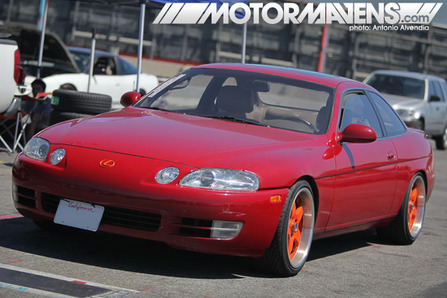 Speaking of reminders, this shiny, super clean red SC300 (or SC400? I didn't look inside to check) sort of made me think of Takahiro Ueno's awesome Vertex JZZ30 Soarer. Well, I don't recall ever seeing Ueno rocking orange wheels and emblems, but just imagine how incredible and classy this SC would look with kouki bumpers and lights, a Vertex lower lip kit all around, and some fat lip wheels?
By the way, if you guys like the SC300/SC400/Soarer like I do, I could easily be persuaded to show you some examples of cars I like, if you ask nicely.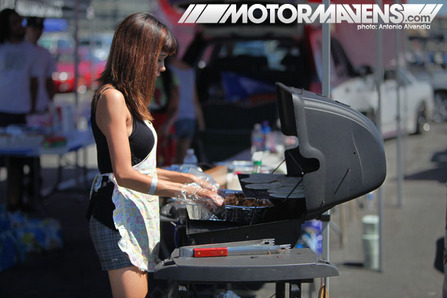 Also near the Tech Trix and Slide Assassins home base tents, there were a bunch of Slide Assassins ladies (the girlfriend crew, I assume?) cooking up some steak and chicken tacos, and providing cold drinks for the drivers. Awesome. Good lookin out, ladies!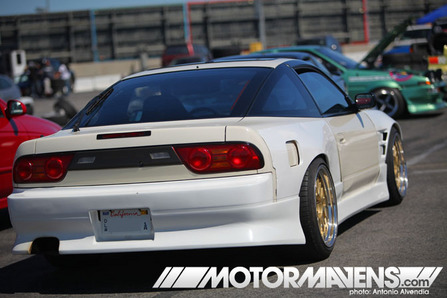 I saw this very clean S13 hatchback in the pit area, who apparently just recently got some wide body fenders, as they were still unpainted. This car also rocks a dealer plate, whuch makes me think the owner is very, very smart. Why deal with Cali smog hassles and stupid state referee stations… get yourselves hooked up with a dealer plate that you can transfer to any car you drive, allowing you to legally drive any car "temporarily." Dope. I want one!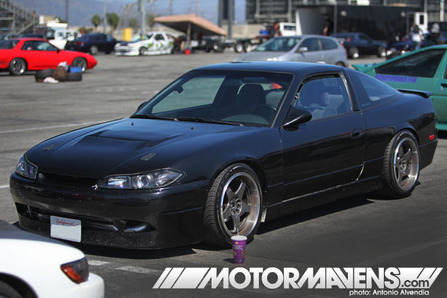 I haven't seen a Sileighty this clean in a while! I can't remember seeing a Sileighty (especially a Strawberry Face Sileighty) that I actually liked in a long, long time. This one surprised me with its clean graphics-free body and shiny black paint, not to mention the understated Super Made aero. The wheels aren't Super Made, they're Sportmax Made. But they're cheap, and I'm sure they're just temporary kicks for what looks like a high class car. All things in due time, I'm sure putting together a super clean super well made S13 like this wasn't cheap. Different car owners have different priorities.
By the way, in case any readers aren't familiar with the term "Strawberry Face" Sileighty, let me explain. (I think everyone probably already knows this, though…?) In Japan, the S13 is commonly referred to as an "ichi-san" (Or 13 – literally, it means one-three) and the S15 is referred to as an "ichigo." (It means one-five. Get it?) Well in Japanese, the word "ichigo" also means "strawberry," so people refer to these S15 faced S13s as "ichigo face" or "strawberry face" Sileighties. (Sileighty = Silvia face + 180SX body for those who don't know.) This had been the term in Japan for years, and I didn't even hear of the S13.5 term until much later, from an internet forum guy. Wait, so do people call an S14 faced S13 an S13.4? Cause if so, that sounds wack as hell. And I'm not the hugest fan of how those look anyway, so whatever.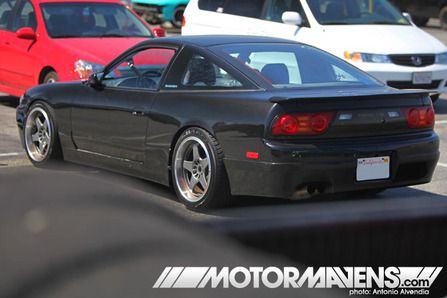 Here's the rear. Like I said, this Strawberry face Sileighty looks gorgeous. Super clean. Awesome body!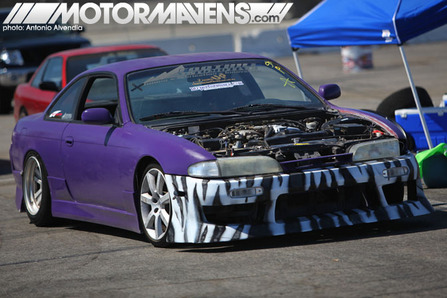 This purple zenki S14 looked pretty rock n roll in the pits! Purple with zebra pattern front bumper and a matching valve cover? This definitely looks like something from a Mattley Crue outfit. Ah, but I wonder if the owner of this car has matching purple pants? If the driver were in Team Mulsanne, then he would.
Here's Luke Pakula's newly repainted AE86 turbo… but wait. That isn't a 4AG in there! Nice headlight sticker, Luke!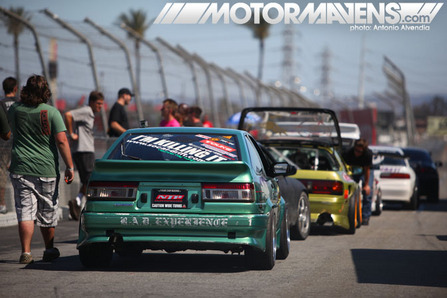 Here's Luke's green AE86 once again, with a RAD Experience sticker on his rear bumper. I remember meeting those guys at Nisei Showoff, and they told me they would love to have us come out to their events, so I even sent them a "nice to meet you" email. However, nobody got back to me, and today, I found out that the event already passed, so they epic failed on that one. Good job guys. I would have wanted to go!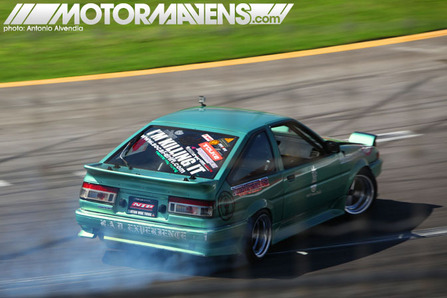 Here's Cool Hand Luke initiating early at Irwindale. Since there weren't any K-rails in the middle of the track like their normally are for big events, the track officials were pretty hesitant to let us go down into the track area for insurance reasons, so I tried my hand at shooting through the fence on the outside of the Irwindale oval. Let me tell you, shooting through the fence sucks when you're shooting stills… but it's cool, I'm glad I tried it out on a day where there wasn't a big event happening.
On Luke's back window, I spotted an old school Cipher Garage sticker, which definitely made me smile. He said he's been rocking the sticker since he first got his car, which is cool, because it means he's had that sticker on his car since way before we ever met!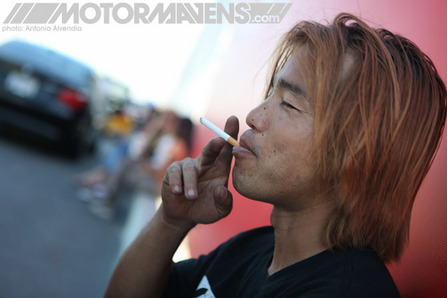 Taka Aono was also in attendance, driving his turbocharged 4AG powered AE86 to get in some practice runs before the big event next month. Taka wasn't the only one out at Irwindale practicing though… I saw Justin Pawlak ripping through the course like a madman, busting perfect lines and high speed in his 20B turbo powered Mazda RX8. I also saw Jeff Jones and Carl Rydquist out there, and even Tommy Roberts and Matt Powers.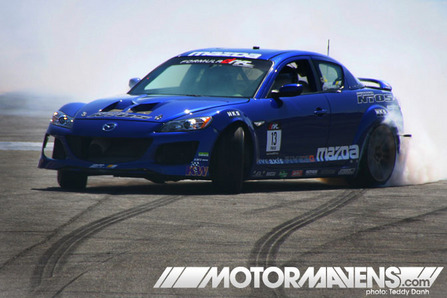 In fact, here's a photo of JTP and his RX8, taken from the ground level by our homie Teddy Danh from Mulsanne. Very nice!!!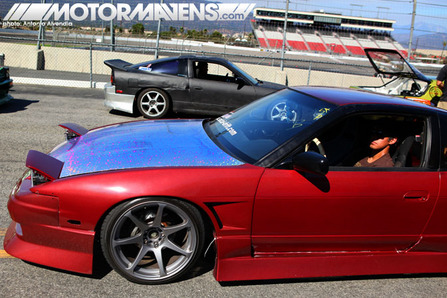 This RPS13 caught my eye as it passed me on its way back to the pits, because it had a crazy rainbow reflective sparkle material covering its hood! I wonder if that thing causes glare for the driver; it was bright as the sun!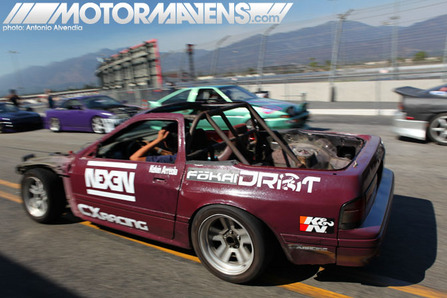 Also rolling back to the pits was Kelvin Arreola, who drove his homemade FC3S RX7 convertible. Haha, it was so funny to see that he made it into a convertible and kept driving it after he rolled his car at Formula D Las Vegas. Best of luck Kelvin! Those good offset 16×8 Starion wheels may be less expensive than some aftermarket Japanese wheels, but they look every bit as aggressive due to the concave face. Search the junkyard for these wheels! They're getting rare in Southern Cali nowadays!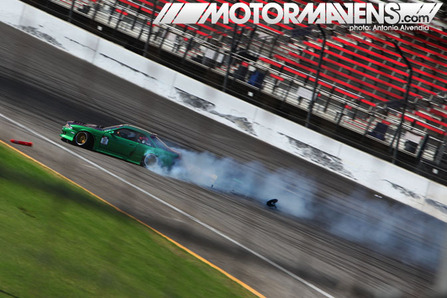 Here's Matt Powers attacking the outer bank… he was driving well, with a high speed and early entry, but on one of his runs, he hit one of those super tall cone things, sending the black base part of the cone flying out from under his car, taking the rear bumper with it.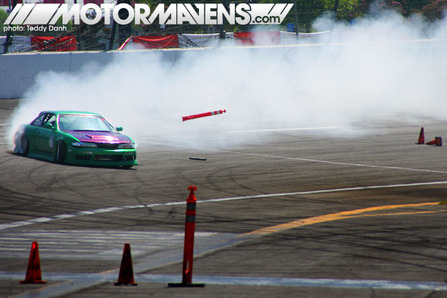 Here's another photo of Matt's big cone hit, from where Teddy Danh was shooting, on the other side of the track. Awesome shot of the pylon flying, Teddy!
That's it from the Slide Assassins Sunday Session at Irwindale today. Next time you see Irwindale photos from us, you can bet they'll be much closer to the action! Thanks for reading!
:: Antonio Alvendia
---