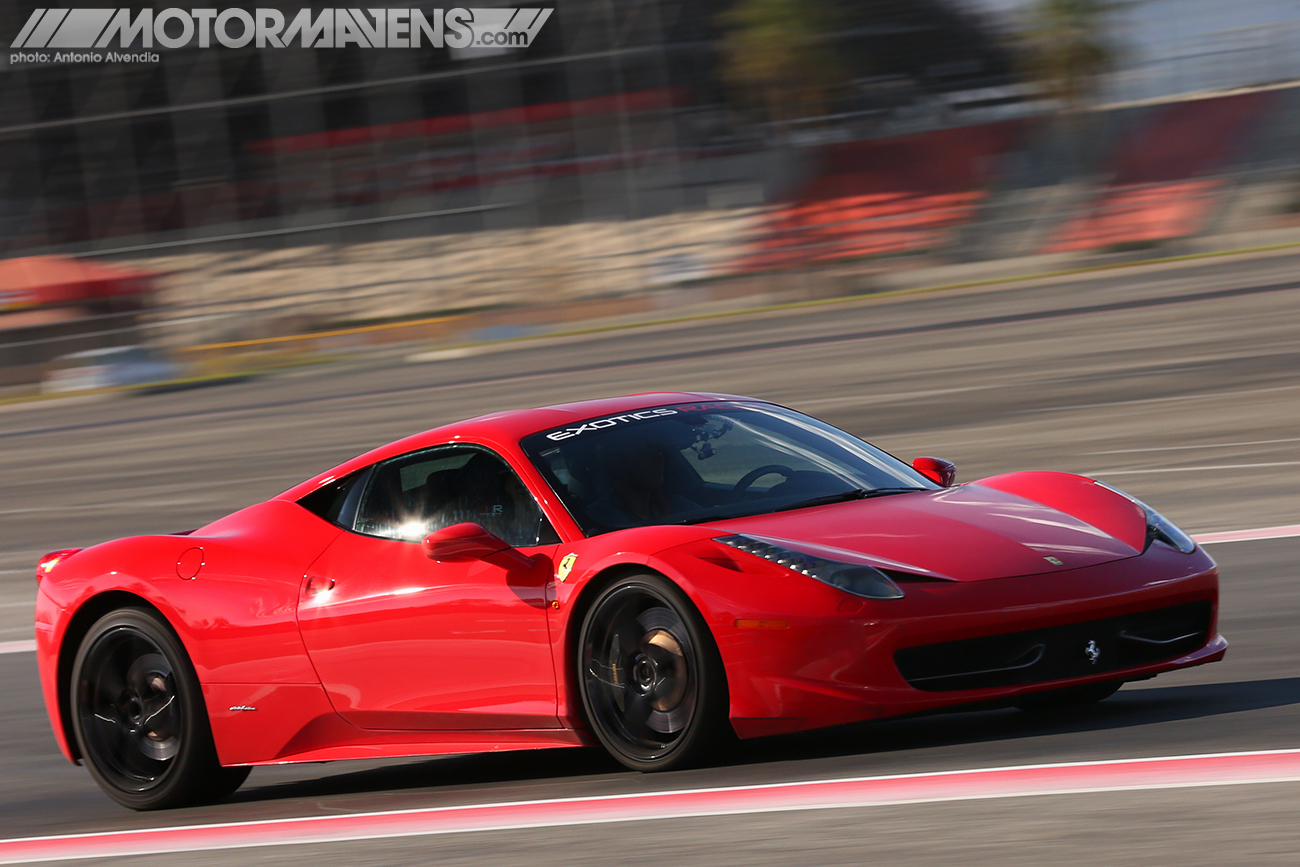 Ever since the Ferrari 458 Italia first came out in 2009, I've been wanting to drive one. I'm not talking about one of those one hour rentals in Las Vegas where you cruise the strip in a Ferrari at about 15-20mph… I'm talking about really driving it – like high rpm, tires screeching, engine screaming type stuff. Well, thanks to our friends at Auto Club Speedway and Exotics Racing, my wish has finally been fulfilled! Longtime readers of MotorMavens might remember the trip that Mike Kim and I took to Exotics Racing in Las Vegas, where we got to experience the Ferrari F430 Scuderia and the Lamborghini Gallardo Superleggera on the racetrack. Mike and I absolutely lovvved the experience, and still talk about our time behind the wheel of these awesome supercars alllllll the time with our friends!
Well just imagine how excited I was when I showed up to Auto Club Speedway to meet with some of the track officials, and they invited me to experience some of the different things that Auto Club Speedway has to offer aside from normal weekend trackday events on the ROVAL Course and Infield Road Course, like drag racing, go karting, hot lapping the oval track, and test driving some of the supercars at Exotics Racing!
Being an event producer myself, my team from MotorMavens and I have already thrown several events at Auto Club Speedway in Fontana. Some of these events were simply car meets, like our inaugural Speed and Stance meet, which completely filled all the interior parking lots and jammed up traffic throughout all the speedway's service roads, causing a traffic jam all the way to Cherry Avenue. Some our other events were autocross events and/or a combination of carshow, vendor village, and autocross, like the hugely popular 86FEST, which happens every September.
This being said, it was awesome to actually experience firsthand some of the awesome motorsports activities that go on at the former California Speedway, aside from NASCAR, Indycar, trackdays, and dragstrip events. I'll probably have to split my experiences into a couple different blogs so that we can keep things on topic, so for now, let's talk about the big red pracing pony in the photos – the mighty 458 Italia.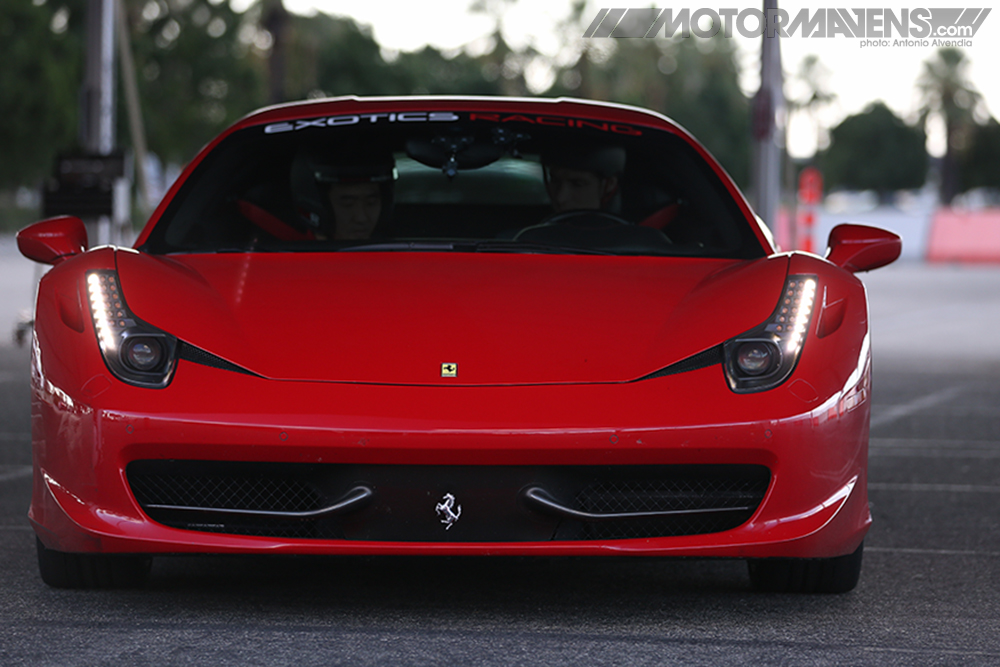 Ferrari's 458 Italia is quite a car. It has sexy body lines, a sophisticated interior, and a monstrous heart – a 4.5 liter F136 Ferrari V8 engine, which just LOVES to scream at high rpm. But let's take a quick moment to admire those headlights! I love the menacing projectors, flanked by super bright LED strips that just draw attention whether the car is moving or not. This thing looks fast even when it's parked!
In keeping with Ferrari tradition, the body was designed by the famed Italian designer Pininfarina. The car's exterior styling and features were designed for not just for looks; the 458's curves were designed for aerodynamic efficiency, producing a downforce of 140 kg (309 lb) at 124 miles per hour (200 km/h), and the front grille features deformable dark gray winglets that lower at high speeds to reduce drag.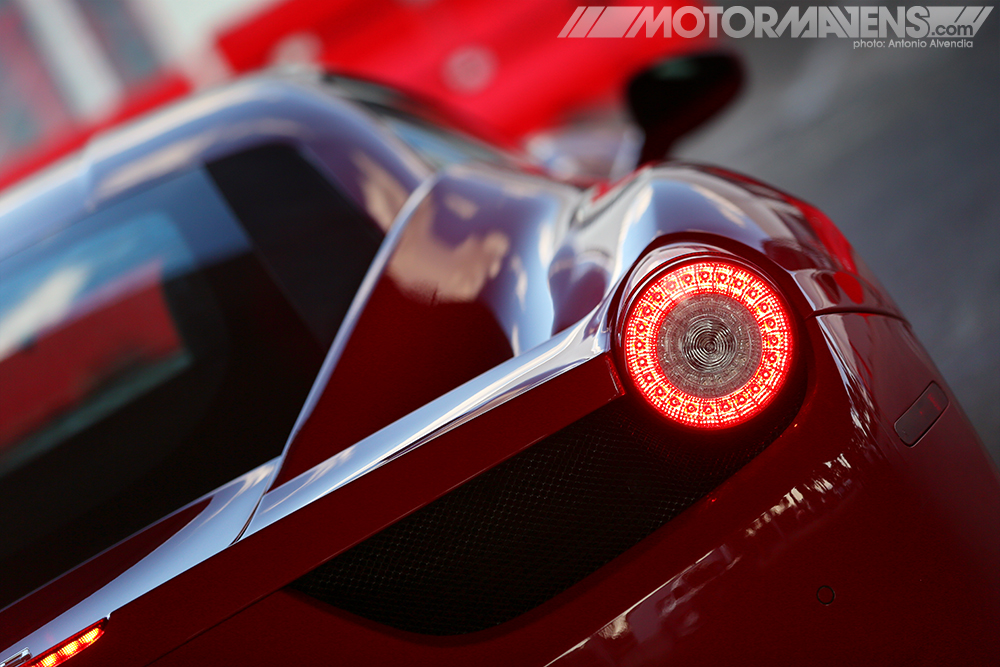 I also love the signature circular taillights.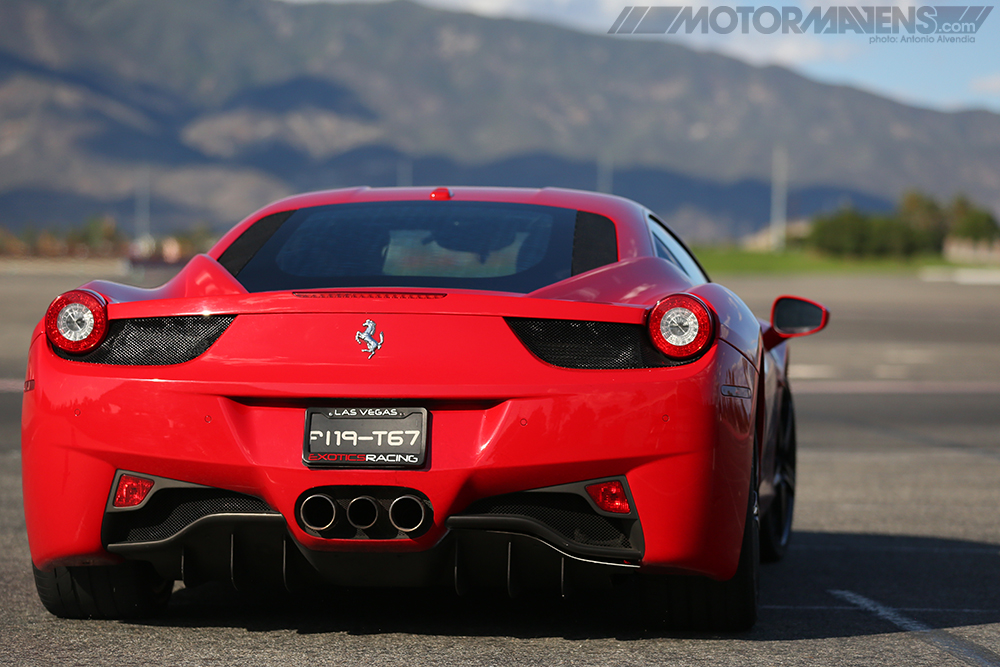 In fact, the entire rear end looks amazing! Check out the triple exhaust tips, which harmoniously project the amazing exhaust note from the F136 V8 engine. Oh God, the sound. The sound is amazing!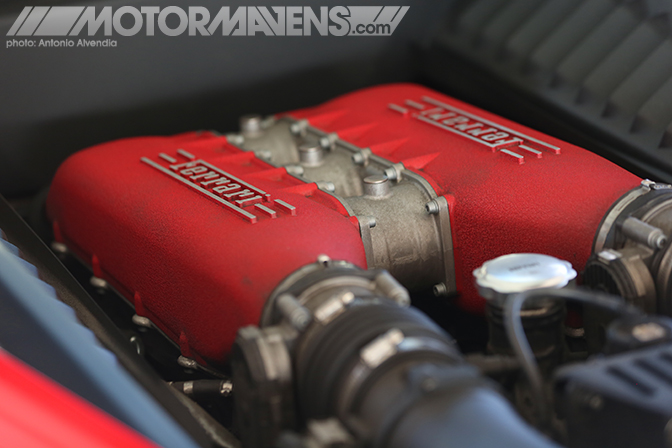 This right here is what causes all the racket. This is what gets the red blooded males (and many females) aroused… it's a 4,499 cc (274.5 cu in) V8 engine of the "Ferrari/Maserati" F136 engine family, producing 570 PS (419 kW; 562 hp) at 9,000 rpm (redline) and 540 N·m (398 lb·ft) at 6,000 rpm with 80% torque available as low as 3,250 rpm. That's insane!!! The engine also features direct fuel injection, which is a first for Ferrari mid-engine road cars. The 458 is truly a masterpiece!
The only transmission available on the 458 is a dual-clutch 7-speed GETRAG gearbox, in a different state of tune shared with the Mercedes-Benz SLS AMG. The does not come with a traditional manual transmission option, making this the first mainstream Ferrari model to not be offered with a manual transmission. You know, cause Ferrari 458s are so mainstream, like Toyota Camrys and Honda Accords.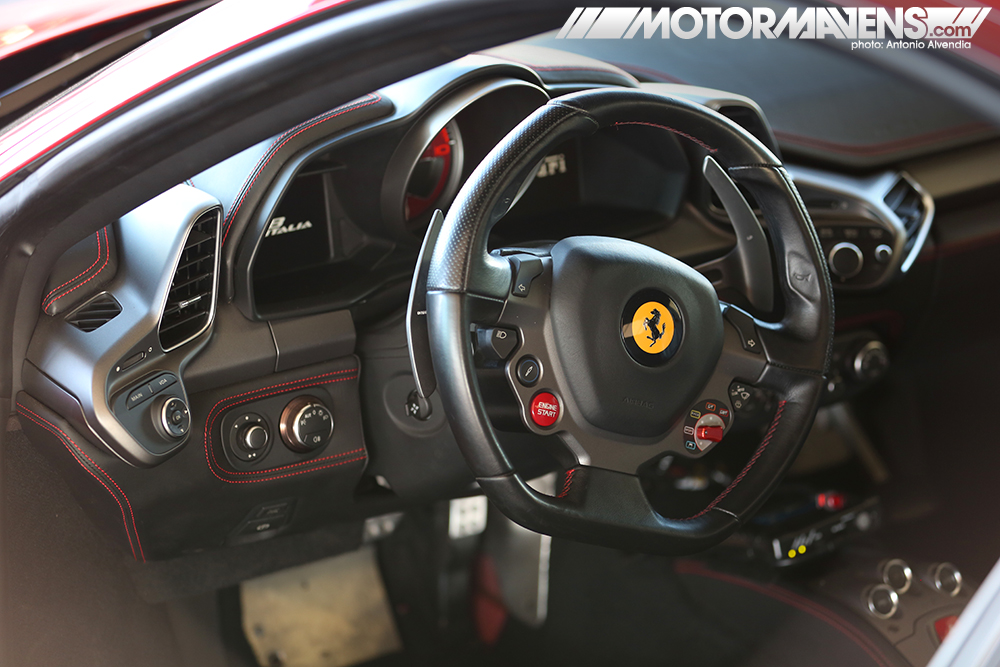 The 458's stylish, futuristic interior was designed using input from former Ferrari Formula One driver Michael Schumacher; in a layout common to racing cars, the new steering wheel incorporates many controls normally located on the dashboard or on stalks, like the engine start button, turn signals and high beams.
Check out this video blog I posted on the MotorMavens YouTube channel, which shows some parts of my experience with this amazing car… most importantly, the in-car video with 86Cup Subaru BRZ competition driver Mike Kang as my driving coach! I think it is AWESOME that Exotics Racing always recruits top grassroots drivers for its staff – well respected drivers from the car scene like Mike Bolanos and Rudy Ibanez in Las Vegas, and Mike Kang, Joon Maeng and Hiro Sumida in the Fontana location. There are a lot more top drivers in the Exotics Racing ranks, but those guys are the only ones that I know personally, I think. Okay, enough name dropping now.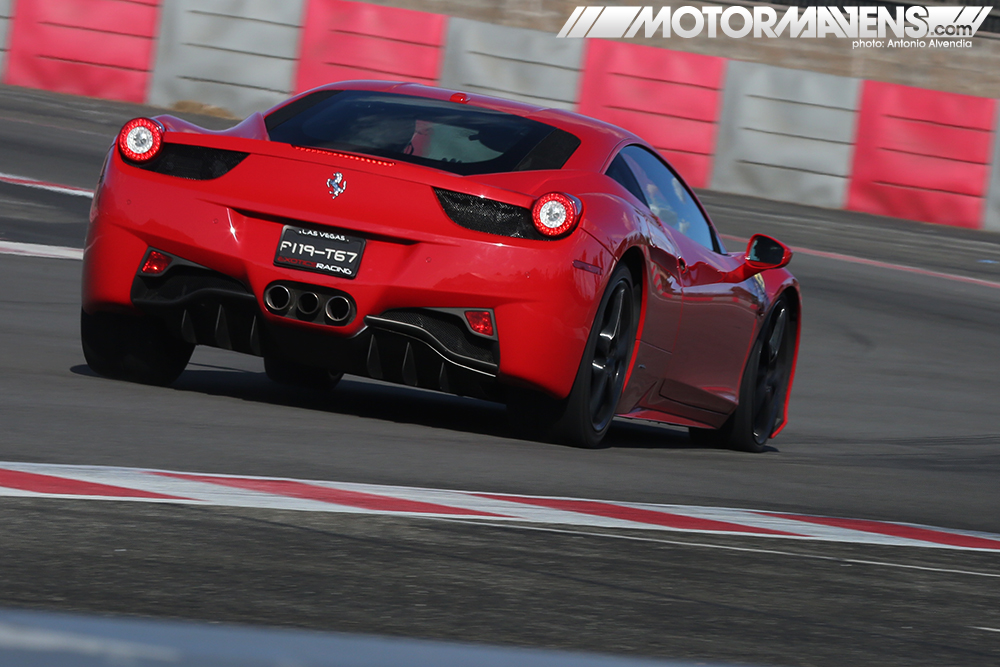 I keep hearing the engine sounds in my head when I see these pics! Sooooo good. The coolest thing about test driving a supercar at Exotics Racing is the fact that the driving instructors aren't sitting shotgun to keep you from having fun in the cars. Quite the opposite actually – as my video clip (above) will show you, the instructors help coach you on the best line and gears to be in, so you can drive the car to the best of your ability and really feel the power, the nimble handling, and the instantaneous braking that the car is capable of.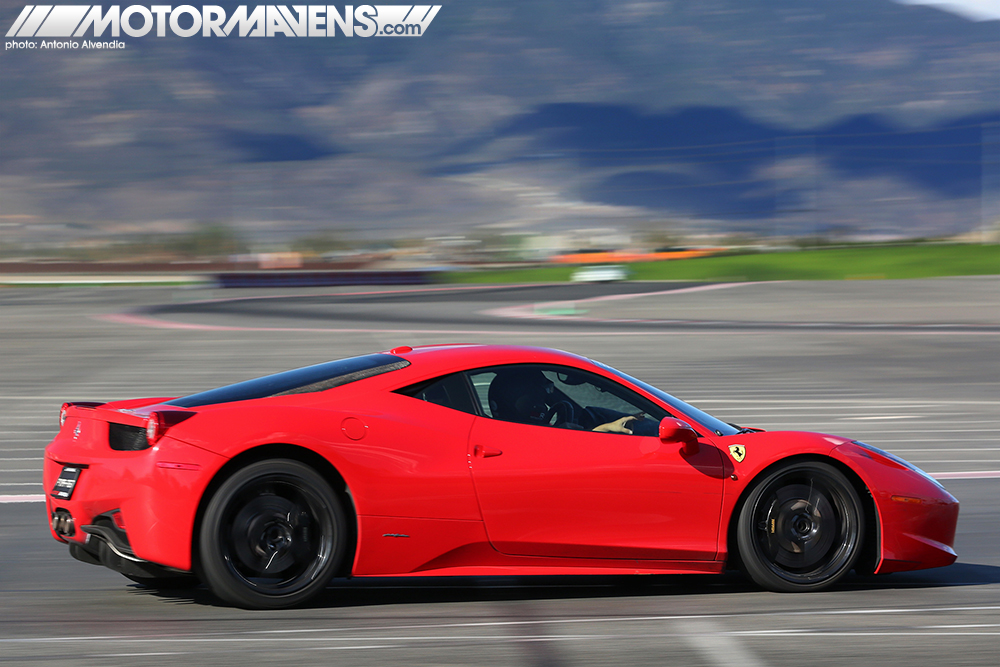 Man, what a fun day! I can't wait to go back to Exotics Racing to test drive the other cars in the fleet. I wonder which car I should choose next? Porsche GT3? Lamborghini Aventador? Lamborghini Murcielago? Audi R8? Mercedes SLS AMG? Let me know your thoughts!
:: Antonio Alvendia
---