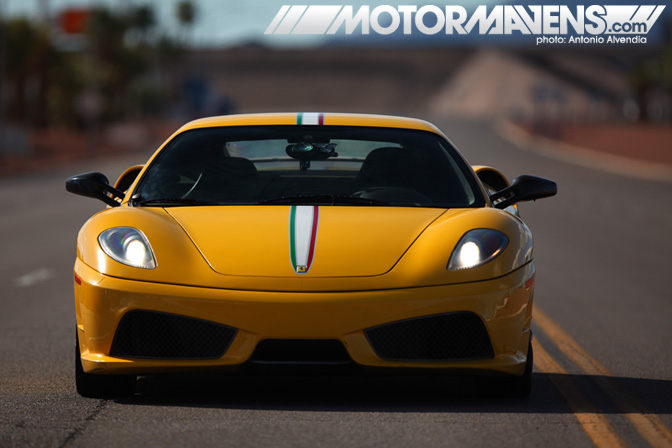 It doesn't matter if you're male or female; young or old. Everyone loves exotic cars – especially Ferrari and Lamborghini. They're beautiful; they're fast; they're exclusive. Unfortunately for most, this exclusivity stems from the fact that they're also very rare and expensive; some people never even get the chance to drive an exotic super car in their entire lifetime. The lust for exotic automobiles begins when you are a child – every car lover dreams of driving an exotic car, but usually they only get to play with smaller scale toy versions.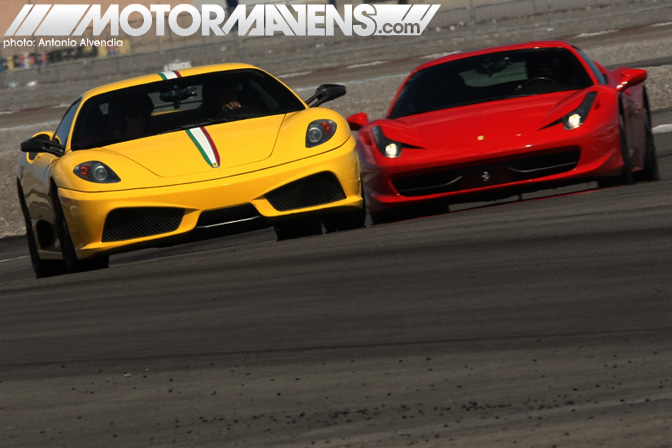 Luckily for us, MotorMavens sharpshooter Mike Kim and I were given the rare opportunity to test drive a pair of exotic supercars on a race track at Exotics Racing in Las Vegas! Located just a few freeway exits away from The Las Vegas Strip, Exotics Racing blends all the luxury and service that one expects from a Las Vegas Resort with an amazing supercar driving experience.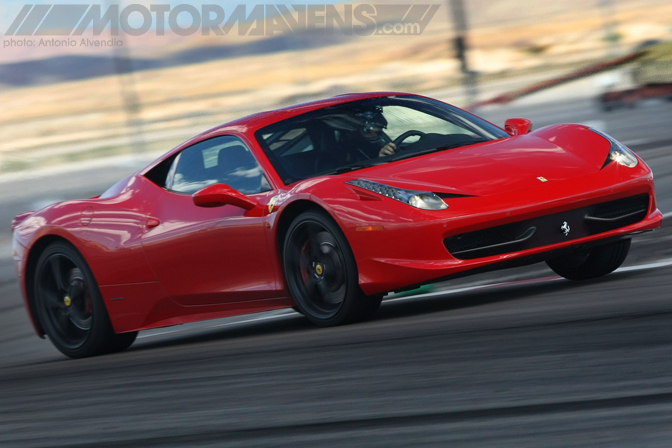 To be honest, Mike and I have always thought that test driving cars like the Ferrari 458 Italia, Lamborghini Aventador, Mercedes Benz SLS AMG, Audi R8 and Aston Martin V8 Vantage were out of our price range, so we never really bothered to look into it. Big mistake. As it turns out, our stupid assumptions were wrong. Completely wrong!
After a few phone calls and a visit to their website, we learned that they had driving packages that started at only $199 for 5 top speed laps around a private race track, or $99 for a top speed and drifting racetrack ride-along session with one of their special test drivers who LOVE to drift. When we found out it was less than two hundred dollars, we were both like, "That's it?! What the hell?! Let's do this!" We couldn't wait to get our hands on those sexy, powerful cars! From an Audi R8 to a Mercedes Benz SLS AMG to a Porsche Cayman R to a Lamborghini Aventador, Exotics Racing has a wide variety of dream cars to choose from.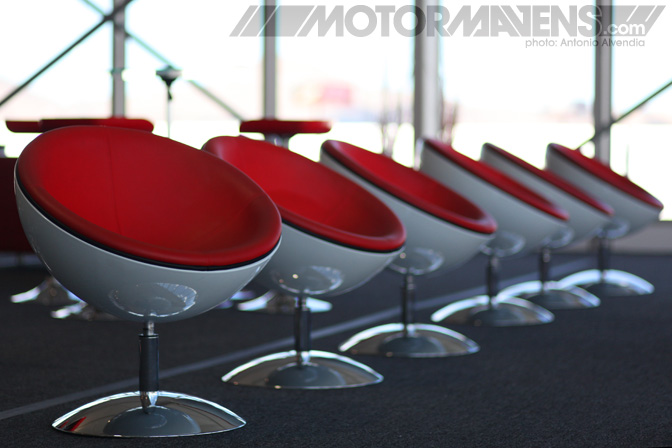 When you sign up to take a car around the track, you get to relax in one of these modern red bubble chairs and watch cars on the racetrack until you're greeted by a friendly host and driving instructor who will take you through a "discovery lap" orientation, which covers the driving line and the general rules of what and what not to do on the racetrack. When we arrived, we were greeted immediately by our gracious host Karim, who gave us some cold water bottles and arranged for us to take two of their finest vehicles out for a run on the track with Exotics Racing driving instructors.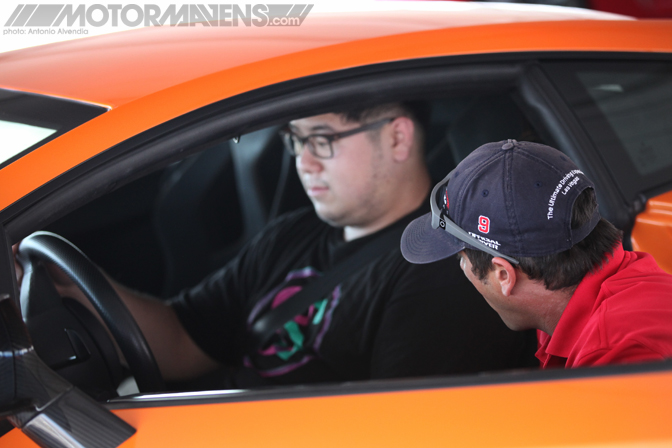 Some people have wrong assumptions about having an instructor sit with you during your laps around the track, so we should address that real quick. Some think that the goal of a driving instructor is to prevent you from driving the car too fast or prevent you from pushing the car to its limits. This is NOT TRUE AT ALL.
Exotics Racing actually places licensed driving instructors in the cars with you so they can coach you on how to safely take the car to its limits! These guys are seasoned racing drivers who constantly coach you on how you can go faster and faster, improving your driving performance on each lap!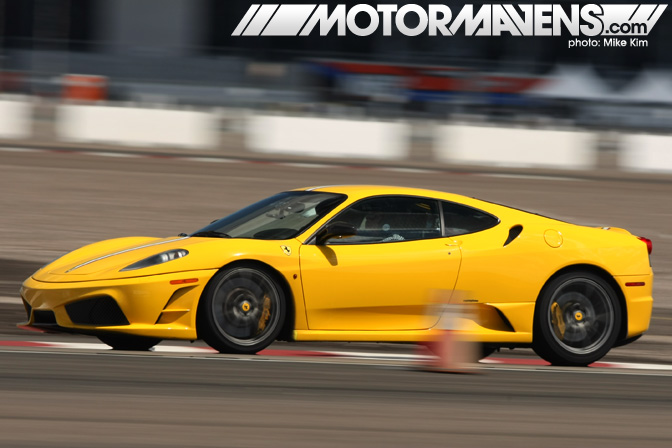 I was genuinely surprised lap after lap, as my instructor shouted helpful tips to me just before each turn, which definitely helped me position the car in the right place on the track to set it up correctly for upcoming turns. He wasn't shouting at me in a bad way – he had to shout because the engine of the Ferrari I was driving had such an intensely amazing throttle sound and exhaust note. And it's loud as hell in there! This type of strategic driving instruction really helped me take the car beyond what I originally believed was the limit. It was awesome – it kind of felt like a mini Skip Barber or Bondurant Driving School experience!
When we arrived at Exotics Racing, our host Karim asked us which cars we wanted to drive. Both Mike and I were hoping to try out the Lamborghini Aventador and the Ferrari 458 Italia, but unfortunately the Aventador was in the shop for its regular maintenance and the Italia was already booked to another driver who got there before us. No big deal – at this point, I had never before driven a Ferrari in my life, so anything would be cool with me! Hell, if they gave me a Magnum PI Ferrari 308 GTS, I'd gladly put on a Hawaiian shirt to drive it. No sweat… but luckily for us, Exotics Racing gave us much better options.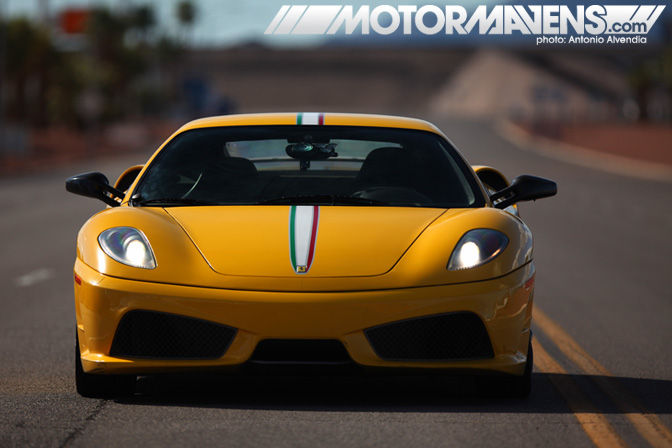 My weapon of choice was the 508 horsepower Ferrari F430 Scuderia. Nicknamed The Scud, this car accelerated like a scud missile around the racetrack!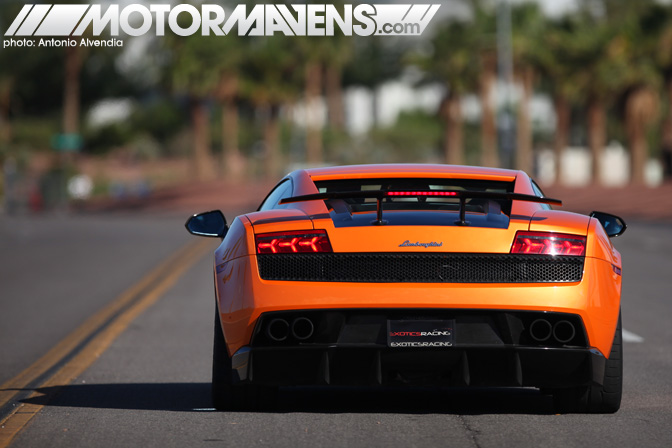 Mike's office for the day was also one of my favorites; the car with the longest name in the world – the Lamborghini Gallardo LP570-4 Superleggera. Mike said that ever since he saw a Top Gear special with Jeremy Clarkson taking this car around the Autodromo Nazionale Monza race track in Italy, he's been wanting to drive this car. He thought he would never get the opportunity to drive this 562-horsepower all-wheel-drive beast, but thanks to Exotics Racing, that dream came true!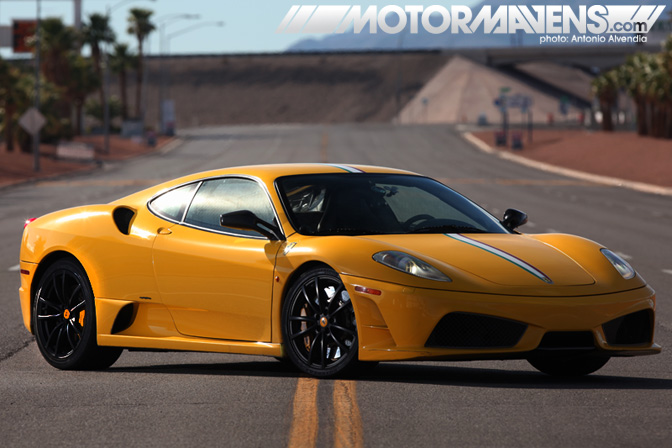 The Ferrari F430 has always been an amazing car since its initial release in 2004, when it replaced its predecessor, the F360 Modena. Like its predecessor, there have been many variations of the car throughout the model years, including the F430 Spyder, F430 Challenge, and the ultimate version, the F430 Scuderia.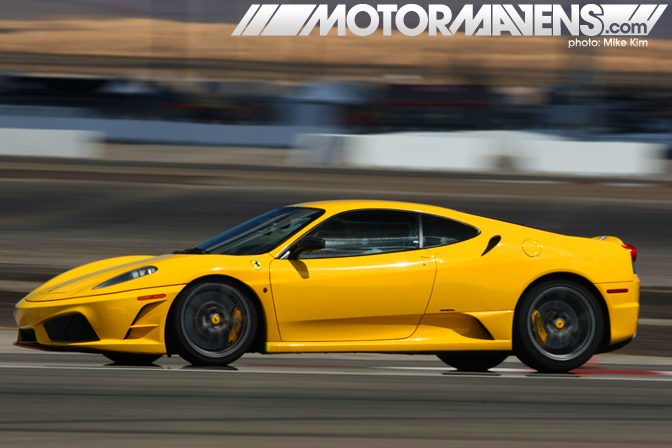 The Scuderia is known to do faster lap times around Ferrari's test track in Fiorano, Italy, than even the Ferrari Enzo. Scuderia, which means stable of horses in Italian, was introduced in 2007 by F1 legend Michael Schumacher at the Frankfurt Auto Show.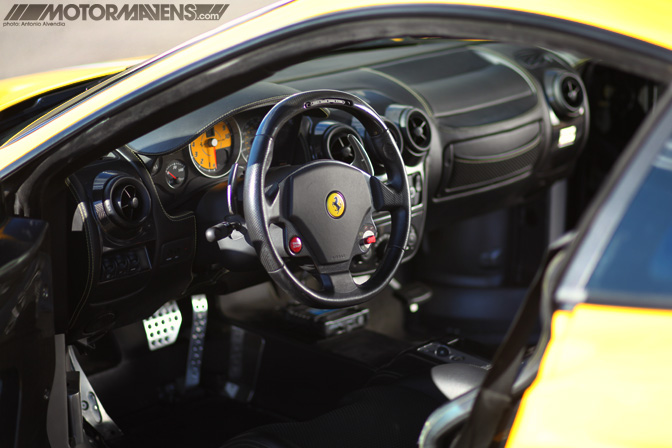 The Scud has a stripped down interior in efforts to save weight, so there is no carpeting or sound deadening material. Either way, the interior looks simply amazing.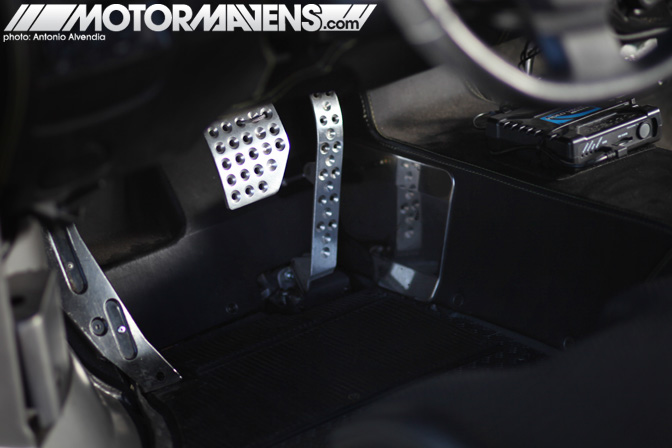 The welds are viewable in plain sight, and the floor mounted gas pedal definitely gave it a high end race car feel. Well, it is, after all a Ferrari.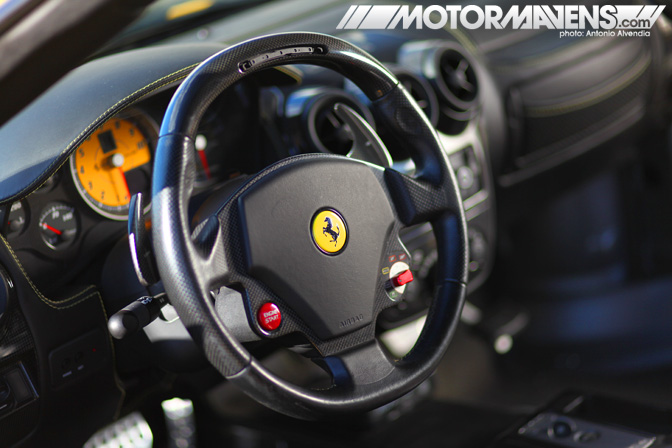 The Ferrari steering wheel has a bit more to it than your average car does. The traction control knob and engine start buttons are the most prominent features outside of the Ferrari logo. The Scud is equipped with an F1 style sequential manual gearbox with electronically controlled clutch which the fellas on Top Gear UK like to call a flappy paddle gearbox. The car can run in a full automatic shifting mode or a full systems and traction control off race mode. The steering wheel also has a series of LEDs on the top which act as a rev meter and shift light while pushing yourself to the limit.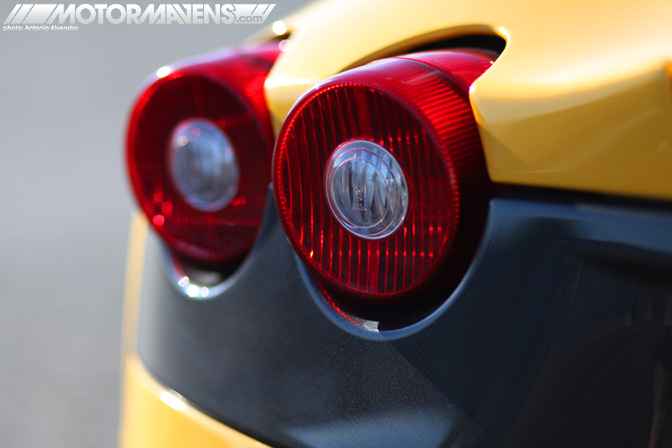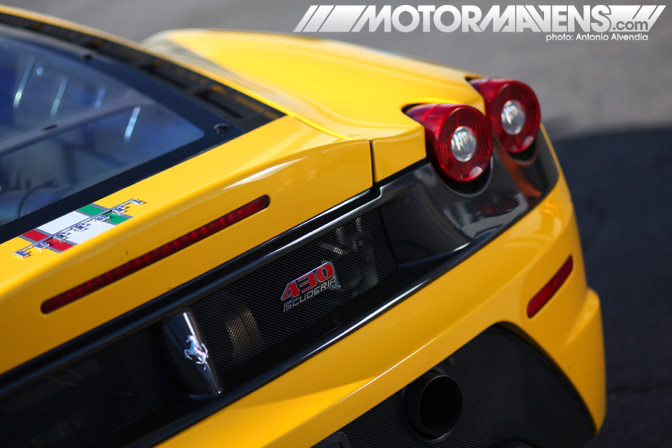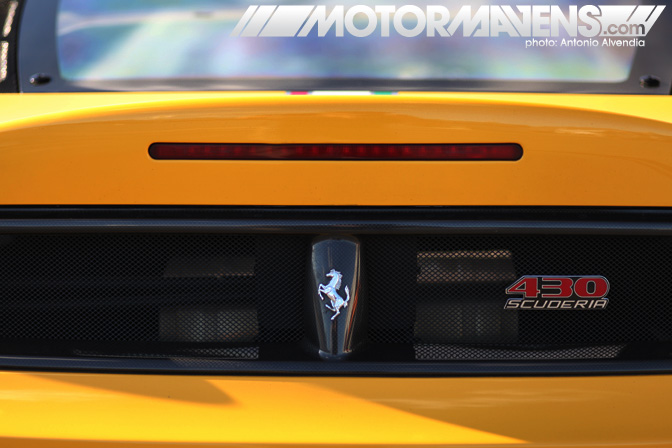 There is just no mistaking the twin circular taillights, and the red, white and green racing stripe which runs down the middle of the car ends at the top of the rear hatch with the Ferrari logo. Immediately below, you can see the prancing horse on the rear mesh grill and 430 Scuderia  emblem, which lets the person following know that this is no ordinary Ferrari.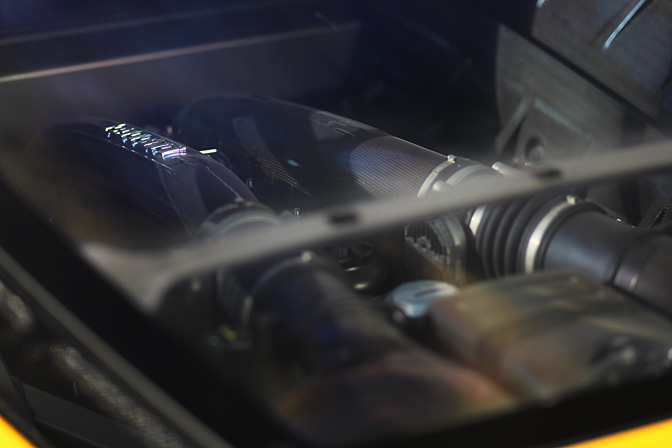 Under the rear glass lies a 4.3 liter V8 engine, producing 508-horsepower. This is what gives the Ferrari F430 its name. Being hand built, there are some really interesting videos online where you can get a glimpse of Ferrari's manufacturing process.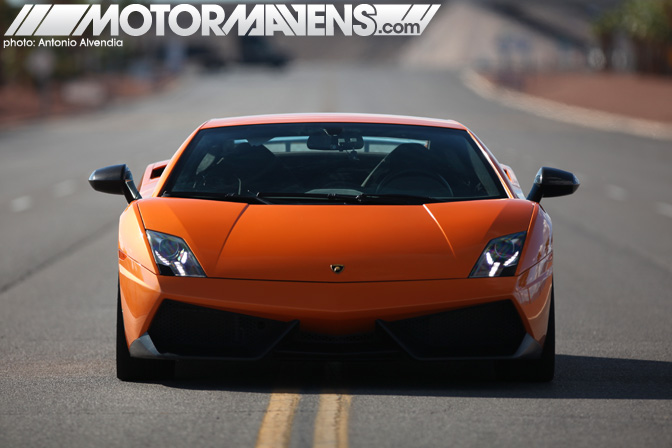 The Lamborghini Gallardo might be called the baby Lambo in the manufacturer lineup, but it is one hell of a car nonetheless. Putting down a massive 568 horsepower, it was surprisingly tame and relatively easy to handle. The all-wheel-drive system, borrowed from Audi, kept the car very stable during hard acceleration around the track. The guys at Exotics Racing have nicknamed this LP570-4 Superleggera The Superleg!
The steering wheel inside of the Superleg is simple and classy, taking a minimalistic approach with only a Lamborghini crest on the horn button and a small accent of carbon fiber on the bottom of the wheel.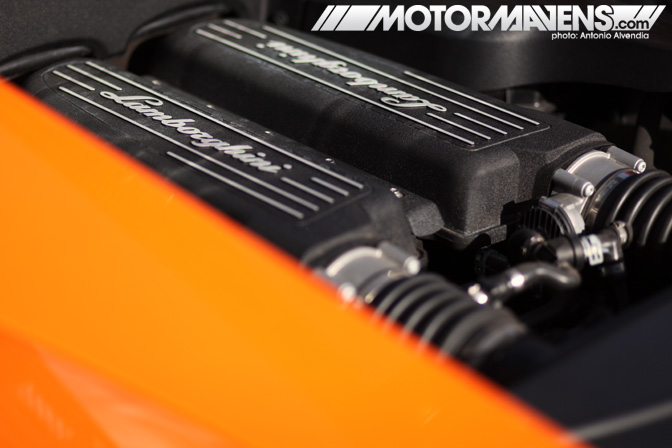 The Lamborghini's 5.2 liter, 562 horsepower V10 is also borrowed from Audi.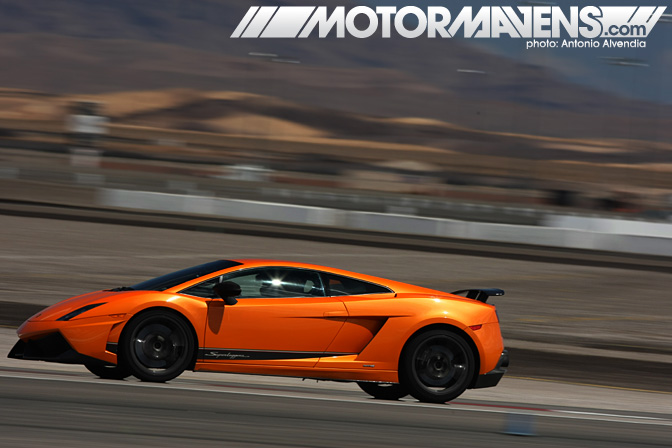 This is Mike, rocking the Superleg on the track! Although I'm not sure I'd want a bright cop-attracting color like metallic orange if I owned a 562hp Lamborghini, I have to admit, it did look incredibly gorgeous out there on the racetrack. The color just magnetizes your eyes, making you instinctively follow the car around the track lap after lap.
When Mike pulled the car off the track and back into the Exotics Racing paddock, I was cracking up because Mike had a ridiculous ear to ear grin on his face, and his instructor looked like he wanted to exit the vehicle. HILARIOUS!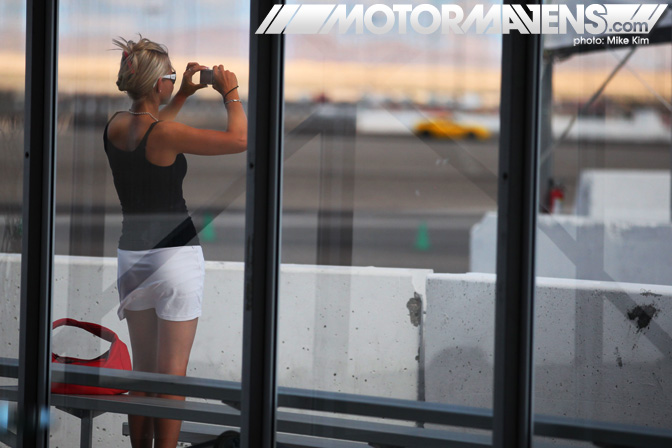 Every once in a while, people visit Exotics Racing because they're drawn to the racetrack, but for some reason, they're too nervous to drive the supercars themselves. While the good folks at Exotics Racing say it's perfectly okay to stand on the sidelines and take pictures, the real beauty of the Exotics Racing experience is out on the track.
This being said, Exotics Racing offers ride along packages… including a DRIFTING Ride Along Package, which is only $99. Dude. That's super cheap. It costs less than a trip to your favorite gentlemen's club in Vegas, and is more memorable, due to the DVD they give you at the end of your experience! And you won't get in trouble for coming home with glitter on your face! (You know what I'm talking about.) Keep your home life peaceful and get your kicks at Exotics Racing!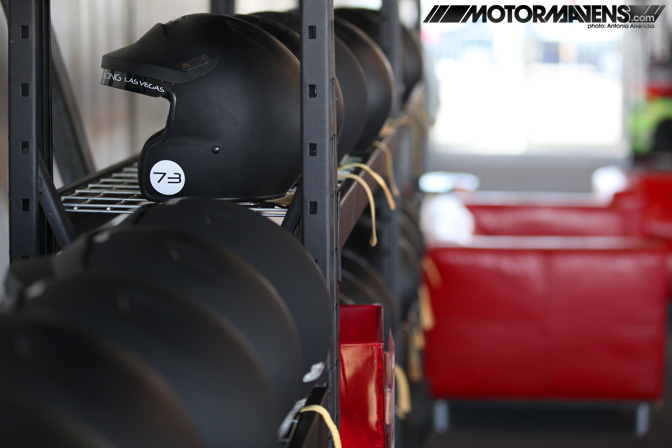 Upon signing up for a ride along, you walk over to the Exotics Racing helmet rack, where you can choose from a multitude of open faced helmets in different sizes to fit your melon.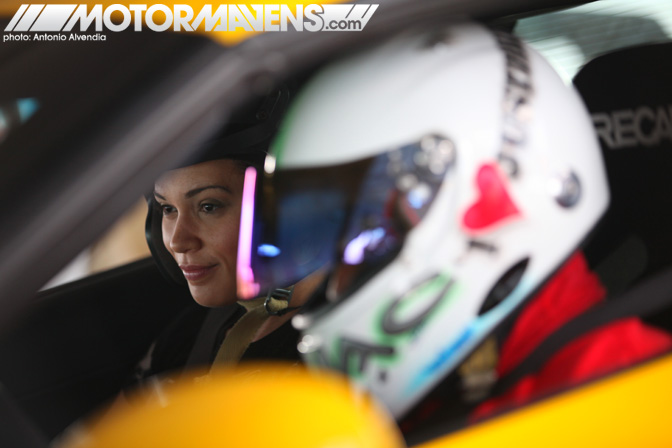 Next, they'll put you in the car with a seasoned professional driver who cheerfully greets you and makes sure you plug in your USB stick into the car's onboard camera system.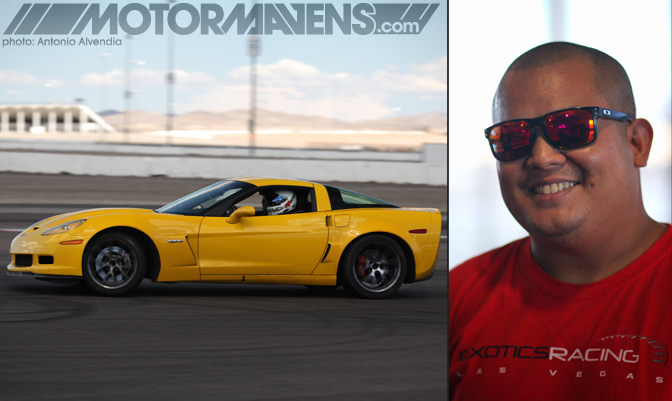 On our trip to Exotics Racing, the guy giving ride alongs was none other than our friend Mike "Bomac" Bolanos, who we know from attending JustDrift events. Mike is an outstanding driver, but he's humble and likes to give credit where credit is due. He says that normally, the driver for ride alongs is his friend Rudy Ibanez; Mike continued to explain that he is basically Rudy's assistant, giving ride alongs on days that Rudy isn't around.
Come on! Is that a dream job or what?! These two guys basically get paid to DRIFT every day. For Mike and Rudy, a long day at work consists of strapping on a helmet and controlling the throttle and steering wheel of a Corvette Z06 while navigating around the Exotics Racing track with an excited passenger! How awesome is that?! They don't even need to pay for fuel or tires!!! Where do we apply for that job???!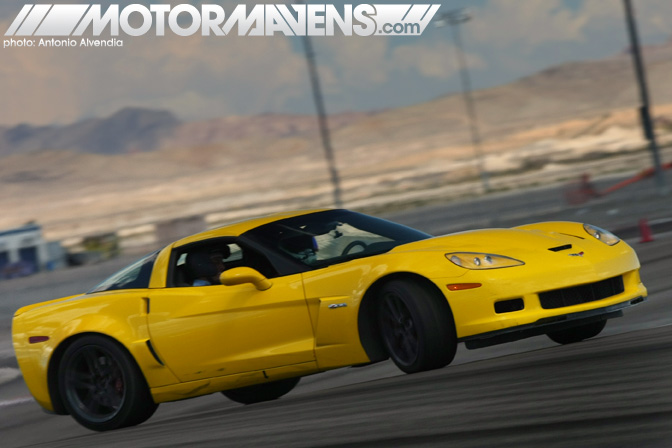 Here's our boy Mike Bomac drifting with the Corvette Z06! He does this every day while the 90% of his friends sit at boring desk jobs.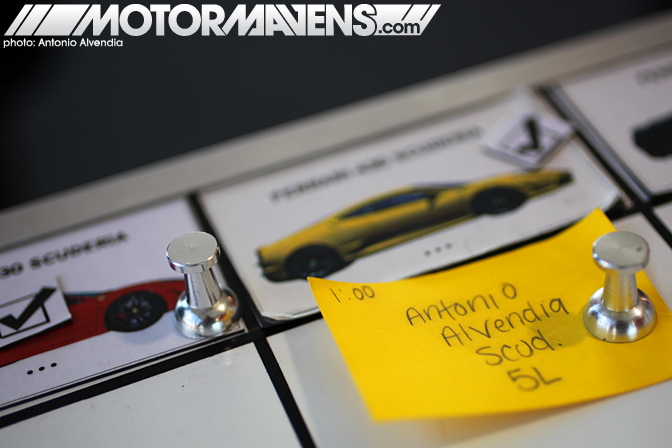 One of the best things about our Exotics Racing experience is the fact that they gave us a DVD with in-car camera footage of us driving on the racetrack and riding along with Mike Bomac! We LOVED this!!! Our DVDs are straight up comedy! When we watched the replay of the in-car camera footage of our runs, it was so hilarious! The instructor kept pushing Mike (Kim) to go faster! And faster! Listening to the banter between Mike Kim and his instructor, I couldn't stop laughing! At the same time, my ride along video with Mike Bomac was funny too. I was talking to him and asking him questions, until Bomac suddenly flicked the car into a turn, initiating drift while slamming me into the doorpanel. LOL I just shut up and stopped asking questions at that point. hahaha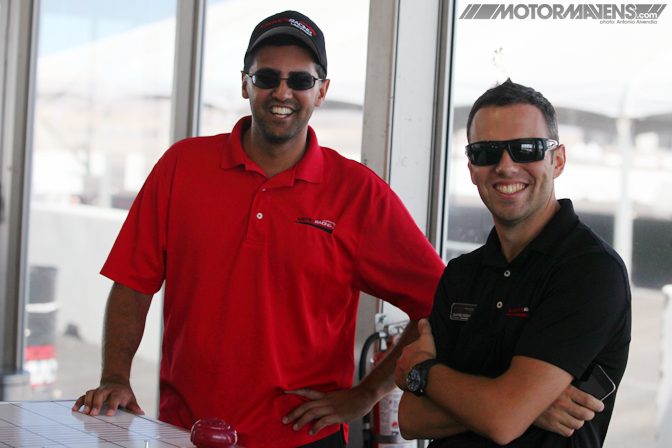 Thanks again to everyone at Exotics Racing for being such gracious hosts to us, especially Mike Bomac, Karim (in red), and David (in black). We can't wait to return to Exotics Racing for our next supercar driving experience!
:: Antonio Alvendia
458
,
Autodromo Nazionale Monza
,
Aventador
,
Bomac
,
corvette
,
drifting
,
Exotics Racing
,
F430
,
Ferrari
,
Ferrari 458
,
Gallardo
,
homepage
,
Italia
,
Jeremy Clarkson
,
Justdrift
,
Lambo
,
lamborghini
,
Las Vegas
,
Las Vegas Motor Speedway
,
LP570-4
,
Michael Schumacher
,
Mike Bolanos
,
Mike Kim
,
Monza
,
Rudy Ibanez
,
Scuderia
,
Superleggera
,
Top Gear
,
Z06
---