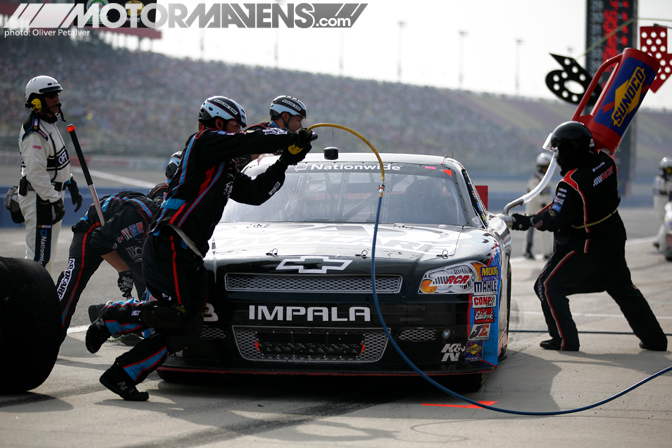 Most of our readers already know that @MotorMavens Crew doesn't normally do coverage of stock car racing. However, when we got the official invite and media passes to the NASCAR Auto Club 400 at Auto Club Speedway (California Speedway) in Fontana this past weekend, we decided it might be interesting to experience NASCAR through the eyes of an outsider.
I was unsure of what to expect. A lot of people portray the NASCAR crowd to be a certain demographic – yielding confederate flags and trucker caps with flames on the bill, screaming "Yee-haw!" but that stereotype couldn't be more incorrect, at least at the Fontana event. The crowd was diverse and I found similarities in the scene, even though it was slightly different from the forms of motorsports we normally cover. Whether we're talking about Formula Drift, American Le Mans Series (ALMS), IndyCar, or NASCAR, there is one thing that unites us all – we are all car buffs at heart. As a photographer, I don't discriminate. If it has two or four-wheels and is powered by an engine, I'll shoot it. Hearing the ridiculously loud cars scream by at nearly 200 mph gave me the same adrenaline rush as Indy cars or drift cars going sideways.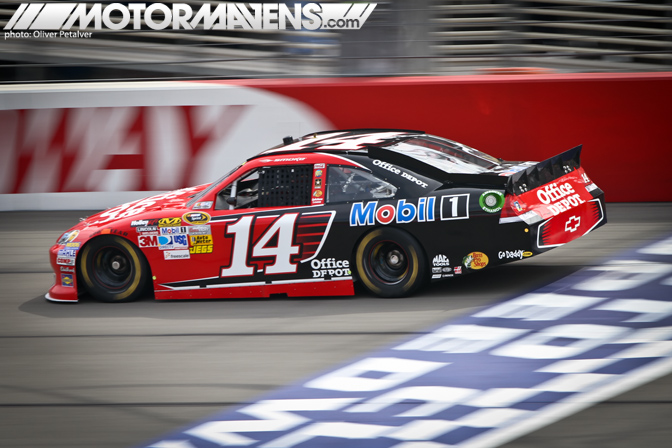 NASCAR came out to Auto Club Speedway five weeks into the season, where an estimated 90,000 fans witnessed the Sprint Cup Series race shortened by 71 laps. Two hours before Sunday's NASCAR race, blue skies and sunshine poked through the growing clouds. Many hoped the race would get started despite the rainstorm forecast and those hopes were realized when the race started and eventually crossed the halfway mark, making it official.
Mother Nature's dark clouds progressively changed to steady rain and the rest of the race washed out forcing an early winner to be called with Tony Stewart (#14 Office Depot / Mobil 1 Chevrolet) leading at the 129th lap. Stewart, who started in 9th position, got his 2nd victory of the season during the rain-shortened NASCAR Sprint Cup Series Race.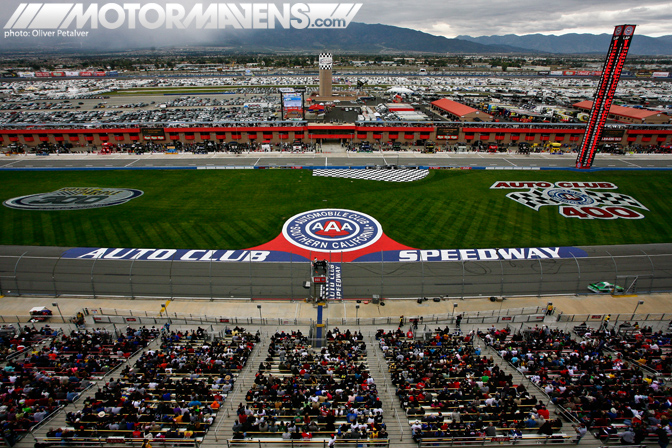 Known for its wide, bumpy asphalt, Auto Club Speedway boasts a 2-mile long oval track. Eight active drivers in the Sprint Cup series come from the Golden State making it the state with the most active NASCAR Sprint Cup Series drivers. They include Jimmie Johnson, Jeff Gordon, Casey Mears, Kevin Harvick, David Gilliland, Josh Wise, A.J. Allmendinger, and Robby Gordon.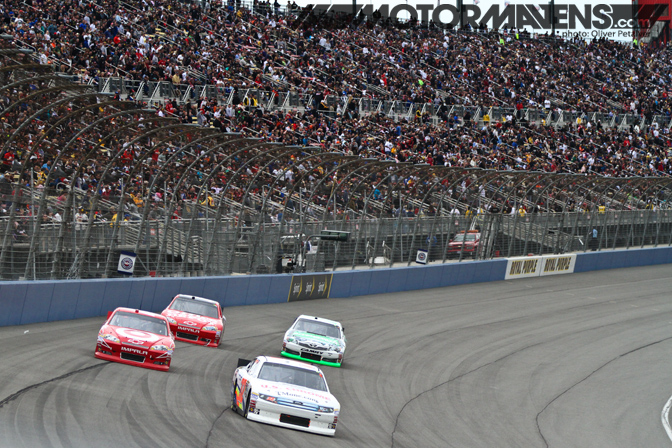 Despite the rainy forecast, many of NASCAR's diehard fans came out knowing they were probably in for a short race at the track due to the elements.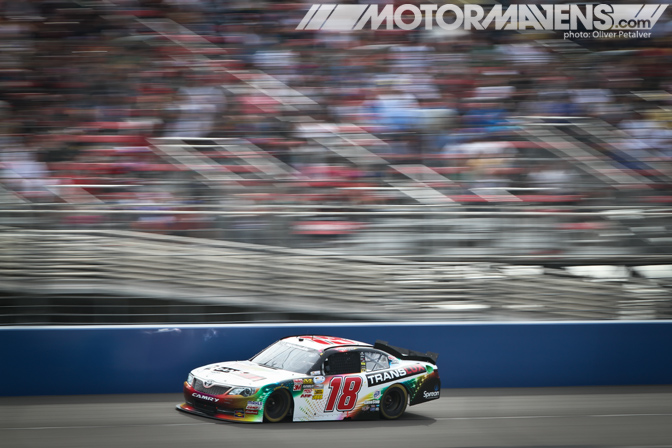 Joey Logano (#18 Translux / Joe Gibbs Racing Toyota Camry) won the 14th Annual Royal Purple 300, his 10th victory in 92 NASCAR Nationwide Series races. Joe Gibbs Racing must have the right formula because this is their 8th consecutive victory in the series at Auto Club Speedway.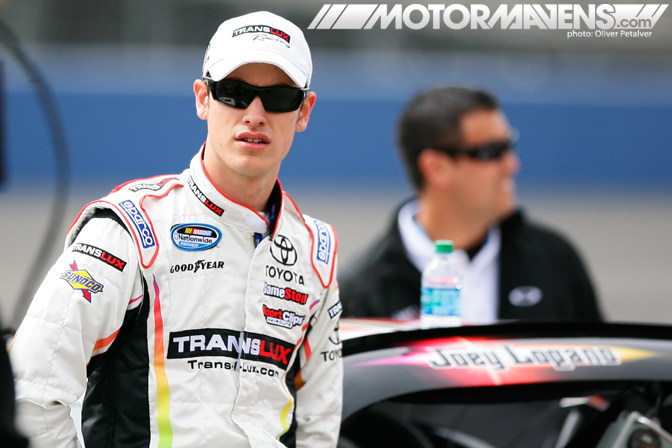 Three years ago, Joey Logano was the youngest winner in Nationwide history. Currently, he has 10 victories under his belt despite the fact that, at 21 years of age, he's barely legal to drink alcohol! Logano is the first Sprint Cup Series driver to win a Nationwide race this season.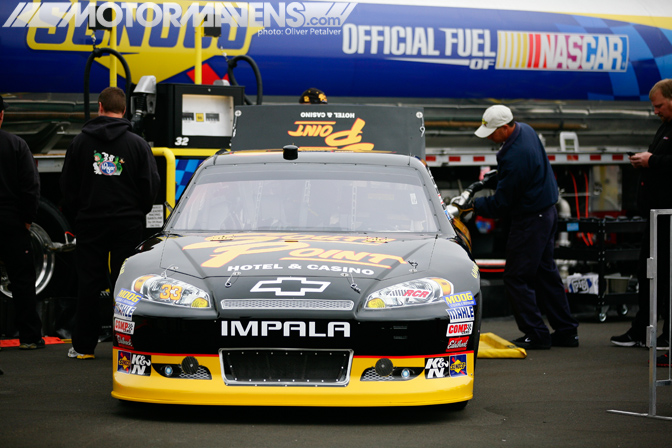 Teams prep by filling the tanks with Sunoco fuel, one of the world's leading producers of racing gasoline.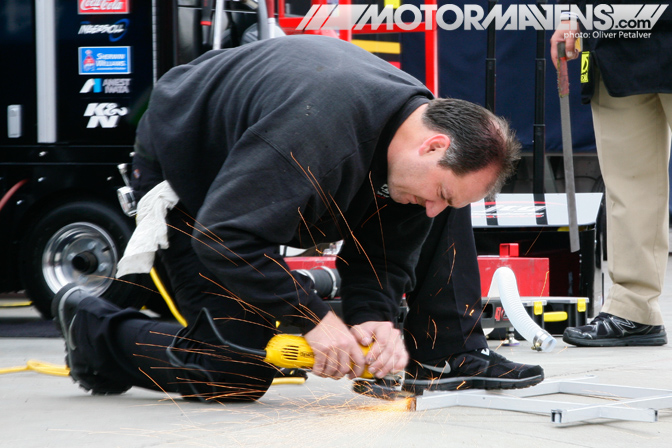 A member of Bush's Baked Beans/JTG Daugherty Racing preps a piece before practice Friday.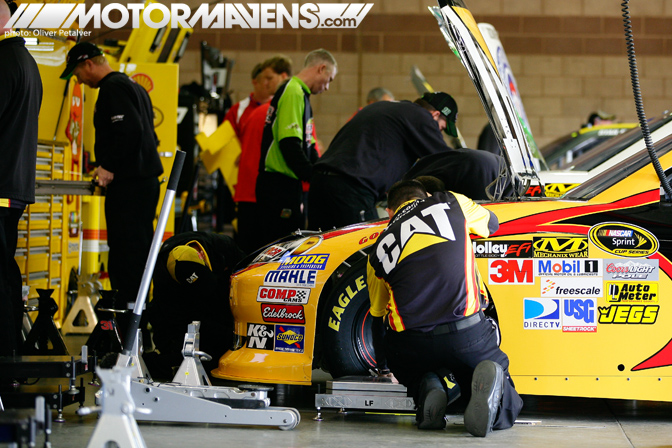 The Richard Childress Racing crew works on Jeff Burton's #31 Caterpillar Chevy in the garage before practice. Jeff Burton has 27 wins in his 17-year career.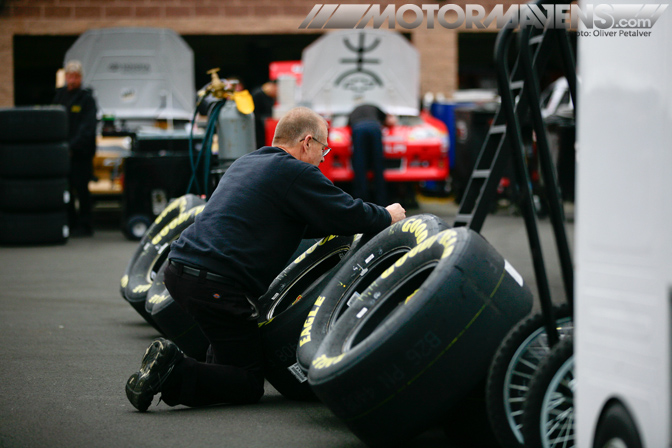 A crew member inspects the tires and wheels before they reach their final destination on the car.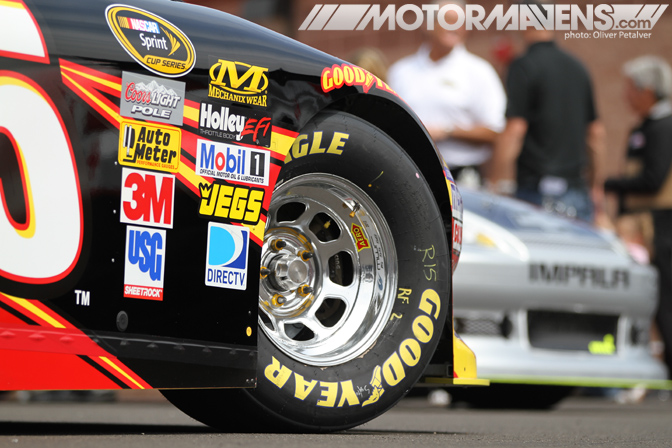 Did you know that each Goodyear tire weighs 70 lbs and costs $449? And that each tire is made 6-8 weeks before each race? Neither did I.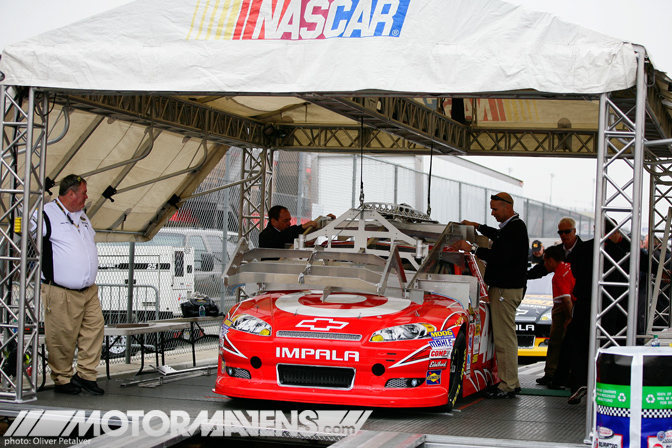 Each car undergoes a series of inspections. This grid template was unlike anything I've ever seen. Commonly referred to as "The Claw," it is NASCAR's way of preventing any adjustments to a car's body for any advantage. It is used to prevent teams from manipulating the body and keeps the body uniform.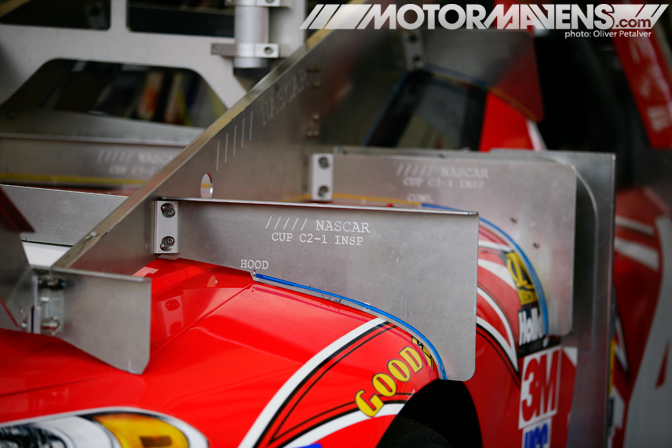 "The Claw" is basically NASCAR's way for officials to look over each car with a fine-tooth comb. Essentially, it's a full-body template that fits over the car and measures everything at once.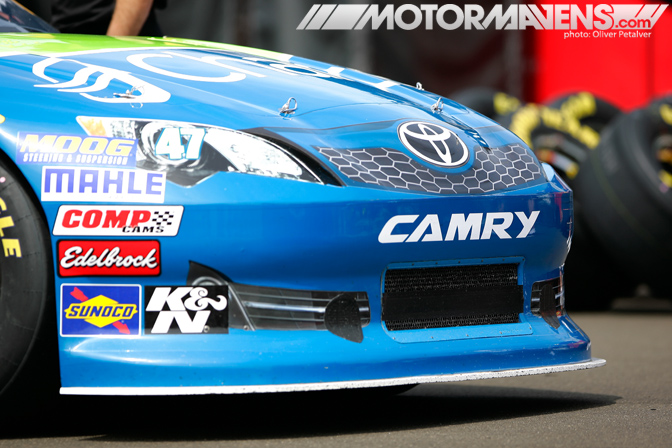 The front splitter allows teams to tune the front downforce. I'm not a Physics major but from my understanding, it minimizes air under the car.  It also creates a horizontal surface for the high-pressure to push down against. Therefore, the more area to push against, the more force you create. I'm not an expert, so I'm sure I'll soon get corrected by Mr. Kojima himself.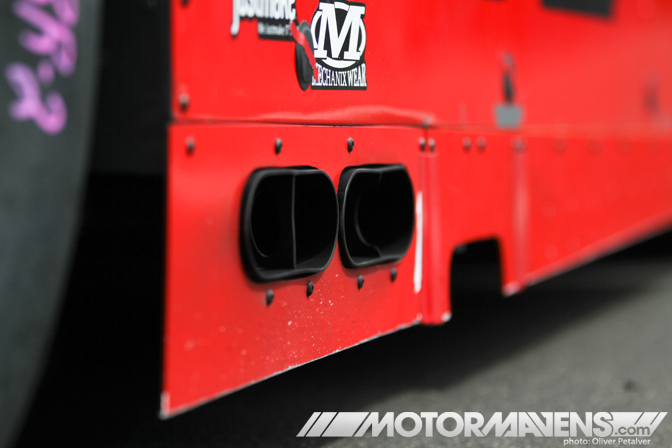 This might explain why the cars are so damn loud every time they scream right by. The exhausts exit only from the passenger side
The dome-shaped piece on the roof of each car is a camera that allows NASCAR fans to view the racing from the driver's perspective.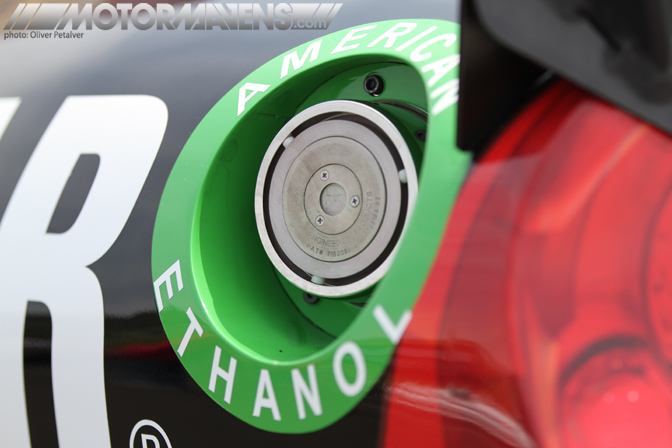 A specialized gas cap allows the insertion of the gas nozzle immediately during a pit stop. Makes me wanna get one for my high-powered hybrid.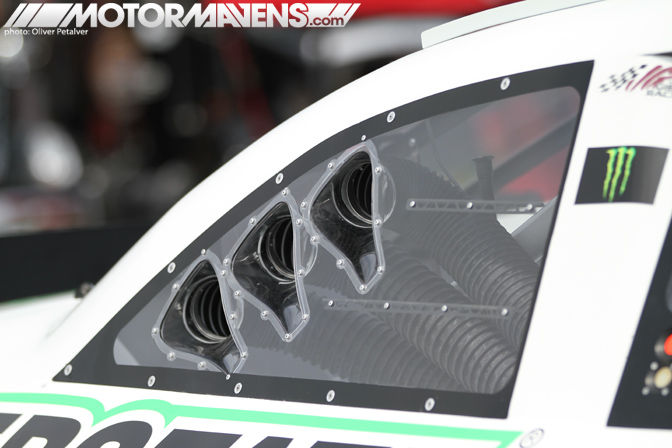 I was told that these vents cool critical components inside the car. Pretty cool looking.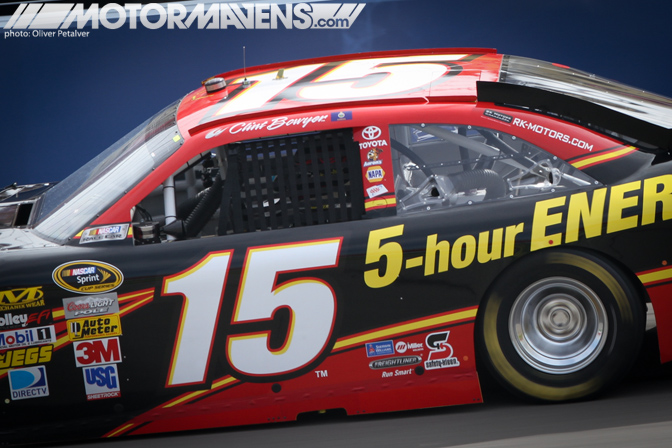 See the half-inch tall strips that run lengthwise along the roof on both sides? They help prevent the car from flipping when turned sideways during an accident or a spin. Perfect example of how small things make a HUGE difference. (Maybe we need to install these on MotorMavens shooter Mike Kim's car, because he's always flipping it on freeways and whatnot.)
The rear spoiler provides better control and balance by directing air flow over the rear of the car. Previously, the cars utilized a rear wing similar to the ones we see on some professional drift cars but NASCAR decided to scrap it in place of this rear spoiler. NASCAR issues each team a wing and is very strict regarding the wing's height and size. Look closely and you'll notice NASCAR doesn't allow decals on the rear wing.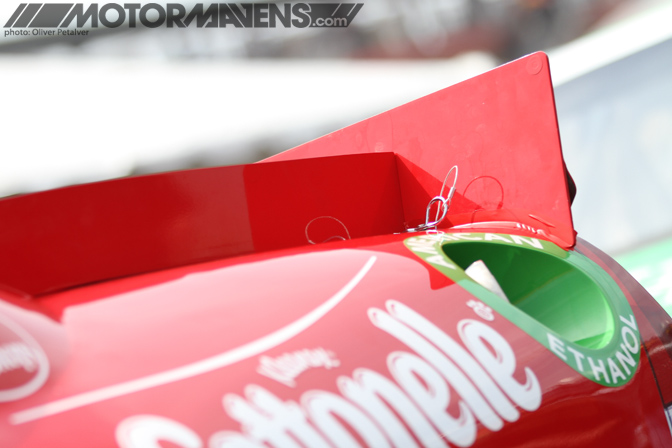 Have you wondered why the cars have a fin protruding on the left side of the car? Basically it's a rear deck fin and helps adjust rear sideforce.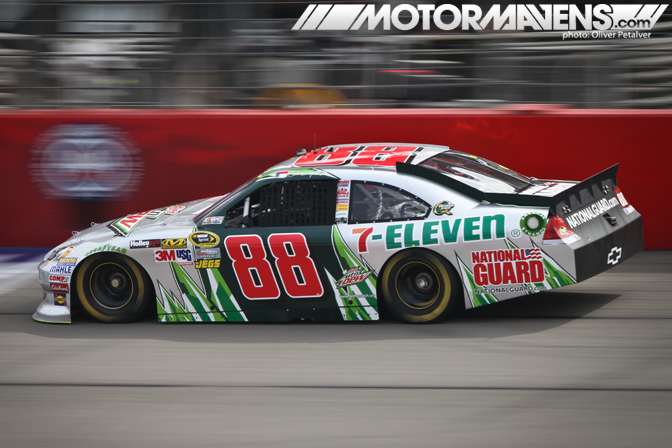 Dale Earnhardt Jr's (#88 Amp Energy/National Guard Chevrolet) third-place finish marked his first top 10-result at Auto Club Speedway in the new car.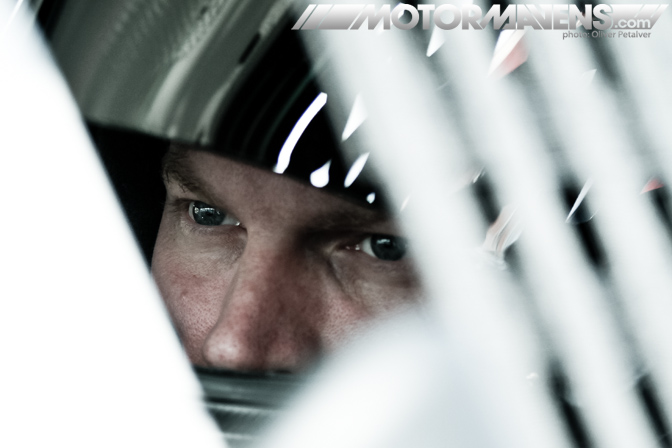 NASCAR's Most Popular Driver, Dale Earnhardt Jr., has so much weight on his shoulders! Being the son of a seven-time champion, many people expect him to live up to his father's name. It can't be easy. On the upside, he landed Danica Patrick full-time for the NASCAR Nationwide Series for his JR Motorsports team.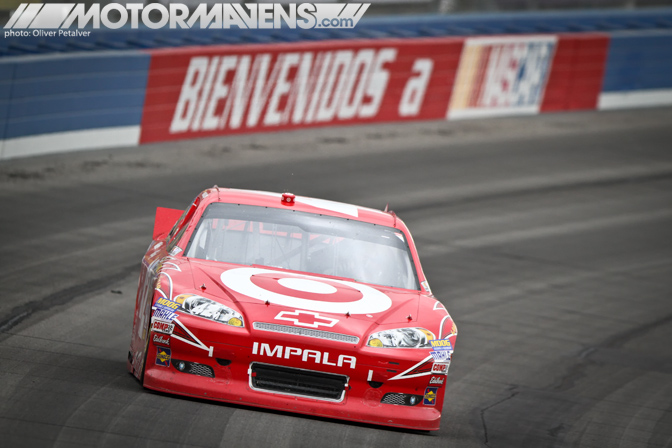 Juan Pablo Montoya (#42 Target / Earnhardt Ganassi Racing Chevrolet Impala) is the first Formula One driver to compete full-time in NASCAR. He's also the first foreign-born driver to notch multiple victories in the NASCAR Sprint Cup Series. Be sure to follow him on Twitter: @jpmontoya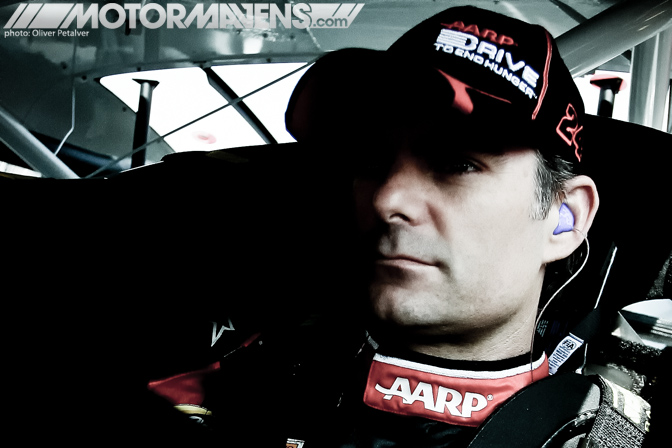 Jeff Gordon (#24 Drive to End Hunger/Hendrick Motorsports Chevrolet) has a reputation for winning both on and off the track. He has won four NASCAR Cup championships and three Daytona 500s. Back in 2009, he was the first driver to earn $100 million in career winnings. Did I mention he is also married to Ingrid Vandebosch? Winning!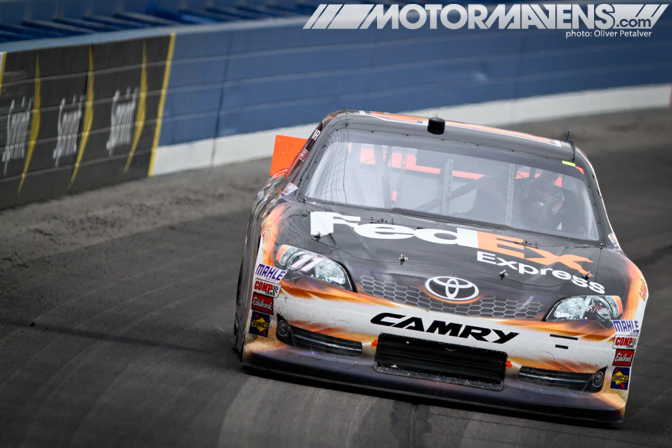 Denny Hamlin (#11 FedEx/Joe Gibbs Racing Toyota Camry) was the Coors Light Pole Winner with a lap of 38.626 seconds at 186.403 mph. This is his 10th pole in 228 NASCAR Sprint Cup Series races. "What ever has happened in our shop over the last two weekends I don't know, but we have found some speed here." I'll say.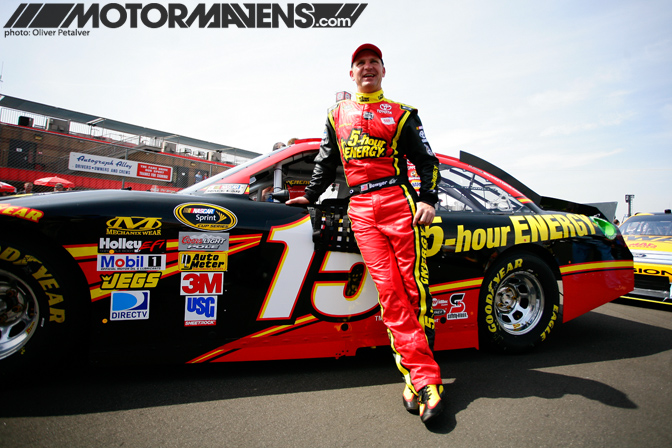 Team Michael Waltrip Racing/5-hour Energy Toyota driver Clint Bowyer relaxes before practice. Last year, he finished 13th in series points.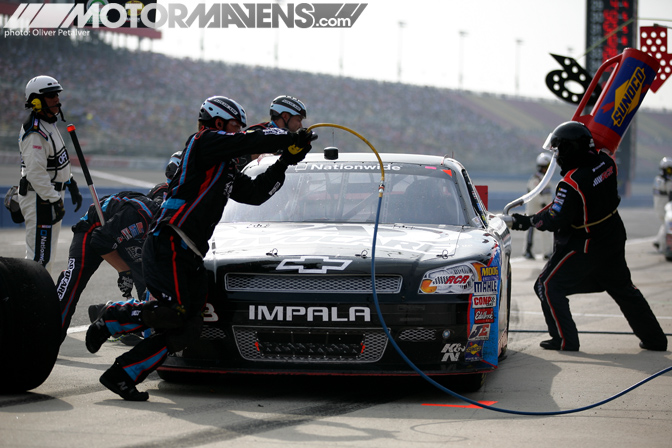 Less than 15 seconds. That's how much time it usually takes to change all four tires and fill the car with fuel.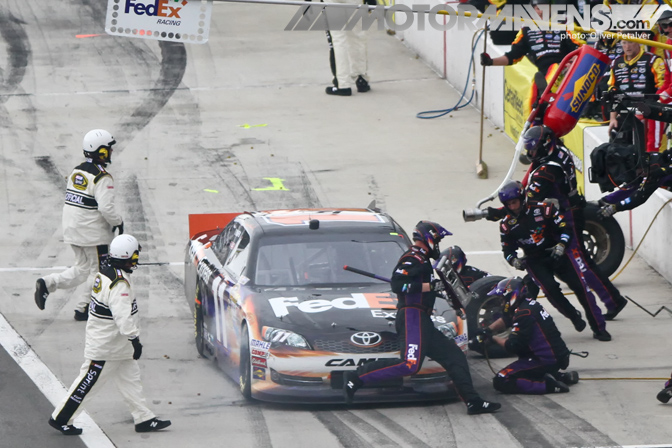 The FedEx/Joe Gibbs Racing crew works furiously fast while Danny Hamlin makes a pit stop. Seconds are critical in this race. All it takes is for one bad pit stop to make a potential winner move back in the race.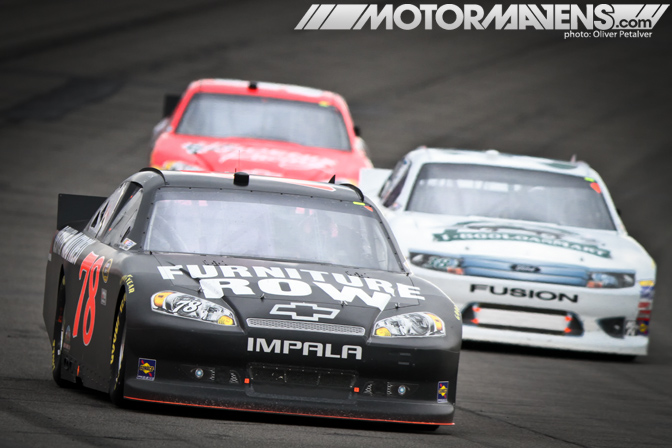 Regan Smith (#78 Furntiture Row/CSX "Play it Safe" Chevy) leads the pack during the Auto Club 400.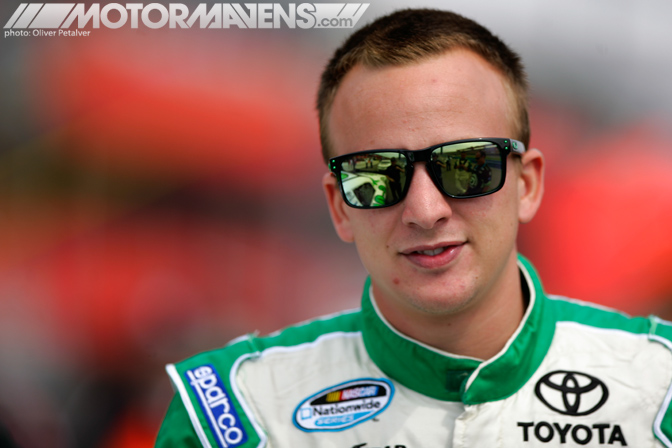 NASCAR driver Tayler Malsam, piloting the G-Oil/TriStar Motorsports Toyota, prepares for the Nationwide Series race.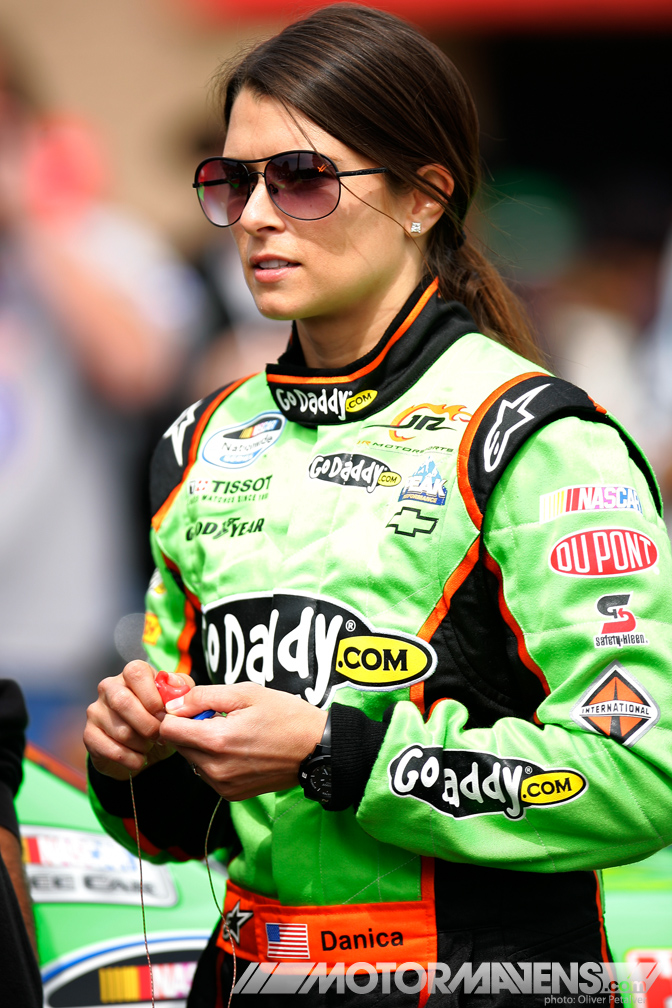 For the past seven years, Danica Patrick was the face of IndyCar. Now, she has moved on to NASCAR where she hasn't had much luck so far. Debris on the track apparently punctured her radiator at the midway point of the Nationwide Series race on Saturday. Ouch.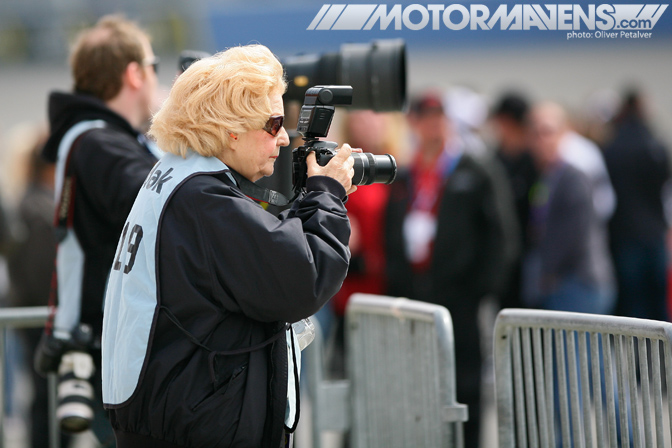 I had the pleasure of meeting photojournalist Kay Presto, owner of CarsandCompetition.com. She's been shooting far longer than I've been on this planet – 41 years!
Ken Shrader (#32 FAS Lane Racing ) and Marcos Ambrose (#9 Dewalt/Richard Petty Motorsports Ford) on the straight-away after Turn 4.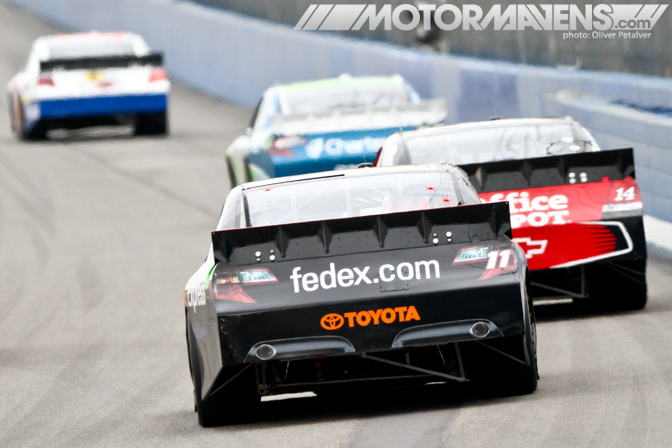 Danny Hamlin (FedEx/Joe Gibbs Racing Toyota) trails behind Tony Stewart (Office Depot/Mobil 1/Stewart-Haas Racing Chevrolet) on Lap 111.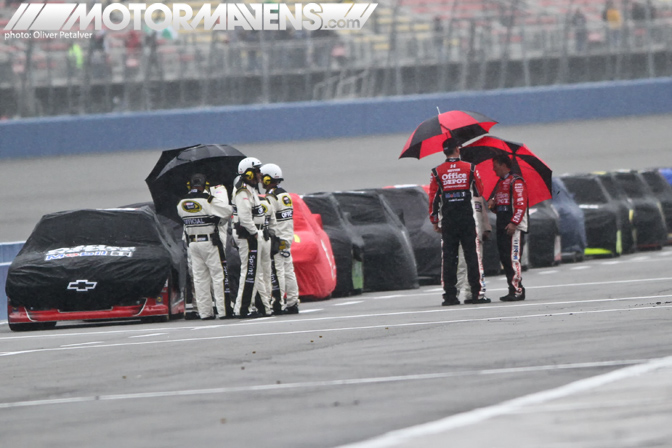 Few drivers were unhappy as the race was called amid steadily worsening rain. Some drivers wanted to wait longer since there were five hours of daylight left. Many felt Tony Stewart got a little help from Mother Nature. Regardless, it didn't take luck for Stewart to get where he is. Just two weeks ago in Las Vegas, he won his first event of the season. With a great start this season, Stewart looks to add to his 46th Sprint Cup win.
I enjoyed my first NASCAR experience, and definitely look forward to coming out to this event again next year. For more information on the NASCAR Sprint Cup Series, check out NASCAR's official website.
::Oliver Petalver
Auto Club Speedway
,
CASEY MEARS
,
chevrolet
,
CLINT BOWYER
,
Dale Earnhardt
,
Danica Patrick
,
DANNY HAMLIN
,
Ford
,
GOODYEAR TIRES
,
INGRID VANDEBOSCH
,
Jeff Burton
,
JEFF GORDON
,
JIMMIE JOHNSON
,
JOEY LOGANO
,
JR
,
JUAN PABLO MONTOYA
,
KAY PRESTO
,
MARCOS AMBROSE
,
MotorMavens
,
NASCAR
,
NATIONWIDE SERIES
,
OFFICE DEPOT
,
Oliver Petalver
,
SPRINT CUP SERIES
,
sunoco
,
TAYLER MALSAM
,
TONY STEWART
,
Toyota
---