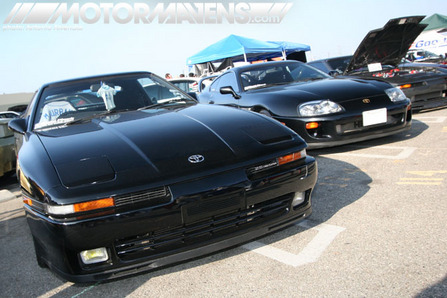 This Saturday (TOMORROW) in Little Tokyo/Downtown Los Angeles, we will make history. Tomorrow, August 15, 2009 marks the VERY LAST Nisei Showoff event ever. Ever. For those who don't know about Import Showoff, it was the first import car show ever created. It was started way back in 1994 by Ken Miyoshi from Mainstream Productions, a car industry visionary, DJ and club promoter who noticed that people started "parking lot pimpin" and flossing their cars hardcore at his club events back in the early 1990s.
Nisei Showoff was a "special edition" Import Showoff that always takes place in August of every year, to coincide with the annual Nisei Week festivities that go on in Little Tokyo, Downtown LA. In case you don't know, the term "Nisei" refers to second generation Japanese people; Nisei Week is a special week dedicated to the celebration of Nisei Japanese and Japanese-American culture. As many of you know, much of Japanese and Japanese-American culture (especially Nisei culture) involves cars!
So Ken Miyoshi started the Nisei Showoff in Little Tokyo (in 1999? 2000?) to celebrate the cars and lifestyle of Nisei culture. Even though it started out as a Nisei themed carshow, Nisei Showoff turned out to be much more than that. For those of us who have lived in LA for the past 10 years, Nisei Showoff is THE ONLY carshow where you can expect to find top quality cars. If you like underbody neon, colormatched vinyl interior and cotton puffs underneath your Mitsubishi Eclipse, Dodge Neon or Ford Probe, this show is not for you. Stay the hell home. However, if you're all about deep offset wheels and demon camber on AE86s, super clean twin carbed Datsun 510s, period correct 1973 Corollas with 2TG engines, slammed/super clean JDM steez Honda Civics and Integras with rare, deep offset wheels and the entire Spoon and Mugen catalog bolted up to your car… then Nisei Showoff was created for YOU.
So get off the internet (or bring it with you) and BUY A TICKET to SHOW SUPPORT to Ken Miyoshi and Import Showoff… and bring your cameras and take lots of photos and video, cause this show is going down in history… this sh!t is going to be EPIC.
Please COMMENT THIS PAGE if you're going to bring a car, or even just attend by yourself! So we can look out for you!
WHAT: THE LAST NISEI SHOWOFF (There won't be one next year)
WHERE: 100 S. Alameda Street, Los Angeles CA (101 freeway to Downtown LA, exit Alameda and go west)
WHEN: 11am-6pm (but cars begin rolling in much earlier)
See you there!
:: Antonio Alvendia
PS: Hit me up if you want to rock MotorMavens stickers – they're so hot right now!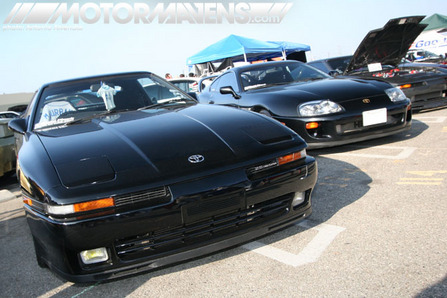 Here are some snapshot photos from previous Nisei Showoffs (this particular one was 4 years ago)… the late Mike Urbano's (RIP Mike!) JZA70 Japanese RHD Toyota Supra with HKS everythingggggggg… and his brother Brian Urbano's JZA80 Supra Turbo Black Limited… SICK to see these twins out in the Southern Cali sunshine!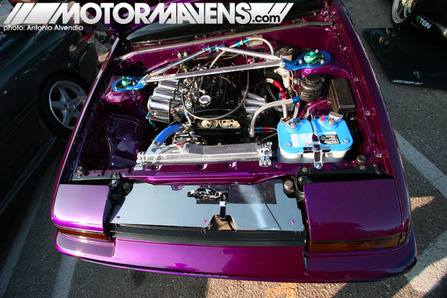 You could eat off Lisa Uchida's AE86 Corolla engine bay (but don't try it – she'll kill you) with her super clean blacktop 20v 4AG with big ass air horns on those individual throttle bodies and the super sick Project Mu camber plates (Do you wanna sell those Lisa??? Hit me up!)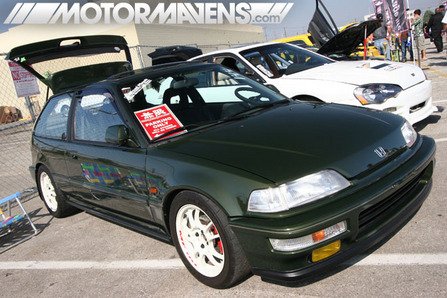 If you like JDM Civics, this is just ONE of the cars that might catch your eye…
But you gotta keep your eyes peeled for the Phaze2 crew this year, which will be delivering deep offset Honda hotness to the show. Other Honda owners better bring your A game if you try to step to Phaze 2. For real!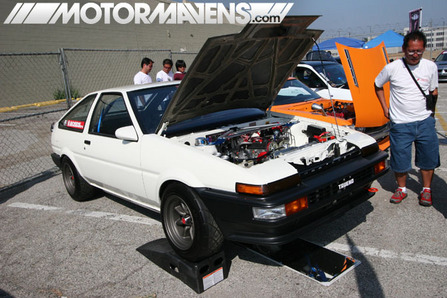 Here's Robert Co's clean ass white AE86 Corolla from the Bay Area… unfortunately it was stolen sometime last year, but here's a pic of his dope ass AE86 to show what type of heat comes to Nisei! You guys better bring it cause the competition will be fierce!!!
And charge your cameras and clear your memory cards, cause you don't want to epic FAIL on this one! Nisei is gonna go OFF tomorrow!!!!!!!!!!!!!!!!!!!!!!!!
:: Antonio Alvendia
---