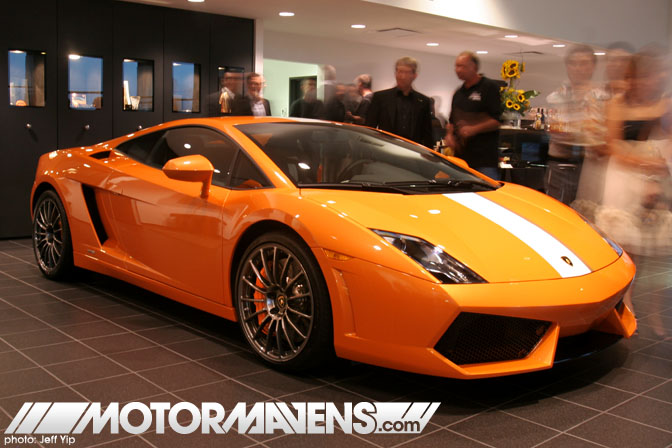 You don't have to have a Harvard MBA to realize that "more" is the four-letter word that drives the exotic supercar market.
More power.  More speed. More sex appeal. More exclusivity. And, let's get real: when folks slide into the driver's seat of an exotic, many of them wind up needing more room — for their egos.
So what's up with the latest-and-greatest Lamborghini Gallardo?
As its numeric designation indicates, the new 550-horsepower LP 550-2 Valentino Balboni gives up 10 ponies to the reigning mainstream model, the Gallardo LP 560-4. (Lucky you, if you're in a tax bracket where a $233,000 car is mainsteam.) The 550-2 takes a couple tenths longer to sprint from zero to 62 mph (3.9 seconds vs. 3.7). The Baboni Gallardo even comes up short in the top speed department: 199 mph vs. a hair under 202 for the 560-4.
If this all sounds, well, backward, no one at Lamborghini will argue with you. If fact Valentino Balboni himself is the first to agree, because the car that bears his name is about going back — to basics. Basic, in this case, being rear-wheel-drive like the Countach and Miura.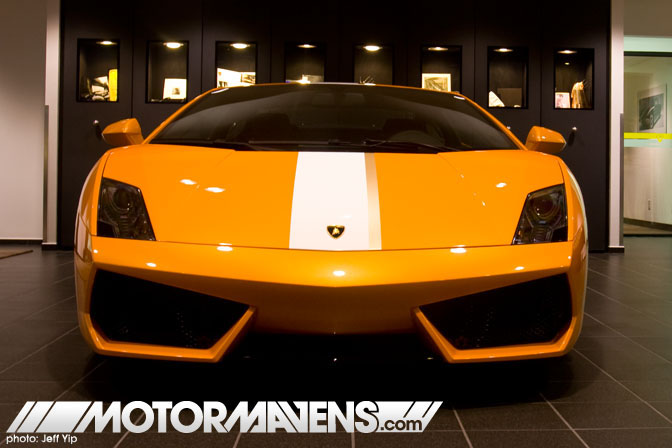 Balboni was hired by company founder Ferruccio Lamborghini in 1967 and, as a test driver, was intimately involved in the development and fine-tuning of every Lamborghini prototype since 1973. He is now retired, but continues to serve as a roving ambassador for Lamborghini. Balboni points out that the 550-2 is the first rear-driver the Italian company has produced in 15 years.
"This car goes back to the original feeling and sensation we had when we started building Lamborghinis in 1963," Balboni told me from Dallas, one of a dozen U.S. cities he is touring this summer to talk about the limited-edition Gallardo. (The official word is that 250 will be made.)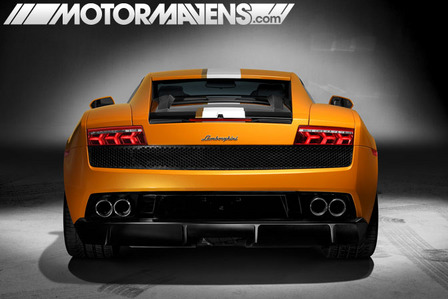 "In a four-wheel-drive car, 50 percent of the time, it drives you. Life behind the wheel is very, very easy," Balboni said, the mirth coming through loud and clear. "In two wheel drive you have to put in more of yourself. It requires a different driving technique and a different approach."
And different running gear.  Lamborghini says springs, dampers and stabilizer bars been tweaked for the 550-2, and that cars with e-gear, Lamborghini's term for the optional 6-speed automatic, features special trans calibrations. In keeping with Balboni's and the manufacturer's philosophy that rear-wheel-drive is for "extreme sport and performance," the electronic stability control system has been programmed to allow greater drift angles.
"We changed all the electronics help on the two-wheel-drive, leaving as much control as possible up to the driver."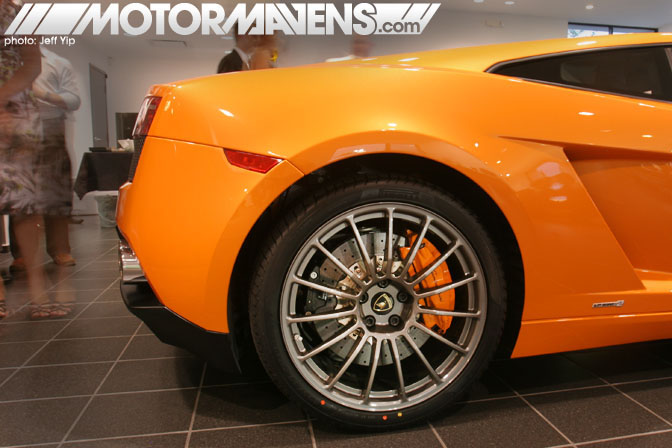 The 5.2-liter DOHC V10 delivers 398 lb.-ft. of torque @ 6,500 rpm. The 550 rated peak horsepower is reached at 8,000 rpm. Brakes are meaty: 14.37 x 1.34 in / 365 x 35 mm up front and 14.2 x 1.26 in / 356 x 32 mm out back. Carbon ceramic brakes are optional. Depending on which of eight exterior colors the buyer winds up with, the brake calipers peeking through the gorgeous dark gray Scorpious alloys will either be painted black, yellow or orange. Rubber consists of Pirelli P Zero 235/35ZR19s in the front and 295/30s at the back.
As purists should expect from this Gallardo's less-is-more statement, the Lamborghini LP 550-2's curb weight of 3,042 lbs. makes it about 264 lbs. lighter than the LP 560-4. (And, for that matter, about 133 lbs. lighter than a Corvette Z06.)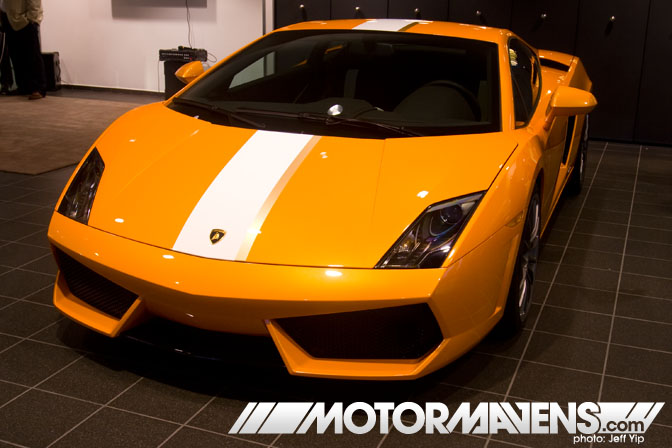 If you're ready to buy Lamborghini's latest toy, you should be happy to know that orders are being taken. The Gallardo LP 550-2 starts at $219,800 but typically equipped they usually wind up being around $235,000. (Models with e-gear are hit with a $2,100 gas guzzler tax.) A Lamborghini Houston rep said that though the 550-2 has the allure of being associated with Balboni, the manufacturer is cognizant of today's economic realities and the rep doubted that dealers would inflate prices.
::Jeff Yip
---