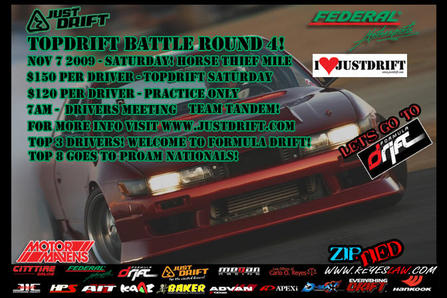 Top Drift is coming up on November 4th. They'll be running on Horse Thief Mile at Willow Springs International Raceway. They are giving out some killer prizes.
Top 3 get a Formula Drift License!
Top 8 are invited to the Formula Drift ProAm National in Irwindale "House of Drift".
– It's a $150 competition driver's fee (Registration at www.justdrft.com).
– A $120 practice only fee (Open to those who want to sign up just for practice)
– Qualifying with be at 2pm. Top 16 tandem.
– Team drift if time allows.
:: Travis Hodges
---