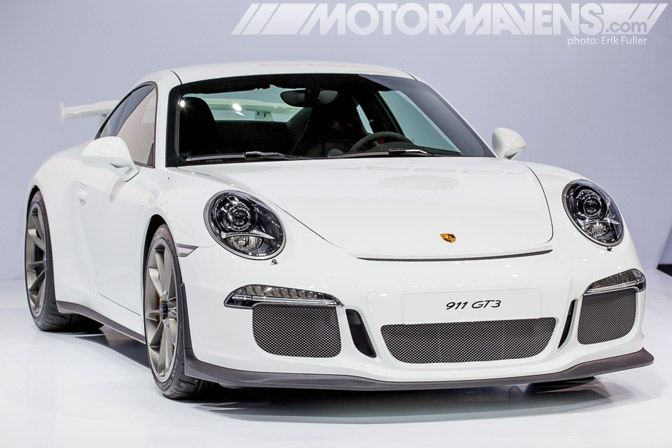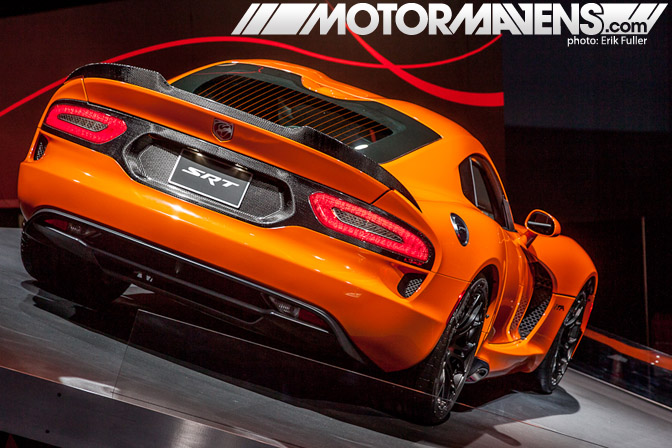 NYIAS 2014 is here! The New York International Auto Show Media Preview Days have just kicked off, giving members of the automotive press a sneak peek into what's new from all the automotive manufacturers this year. There are tons of cars to look at and lots of ground to cover, so we'll keep updating you with more photo updates on the blog and of course, our social stream…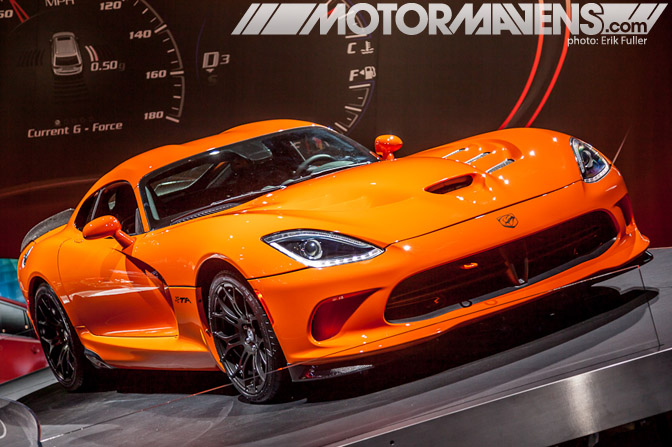 Here's the new Dodge Viper TA (Time Attack). This new TA is the track tuned version of Dodge's big snake, and will have a limited production run of only 33 units. Thirty three! This limited run supercar is designed for high performance road racing courses, with an upgraded handling package.
Super loud (both from the monstrous engine and the Crusher Orange paint color), this new Viper is sure to attract your attention if you see it in your rear view mirror! Notice all the carbon fiber trim on the car? The rear ducktail wing, rear valance, and even the front lip spoiler seems to made from carbon! Even though it's not super low from the factory, Dodge dealers better stock up on that front chin spoiler, because we KNOW there will be lots of people cracking those lips pulling into parking spaces.
The front bumper, sideskirts, hood and headlights all look new and updated; the headlights even have LED DRLs inspired by all the new cars from Audi, BMW, Lexus, Nissan, Infiniti, Volkswagen, Toyota, oh wait… pretty much everyone I guess.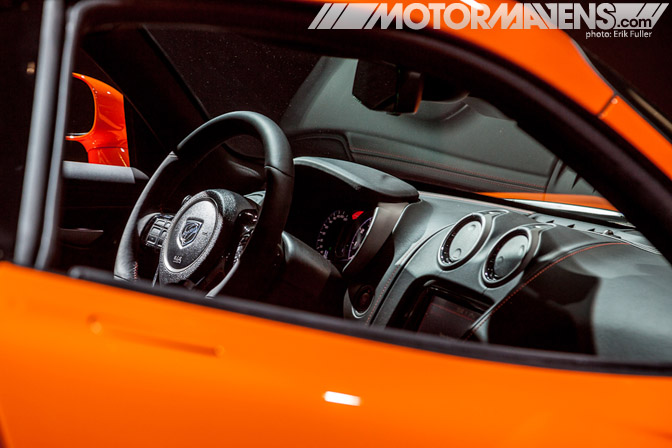 Inside the Viper TA, the dashboard looks like it has some updates, and it also has a thick, sporty steering wheel with contrasting stitch… but what's going on with that ugly horn button/center pad? It looks like it belongs on a lower end Dodge product… like a Durango or something. Come on Dodge. Just copy the BMW, Audi, Nissan or Volkswagen steering wheels already.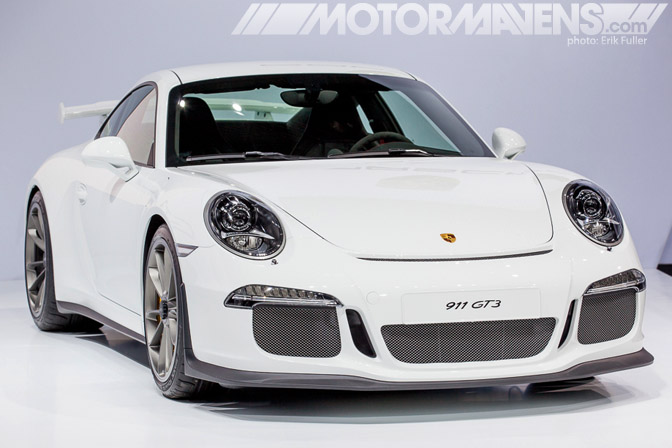 We had to literally wipe our mouths with drool when we first laid eyes on the new Porsche 911 GT3! Porsche unveiled its 2014 911 GT3 to celebrate 50 years of the 911 in America! So damn sexy, and in white too?! The new GT3 is also the first 911 with full LED headlights and active rear wheel steering. Perfection.
The 3.8-liter flat-six-cylinder is rated at 475 horsepower with 324 lb-ft of torque, with an impressive 0-60 in a ridiculous 3.3 seconds!!! It's like a motorcycle! If you're driving one of these new 911 GT3s, you better not let your passengers drink coffee in your car in case you decide to drop the hammer! Weighing in at 3,152.6 pounds, the new GT3 has a top speed of 195 mph. Oh man…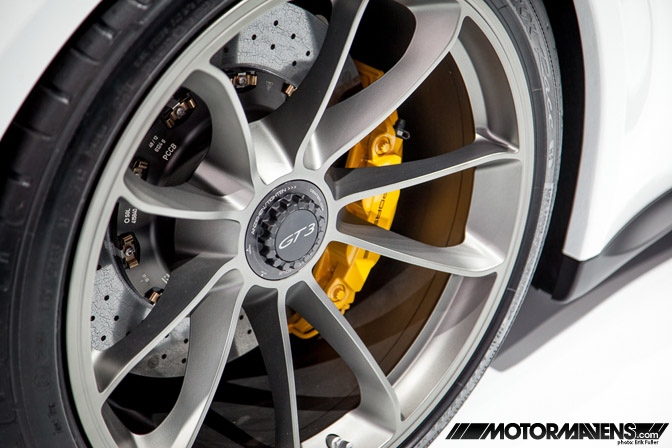 Check out the gorgeous centerlock wheels with concave spokes and the humongous Brembo OEM brakes!!!
That wing. That rear end. Oh man, the GT3 is so dreamy…
The new GT3 is also the first Porsche GT with an automatic transmission – a PDK gearbox that has no clutch pedal for the driver to operate. Inside the transmission, though, clutches engage and disengage and gears move, as in a manual transmission, but controlled automatically.
This 2014 911 GT3 goes on sale in November, starting at $131,350, including $950 for shipping.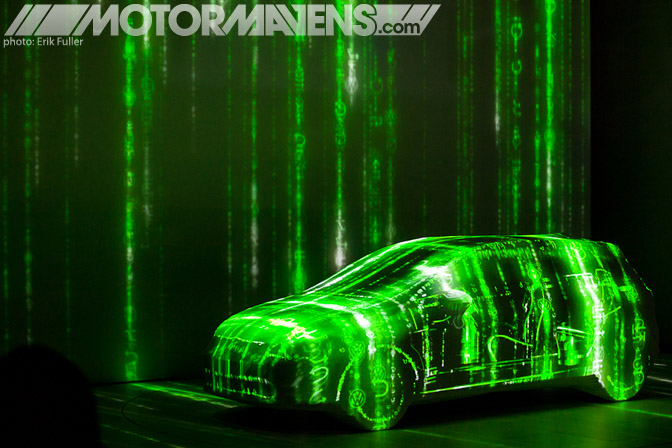 Volkswagen had quite the Matrix-like unveiling for the media at the show…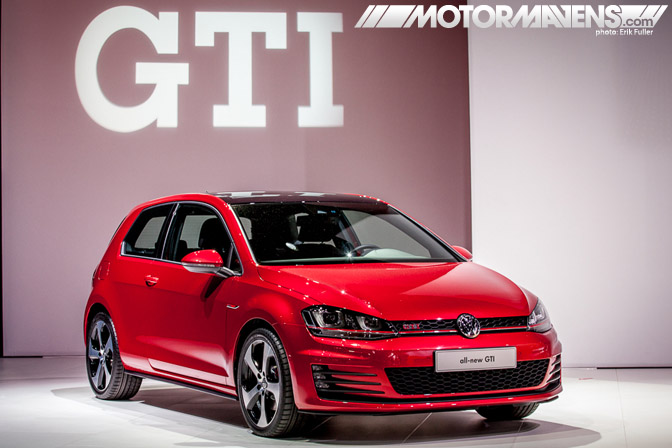 They just debuted their all new VW GTI! The GTI features a red accent on the front grill to distinguish itself from the standard Golf. Power output is rated at an impressive 210 hp and an impressive 258 lb-ft of torque! We're sure the interior is phenomenal (like all VW products), and we're sure it's fast! Can't wait to do a road test on one soon!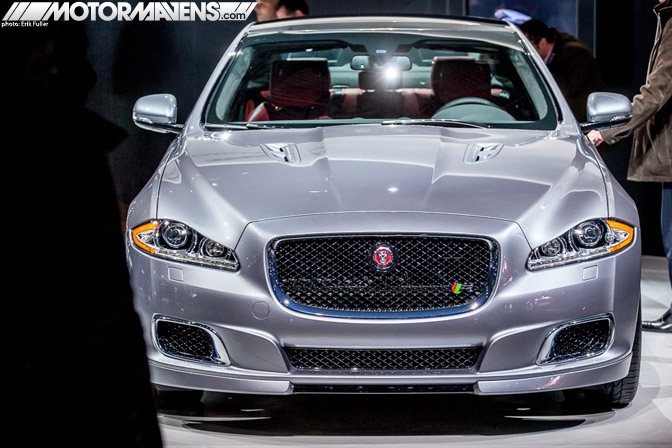 There have been talks of the new Jaguar XJR Sedan being a Porsche Panamera killer. Really! That's an awfully large statement to make… what do you think? Either way, it looks absolutely gorgeous from the front. The large and in charge grill makes it look very stately too. What do you think about the headlights, though?
The 2014 Jaguar XJR sedan comes with a 550 horsepower supercharged 5.0 liter V8 engine that puts down 502 pound-feet of torque,with a 0-60 of 4.4 seconds. That's fast! It also does a top speed of 174mph.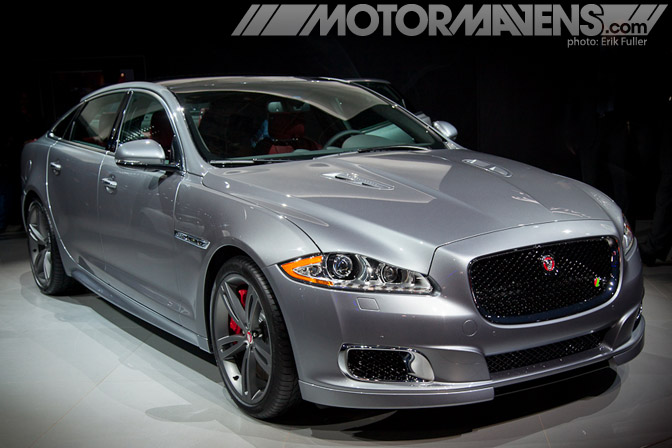 If the $119K Jaguar XJR Sedan is truly to be considered competition against the Panamera, we'll have to take a closer look at the specs on the suspension, brakes, 20 inch wheels, and tires. Jaguar says the suspension has been tuned for both comfort and performance, but we're still not sure how it would fare against a Panamera.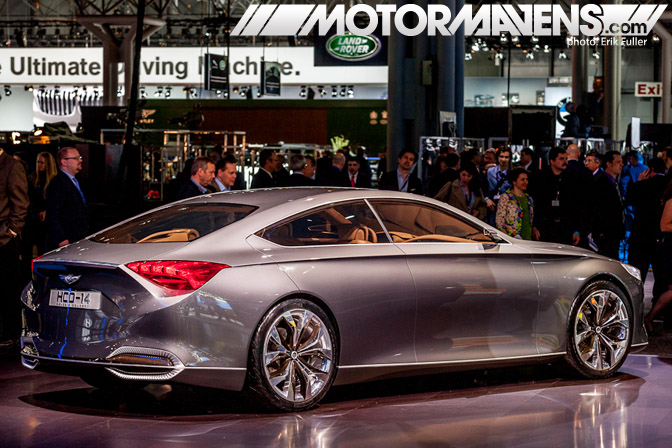 The Hyundai stand was very interesting at NYIAS, as they debuted the new HCD-14 Hyundai Genesis Concept. Looks pretty sleek and amazing. Certainly high end! This Korean automaker is putting in big work to make their Genesis really stand out. It's hard to believe that we're staring at a Hyundai here!
We're still in the process of walking the show, taking photos and gathering information on all the new interesting models at NYIAS. Stay tuned to MotorMavens!
:: Erik Fuller
---