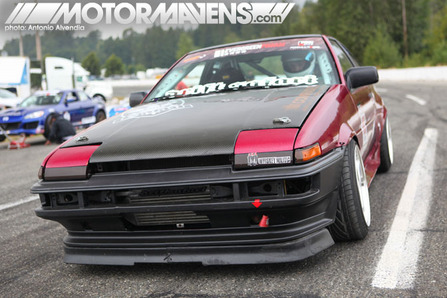 Up here in Monroe, Washington… we're still celebrating August 6th, Hachiroku Day!
I rolled up to Evergreen Speedway to check out Formula D practice with my homie Masaki today… but unfortunately, we got stuck in a ton of 360 area traffic, and missed most of the drifting practice runs. I have a few photos from the Formula D practice day today, but since it IS still August 6th, I thought I'd just post this photo right here.
This AE86 belongs to Trent Stromkins from Vancouver BC. You may recognize his name, as he's the organizer of the Cellblock D drifting events in the Pacific Northwest area. Good luck to Trent and all the other North West guys competing in the Formula D Pro Am tomorrow!
The cars up here in the Seattle, Portland, and Vancouver area are SICK! Stay tuned to MotorMavens for more pics very soon! We need to head back to the track to meet up with our friends now!
:: Antonio Alvendia
PS: Does anyone know why the Jtuned site is down? I was trying to check out Allen Chu's ASB photos on Jtuned today, but uhmm… ? Nevermind I guess?
---